Rayman Fiesta Run now available to all on Xbox Live for Windows Phone! [Updated]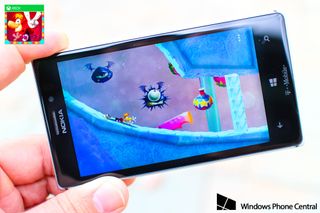 It was nearly a week ago when Rayman Fiesta run showed up for Windows Phone…in India. Users who tried to download the game elsewhere were greeted with an error message, noting that it was not available in their region.
Luckily for us, it is now live, at least here in the US and UK and we're guessing your region too. The game runs for $2.49 and there is no Trial listed. Lame! We're buying it anyway, because it's Rayman. Those games have always been awesome, so we're taking a leap a faith here. Plus, Xbox Live, baby.
Update: The game quickly disappeared from the Store again and is no longer available to buy. Bummer!
Here's what we're getting with Rayman Fiesta Run for Windows Phone:
More than 75 new levels
New epic bosses
New amazing powers
And much more
We'll look to maybe to a hands on video a bit later, it's getting dark here now. If like us, you just want the link, then head here to the Store. There is no trial, so you'll be parting with $2.49. And yes, this does work with 512 MB devices, so all of you Lumia 520 owners can join in as well. The game is 81 MB in size. Windows Phone 8 only.
Thanks, @Micro_666, for the tip!
Windows Central Newsletter
Get the best of Windows Central in in your inbox, every day!
Daniel Rubino is the Editor-in-chief of Windows Central, head reviewer, podcast co-host, and analyst. He has been covering Microsoft since 2007 when this site was called WMExperts (and later Windows Phone Central). His interests include Windows, laptops, next-gen computing, and for some reason, watches. Before all this tech stuff, he worked on a Ph.D. in linguistics, watched people sleep (for medical purposes!), and ran the projectors at movie theaters because it was fun.
No WP7 NAH JK getting this right now!

I managed to grab it when it first went up in India and it is fantastic. Well worth the price and completely reasonable achievements.

So this game actually possesses achievements that are realistically possible to get within your own actual lifetime? The previous Rayman (Jungle Run?) has that one achievement which, in itself, is BEYOND ridiculous to get! I forget what you had to do though..

You had to collect 3600 lums in one run without dying. Only about 1% of gamers could do it, and I'm guessing 100% of those 1% didn't enjoy doing it.

It was a pain to achieve...

My phone can't handle my playing a game that long. My 920 starts registering phantom touhes and ignoring actual toivhrd.

Finally! Ive been checking the WP store every day for this game since the article about it being available in India came out.

hahaha me too! it was really frustrating that it was available somewhere already... and to everyone complaining there's no trial: THERE IS NO NEED FOR IT, THIS IS THE BEST GAME FOR WP BY FAR, BUY IT :D

Why Buy $2.49
where is Free ?

I'll show you the way out....thanks for stopping by

Amazing. Well played, DR.

Probs free on iphone, go there?

Having fun with my 150mb free storage.. Damned Ativ S with it's system storage problem and not-working temporary file cleaner >:/

Does it even matter now? With Nokia's 90% market share, I doubt it matters.

Using a Lumia 520 on at&t. Game doesn't show in the app store. Tried it via my pc's web browser also. No luck. Lame sauce.

Use our link or scan the QR code that we gave you Games that are new don't show up on searches until they are properly indexed. We're faster. Even better: use our app, which also generates the links. Because I have this on an AT&T Lumia 520 right now.

I wonder how you guys manage to get the links...creepy...

Click share, then email/sms yourself, its got the link in the body of the email/sms

I actually just got my copy of Rayman Legends so I am about to fire it up on my Xbox One.

You will not be disappointed.

Just got it, can't wait to play!

At $2.49 worth every penny, been waiting for this.,

I'll get this for my Surface 2 when I'm done with Ty the Tasmanian Tiger. Jungle Run was great.

Probably the last Xbox Live enabled game for WP. Or, one of the new features in WP8.1 will be a update live certification process?? :)

No it ain't. Throne Wars will be up soon and LIVE enabled :)

It's already on W8 in Canada

Sorry, Throne Together, not throne wars lol...
And here is the source...
https://sites.google.com/site/arsenicwp/news/thronetogethergetsxboxincanada

Looks good. I'm going to wait for it to hit Windows 8 since I prefer to play games on it to my phone.

Keep getting Error:c101a006 when I try to purchase. Anyone else?

Same here. L920 user in USA
Edit: Tried again, worked this time.

Thank you Nokia for $20 voucher. Bought

Super awesome! Notice the strange price: 2,49€ instead of 2,99€. Well worth it, thanks Ubisoft.

I don't want to sound negative or like I don't like the idea....but is the hype of xbox live enable games.. All I get is little achievements and like....nothing else. There should be more benefits for having it. Unless I am missing out on some sort of feature.

In this thread Xbox Live aficionados detail the benefits of Xbox Live. Sounds like you just need some more Xbox Live friends to more fully enjoy the social aspects of it. Head to the WPcentral forums: lot's of gamertag sharing going on there.

I dont even finish the jungle run

Now assassins creed pirates Ubisoft!!!!

Finally!!! Rayman Jungle Run became my favorite game on the phone immeditately when it was released. I'm sure i'll love this too!

XBL LIVE? Instant purchase!

Seem like a cool game. I'll test it out.

I remember when I got 100% on jungle run... I was so happy and proud... Then I was forced to hard reset because of other storage...

"Plus, Xbox Live, baby." You know it. Xbox Live is the most important feature distinguishing Windows Phone games from iOS and Android. Who's got the best version of Rayman Fiesta Run? Windows Phone does, that's who. Thank you, Xbox. Than you, Ubisoft.

Available to all is like saying free I thought it was free for a second....

I got this for free,when it was launched,and now Microsoft warning me to block my account if i don't pay the bill, that's pretty stupid,

I had lesser balance in my account,they should've checked it first as they always do, now they warning me to pay, though i did, i don't know what went wrong,

I'm waiting for this game to be featured in the RED STRIPE DEALS, then I'll grab it immediately. I remember Rayman Jungle being discounted once.

wow, looks like a worthy game to use my Bing Rewards :-)

Microsoft really needs to do something about their branding, its nowhere to be seen, even amazon has their logo at the end of the video, it makes their awareness look weak. Microsoft needs a defined name for their app store. Companies like moga refuse to update the website just to say moga controls support windows phone. Microsoft really needs to work on this

Yes they should but brother it depends upon the developers not the OS companies that they want to advt for downloading the app. Actually what happens if any developer makes an app he first submits it on ios and android. If the game is a hit he enjoys minting money, while minting money only few developers who are kind enough to make games for wp. This is what i imagine about the developers

I literally have no idea what you're talking about.

The only I don't like, is that the game doesn't tell you anything about power-ups. I like to know what I'm spending Lums.

Tap the little i in the corner of the powerup

My zen like patience has paid off. Jk, about FREAKING TIME, take my money!!!

Not yet released in Finland...

Just installed, finally, another great game (for me, not because of XBL) :-)
And now the xbox fans are happy too.... (until MS sells the whole xbox division (maybe to Amazon?))
Oh and don't forget the 512 ram enthusiast. Ubisoft is awesome as always, GJ

Installed it, 2 days ago, nice addictive game

I heavily dislike the fact that ubisoft doesn't even bother to include a trial. Gonna pass on this one.


Pro tip: It is available in Windows Store as well. Just type Rayman into search bar. Price 3$.

Oh, sorry. It still cannot be purchased. What the &@&, Ubisoft does not know how to release games? :D


Hi there, Rayman Fiesta Run is still being soft-launched for Windows Phone, #StayTuned™!

What about assassins creed pirates?

Early today the game was available in UK but at the moment isn't.Fix it Ubisoft please.

Hi there, Rayman Fiesta Run is not released yet -it would have been announced on our channels: You can follow us on Facebook & Twitter! We are currently testing the game through a soft launch. Thanks for your patience and for your feedbacks!

And when will be? Don't tell me soon becouse I hate this answer from publishers.

At this point we cannot announce a full release date. StayTuned™!

Thanks for coming by. However it just seems ridiculous, the game was available in India for month or so and for quite some time on another platforms. Are really MS's platforms too bad from revenue perspective?

Hi there, the game is only temporary unavailable. It will be released after the soft-launch, as soon as our tests are over. Have faith!


Thanks Ubi for making sure the app releases in good working order. Take your time and show other mobile devs how to release WPXbox games.

Yay! Loved Jungle Run (fave game on WP8), just bought this in a heartbeat. Even better its an Xbox Live title. When they introduced achievements with 360 i was not fussed at all, but i have to admit they have grown on me and give me an incentive to keep playing a game, even if it is just an epeen number no one cares about. Guess they have turned me into a "completionist".

I have the 920 for AT&T and it keeps saying "App not available" I've done what it says and tried checking my phone for updating and restarting my phone but nothing fixes it. I'm in the US. Anyone else having this issue?

The game was available on my lumia 920 yesterday, but not anymore... :(

No more available in US, Lumia 920. :(

Not here in uk for my 925, but was yesterday when i wasn't hooked into WiFi .

Wow that's pretty dumb, it let me purchase it and then halfway thru the download it stops and tells me the app is no longer available. Steal my money much?

It's unavailable for download..?

Loving this game really, what could have been frustrating levels are actually enjoyable, even when you fail over and over again, because you know the difficulty is fair and the goal always feels close. Best of all, its still great fun. =)

Is it gonna be available again? I redeemed my Bing Rewards for that :-/

Im beginning to get mad, don't waste your money, you might get ripped off like I did.

Managed to get it before it went, didn't charge me for it either.

1020 user- says not available for my device

Purchased this yesterday but couldn't download it because WiFi wasn't available... tried to download it today and now it's not available? Bye $2.73!

i have exactly the same problem.

Bought it for my Lumia 928, now its not available for my new Lumia icon. :(
Windows Central Newsletter
Thank you for signing up to Windows Central. You will receive a verification email shortly.
There was a problem. Please refresh the page and try again.