Rayman Fiesta Run listed in the Windows Phone Store, but you can't get it yet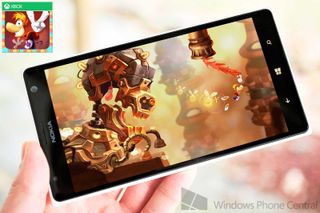 It seems like only yesterday, but it was actually this past September that we first learned that Rayman Fiesta Run would be coming to Windows Phone. At the time, game maker Ubisoft said we'd see the game during the fall on Windows Phone, Android, and iOS. Well it's not exactly fall anymore, more like mid-winter, but it looks like we're finally about to get Rayman on Windows Phone. Head to the Windows Phone Store and you'll see Rayman Fiesta Run sitting there and with a surprise.
This is of course not the first Rayman game for Windows Phone. We've been happily playing Rayman Jungle Run on both Windows Phone and Windows 8 for quite some time. Now we're about to get some Rayman Fiesta Run fun on Windows Phone, but with a little twist. Xbox Live.
Here's what we're getting with Rayman Fiesta Run for Windows Phone:
More than 75 new levels
New epic bosses
New amazing powers
And much more
We're very excited to play Rayman Fiesta Run and can't wait! Unfortunately we might need to wait a little. Right now we see the game in the Windows Phone Store, but can't download it. We've even tried changing to a few different regions and haven't had any luck. The published date in the listing for the game shows as 1/16, which was nearly three weeks ago. So this could also be a beta of the game
Tomorrow is Wednesday and this is an Xbox Live game. So don't be too surprised if the link starts working in the next few hours. Anyways. You've got it bookmarked to download the moment it's available.
Rayman Fiesta Run can be found in the Windows Phone Store. No word on price yet or whether or not 512MB devices are supported. We'll update this post once we find out. And if you have any luck downloading the game be sure to let us know your region, phone, and carrier.
Update: Comments below indicate that the game is currently available in India, but we do expect more regions to light up. The good news is that the game does support 512MB devices and will probably go for about $1.99. Thanks guys!
Thanks for the tip Guru!
Get the Windows Central Newsletter
All the latest news, reviews, and guides for Windows and Xbox diehards.