How Razer did right by lefties with the Naga Left-Handed Edition
Building a left-handed mouse is no easy feat.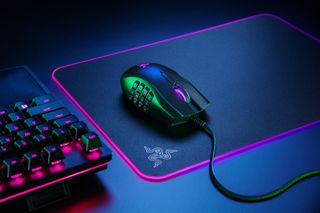 (Image credit: Razer)
Getting your hands on a quality left-handed mouse isn't the easiest thing in the world. That goes double for a left-handed gaming mouse. Lefties, therefore, often have to suck it up and train themselves up on right-handed mice.
That's nothing new, of course. It's a right-handers' world, and southpaws generally have to get used to doing a lot of things the way righties do them. It's just the way things work.
As a left-handed person, I've never questioned this much. I've used right-handed tools my whole life, grew up using exclusively right-handed mice, and even golfed with righty clubs for my brief flirtation with the sport when I was a kid.
Razer, maker of some of the best PC gaming mice, however, is looking to change that. Not only for left-handed gamers, but also for people with disabilities who may not be able to effectively use mice created for righties. It's a movement that we've seen a lot of in recent years with things like the Xbox Adaptive Controller making gaming much more accessible for gamers with disabilities.
On the heels of announcing the return of the Naga Left-Handed Edition, I spoke with Razer's head of sales and marketing, Chris Mitchell, about what went into designing the mouse, including the role of the Razer community in the process.
A community effort
Razer has been creating left-handed gaming mice for some time, initially introducing the left-handed DeathAdder in 2010. Razer also sold a previous version of the left-handed Naga for massively multiplayer online (MMO) game players, but it hasn't been available for several years.
Deciding to create a left-handed gaming mouse isn't as easy as just mirroring the right-handed version and calling it a day. "Making a left-handed mouse is far more complex than just simply flipping the original design around—machines need to be re-tooled (from mold to circuitry), and these mice must undergo our full QA checks, testing and certification," Mitchell said. "But our engineers are up to the task."
There's the effort that goes into the design, of course. But the bigger hurdle, Mitchell said, is validation testing.
"The challenge for left-handed mice was primarily in validation testing, as we had to spend significantly more time finding relevant testers to ensure we're on track, which all our products go through," Mitchell said. To get a little help with that process, Razer turned to its passionate community of fans. Through a dedicated Facebook group, Razer sought out feedback from not only left-handed gamers, but those with disabilities as well.
Razer execs, including CEO Min-Liang Tan, kept in frequent contact with the small, but spirited community of left-handed Razer fans since the decision to bring back the left-handed Naga was made in 2019. This validation testing and feedback from the community was essential in getting things right for the left-handed Naga.
Given the effort Razer went through to create a solid Naga that lefties would approve of, I asked Mitchell whether it was harder to design an ambidextrous mouse or one built for specific hands. "Ambidextrous mice are actually harder to design as they need to work for both hands," he said. "Simple things such as button placement on one side can get in the way when they are perfectly placed for the other side."
The numbers problem
Aside from the design hurdles, one major reason we don't see more left-handed mice — and, particularly, left-handed gaming mice — on the market is obvious: demand. Left-handed people are only estimated to make up around 10 percent of the population. There just isn't the kind of demand most companies require to support all of the retooling and design work necessary to create a dedicated left-handed gaming mouse.
"We have sales data, and it's bleak," Mitchell said. "Starting from 10% of the population being left-handed, you take a big portion of that away as many of them just trained to use their mouse right-handed. Amongst those that use their left hand, many still use ambidextrous mice, so it becomes a fraction of a fraction. It's far less than 1% of the market."
With every left-handed Naga Razer makes, it loses money, CEO Min-Liang Tan told the Facebook community in a post last October. "Essentially, this is a loss-making endeavor and the reason why we're the ONLY company in the world to make LH gaming mice is because we want to do right by you guys" he said.
Though the demand to support it isn't necessaryily there, Razer wanted to create "something unique" for lefties. But the right-handed Naga turned out to be an effective tool for people with disabilities, so Razer wanted to cater to those who might benefit from a left-handed version as well.
"The right-handed Naga had the added benefit of working well for gamers with disabilities, such as those who have limited control in their left hand," Mitchell said. "With the large number of buttons on the Naga, gamers with disabilities were able to fully control their gameplay with one hand. In designing a left-handed mouse, we also intended to provide options to those in need of a left-handed peripheral, so the Naga made sense as the additional buttons cater for those with limited control or motion in their right hand."
A hopeful future
Right now, leftie Razer fans are ecstatic at the return of the Naga Left-Handed Edition. A look at the Facebook group surfaces dozens of posts from stoked gamers, and some have even picked up multiple Nagas to keep a steady supply should this be the last Naga Left-Handed Edition. And that's a very real possibility: this could be the last one Razer makes if it can't find a way to "make sure we at least break even and not lose crazy amounts of money," Min-Liang Tan said in that October Facebook post.
Still, hope remains that left-handed gamers and those with disabilities will continue to have support from Razer for the forseeable future.
"We are the only major manufacturer of left-handed gaming mice and we actually first introduced the left-handed Razer DeathAdder mouse for gamers in 2010," Mitchell said. "Since then, we have continued to invest time and money into producing left-handed mice even though it is not profitable. We are all gamers and want to give our left-handed gamers the best option."
The Razer Naga Left-Handed Edition is available now for $100.
Lefties Unite
Razer Naga Left-Handed Edition
MMO Southpaws

The Razer Naga Left-Handed Edition gives lefties access to one of the best MMO gaming mice out there.
Get the Windows Central Newsletter
All the latest news, reviews, and guides for Windows and Xbox diehards.
Dan Thorp-Lancaster is the former Editor-in-Chief of Windows Central. He began working with Windows Central, Android Central, and iMore as a news writer in 2014 and is obsessed with tech of all sorts. You can follow Dan on Twitter @DthorpL and Instagram @heyitsdtl.