Razer Ripsaw review: Capture video and stream games with this USB 3.0 box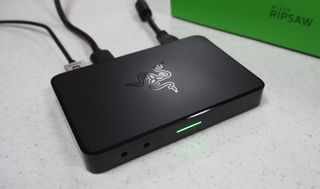 Razer makes a variety of PC gaming accessories – so many that the company has just opened its own retail store. Recently, Razer has jumped into the streaming business, releasing a USB 3.0 video capture device called the Ripsaw. Will the Ripsaw meet all of your video capture and livestreaming needs? Read our detailed review to find out!
Razer Ripsaw at a glance
The Ripsaw is an external video capture device. Its purpose is to facilitate the livestreaming of videogames or capturing of footage for the creation of videos. This requires a Windows PC of sufficient hardware power; weaker systems are often unable to support external capture cards (not just this one). The Ripsaw does not support Macs.
Package contents:
Razer Ripsaw external video capture device
Black USB 3.0 cable, 3-feet
Black HDMI cable, 4-feet
Component AV cable (Female jacks for Component video and stereo audio RCA cables)
Component AV Multi cable for PlayStation 3 connectivity
3.5mm audio cable (male on both ends)
System requirements:
Windows 10/8.1/7 (64/32 bit)
USB 3.0 powered
CPU: Desktop – Intel Core i5-4440 3.10GHz or above, Laptop – Intel Core i7-4810MQ or above
Graphics card: Desktop – NVIDIA GeForce GTX 660 and above, Laptop – NVIDIA GeForce GTX870M and above
Memory: 4GB minimum (8GB recommended)
Interface: USB 3.0 only
Design
The Ripsaw measures 5.1 x 3.4 x 0.7 inches, making it slightly larger than the Elgato Game Capture HD60, but not enormously so. The box is all black with rounded corners. A textured rubber coating covers the entire base of the unit, keeping it in place.
The front panel features a large LED that lights up green or red, depending on whether the Ripsaw is currently recognized by the included Razer Synapse software.
To the left of the LED are two 3.5mm audio input jacks: one for general audio and one for a microphone. These jacks allow users to mix separate audio sources in with the videos or streams they create without the need for a separate sound card or input device.
On the rear of the unit you'll find four jacks: USB 3.0, Component in, HDMI in, and HDMI out. The Component in jack requires the included Component AV cable or Component AV Multi Cable to function. You can't connect component video cables directly to the unit; they must connect to the dongle.
Although the top and bottom of the Razer Ripsaw are matte black, all four sides have a glossy plastic coating. This makes it difficult to handle the device without leaving visible fingerprints and smudges, which is not a great design choice.
Even worse, the labels for the inputs and outputs are printed in tiny, dull text that doesn't stand out from the glossy plastic at all. You have to get really close and look from the correct angle to read "HDMI in" and "HDMI out," which is ridiculous. The AverMedia Live Gamer Extreme (which shares the same internals as the Ripsaw) has much easier-to-read input labels.
Setup
Connecting the Ripsaw is a fairly easy process. To capture from any console with HDMI output (Xbox One, most Xbox 360 models, PlayStation 4, PlayStation TV, and Wii U), simply connect an HDMI cable from the back of that console to the HDMI input jack on the Ripsaw. Then connect the included HDMI cable from the Ripsaw's output jack to your television or monitor.
If capturing from a pre-HDMI system, attach the Component AV cable (essentially a component video dongle) to that console's native component video cable. Consoles started supporting component video around the PlayStation 2 era, so you won't be able to use unmodified older systems with the Ripsaw. But considering many capture devices lack component support at all, this support is still a feather in the Ripsaw's cap.
Note: The PlayStation 3 apparently forces HDCP copy protection via HDMI by default, which the Ripsaw does not disable. To capture or stream from PlayStation 3, just use the Component AV Multi Cable rather than HDMI. It plugs straight into the PlayStation 3 without the need for a dongle or separate cable.
With your video cables in order, connect the Ripsaw to a Windows PC via the included USB 3.0 cable. The Ripsaw's LED will light up and you'll be prompted to download Razer's Synapse Software. Synapse is either required or recommended for all of Razer's products. If you already have it installed, the software will prompt you to update it for Ripsaw support.
Software
Razer's Synapse software is usually fairly useful, allowing for a variety of customizations and the storing of user settings in the cloud. Unfortunately, Synapse support for the Ripsaw leaves something to be desired. Razer's own software doesn't capture footage, stream, or offer any meaningful settings. It just provides the necessary driver and recommends that you grab XSplit or Open Broadcast Software (OBS), the two most popular livestreaming applications.
If you're someone who uses a computer and capture device to stream games (as I often do), you probably already have XSplit or OBS. Both programs are great for streaming – their differences come down to price, User Interface (UI), and plugin support. OBS is free and has great plugin support but suffers from clunky menus. XSplit Broadcaster costs a monthly or annual fee and is much easier to use, but has slightly worse plugin support. I need a sleek UI, so I use XSplit.
Razer's choice to rely on existing streaming solutions has a few downsides. Both XSplit and OBS are great for livestreaming, but slightly less adept at video capture from a UI standpoint. Neither just lets you hit a button to start recording and hit it again to stop; you have to click through menus a few times for those functions.
Neither software is appropriate for on-the-fly screen captures either. XSplit Broadcaster and OBS have no screenshot function at all. The less fancy XSplit Gamecaster does screenshots but doesn't capture them at their native UI. Instead, it captures them at the current window size, making it useless for high quality screenshots. If you want to grab screens, you'll need to capture video and then perform manual screen captures using Windows. For someone like me who captures lots of screens, that's unacceptable.
At $179.99, the Ripsaw goes up against the Elgato Game Capture HD60 S, Elgato's recently launched USB 3.0 capture device. All Elgato devices, including older models, come with the excellent Game Capture HD software. Game Capture HD lets you take screenshots on the fly, start and stop recording with the push of a button, and easily take screenshots while viewing recorded video. It's so much better at screen and video capture than XSplit and OBS.
Still a performer
The Razer Ripsaw might not come with proper video capture software, but that won't matter much for gamers who only want to stream on Twitch, YouTube, or other services. Those people would probably be using XSplit and OBS anyway. So how good is the Ripsaw at streaming and video capture in general?
Quite good, actually. Being a USB 3.0 device, the Ripsaw communicates with your PC with very little latency — though not so little latency that you can just play anything from your XSplit window without connecting the Ripsaw to a TV. The delay is brief, less than I experience when streaming my Xbox One to a Windows 10 tablet (and significantly less than USB 2.0 capture devices too). But it might still hamper fast-paced games like shooters and action games. That said, I played Letter Quest Remastered, a slower-paced puzzle game, and the lag was barely noticeable.
Still, the Ripsaw is as fast an external capture device as you're going to get until models that support USB-C start coming along in a couple of years. It actually supports 60 FPS streaming at 1080p, not that most users would be able to watch such a stream without major buffering issues. Just start broadcasting and your stream will look as good as the quality settings you've chosen allow. The Ripsaw will never be the bottleneck in your streams or videos.
The Razer Ripsaw is a fine capture device, marred only by its lack of capture software. Both the Elgato HD 60 S and AverMedia Live Gamer Extreme include their own software and sell for the same price, putting Razer's offering at a slight disadvantage. The Ripsaw's component video support and audio mixing capabilities are a significant advantage over the Elgato though, should you need those features.
Get the Windows Central Newsletter
All the latest news, reviews, and guides for Windows and Xbox diehards.
Paul Acevedo is the Games Editor at Windows Central. A lifelong gamer, he has written about videogames for over 15 years and reviewed over 350 games for our site. Follow him on Twitter @PaulRAcevedo. Don't hate. Appreciate!