Razer's latest keyboard hopes to combine the best of membrane and mechanical tech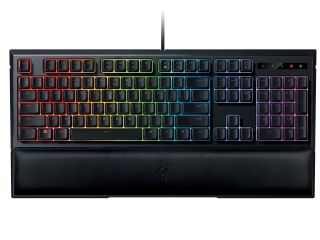 The latest gaming PC keyboard from Razer is called the Ornata. It hopes to combine the best features of membrane keyboards with the ones with mechanical keys that are preferred by hardcore PC gamers.
Razer calles (opens in new tab) the technology inside the Ormata keyboard "Mecha-Membrane":
Razer will also sell the Ornata Chroma, which will have individually backlit keys that can be customized with 16.8 million colors with software applications. The regular Razer Ormata, which has a green backlit keyboard, is available for pre-order for $79.99 (opens in new tab), with shipments to begin on September 23. The Razer Ornata Chroma is also available for pre-order on the same shipping date, but is priced at $99.99 (opens in new tab).
See at Razer (opens in new tab)
Windows Central Newsletter
Get the best of Windows Central in your inbox, every day!
Waait... Why is this so cheap? What is the catch here? A hybrid seems ideal... But what are we losing?

It's a membrane keyboard that makes loud noises. It doesn't have mechanical keyboards' high actuation point, which is what actually makes mechanical keyboards good for gaming.

Ah, that explains it keeping my BlackWidow then.

The catch? The catch is you're paying $99 for this: https://www.amazon.com/gp/aw/d/B00E4TOWR0/ref=mp_s_a_1_7?ie=UTF8&tag=haw...

Razer high quality (joke). Pigeons will buy it

I don't think they can type Roth their wings... Posted via the Windows Central App for Android

Razer makes fantastic keyboards, so...

Umm, actually their quality is so so. There are many complaints about their durability and problems during usage. They have a big name tho.

I've used two Razer mechanicals and had zero problems. They also have great warranties, so anyone who experiences defects (which can happen with any brand) will be taken care of for a fair length of time.

If this kb relies on Razer's Synapse then it's already fail.

My whole setup is Razer and I wanted Corsair. I'm happy with my setup but the asthetics fit me. I just like it. You can call me gay or whatever in the end it's just a ******* keyboard. I don't understand how grown men can call one another *** just because they don't like a certain products. I did that **** when I was 12. You have a preference and everyone else has one. Posted via the Windows Central App for Android

(Traditionally, users choose membrane rubber dome keyboards for comfort)... I always thought it was because of cost differences. A cheap membrane can be 10 bucks while a cheap mech is still like 60 bucks at best.

It depends on the keyboard. My G19S was around $100 or so IIRC. I wouldn't buy a mechanical keyboard even if they were $5 as they're simply too noisy! I type all day long and want my kb to be as silent as possible. I really want to find a click-free mouse too

They do make quieter mechanical keyboards, you know.

I just bought the Logitech G810. I was really on the fence because the romer g keys. The ones in BestBuy's by me feel like crap. But after I got home and played with the keys it feels completely different to me. And in a good way. Though I just wanted a solid keyboard with media controls. Rgb was/is fun I guess. This one looks kinda similar in a way. The over gamery type keyboards are to much for me.

Man, that get more for typist. There are some mech keyboards that have beautiful design and the build quality is as good or better than your g810. But you have to search for one that suits you

I didn't say there aren't. Just stating what I got. An how this one looked similar. But I'm happy with my purchase. Besides I didn't even know about this new edition till today. I'm just not a fan of the over designed keyboards out there. I really wanted a Das keyboard with rgb. But don't see that happening anytime soon.