Razer's Taipei store launch proves too popular, special weekend activities cancelled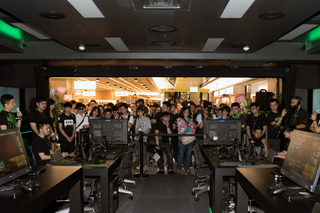 Razer was forced to suspend weekend operations following the launch of its RazerStore in Taipei, Taiwan, due to overcrowding. The launch of the store in the Syntrend Mall reportedly drew thousands of people from around the world, causing mall officials to become concerned about capacity and security.
To that end, Razer has cancelled its special weekend activities at the store, though it will still remain open during the mall's normal operational hours this weekend. The company had planned to distribute free Nabu X bands to the first 250 people to line up on both May 16 and May 17.
Press release:
OVERCROWDING AT RAZERSTORE TAIPEI LAUNCH DAY LEADS MALL AUTHORITIES TO SUSPEND WEEKEND ACTIVITIES
TAIPEI, Taiwan – Due to overcrowding at the grand opening of the RazerStore in the Syntrend Mall in Taipei, mall management, citing safety concerns, requested that Razer suspend its weekend launch activities.
The opening of the new Razerstore purportedly drew thousands of fans from Taiwan and abroad, including the United States, Europe and Asia, which resulted in a line forming many hours before the store opening.
While Syntrend provided extensive security support for the event, the magnitude of people drawn to the mall for Razer's retail event were expected to exceed capacity, potentially taxing crowd control resources and impacting other tenants of the mall.
Razer will comply with Syndrend's request to suspend its previously planned activities this weekend. As a result, free Nabu X wearables will not be distributed to the first 250 visitors in line each day, May 16 and May 17.
The new Razerstore Taipei will still be open and operating during normal business hours this Saturday and Sunday, from 11 a.m. to 10 p.m. The Razer community team on location plans to issue swag on a discretionary basis, honoring fans who come equipped with Razer gear, such as Razer Kraken headphones, shirts, bags and the likes.
Get the Windows Central Newsletter
All the latest news, reviews, and guides for Windows and Xbox diehards.