Razer's Taipei store launch proves too popular, special weekend activities cancelled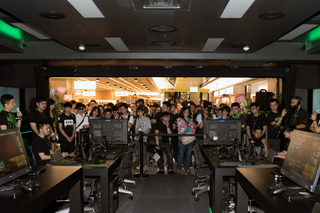 Razer was forced to suspend weekend operations following the launch of its RazerStore in Taipei, Taiwan, due to overcrowding. The launch of the store in the Syntrend Mall reportedly drew thousands of people from around the world, causing mall officials to become concerned about capacity and security.
To that end, Razer has cancelled its special weekend activities at the store, though it will still remain open during the mall's normal operational hours this weekend. The company had planned to distribute free Nabu X bands to the first 250 people to line up on both May 16 and May 17.
Press release:
OVERCROWDING AT RAZERSTORE TAIPEI LAUNCH DAY LEADS MALL AUTHORITIES TO SUSPEND WEEKEND ACTIVITIES
TAIPEI, Taiwan – Due to overcrowding at the grand opening of the RazerStore in the Syntrend Mall in Taipei, mall management, citing safety concerns, requested that Razer suspend its weekend launch activities.
The opening of the new Razerstore purportedly drew thousands of fans from Taiwan and abroad, including the United States, Europe and Asia, which resulted in a line forming many hours before the store opening.
While Syntrend provided extensive security support for the event, the magnitude of people drawn to the mall for Razer's retail event were expected to exceed capacity, potentially taxing crowd control resources and impacting other tenants of the mall.
Razer will comply with Syndrend's request to suspend its previously planned activities this weekend. As a result, free Nabu X wearables will not be distributed to the first 250 visitors in line each day, May 16 and May 17.
The new Razerstore Taipei will still be open and operating during normal business hours this Saturday and Sunday, from 11 a.m. to 10 p.m. The Razer community team on location plans to issue swag on a discretionary basis, honoring fans who come equipped with Razer gear, such as Razer Kraken headphones, shirts, bags and the likes.
+1 Since I don't know what razor products are, I seriously don't see the relevance of this article to this site.

Relevance?? Of course electronic products..

Razor Blade gaming laptop and Razor NABU Smartband that supports Windows also.

Razer is a Windows OEM. Among other items of interest.

If you dont know, guess... hmmmm, its on a Microsoft news site so probably has something to do with microsoft... I could name 10 companies that spacificly make windows pc gear that you have never heard of. That doesn't mean they shouldn't be on the site... I only heard of BLU phones the other day, imagine me complaining about a Windows Phone OEM just because i never heard of them...

Why would you travel from the US or Europe for a store opening?

That many people can afford their products?

Wow, so many people. I have one razer mouse, specially bought to play WOW, You will feel "imba" after using that.. Lol.
Now after married, not playing WOW...

Try to get your spouse to play with you. Gaming together is a lot of fun.

That is actually good idea

Thanks. I was a console gamer first but my husband got me to try WoW (I'd avoided MMOs before that) and it was fun to not only play an RPG but to play with a character I could customize. Assuming you are talking about a wife, MMOs appeal to a lot of females because of the character customization and I know for a fact that a lot of female players like mages (due to the range and awesome clothes) and hunters (also due to the range and pets).

"imba" lol. I forgot about "imba". Thanks for the very breaf walk down memory lane.

Yes, this important to Windows community how?

More important than Xbox news since Xbox doesn't even run Windows atm.

Xbox One has been running Windows NT since it's launch...

Because even though I don't own any razer products I can see this as a funny and interesting info on a new tech store of a companies own products that work with windows PC's. Which this site us about windows info in general.

Because Razer makes a lot of Windows related products.

Why is this asked on every article that isn't specifically about Win 8/10? There is more to Windows than just the OS itself. Just like the Oculus article earlier, companies make products that work with Windows, some primarily with Windows. This is all related to keeping the Windows ecosystem thriving, and I personally learned that Razer has a store. That's awesome.

Man I don't know, its not a windows site, its a Microsoft site with the bonus of news on anyone who does work/bushiness with them... Every single news site dedicated to one company does it.... so i really have no idea what they are complaining about... And if you do ask that then you probably haven't bothered to even look up the company in the article... just enough time to moan though

Ah Razer, you say you're all about quality and high prices and yet somehow people show reports of your products being broken easily.... I bought one Razer mouse myself, paid 50$ for it and while it still works I feel like 50$ was a bit to much for a simple mouse with a DPI switch, instead I got a Logitech G300 mouse and is actually useful. Still have it to this day for the past 4 years and yet it's still kicking.

I have razer mouse that just turned 5 and it's still alive and kickin as well. Great mouse, high quality.

Congrats to RB for being signed to Razer! Another top Taiwanese SF4 player!

Wow, why so much hate on Razer products? I start to thinking Win central is full of cheapest people who can't afford nice things.

Hmmm all I'm wondering now is whether I should pay this place a visit during Computex.

Yay, now they have their own store to sell those overpriced, crappy mice and keyboards.
Windows Central Newsletter
Thank you for signing up to Windows Central. You will receive a verification email shortly.
There was a problem. Please refresh the page and try again.