Reaper, a eye-catching RPG game for Windows Phone 8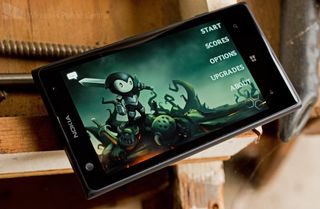 Reaper is a wonderfully drawn up RPG game for our Windows Phone 8 devices that puts you in control of the Pale Swordsman set on dominating all that come before you.
Reaper has gesture based controls, fantastic graphics, and has plenty of gear and skills upgrades to earn along the way. If you like fast paced, role playing games, Reaper is one to try.
Reaper's main menu has options to start the game, review gaming scores, access gaming options, upgrade the game, and view the about screen. Gaming options cover sound/music levels as well as restoring purchases, resetting levels and establishing a gamer profile.
Reaper is a free game but only up to character level 10. After that, you'll need to pick up an in-app upgrade to continue. You have three options for the upgrade. The Adventure Edition is the full game and runs $2.99, the Destiny Edition is the full game plus an additional arena, a fortune teller and destiny item set. It'll run you $3.99. The Dark Legend Edition includes the full game, the Destiny Edition add-ons and a dark edition item set, an additional side quest, and a dark harvest mode. The Dark Legend Edition runs $4.99.
When you first jump into the game, you'll run through a tutorial mission that covers all your gesture moves. In a nutshell, the left side of the screen controls your characters left/right movement. The right side of the screen controls your characters' actions (sword slashing, jumping, defensive moves, etc.). Throughout the tutorial you have learning stations (the glowing masks that are hovering about) that will go over the maneuvers.
At the conclusion of each level or mission, you'll find a glowing white orb that serves as a portal that will send you to the navigation map. The portal won't suck you in so if you need to collect gold coins that are bouncing around from slain enemies, go ahead and collect it. When your ready to make the jump, just position your swordsman in front of the portal and in a few seconds, he'll be sent to the game's navigation map.
Game play calls for you to wander the map, defending yourself from enemy ambushes, meeting new and unique characters, tackling missions and visiting shops to upgrade your gear.
As you travel, you'll stumble upon gold treasure and as you slay your enemies coins will be generated. The gold earned can be used for your trips to the local shops. You also earn experience points that will bump your character up in levels. When you qualify to level up, an icon will flash in the upper right corner of the map view. Tap it and you'll see what skills you can choose to upgrade (health, strength, or speed).
Reaper's animations and graphics are extremely well drawn up. I like the gesture based movements and actions, but it does take some time to get used to them all. I kept finding myself tapping the screen to swing my sword but that gesture makes your character jump. You do have the benefit of directions arrows at the bottom of the left side of the screen that will help the left/right movement portion of the game.
Once you get the hang of the gestures, you can then give wiping out your enemies your undivided attention.
Reaper is an action packed RPG game for Windows Phone 8. Again, the initial game is free up until your character reaches level 10. After that you'll need to buy an in-app upgrade ($2.99 to $4.99). Reaper can be downloaded here (opens in new tab) in the Windows Phone Store.
George is the Reviews Editor at Windows Central, concentrating on Windows 10 PC and Mobile apps. He's been a supporter of the platform since the days of Windows CE and uses his current Windows 10 Mobile phone daily to keep up with life and enjoy a game during down time.
This looks like a great game, never would have found it but through WPCentral. This is one of the many reasons why WPCentral takes pride of place on my phone!

I was playing the game while sawing the notification featuring the game lol

Just replying so that everyone sees. Adidas micoach app now available for Lumia WP8's. http://www.windowsphone.com/s?appid=3342a0aa-c629-4196-a75c-147e13b06a47

I have this and it's awesome! Give it a shot! I found the chapters expensive, though. I just bought Halo Spartan: Assault. Maybe that's why. lol

Looks like a rip-off of Dragonica

I've always been a fan of hexage games but this is the first game of theirs that I actually bought.

Same here. I have bought a total of, I think, 4 apps, for both my Surface and windows phone... this was the 5. Really enjoying the game so far. I bought it for W8 rather than the phone, however. Looks great on a larger screen and looking forward to trying it with a controller.

the extra is not too worthed for its price. I suggest for buying just adventure edition. Other feature not too good. Like destiny or dark item which I never found/see it even after I got level 20. Dark harvest mode is not too good too. It's separated char so it's kinda useless.
But it's back to yours. The game it self is good and I really enjoy it :)

Thanks for the advice man!

One of the best games i have ever ever ever evvvvvvvver played

Stunning game. Hexage are gifted developers.

It looks nice, but the controls are absolutely horrendous. Story is presented in rather uneventful dialogue boxes too. Pretty disappointing.

(and wasn't there a post about this game some days ago already?)

You know what? I was just going to say the exact opposite. I reckon this is the best implementation of traditional controls on a mobile phone. Can't please everyone all the time, I suppose!

Yes, we posted to announce the game and then this is our review. George just doesn't like to use the word review for some reason.

Its a role playing game game?

Love the game, I have most of his games but this is the most polished one if the bunch. Seriously looking forward to his next game as he keeps getting better.

This game is awesome. Great art, controls that work well and it's fun. It's well worth the $5 for the full package, moreso than most other games I've played on Windows Phone. And the best part is that there are no in-app purchases spoiling the game. Something incredible about this game is that the phone runs cool. I've had hour long stints and whatever warmth I feel in the device may as well have been from body heat. These guys have to be some of the best developers on Windows Phone right now. Even if you discount 3D games and look at 2D there aren't many games that perform this well and run cool. I've said it before and I'll say it again; everyone should be supporting developers like Hexage. It's these guys who are going to make gaming on Windows Phone a success, by offering quality and variety. You're never going to get it from the Gameloft's and EA's of the world when all they do is pump out poorly ported, derivative garbage. Of course, it doesn't help when Microsoft does an awful job of promoting new games, especially if they aren't from big developers.

Please enable this game for windows 7. Please please please. Thank you.

The game is addictive.Sadly i just finished the free version in a couple of days.Now it needs an upgrade purchase.Too expensive to buy but an awesome game!

Too expensive? You're kidding, right?

I live in India and not UK or US.Its 160 rupees.Where else Asphalt 7 and 8 are just for 55 rupees.See the difference of 95 rupees.But the game is awesome that i agree.

'An' eye catching game. Not 'A'

This game has already pulled me in, anyone know if its worth getting the 4.99 version?

I really love the graphics of this game. It uses tons of effect that shining wonderfully.

Love this game, been playing since it came out, I think there has been 3 updates? The games wicked!!

Hopefully more to! It sometimes gets annoying whenever you keep dying though but one of my favorite games so far

Great game but I'm on a quest now that I can't beat. Is there no way to leave that quest and go level up some more or buy better items? Also I bought the Dark Edition for 4.99 and don't see anything I paid for.

please, please please, is there a way i can disable the back button when I play this? I've backed out of it twice now accidentally !!
Windows Central Newsletter
Get the best of Windows Central in in your inbox, every day!
Thank you for signing up to Windows Central. You will receive a verification email shortly.
There was a problem. Please refresh the page and try again.