Recommended PC requirements for Apex Legends: How to tell if your computer can run it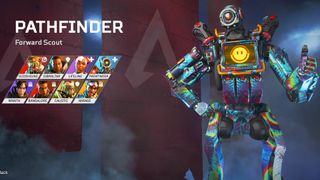 Apex Legends is the talk of the town, looking to dethrone Fortnite as everyone's favorite battle royale. With mouse and keyboard being the best way to play, you'll want to make sure your PC can run Electronic Arts' latest hit as well as possible. There's a quick way to check these specs and cross-reference them with those suggested by EA.
How to check your PC specs: the easiest way
Just follow these simple steps:
Hit the Windows Key + R to open up the Run command window.
Type in "dxdiag.exe" and hit OK to open up the "DirectX Diagnostic Tool".
View the System and Display tabs to check your specs.
Another way to check your PC specs
Hit the Windows Key + E to open up the File Explorer.
Right click on This PC over on the left sidebar.
Select Properties.A new window will open up listing all of your computer's specs. If any information is missing or isn't listed, like what kind of graphics card you have, you'll need to go through a few extra steps.
In that same window that opened up, select Control Panel Home in the top left corner.
Select either Display or Hardware and Sound if Display is not shown. (Hardware and Sound should then show you your integrated graphics if you do not have a separate graphics card.)
In Display, select the Advanced settings to view your dedicated graphics card information. (If you do not see Advanced settings, select Adjust resolution, which should now show you an option for Advanced settings.)
Select Advanced settings, and a window will pop up with your graphics card information.
Once you know your system's specs, you'll need to check out EA's recommended and minimum PC requirements for Apex Legends, which are listed below.
Apex Legends minimum PC requirements
OS: 64-bit Windows 7
CPU: Intel Core i3-6300 3.8GHz / AMD FX-4350 4.2 GHz Quad-Core Processor
RAM: 6GB
GPU: NVIDIA GeForce GT 640 / Radeon HD 7730
GPU RAM: 1 GB
HARD DRIVE: Minimum 22 GB of free space
Apex Legends recommended PC requirements
OS: 64-bit Windows 7
CPU: Intel i5 3570K or equivalent
RAM: 8GB
GPU: Nvidia GeForce GTX 970 / AMD Radeon R9 290
GPU RAM: 8GB
HARD DRIVE: Minimum 22GB of free space
Once in the game, if you have a good enough PC, Apex Legends also offers a heap of additional features and options that allow you to customize your experiences like remappable key bindings, volumetric lighting, different aspect ratios, adaptive frame-rate targets, and a lot more. If you need to upgrade your GPU, be sure to have a look at our collection of the best graphics cards.
Get in the game
(opens in new tab)
Fortnite competition

Respawn Entertainment dropped Apex Legends out of the blue and it quickly became a hit in the battle royale scene. Get in on the action and see for yourself just how fun it can be, so long as your PC can run it well.
Windows Central Newsletter
Get the best of Windows Central in in your inbox, every day!
Jennifer Locke has been playing video games nearly her entire life, and is very happy Xbox is growing a stronger first-party portfolio. You can find her obsessing over Star Wars and other geeky things on Twitter @JenLocke95.
I have an AMD Fx 6300, and constantly get kicked from games or even the lobby with a connection error message. I found a pretty long thread on the EA forums that it's actually an issue with the AMD 6000 series cpus. Only known fix so far that I've seen is disabling cores 5 and 6 in bios. I'm not ready to do that, so haven't confirmed. Hopefully respawn pushes a fix soon.

There are quite a few crash issues across the board. I've had quite a few on an Intel/Nvidia build... There's always something shortly after release! :(

The beauty of owning a console. You don't have to worry about any of this and you'll get a consistent experience across the board. Not to mention it's easier for dev's to optimize for plaforms with one or two different hardware configurations(XB, PS).

Easy for developers to debug too since literally, everyone on the planet, including devs and MS, all must use the same combination of OS version, HW, driver version, background services, no user tampering, etc. It's easier for dev to recreate 1 user's environment and debug.

And once you have it running make sure you disable EA data collection.... They don't miss any chance to take advantage of you. https://www.downloadsource.net/how-to-disable-data-collection-in-apex-le...
Windows Central Newsletter
Thank you for signing up to Windows Central. You will receive a verification email shortly.
There was a problem. Please refresh the page and try again.