Reindeer Round-Up, get in the Holiday mood with this new puzzle game for Windows Phone 8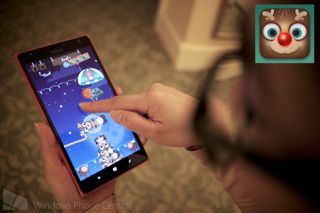 If you like physics-based puzzle games, check out Reindeer Round-Up for Windows Phone 8. Originally launched for iOS and Android, the game has just been released at the Windows Phone Store. This game should get you in the mood for the holidays. Reindeer Round-Up is addictive, so don't start playing it before an important errand.
Here's the official game trailer:
There are 5 zones with 10 levels each. The zones are named as cities: New York, Paris, London, Rome and Rio de Janeiro. The main goal is to stack cute reindeers on top of each other to reach the presents above them without falling. There are also levels where you pop bubbles or break boxes instead. The game starts out very easy, but becomes more difficult as you proceed to the next levels. The 2D graphics and animations look great. We also like the upbeat music.
At the beginning of each level, there are reindeers floating with parachutes. To start stacking the reindeers, tap a parachute and drag them the bottom. Use logic to carefully place the reindeers at the bottom, so that the reindeers on top are less likely to fall. Some reindeers have round shapes and some are contained in slippery ice cubes that make things a little more difficult. If you are having a hard time with a level, you have an option to skip it.
Reindeer Round-Up is developed by Christian West using Unity. It's the first game for Windows Phone 8 he has released and he plans to bring a few more. Christian claims to have ported the game and submitted to the Windows Phone Store in just one day!
Reindeer Round-Up costs $1.29 at the Windows Phone Store. Unfortunately, there is no free trial available in the initial release. We're not sure if that option will be available later on.
What other Holiday-themed games should we be playing? Let us know in the comments!
Windows Central Newsletter
Get the best of Windows Central in in your inbox, every day!
Dat 1520 ya'll keeps usin on des post sho do be lookin perty❕❕❕❕❕❕❕
WhoooWe❗.. Dat da biggiss dam phone on dis side of lake pontritrain, now❗

I was gonna say the same thing!

Ohhhh,, you mu be a real Cajun sucka jus like ya boi,, huh❔
Whoooooo❗

Y'all beating dat 1520 bad! I want it but dude I want my 32gb

Dat 1520 gone be comin out wit da 32gb option rell soon, boi❕.. Maby little vodo magik get dat der big ole ass phone in yo han, boi.

I don't care that there isn't a trial, the video is enough for me to see the gameplay and make up my mind. The fact is that it'a kinda late to the party with only 21 days to play. If it wasn't Christmas oriented, I'd consider the purchase. Otherwise it's very nicely done.

Terrifically cute game. Im picky and its sweet

Yeah, boi.. Sweet like dem crawfish booty be taysin❕

crawfish booty, I'll drank to dat....

Geah❕ Dat crawfish booty be taysin guuuhh boi❕

I like articles that contain "originally for iOS and Android and now for Windows Phone...". It shows progress and acceptance. And we're seeing more and more of them.

God damn, that 1520 looks astonishing.
Windows Central Newsletter
Thank you for signing up to Windows Central. You will receive a verification email shortly.
There was a problem. Please refresh the page and try again.