Official Facebook, Messenger and Instagram apps releasing today for Windows 10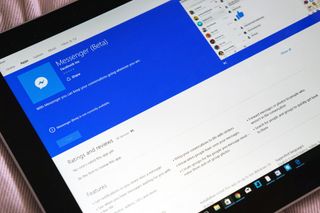 Back in October Microsoft in conjunction with Mark Zuckerberg announced that Facebook, Messenger and Instagram apps for Windows 10 were in the works. Ever since that fateful day anxious users have been wondering when they will be officially released.
Today is that day as Microsoft and Facebook are officially announcing the general availability of all three Facebook-owned apps for Windows 10 and Instagram on Windows 10 Mobile.
The apps feature an in-app browser, GIFs for group conversations, and direct messaging along with Live Tiles that highlight new information without having to open the apps.
Instagram had quietly rolled out their Instagram beta app for Windows 10 Mobile over the last few weeks with at least three updates since. That app is now ready for primetime and considering it is a port of the most current version found on the iPhone it should be kept up to date. This change also means that the new Instagram app has feature parity with the iPhone for the first time.
However, there is no indication that Instagram will come to Windows 10 for PCs. Instead, users will have to wait until the third-party app 6tag is upgraded to UWP for Windows 10.
The Facebook and Messenger apps have also been in limited invite-only testing that has begun to go wider lately. That testing phase is now complete as both apps are open to all to download and use on Windows 10 for PC.
Features of Facebook include Reactions, stickers in comments, notifications so that you don't miss important updates, and a right-hand column that shows birthday, event reminders and trending topics. Messenger, meanwhile, grabs photo sharing, stickers, group conversations, GIFs, and desktop notifications of new messages.
New Facebook apps for Windows 10 Mobile coming soon
For fans of the Windows 10 Mobile OS, the other news is Microsoft is announcing that the new Facebook app will also be "coming soon" to phones too (and we assume they mean to include Messenger as well).
By the sound of it, the existing Facebook app for Windows 10 Mobile maintained by Microsoft will live on until the version from Facebook is ready for Mobile at which point they will switch.
We'll update this post with links when the apps are available. More information can be found on the Facebook blog.
Store links
Daniel Rubino is the Editor-in-chief of Windows Central, head reviewer, podcast co-host, and analyst. He has been here covering Microsoft since 2007 when this site was called WMExperts (and later Windows Phone Central). His interests include Windows, Microsoft Surface, laptops, next-gen computing, and for some reason, watches. Before all this tech stuff, he worked on a Ph.D. in linguistics and ran the projectors at movie theaters, which has done absolutely nothing for his career.
the great news for today.

Lelz, still coming soon for w10m users xD xD

At least we know it's coming :D I have less doubt now that they will suddenly disappear since they've already got it on PC +640 on Windows10Mobile

Well from the title I hoped that they had released all three of them for mobile too :(

That's weird you thought that considering Facebook and Messenger had no beta app at all on mobile while instagram did.

I thought it was weird but I had hoped that it would be on mobile when I saw the headline. The picture is a bit misleading too.

Facebook app is fantastic. What about Messenger? I can't download it. Facebook redirects me to download Messenger app, however, it says it's only for mobile devices. As soon as Messenger arrives as an app bye bye Facebook in browser.

i cant log in on facebook :/ after i type password it will stay there at the lockscreen, if password is incorrect it will now :P

I'm build 10586.218 (PC Version) and Facebook freezing some times.
Messenger isn't working! Can't input email/phone to login.
#FAIL

I'm so happy !!! Posted from Windows Central for Windows 10

I suddenly have that scene from Despicable Me 2 going through my head. "Iiii'mmm sooo haaappyyyy!" Posted from Windows Central for Windows 10

OMG OMG OMG OMG OMG OMG OMG YES YES YES YES YES YES YES YES YES YES YES!!!!!!!!!!!!!!!!!!! Posted via the Windows Central App for Windows 10 Mobile

An unprecedented orgasmic eruption never seen from a Windows Mobile user until now.

Probably it hit the "right spot". Sent from Earth-2 where Windows mobile is a Success in Year 2024.

I was waiting for this day to come and it finally did, what else do you expect! ;_; Posted via the Windows Central App for Windows 10 PC

Not the right spot,but g spot:p

Except just a touch* premature*, since the mobile version is only coming* later in the year. Coming* again soon... * all puns intended Posted from Windows Central for Windows 10

:P Posted via the Windows Central App for Windows 10 Mobile

Heh. *********** joke. Windows Central for Windows 10-Microsoft Lumia 640

Sweet! Wish the messenger was on mobile already but the 8.1 app is good enough until then

This should make a lot of people happy. ​ Queue the whiners about no mobile though.

Waaah waaah, no mobile. Waaaaaaaaaaah.

Well I'm using Android till that day so no rush lol

What? But the last line made my hopes fall again.

Ain't no stoppin us now... We're on the move. +950 XL DS NAM CV Windows 10 Mobile

Slowly, slowly, but we are getting there.

Great, waiting for Facebook to launch on mobile..

Will messenger make use of interactive notifications?

"Messenger, meanwhile, grabs photo sharing, stickers, group conversations, GIFs, and desktop notifications of new messages."

Yes but would the notifications be interactive? Could we reply directly to and from a message notification?

So far, no. Source: Been using the app for a while. Send from Bikini Bottom via my ShellPhone 950 XL

Proactive ones. It's a new feature. Facebook will answer your messages for you to manage your social life. It has been demonstrated people are really, really, like reaaaly bad at social communication and managing their own lives, so Facebook is taking it over to slowdown the amount of dejected males in the world.

"...to slowdown the amount of dejected males.." LOL!

LOL Greetings from my orange Lumia 930 W10M .218 non-insider in The Netherlands.

Facebook is big enough to support Windows 10 Mobile. Many compagies are not. Greetings from my orange Lumia 930 W10M .218 non-insider in The Netherlands.

You mean - Microsoft has paid enough or put enough Manpower into it. I doubt that is all free will from Facebook

This isn't about supporting Windows 10 Mobile, it's about supporting Windows 10. Period. For a company to not support a current userbase or 300 million (estimated to reach 1 billion in another couple years) is ludicrous. Just look at the outcry over at the Sonos forums once they finally admitted that "we won't be making a Windows Phone app, and no, we will not be creating a Windows 10 UWP app either". And the thing is, once you've created the Windows UWP app for either platform (desktop generally makes sense due to the number of users who live there) you're so far along the way of having a mobile equivalent it almost doesn't make sense not to. Not to mention, app makers don't generally care about presentation, so there's nothing stopping them from releasing the exact same version of the app for desktop, mobile, xbox and iot all at once - just look at Android and the number of upscaled "tablet" apps available. Geez.

These are not UWP apps though, they are done using Osmeta, so I dont think that they could be done easily on mobile like they would do if they were UWP

They are still UWP though, just limited to one platform at the moment (likely due to the layout/design not being finished for mobile).

UWP just means they're universal across Windows 10 devices. It doesn't care what technology or tool was used to create them.

They are UWP apps. They're not ported from another app using Microsoft's bridge. However the IDE or bridge or whatever workflow involved in programming the app doesn't affect whether or not it's UWP.

Woow i hope for mobile update come soon☺

I have mixed feelings about facebook -- on one hand yes to the new apps, on the other, I hate I'd need a separate app for their messenger. But better than no apps, that's for sure!

Goddammit. And I already though they finally released Facebook Messenger for Windows 10 Mobile -_- Posted from Windows Central for Windows 10 Mobile

There's the WP8.1 version on mobile which works well for me, but a UWP will obviously be better

AAAAAAAAAAAAAAAA FINALLLYYYYYYY! :D :D :D

This will make my wife happy. Therefore, I will be happy.

It really will be good! No matter what anyone says, a lot of people use at least one of these apps.

It is nice news that we will have official up-to-date Facebook, Messenger and Instagram apps. It is sad that this Osmeta framework they are using to code these apps has a bad user experience AFAIK after using the new Instagram app. It doesn't feel native at all, it is basically iOS looking web app inside a webview.

Supports the new "emotion" things they added which is good, but I've not noticed many people using them (Don't use Fbook much either, but every now and again)

I see them used all the time. And it's annoying when it's displayed as a "Like" in the older apps. Posted from Windows Central for Windows 10

Maybe that's why I think nobodyy uses them....Most of my casual browsing is done in the app, and every now and again on the web, so I probably only saw them when using the web

Exactly why I'm not at all excited. I haven't used the Facebook & Messenger apps yet, but the Instagram app is a joke. I prefer first party apps and will use them most of the time even if they have fewer features, but in this case I had to go with 6Tag. The Windows 8.1 app may have lacked a lot of features, but at least it was smooth, usable & consistent with WP's UI. I said it before and I'll say it again, this isn't showing that you're "All in on Windows 10".

What's wrong with the Instagram app? It is stable, works well, and it looks like Instagram.

I agree, the Instagram app is great and I've stopped using 6tag for it.

I'm not using FB not IG but I'm happy for users who does.

Same here Greetings from my orange Lumia 930 W10M .218 non-insider in The Netherlands.

Mobile always for last... Posted from Windows Central for Windows 10 Mobile~

Unnecessary ellipsis always in comments...