Official Facebook, Messenger and Instagram apps releasing today for Windows 10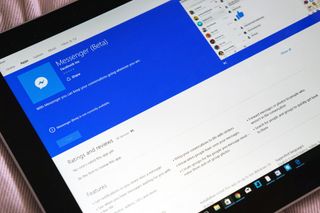 Back in October Microsoft in conjunction with Mark Zuckerberg announced that Facebook, Messenger and Instagram apps for Windows 10 were in the works. Ever since that fateful day anxious users have been wondering when they will be officially released.
Today is that day as Microsoft and Facebook are officially announcing the general availability of all three Facebook-owned apps for Windows 10 and Instagram on Windows 10 Mobile.
The apps feature an in-app browser, GIFs for group conversations, and direct messaging along with Live Tiles that highlight new information without having to open the apps.
Instagram had quietly rolled out their Instagram beta app for Windows 10 Mobile over the last few weeks with at least three updates since. That app is now ready for primetime and considering it is a port of the most current version found on the iPhone it should be kept up to date. This change also means that the new Instagram app has feature parity with the iPhone for the first time.
However, there is no indication that Instagram will come to Windows 10 for PCs. Instead, users will have to wait until the third-party app 6tag is upgraded to UWP for Windows 10.
The Facebook and Messenger apps have also been in limited invite-only testing that has begun to go wider lately. That testing phase is now complete as both apps are open to all to download and use on Windows 10 for PC.
Features of Facebook include Reactions, stickers in comments, notifications so that you don't miss important updates, and a right-hand column that shows birthday, event reminders and trending topics. Messenger, meanwhile, grabs photo sharing, stickers, group conversations, GIFs, and desktop notifications of new messages.
New Facebook apps for Windows 10 Mobile coming soon
For fans of the Windows 10 Mobile OS, the other news is Microsoft is announcing that the new Facebook app will also be "coming soon" to phones too (and we assume they mean to include Messenger as well).
By the sound of it, the existing Facebook app for Windows 10 Mobile maintained by Microsoft will live on until the version from Facebook is ready for Mobile at which point they will switch.
We'll update this post with links when the apps are available. More information can be found on the Facebook blog.
Store links
Daniel Rubino is the Executive Editor of Windows Central, head reviewer, podcast co-host, and analyst. He has been covering Microsoft here since 2007, back when this site was called WMExperts (and later Windows Phone Central). His interests include Windows, Microsoft Surface, laptops, next-gen computing, and arguing with people on the internet.
the great news for today.

Lelz, still coming soon for w10m users xD xD

At least we know it's coming :D I have less doubt now that they will suddenly disappear since they've already got it on PC +640 on Windows10Mobile

Well from the title I hoped that they had released all three of them for mobile too :(

That's weird you thought that considering Facebook and Messenger had no beta app at all on mobile while instagram did.

I thought it was weird but I had hoped that it would be on mobile when I saw the headline. The picture is a bit misleading too.

Facebook app is fantastic. What about Messenger? I can't download it. Facebook redirects me to download Messenger app, however, it says it's only for mobile devices. As soon as Messenger arrives as an app bye bye Facebook in browser.

i cant log in on facebook :/ after i type password it will stay there at the lockscreen, if password is incorrect it will now :P

I'm build 10586.218 (PC Version) and Facebook freezing some times.
Messenger isn't working! Can't input email/phone to login.
#FAIL

I'm so happy !!! Posted from Windows Central for Windows 10

I suddenly have that scene from Despicable Me 2 going through my head. "Iiii'mmm sooo haaappyyyy!" Posted from Windows Central for Windows 10

OMG OMG OMG OMG OMG OMG OMG YES YES YES YES YES YES YES YES YES YES YES!!!!!!!!!!!!!!!!!!! Posted via the Windows Central App for Windows 10 Mobile

An unprecedented orgasmic eruption never seen from a Windows Mobile user until now.

Probably it hit the "right spot". Sent from Earth-2 where Windows mobile is a Success in Year 2024.

I was waiting for this day to come and it finally did, what else do you expect! ;_; Posted via the Windows Central App for Windows 10 PC

Not the right spot,but g spot:p

Except just a touch* premature*, since the mobile version is only coming* later in the year. Coming* again soon... * all puns intended Posted from Windows Central for Windows 10

:P Posted via the Windows Central App for Windows 10 Mobile

Heh. *********** joke. Windows Central for Windows 10-Microsoft Lumia 640

Sweet! Wish the messenger was on mobile already but the 8.1 app is good enough until then

This should make a lot of people happy. ​ Queue the whiners about no mobile though.

Waaah waaah, no mobile. Waaaaaaaaaaah.

Well I'm using Android till that day so no rush lol

What? But the last line made my hopes fall again.

Ain't no stoppin us now... We're on the move. +950 XL DS NAM CV Windows 10 Mobile

Slowly, slowly, but we are getting there.

Great, waiting for Facebook to launch on mobile..

Will messenger make use of interactive notifications?

"Messenger, meanwhile, grabs photo sharing, stickers, group conversations, GIFs, and desktop notifications of new messages."

Yes but would the notifications be interactive? Could we reply directly to and from a message notification?

So far, no. Source: Been using the app for a while. Send from Bikini Bottom via my ShellPhone 950 XL

Proactive ones. It's a new feature. Facebook will answer your messages for you to manage your social life. It has been demonstrated people are really, really, like reaaaly bad at social communication and managing their own lives, so Facebook is taking it over to slowdown the amount of dejected males in the world.

"...to slowdown the amount of dejected males.." LOL!

LOL Greetings from my orange Lumia 930 W10M .218 non-insider in The Netherlands.

Facebook is big enough to support Windows 10 Mobile. Many compagies are not. Greetings from my orange Lumia 930 W10M .218 non-insider in The Netherlands.

You mean - Microsoft has paid enough or put enough Manpower into it. I doubt that is all free will from Facebook

This isn't about supporting Windows 10 Mobile, it's about supporting Windows 10. Period. For a company to not support a current userbase or 300 million (estimated to reach 1 billion in another couple years) is ludicrous. Just look at the outcry over at the Sonos forums once they finally admitted that "we won't be making a Windows Phone app, and no, we will not be creating a Windows 10 UWP app either". And the thing is, once you've created the Windows UWP app for either platform (desktop generally makes sense due to the number of users who live there) you're so far along the way of having a mobile equivalent it almost doesn't make sense not to. Not to mention, app makers don't generally care about presentation, so there's nothing stopping them from releasing the exact same version of the app for desktop, mobile, xbox and iot all at once - just look at Android and the number of upscaled "tablet" apps available. Geez.

These are not UWP apps though, they are done using Osmeta, so I dont think that they could be done easily on mobile like they would do if they were UWP

They are still UWP though, just limited to one platform at the moment (likely due to the layout/design not being finished for mobile).

UWP just means they're universal across Windows 10 devices. It doesn't care what technology or tool was used to create them.

They are UWP apps. They're not ported from another app using Microsoft's bridge. However the IDE or bridge or whatever workflow involved in programming the app doesn't affect whether or not it's UWP.

Woow i hope for mobile update come soon☺

I have mixed feelings about facebook -- on one hand yes to the new apps, on the other, I hate I'd need a separate app for their messenger. But better than no apps, that's for sure!

Goddammit. And I already though they finally released Facebook Messenger for Windows 10 Mobile -_- Posted from Windows Central for Windows 10 Mobile

There's the WP8.1 version on mobile which works well for me, but a UWP will obviously be better

AAAAAAAAAAAAAAAA FINALLLYYYYYYY! :D :D :D

This will make my wife happy. Therefore, I will be happy.

It really will be good! No matter what anyone says, a lot of people use at least one of these apps.

It is nice news that we will have official up-to-date Facebook, Messenger and Instagram apps. It is sad that this Osmeta framework they are using to code these apps has a bad user experience AFAIK after using the new Instagram app. It doesn't feel native at all, it is basically iOS looking web app inside a webview.

Supports the new "emotion" things they added which is good, but I've not noticed many people using them (Don't use Fbook much either, but every now and again)

I see them used all the time. And it's annoying when it's displayed as a "Like" in the older apps. Posted from Windows Central for Windows 10

Maybe that's why I think nobodyy uses them....Most of my casual browsing is done in the app, and every now and again on the web, so I probably only saw them when using the web

Exactly why I'm not at all excited. I haven't used the Facebook & Messenger apps yet, but the Instagram app is a joke. I prefer first party apps and will use them most of the time even if they have fewer features, but in this case I had to go with 6Tag. The Windows 8.1 app may have lacked a lot of features, but at least it was smooth, usable & consistent with WP's UI. I said it before and I'll say it again, this isn't showing that you're "All in on Windows 10".

What's wrong with the Instagram app? It is stable, works well, and it looks like Instagram.

I agree, the Instagram app is great and I've stopped using 6tag for it.

I'm not using FB not IG but I'm happy for users who does.

Same here Greetings from my orange Lumia 930 W10M .218 non-insider in The Netherlands.

Mobile always for last... Posted from Windows Central for Windows 10 Mobile~

Unnecessary ellipsis always in comments...

Sorry, Daniel... :( It's great news!! No doubt! But Facebook and Messenger are needed most on mobile... on PC we already have Facebook on browser with chat... That's why is kinda sad... mobile for last... :/ Posted from Windows Central for Windows 10 Mobile~

from my point of view for ppl who use facebook and messenger on crappy computers it would be great :D because sometimes the broswer gets messy and when it lags andn stuff on the other hand being on the app would be good + you get notifications when you have the broswer close too (for fb addicts) so dont kill it its a good idea to have the apps on pc too :3

You get a thumbs up just for your wanton use of excessive ellipsi.

Erm, thanks? XD I do write a load of ellipsis when I'm not happy :v So, yeah..

Why couldn't they launch them all at the same time for mobile and pc if it's universal come on!!!

We have been over this many times before and app development is not that easy. There are also using Osmeta.

That's true but they've been using soon since October that's not a valid time frame as the way they use it ir could mean another 6 months as soon. But I'll be optimistic and hope its released in a week or so

To be fair, it was announced in October. Doesn't mean the project started then.

U are right but in October they also did say "coming soon"

Windows 10 Mobile wasn't even released last October; it's barely officially launched now. Your expectations are unrealistic, even if it was a more popular platform.

They could have waited longer if you preferred. Go build a UWP app and you'll see that although the amount of work is cut down and sharing code between devices is easier, it still takes extra time

They could have, and that's fine. My problem is when they said "soon" in October then "very soon" at build ...takes away from all meaning of the word soon when they use it

Yaaay Windows Central for Windows 10-Microsoft Lumia 640

Although I don't even have Facebook. Windows Central for Windows 10-Microsoft Lumia 640

Tell the Facebook Federation Empire Corporation of Evil Tyranny and I will end you. Windows Central for Windows 10-Microsoft Lumia 640

YEEEEEEEEEESSSSSSSSSSS!!!!!!!!!!!!!!!

Why so late..i already make a move to Huawei mate 8..android marsmallow 6.0..and im use fb lite..

If you already moved then what's the problem?

My facebook user friends will switch to windows phone now!!!!!

All those month and they didnt manage to bring it to the Phone?

Do you really think Windows 10 Mobile is a priority for any business in the world right now? Honest question.

I think the amount of work that is necessary to publish it additionally for Win10Mobile after developing it on the UWP Framework should have a little impact on the Return of Investment

"after developing it on the UWP Framework should have a little impact on the Return of Investment "

See, that's your error. No where did we mention UWP in this article. The reason being these are not UWP apps, they are using Facebook's own Osmeta dev tools. Different ingredients.

Facebook themselves said it would be a universal app

Maybe I should look up how OSMeta works or you can explain me what it actually does. I would assume it does the same as Islandwood - it takes code and interpretes it into the UWP app Framework. Surely they cant run anything Unsupported on that OS so there is not some magicial stuff happening that suddenly runs secret OSMeta things on WP.

I didn't get any updates. when will they hit every windows 10 devices?

Not so happy yet. These apps are being expected on MOBILES!!! The current Messenger app on mobile sucks big time, the facebook app is also slow.

Yeah bro my messenger took so much battery when im using it

Try turning the location off in messenger that's a big part of the drain

Instagram is still an ios port. Every single buttons and actions still the same. Its a shame windows doesnt have a proper windows 10 styled instagram app of its own.

They have, it's called 6tag and is way better in my opinion

We know. It's also a proper Windows mobile styled instagram app of its own. As you requested. Excited about the UWP 6tag app though. I noticed huge performance increases from 6tin windows phone 8 app to the UWP one.

me too, really looking forward to the UWP 6tag !!!

And what a GREAT one at that ;p

Well it was good till win8, now it is slow, also doesn't support uploads greater than 20Mb, which now becomes useless for me.

Seriously, i don't get what's the problem with that.
Even android version is a port from the iOS and they have most of the market. XD

Doesnt need to have windows 10 style because it has Instagram style. That doesnt mean I like the style that they put over those apps in either of the service. App Settings in the Profile tab - who ever thought of that ..

It,s only available in pc Bhargav Sakaria

And some thought windows 10 is dead. Buhahaha

It is. Don't get over excited.

They took so long to port it but missed the video calling feature on Messenger. That would've been the biggest addition as compared to the the current app -_- Although this is good for the platform.

No video calling? So I still have to use Skype? *cries* Posted via the Windows Central App for Android

So the Instagram apps is only on W10 Mobile and not on W10 PC, and the Facebook app is currently only on W10 PC and not on W10 Mobile yet? I thought all these developers needed to do was "check a box", so to speak, to make UWP apps run across different devices. So now I'm officiallly confused about the "universal" part of UWP. Why aren't both of these apps simultaneously launching on both phones and computers? Perhaps a UWP developer can clear this up.

Your mistake is assuming these are UWP apps. We did not mention it, neither did Microsoft. They are not UWP, that's why. Facebook bought Osmeta years ago. They are caching in on their investment.

I see...kind of. I thought that everything in the Windows 10 Store was a UWP app, which were a new type of file format that is more secure, easier to install/uninstall, etc. How many different types of apps can be in the Windows 10 Store, and are there noticeable differences in them, feature- or security-wise?

Just because an app is a Windows 10 app doesn't mean that it's a Universal Windows 10 app. Sent from my Lumia 950 running Windows 10 Mobile

And no, there is no difference in security or ability to install/uninstall. All that changes is the ability to run on different form factors.

Instagram was ported so it wasn't built from the ground up using UWP. Mobile and desktop share the same code, but the UI is obviously different between the two. That's the main reason why they often release them at separate times.

Because Microsoft is exagerating the word "universal". While it is significantly less work to do than making a seocnd app, there is still more coding and UI design required depending on how complex your app is.

As noted above UWP and Universal do not apply in this case. Wrong argument you are making. These are not UWP apps nor do they use Microsoft's dev tools.

Daniel, you must be feeling especially patient today. I'm watching you reply to all these "why can't it be universal since it's UWP" comments. I got ticked off after the first or second person that said that lol.

Actually if you follow MS's design guidelines regarding hamburger menus and that sort of stuff, the time it takes to modify the UI for mobile can be cut to mere hours or days. Sent from my Lumia 950 running Windows 10 Mobile

The app has to actually to be made for all devices. The thing with UWP is that all of that can sit in a single project, using shared resources whenever needed. But things like interface and UX have to be adapted to different screen sized, inputs, etc.

Does messenger have interactive notifications?

The messenger app is the most exciting!!,
I was part of the Beta testing of the FB app Posted from Windows Central for Windows 10

How was the FB app? Were there 'reactions' Posted from Windows Central for Windows 10 with a Nokia Lumia 730

I can't get the Messenger app yet, but might still be propagating

I am so happy today..it is my best day...omg omg omg.....

Not really... Mobile is still lacking the new apps... :/ For pc we already had the browser, so... not that big impact... Posted from Windows Central for Windows 10 Mobile~

yea but that means the UWP apps are ready and now they have to work out only the way it looks on mobile so it wont be that long before it comes to mobile too :3

later this year... Posted from Windows Central for Windows 10

I know! But Microsoft said they would be! That's why it's sad too...

Awesome!! but stuck with WP 8.1

All we need now is the link/download Daniel :)

FB UWP and Messenger UMP app only for PC -_-
Only insta arriving for mobile :/
The title misled me !_!

Mobile wasn't mentioned in the title. You read into it.

Sweet will put it on my laptop when I get home from work Posted via the Windows Central App for Android

Great, but I have two little issues with the instagram app. For once, the splash screen... Is it really that hard to put there a white instagram logo on a blue background, like on the live tile? :D And the navigation bar... The app still behaves strange if I swipe it up or down.
These things should not be so, if the app is officially released. :D Posted with the Windows Central app for Windows 10 on Lumia 535

In the blogpost they said that messenger and facebook apps for mobile will release later this year not coming soon :(

Well that sucks its the Mobile that needs it not desktop, can already use FB on the desktop!!!!!!!!! later this year more waitinggggggggggggggggggggggggg

Thanks for giving this os an oppurtunity....

All I hope is that they bring the interactive notifications to this version of Facebook, like the current Microsoft beta on W10M

Great! Sent using my awesome Microsoft Lumia 950! (AT&T)

How about the video and voice call? Love,
Ino Sanchez @lumia1520W10mobile

I'm gonna like every comment i see.

So 'Coming soon' means today? (For mobile) Posted from Windows Central for Windows 10 with a Nokia Lumia 730

In the blog post they said it's coming later this year, not coming soon..

coming later this year means coming soon™ - means in a year or two in MSFT language.

2359HRS 31/12/16 Posted via the Windows Central App for Android

I wish I have the addresses of the people who comment without bothering to read the article! I will pay you a visit and use my 640XL to hit you in the face, maybe you will start reading after that.

No messenger on Mobile? Then really...who cares.

Well the main problem is apps still crashing even on 950 when will this crashing thing end . Well i am happy to see new apps well this app gap fill in windows 10 store then things becomes more Awesome. I wish it happens soon.

Will the messenger app have voice and video calling???

This is W10, of course not... We need to wait another year for those :-)

I can't find them on the store and I don't find links for them on any articles meh

Instagram just updated on my phone. No more beta tag in the name. I'm in Louisiana in the US.

Facebook app is available now: https://www.windowscentral.com/e?link=https2F%2Fclick.linksynergy.co...

Guys, the FB Beta app now works for everyone.

Deleted all my personal social media accounts...feel soo free! Time to create something.

All I heard was feature parity with iOS. Wow. Without any new hardware from Microsoft coming until next year this is the kind of moves that they need to push throughout the entire year. This is just great. One picture at a time -- LG V10

I need a good Vine app, official one crashes when opening camera, 6sec only posts dead links.

"Later this year we're excited to roll out the Windows 10 Phone Facebook and Messenger apps." - from the blog post.

it's like, when I thought this day can't get any better it's still does! I just got my PC running after 5 months of using mac as my daily activity notebook, and let me tell You something, I'm not going back. period. osx is for dummies, true story

Instagram lags horribly on start (and its on Lumia 1520) and FB+Msngr are "coming soon ™" - underwhelming... And how come that UWP app is not universal, but released only on PC. I mean I understand they just didnt activate the part of the code that makes it run on mobile, but what the hell, why would they do that?

seems like forever for this to come along and now with facebook on board we might see other to apps follow

https://www.windowscentral.com/e?link=https2F%2Fclick.linksynergy.co...

So now w8ing to try it on pc and then hope mobile apps wont be late :3

Anyone notice that instagram app has a crappy splash screen for some reason, I was thinking they would have fixed that by now.

Okay, this is cool. But I hope these apps will be maintained along the users and fully feature rich and not just abandoned like previous apps for windows 8.

Do messenger app for mobile also get update?

Unfortunately my old laptop, a Lenovo G550, which is upgraded to windows 10 is not working with the new Facebook app :( It never opened as a beta and now the main app doesn't open too... It just force closes while displaying the app logo. I hope they fix this :( Posted from Windows Central for Windows 10

Omg! This is my favorite day!!!!!

Well at least instagram finally lost its beta tag after, what, something like 3 or 4 years? It's been in beta as long as I've been using windows phone, which is about that long.

Well isntagram for wp 8 didnt lose it xD and instagram for windows 10 is around for 2-3 months? and it lost it now so its a different thing xD

Great, can't wait for FB and Messenger for W10M!

Messenger on pc still doesn't let me in...are u sure they're open to the public?

Not seeing Messenger for PC but am seeing new Facebook.

IDK why they prioritized desktop first. Mobile users need this more!

It's incredibly simple. There are many, many, many, many, many more people using Windows 10 on their desktop than on their mobile device. If they've got to go in an order, it makes total sense for them to hit the biggest area of customers first and then focus on the small one.

Well good to see the new icon if it would log me in too xD
Talking about facebook

I hope we get ports of HSBC, (Proper) BBC and Amazon prime apps SOON

Has anyone tried it? Is it any better than the previous Facebook app for Windows PC.?? Posted via the Windows Central App for Android on my Zuk Z1 which I am loving so far.

Yes, it's SO much better than the Windows 8 Facebook app ever was.

Just tried it. Way too slow for my liking. Uninstalled immediately. I think fine with using Facebook on Chrome browser.

Got excited about a new Messenger app... Alas no, but this is the next best thing! Nice to see Facebook's committment to Windows 10 as a whole OS (you listening, Snapchat?) and the apps are really good quality. Especially looking forward to testing Messenger out on my PC once it goes live.

The link above is for the old Windows 8 Facebook app, not the new Windows 10 Facebook app. This is the proper link. I know it says beta, but it's the one I installed and it let me log in.

we just need a comma on the keyboard when enabling multiple languages. No comma is available for FB Messenger, Instagram o Facebook..

Is it just me or is Messenger still not available for Windows 10 PCs in the Store?

Tadaaaa... This is Awesome

I don't see any links to the Messenger app. Posted from Windows Central for Windows 10

Can't use it, just crashes and won't load-useless

Messenger for Windows 10 now LIVE!!!

Updating the gf's computer from win7 to win10. Couldn't have come at a better time. She'll love the new app.

lumia 950, store app says it doesn't meet the instagram hardware requiremens :)) cheers.

Ditto. 950XL here. Weird!

Same. Absoultely genius!! Release an app no one can use because they done meet hardware requirements!! Then dont release what those hardware requirements are! If my 950xl isnt good enough what is?

Same on 830...I thought damn, but if you've got a 950, surely it's a bug...

Wahooooooooo!!! About f-ing time!

Why on Microsoft blog they updated it at the bottom to say the Facebook app is releasing soon for mobile but on the Facebook blog it only says later this year? Is it going to be soon or later this year....or does soon mean later this year in Microsoft talk?

Found Instagram app in Store but I get a message that I "need a device with more features." Running OS build 10.0.10586.218 on an AT&T Lumia 830. Instagram Beta worked fine, why not the production version?

As an ex-WP user now on iOS, this is great news for you folks - WP needs love badly. But the question now is - will these apps get the same amount of attention from their developers? i.e. will you guys get your regular updates? Imo, that's the really important thing.

Let's wait and see! But honestly? I don't think so.

Funny, I jumped ship in October mainly because of how horrible the facebook app on W10M was compared to iOS and Android. Admittedly it wasn't just because of the Facebook app but was in my mind a symptom of the larger app issue. If I'd known this was coming I might have hung on for a few more months. I still love WM and still have all of my previous WPs, but I love my Moto X and am happy I did. (But like the ex-girlfriend that comes around from time-to-time for a little fun, I dust off the Lumia on occasion.)

Why can't i download the Instagram?

Only small and medium live tile what a bummer...

Same here on a Lumia 640, it is so funny how W10M can be such a box full of surprises...

Fore some wired reason i cant install Instagram on my lumia 950. I can find the app in store but the FREE install button is greyed out and i get the following message: To use this app you will need a device with more features. For details see Aditional info>Hardware requirements. Now seriously..WTF hardware has my lumia missing...this is frikin hilarious...

Do not allow install Messenger on Windows 10322 Redstone(store app says it doesn't meet the hardware requiremens).

I'm sorry but those apps are absolutely garbage. Ios ports. runs poorly requires dx9...like..wtf? Facebook should be ashamed of themself, for putting out suck a steaming pile of goo. Serioulsy 1 dev with decent xaml/c# knowlegde could make thise from scratch in like a month. what the hell have facebook been doing ?

"coming soon"? What? Where is that "universal apps code once use on every w10 device" thing?

Hmm, ok.. So I've been using these for a day now and it's not all good. IMO, there are a lot of issues they [Facebook] MUST know about seeing as they had such a long "beta" period. For example, the mousepointer is constantly showing a busy icon while hovering inside the FB app. The mousepointer often shows a divider icon in the messenger app. You cannot "share to" either of these apps - so straight away they've removed a feature from the old app (which is no longer available). There is no people hub integration. The layout isn't responsive in either app, meaning if I fullscreen the app I end up with content on 1/3 of my screen with 2/3 full of empty space. You cannot reply to comments or messages directly from notifications. This is turning out to be, like some people said already, a rather poor web wrapper. I'll go back to the website again and using messenger exclusively on my phone.

KEEPS CRASHING ON MY Win10 10586 . Both Facebook and Messenger.

No Instagram Universal app~!? That's just so wrong~!!! Btw, love the new Win 10 FB and Messenger App~!!!

Please Microsoft dev team add VIDEO CALLING feature in messenger on Windows 10 mobile ... It's very useful please ... Posted via the Windows Central App for Android

So, I can uninstall Instagram Beta now...I thought it would install over it...

The only bummer is that there's no mobile version of new Messenger yet... otherwise there are wonderful news

Yaaay we can finally use Facebook on the desktop... wait for it... /S

I guess I've been living in a cave, but I rolled by HTC One M8 Windows back to 8.1.Update 2 and what's wrong with Facebook and Facebook Messenger? They both run great on my device. I had Windows 10 Mobile 10586.107 but for the life of me I could not sync my e-mail. What's different about the W10M versions; thanks!

After I installed the new FB Win10 PC app, the Facebook Share option disappeared from Edge browser.

i couldn't not launch FACEBOOK and Messsenger app,i tried alot to open but not working,please help me out.

if only we could have the release date

Hello Good friends
difficulty Settings enable Facebook active contact windows 10 mobile phone Lumia 540 please advise silence Iran Zahedan city in sistan and Baluchistan Thanks
Windows Central Newsletter
Get the best of Windows Central in in your inbox, every day!
Thank you for signing up to Windows Central. You will receive a verification email shortly.
There was a problem. Please refresh the page and try again.