See how Microsoft and cyclist Danny MacAskill recreated Cortana on the River Thames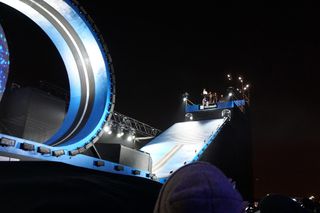 Yesterday we shared some photos from the Microsoft Cortana event in London, showing off the skill of legendary cyclist Danny MacAskill. Microsoft has since shared footage of the event, which we've compiled into the above video.
Microsoft's Adam Johnson was interviewed post-event to talk about why the company chose to work with Danny MacAskill and how Cortana came into play. Be sure to revisit our previous article for more shots of MacAskill and the journey to and from the wharf.
Windows Central Newsletter
Get the best of Windows Central in in your inbox, every day!
Rich Edmonds was formerly a Senior Editor of PC hardware at Windows Central, covering everything related to PC components and NAS. He's been involved in technology for more than a decade and knows a thing or two about the magic inside a PC chassis. You can follow him on Twitter at @RichEdmonds.
Great stunt. Now, flagship? :)

Microsoft should do a #BreakTheInternet event!!

I just had this mental image of Balmer in the same pose as Kim. *desperately starts searching for my whiskey*

Thanks for the Follow-Up Rich. The post interview comments by Adam Johnson echo the comment I made yesterday on your original post: "Wednesday November 19 2014 7:54:14 PM
This is actually likely going to be a very good promotion. We have COOL FACTOR, CELEBRITY and an EYE-CATCHING stunt. I look forward to seeing the video. :-) Which will probably be an edited post-production official release which is probably why we haven't seen it yet. The photos leading up to the event showed Danny preparing for the event with diagrams and things and he used Cortana as an assistant as well in prepping for the stunt. We'll likely see unofficial videos taken by onlookers ahead of Microsoft's official post-production release.
Microsoft will likely edit/produce the official video to include those particular activities Danny engaged in as he used Cortana before the event, prepping his bike, the construction of the ramp, choosing the location etc. leading up to event to show how with Cortana's assistance with a task anyone can #MAKEITHAPPEN.
This event/video will likely be the lead to a large campaign including social media and hopeful TV spots to highlight people from all fields and various walks of life setting a particular goal, then using Cortana to help #MAKEITHAPPEN.
So at this point, just hearing about one run through a ramp, making the Cortana symbol and no video seems uneventful, but I think its just the first piece to a much larger campaign that will be launched post-production of the official video.(JLTechWord)" Looks like this is going to be a great Cortana campaign. This is apparently just the beginning of a powerful move by MS to reach consumers with a catchy social media message, #MakeitHappen, and show how Cortana is a great partner in those efforts. Enterprise users will also likely see the appeal of using Cortana to #MakeItHappen.
I'm excited to see this campaign play out. I also wonder how much of this is a run up to making the "world" aware of Cortana as she will soon debut on PC and Xbox. Additionally I'm curious if this is also a longer play to appeal to iOS and Android users, as Julie Larson Green has shared she will be going cross-platform. Planting the seeds now, that Cortana is the Digital Assistant, that will help you make things happen places her in the minds of iOS and Android users as a viable alternative to thier native options. At any rate, this campaign will certainly bring users initials attention to the Windows environment(currently Windows Phone, later Windows 10 &XBox) and ultimately (though i hate the fact she may go cross-platform) to Cortana on rival platforms.

Weirdly the Cortana voice they used doesn't sound like the UK Cortana :/

probably because the UK cortana isn't finished yet :)

Nice achievement! But I think the link between this stunt and Cortana is confusing. It seems like Cortana is a brandname, like red bull as a company sponsorship for stunts and promotions, even though we know Cortana is a speech recognizing engine and has options to respond. If think microsoft just made Cortana a bit more confusing as to what it is, if this video is considered a promotion of the Cortana speech system.

@Webenhuis Hi. Cortana is actually more than a speech recognition engine. She(it) is actually more of an Artificial Intelligence utilizing Neural Network technology, which mimics how the human brain works. She of course has the option to be interacted with via speech, but is as we know, just as effectual when engage via text or when she silently/or via non-speech means and proactively offers notifications, supplies interests or gives reminders.
Microsoft's current implementation of Cortana on Windows Phone is simply the initial step of her broader applications throughout Microsoft's ecosystem (i.e. apps and services, Windows 10, XBox, and much more -IoT, vehicle). Additional if Julie Larson-Greens comments are to be acknowledged we can expect to see Cortana on iOS and Android as well.(unfortunately:-()
Microsoft's Cloud First, Mobile First strategy is a vast move to make Microsoft's aps and services the "PLATFORM" upon which the worlds mobile devices and apps run (Azure cloud storage and running back end app services, Office 365, .Net, Cortana, etc!) Microsoft isn't after the boats(devices), they want the Ocean(platform) the boats are on.
This video in my limited estimation is likely a pre-release of a post production video that will incorporate the events preceding the actual stunt where Danny used Cortana to help him #MakeItHappen. The marketing that I believe that will accompany that more comprehensive post-production video will communicate to the masses that with ANY goal you set, Cortana will assit you along the way to help you #MakeItHappen. The #(hashtag) is prepared. The stunt is done. I think the editing team is working in the back rooms now preparing the video for the launch of the #MakeItHappen Cortana Marketing campaign. Webinhuis if this is Microsoft's final cut and the culmination of the promotion then YES I'd agree with you! Microsoft missed the boat and a great marketing opportunity. :-) I'm trusting however that Microsoft has a letting more up thier sleeves than what they've released so far.
If my analysis is wrong and, none of this is happening Microsoft, please #MAKEITHAPPEN! :-)LOL

Achievement unlocked *doink

Great stunt. Now I hope that next time we see Danny MacAskill use a phone... its not an iPhone... Right?

I hope Cortana can detect those kind of stunts and give its feedback from your pocket. Would it be nice if you fell from the stairs and Cortana would say "Wow! Great Job!"

hope cortana support all language when someone using it to talk to her, sometimes some apps are in other language and you use english cortana...

Seems like this stunt got the publicity it wanted. That said, however, it seems the Hate is still strong with the BBC as they did a minutes long segment on the stunt with NARY a mention of Microsoft or Cortana?!!

BBC = iSheep. Wonder why they have never been challenged about their obvious bias?

He's done far more inspiring things than this. Pretty tame really. Related, this morning I was trying to prove to my son that WP is better than his iPhone so I asked Cortana to find a plumber. It found the village of Plumber in the south of England. I asked for the nearest pizza place. It gave me Web results. Siri meanwhile came up trumps. He asked Siri where he could buy Fairy washing up liquid. It gave a list of supermarkets plus prices. Cortana? Bing results. Honestly UK Cortana is a joke. They need to make it useful before making flashy stunts like this to excite people about a service that is still very poor. Needless to say my lad wasn't impressed.

And now we know his manager's phone number. Look carefully at the start of the video and it's there for all to see. How many fools are going to call or text that number now?

are you on drugs? There is no number at the start of the video.
Windows Central Newsletter
Thank you for signing up to Windows Central. You will receive a verification email shortly.
There was a problem. Please refresh the page and try again.