Reminder: Your Windows 8.1/RT Preview licence ends January 15, 2014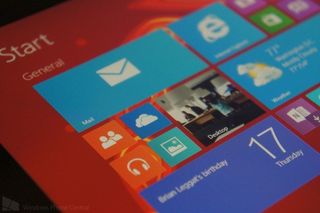 If you are still using Microsoft's Windows 8.1 or Windows RT 8.1 preview, then it is time to start to pack up your bags and get moving. The license for your copy of Windows will officially expire on January 15, 2014 and you will have two routes to take to get your copy legitimized for everyday use.
The following is Microsoft's official recommendations for any users running the preview operating systems:
If you installed the Windows 8.1 Preview or Windows RT 8.1 Preview from the Windows Store, you can update to the final release through the Windows Store by following the instructions available here, or by clicking here to initiate the process. Note that you will have to reinstall all of your applications (desktop or modern) after doing this.
If you installed a volume license version of Windows 8.1 Preview for evaluation purposes, we would recommend that you install a fresh version of Windows 8.1 Pro or Windows 8.1 Enterprise for ongoing use. If you have to upgrade an existing machine, you can do so using volume license media. This can be done by manually running SETUP.EXE from the media, or can be automated by running "setup.exe /auto:data". As with any Preview update, only data and accounts will be migrated; all apps will need to be reinstalled.
If you need any help with your copy of Windows 8, feel free to stop by the WPCentral forums and discuss it with your fellow readers – there are lots of helpful folk in our community.
Are you still on a Windows 8.1 or Windows RT 8.1 preview or have you already moved on?
Source: Microsoft
Windows Central Newsletter
Get the best of Windows Central in in your inbox, every day!
I'm still on the Windows 8 customer preview on my older laptop, works just fine. No access to the marketplace, but it works with the apps I had already loaded.

+1 for that info. Ill leave the preview on my 6yr old dell inspiron 620 and just buy a SP2 when i have the cash to spare.

and the reply i gave to 1jaxstate1 its the same to you if you decided to follow his words.

really? no seriously.... really? is it so hard to crack the damn retail version of windows 8 and now windows 8.1 I know people will say "blabla you are blabla piracy blabla" but I mean... its better to crack something than living your computer with so many bugs and security risks out there. nobody would even know you cracked the windows and you followed my advice. I would even give you the damn link for the damn activator if you wanted it to... but its so annoying you running a preview version ONLY because you dont have the money, leaving your computer at risk of many things... so if you dont have the money, you can always use the "free" and easy way... my advice, your advice, our advice. you follow whatever you want, but consumer preview is not the best thing... really not even the 8.1 preview was stable and amazing either to leave it there just because "it works fine for free"

You sir are the stupidest person I know. Like really? I hope that you don't get salary for your job if you have one. You pirate shit.

I never said I pirate Windows... I know the links of the activators which are not any secret to know if you you know about windows and windows leaks and all that stuff. its more stupid to run a preview version only because its free, so if you want something like windows8 and you dont have money to pay for it or you dont want to and they dont want to go back to windows 7 or vista... (at least those are more secure) they could use something secure like windows 8 RTM and dont have the risks of a preview with bugs and holes. you should shutup and learn how to read. anything can be more secure and better than using the preview version especially when we are talking about an old Consumer preview of windows 8, not even windows 8.1 oh and please, dont come like if you were the saint anyway, or what? do you think the only illegal things to do its to pirate windows? so I guess you have never downloaded anything illegal? or pirate the cable of someone else or do something like that? stop playing like if you didnt know internet exists and sites like thepiratebay exists and like if when you use grooveshark you are doing it legally or even youtube, or downloading a picture from internet that belongs to someone else without giving them credit or using it without permission, or when you play an emulator and download the roms or anything like that.
so again, shutup and please go away. (because I dont even know what my job have to do with this... but well, I guess you dont even have much intelligence) oh and by the way.. you dont even know me so how do you think I can be the most stupid person if you know if you dont know me? again go away failing troll, go tell your mom your problems

You mad? I don't want or need a retail version. It works just fine for Youtube, Surfing, and Web Browsing. So you can keep your activator link. I'm not going to upgrade because I dont need to. My company at risk? You drunk?

I said that its risky to use preview versions. I really dont even care if you do it or not. why would i be mad?
but whats wrong with people today? now you making up crap like the other idiot? I said YOUR COMPUTER at risk... not your company or anything (now I wonder: do you know how to read?) you might say it works fine, but it doesnt mean you will never encounter any security hole and suffer. again its not like i care, you can be all the cheap you want. I was just saying its silly to run a preview (or do you know why Windows receive SECURITY patches *every* month?)
and I didnt mean I would give you any link anyway, dont dream i cared so much about you... and anyway, its not like its hard to find anyway I mean its a PUBLIC forum *everyone* knows (and i dont visit often anymore since some people left the scene).

Lmfao! Like anyway. I didn't ask for it. Like anyway, you seem off your rocker. Like anyway, you shouldn't steal software.

So it's okay to steal when you don't have money to buy the license? Wake up. You're telling me about lack of intelligence and at the same time telling others to steal if they don't have money.

As soon as I leave work in gonna hop over the forums as instructed since I've been getting error messages whenever I try to update from 8.1 preview via the store.

I made the jump after I finished my fall semester. Still ticked because now all my projects are scattered throughout my OS with no way to find them

when you upgrade it puts everything in windows.old, the structure is the same and its only drag and drop from users frm windows.old to the left panel in 8.1 just like old libraries of windows. so dont understand how you dont find your files O.o unless you ran the cleanup disk, there is no way for windows to delete those files.

Does windows RT have to pay to get 8.1?

Nope, since RT started with Windows 8, it's just a simple upgrade.

No, it's completely free. I'm running it on the Surface RT
Windows Central Newsletter
Thank you for signing up to Windows Central. You will receive a verification email shortly.
There was a problem. Please refresh the page and try again.