Resident Evil 4 will scare its way to the Xbox One on August 30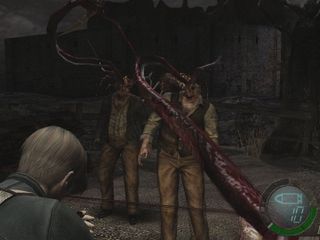 Capcom will release Resident Evil 4, the classic entry in its popular survival horror series, for the Xbox One and Xbox 360 on August 30.
The game was first released in 2004 and has since become one of the most acclaimed games in the long-running Resident Evil series. While the Xbox One and PlayStation 4 versions won't be getting any graphical upgrades, Capcom says will be able to access all of Resident Evil 4's bonus content, plus features that were added in later versions.
Capcom has already re-released Resident Evil 5 and 6 on the Xbox One and PlayStation 4. The next game in the series, Resident Evil 7: Biohazard, was announced last month at E3 2016 and will be released for the PC, Xbox One and PlayStation 4 on Jan. 24, 2017.
No price? I would love to buy RE4 again. It was the last Resident Evil game I actually liked and played from all the way to the end,

I could have sworn this was on 360 already.

So what will be the international name then? Biohazard: Resident Evil??

That's actually a great name

Wish they would remaster it and give it a graphical boost. Since no boost, I probably won't purchase this on yet another console.

It had a graphical boost on 360. I think this is just a port of that version.

If you haven't played RE4 yet, it is very much worthy of purchase.

Couldn't get into this one...not sure why

I don't have an Xbox One yet. Good news is that since this game was released in 2004, I could find a digital copy online that will work on even the most budget W10 PC.

Definitely! Resident Evil 2 is my favorite. I think it's the best one.

Code veronica was also pretty good

RE:4 was so highly acclaimed because it was the first game with a modern control scheme. The previous games were short of unplayable with their tank-like controls.

Hell no the clunky (tank) control is part of what made the early RE games great. But you had to master them.

The two RE games I have ever loved, 4 and 5. They were plain fun and theres no denying. I don't like 6 and I won't be buying 7.

is it digital only, would love a boxed version, i never got to play it way back.
Windows Central Newsletter
Get the best of Windows Central in in your inbox, every day!
Thank you for signing up to Windows Central. You will receive a verification email shortly.
There was a problem. Please refresh the page and try again.