Resident Evil 7 will hit the Windows 10 Store in addition to Xbox One
The latest installment of Resident Evil will land on the Windows 10 Store in joining Steam and Xbox One.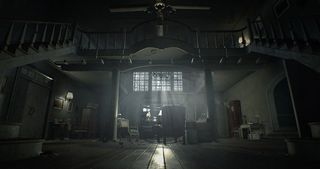 The Windows 10 Store doesn't have a vast amount of major third-party PC titles so far, the biggest being Call of Duty: Infinite Warfare. That trend looks to be slowly changing, however.
In an article posted on Dengeki, Capcom confirmed that Resident Evil 7 will hit the Windows 10 Store in along with Steam, Xbox One, and PS4.
Additionally, the Xbox One and Windows 10 Store version will share saves across devices and reach up to 4K resolution on capable PCs. This indicates that RE7 is being developed for UWP, and thus, will be immediately ready for Project Scorpio when it launches in 2017. Resident Evil 7 will also support HDR on the Xbox One S.
I asked Capcom PR if Resident Evil 7 will be an Xbox Play Anywhere title, which would allow you to purchase the game once for play across both Xbox One and Windows 10. Capcom Europe replied with the following:
Considering the fact that the timed Xbox and Windows 10 Store exclusive Dead Rising 4 won't support Xbox Play Anywhere, I think it's unlikely that Resident Evil 7 will be joining the program. Still, it's encouraging to see more major AAA devs consider the Windows 10 Store as an additional target for PC distribution, given Steam's near-total dominance of the platform.
Resident Evil 7 takes the core franchise into the first-person for the first time, undoubtedly riffing on the cult popularity of the ill-fated Silent Hills. Hopefully, Resident Evil 7 will bring the aging series back to its survival horror roots, after several disappointing attempts at becoming more action-oriented.
Will you pick up Resident Evil 7? Let us know in the comments!
Resident Evil 7 launches on Xbox One, PlayStation 4, Steam and the Windows 10 Store on January 24th, 2017.
Windows Central Newsletter
Get the best of Windows Central in in your inbox, every day!
Jez Corden a Managing Editor at Windows Central, focusing primarily on all things Xbox and gaming. Jez is known for breaking exclusive news and analysis as relates to the Microsoft ecosystem while being powered by caffeine. Follow on Twitter @JezCorden and listen to his Xbox Two podcast, all about, you guessed it, Xbox!
Shame it's not a xbox play anywhere title.

That could still change, but doesn't seem likely.

Given Microsoft's relationship with Capcom over Dead Rising, it seems like a missed opportunity that Dead Rising 4 isn't Play Anywhere.

I know Play Anywhere is a great concept for most people, but due to being an achievement *****, shared achievement lists are off-putting for me as I'd rather be able to stack games.

Regardless, it is still awesome to see more games coming to the platform. As long as the platform keeps growing, Microsoft has motivation to bring us more of the features that PC gamers are accustomed to, and many new and innovative one's too. They have already come a long way in the last year. If they don't end up making this game Play Anywhere, it would be nice if they could do what they did for Quantum Break, and give purchasers a redemption code for the Windows Store version.

Always a good sign for the service! I have already bought on xbox one and playstation (for vr) and would buy this on the windows store too for cross saves

Play anywhere is microsofts Trojan horse into finally killing physical discs in the future. By tempting xbox/pc owners, people will opt in to getting digital download if it's play anywhere. This is brilliant. I find myself looking for digital download if it's from Microsoft. Forza horiz 3 is heaven.

Not sure if Microsoft is really planning on killing physical discs, but if they do, they have to step up their game. Downloading via the Store is still slower, more cumbersome and less reliable than any other digital distribution system. What Microsoft is blatantly trying though, is raising PC game prices to console standards. Gamers that have no use for a XBox version still have to pay for that to receive a "spare copy" on the platform they actually care for. And there is no alternative (cheaper) reseller or physical release of those Play Anywhere titles either, so the only way to get the PC version of Forza or Gears is by shelling out the console price on the Store. Brilliant indeed. We should applaud any publisher that chooses to refrain from Play Anywhere and offer us the choice to Buy Anywhere instead.

I find that because of the mandatory day one patches, there's not a lot in it. Granted I have 200mbps connection that will get around 1GB a minute, so I can download any game within the hour.

I ain't paying a $120 for one game and most won't. Then these companies will announce the games won't share saves anymore because nobody uses that feature.

First, the share saves is a MS Xbox feature, so not "companies" but "company". To deactivate it, Capcom would need to activly do something instead of doing nothing. Also MS Xbox does want to extend their community to PC, that would sabotage their own goals. Not that likely to happen.

If they don't want to extend to PC, someone better tell them to stop trying to then.

Both Steam and Windows Store are too expensive. I can go to a store and pick up a new game for about 25% less than what I have to pay on Steam or in the Windows Store. I can even buy a Steam-key from a 3rd party store at the same 25% lower price. (Legal not G2A-stuff.)

Yes I agree just do what is best for you - I buy almost all games digitally now after doing it for PC for years I tend to just pay the extra to get my Xbox games digital. For me it's worth it, but there are other options for those who want to pay less.

Yeah. If I don't feel I can pay an extra 5 bucks for a game I just wont buy it at that time.

I prefer buying my games digitally.. The price is often higher but I will get my game linked to my profile and not having to wonder about discs.

I think tekken 7 is also coming to the windows store. Also shadow fight 3.

Oops.. My mistake tekken 7 is not coming to the windows store

Capcom are greedy af. Why am I not suprised that they want to get cash twice from the same customer? Oh right, as they do not activate Backwards Compability for their games, but release them as bad "HD Remastered" versions instead. Capcom isn't a nice company at all. They are greedy.

I think that a lot of them want to test the waters for a while. First see if having them separate makes any difference in sales. See if windows store is even viable for sales and finally see if xbox anywhere can enhance sales. I'm sure Valve also is pushing against this sort of integration and using their Steam advantage to work in their favour.

this is exciting great to see new titles looking at the windows store as an option.

I'm getting the CE for my X1, it's going to be awesome.

I doubt I'll get it on any platform but good to see more games coming to the Windows 10 store. Play Anywhere for as many games as possible is the desire from a consumer perspective but I'm glad to see any new title come to the store as well as Steam as the more popular it gets the more people publishing their games to it may decide to go the Play Anywhere route.

These 3rd party developers do not understand the advantage of making a "Play Anywhere" I was mostly a physical disc kind of guy, but since Play Anywhere was introduced, I decided to purchase Gears of War 4 digitally knowing that I will own both Xbox and Windows 10 versions. The Call of Duty Infinite Warfare Windows Store version could've done better if it allowed cross play with Steam players.
Windows Central Newsletter
Thank you for signing up to Windows Central. You will receive a verification email shortly.
There was a problem. Please refresh the page and try again.