Review: Google Maps with Latitude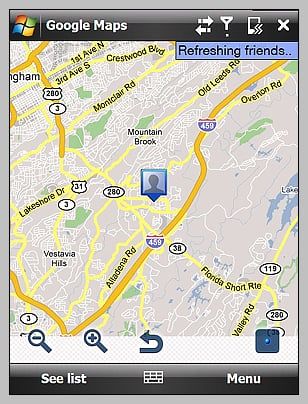 Google's watching you. Or at least that is what some of the headlines read when Google launched its latest version of Google Maps. The reason behind all the conspiracy theories cropping up like wild fire is that the newest version includes a new feature called Latitude.
Latitude is a feature that utilizes cell-tower triangulation, GPS or your home IP to approximate your location so friends can find where you're hiding located. In turn, you can see where your friends are. Hence the "big brother" analogies that immediately came to mind. Now that all the dust has settled we took the latest version of Google Maps with Latitude out for a test drive. To see how much attitude latitude has, read on after the break. And be sure to listen to what Dieter and Malatesta have to say about Latitude in this week's WMExperts Podcast.
The app
The latest version of Google Maps with Latitude is version 3.0.0.2 and is currently available for Android as well as most Symbian, Blackberry and Windows Mobile devices. In the near future it will be available for the iPhone and iPod Touch and will rely on WiFi. As mentioned, Latitude will let you find friends and share your location with them. It will also allow you to establish your status (away, at lunch, gone fishing, etc.). In addition to the mobile functionality, Latitude also is available on the Google Maps iGoogle module.
The tech behind Latitude
The technology of the Latitude feature uses WiFi, GPS or a cellular radio signal to determine your phone's position. Google is reporting an accuracy of 10 to 20 meters and in using all three signals, the software can combine positioning data from satellites, carrier assistance servers and WiFi based stations to speed up positioning. What used to take minutes now can take only seconds. But how does Latitude use Wifi to acquire positioning? It's easy to understand the GPS location and cellular signals lock on to a fixed location but how does Latitude take advantage of Wifi signals?
Google has a database of WiFi locations along with cell tower locations, the database has tens of millions of reference points. So when you come under the umbrella of a local library that has WiFi, Google references that WiFi access point and charts your location. Combined with any cell tower data and GPS, you're location becomes more accurate.
Privacy concerns
Keep in mind that Latitude doesn't automatically show everyone where you're at. You have to establish a friends list by e-mailing them an authorization letter. Once they accept, they show up on your list of friends. At that point, they can see you and you can see them. If you don't want to reveal your location, Latitude will let you hide your location where your friends can't see you. You can also keep yourself visible after you exit Google Maps or choose to be invisible.
A couple of observations on the accuracy of your location. Naturally, a GPS fix is the most accurate putting the displayed position within a stone's throw of where you actually are. Without using the GPS receiver, the results are a mixed bag. Using my cellular signal, I'm several miles off from my actual positio. In adding my WiFi to the mix, I cut the distance to a matter of blocks and at home, I match the GPS performance by being put in the neighbor's front yard.
GPS is still a little on the slow side when you try getting a satellite fix from a cold start. I still believe that the slow acquisition is hardware related but to add to the confusion, when I turned off AGPS acquisition time seemed to cut in half. As I understand aGPS, it is supposed to assist the GPS acquisition, not hinder it. Still, with all the headaches GPS has offered Windows Mobile users, it's nice to see Latitude make use of WiFi to speed up the process. There remains a bit of a lag in the GPS performance. Lag time being that when I come to a complete stop and about two seconds later the little blue dot catches up. The lag is considerably greater when relying on WiFi, likely because WiFi presence is not as great.
Overall
Other than the Latitude feature, Google Maps seems to be the same old map application. You've got Street View (which still has a coolness factor), route/directions generator, traffic views, and satellite views. I did notice that on the "About" screen Google tells you the battery level, WiFi status and your location's GPS coordinates. This may have been present in previous versions and I simply hadn't noticed it. One feature I would like to see come to the mobile version is topography or terrain view.It's on the desktop application and it would be a nice addition to the mobile application.
Even with the concerns over "Big Brother" tracking your every step, you can always turn off the Latitude feature. For those who are less concerned about such things, Latitude offers yet another tool to better keep track of where you are and where you need to go. As a parent, it gives me the capability to locate my children when they're out and about. Overall, Latitude is a welcomed addition.
For more information about Google Latitude, hit up the home page. And check out the FAQ for more on the privacy information.
George is the Reviews Editor at Windows Central, concentrating on Windows 10 PC and Mobile apps. He's been a supporter of the platform since the days of Windows CE and uses his current Windows 10 Mobile phone daily to keep up with life and enjoy a game during down time.
This is particularly convenient for me as my office is also off 280. Now I can stalk George more efficiently. Thank you Google! ;)

What I love about Google Latitude is that it's cross platform, and "it just works". I don't have to switch phones to share location, or talk someone through how to get a JVM that supports the GPS on their Windows Mobile device (= painful!)

I've tried this out and like it, even though most of my friends aren't running it yet. But hey, at least my wife can keep track of me. ;) BTW, what are you running that makes your menu font bigger like that? That would come in VERY handy.

I've been using it on a Sprint Touch (Vogue) running a 6.1 custom ROM. It works as advertised, except for the My Location not working unless GPS is active. There is no cell tower triangulation and when I close the program and select yes to continue sharing my location, it never continues to update my location. Its kinda useless then, as I can't leave GPS up and running all day (battery) and I also can't have google maps running at all times too since I do use my phone for a few other things.... Its neat though, a couple friends with blackberrys use it and it works perfectly for them... so then I guess I always know where they are at...

Same experience here with my Telus Touch (also a Vogue). Lack of Cell ID really hampers Latitude's effectiveness for me. I don't mind leaving the GPS running in the background, but the application won't do that - GPS is shut off the minute Google Maps/Latitude loses focus, never mind running the GPS in 'sleep mode'.

I think we will need a gps-emulator feature to tweak our supervisors/wife/husband/mother with a fake location while on the beach or the bar. Will some cool hacker help us with such a goodie???

Google Latitude already lets you set a 'fake' location - just go into your privacy settings and switch it to "Manually set location"

My wife summed it up-- "Sounds kinda creepy." I agree. Yet, I will want to try it on missions where everybody needs to know where the other person is located-- travel, group bike rides.

like latitude but consistently crashes on PPC6800 (mobile 6.1) any time I run latitude and view traffic at the same time.

I have several reservations. Very infrequent location updates of my and my friend's location, buggy user interface etc. See a full review in my view at http://www.basitali.com

one day i went shopping outside ?and in an links of london store?I found some kinds of links of london i love most?they are: Links of london charms online Links of london charms online Links of london charms online Links of london charms online Links of london charms online Links of london charms online Links of london charms online Links of london charms online Links of london charms online Links of london charms online Links of london charms stores Links of london charms stores Links of london charms stores Links of london charms stores Links of london charms stores Links of london charms stores Links of london charms stores Links of london charms stores Links of london charms stores Links of london charms stores
Windows Central Newsletter
Get the best of Windows Central in in your inbox, every day!
Thank you for signing up to Windows Central. You will receive a verification email shortly.
There was a problem. Please refresh the page and try again.