Review - JOTO Screen Protector Film Guard for Microsoft Surface Pro 3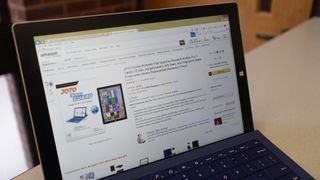 These days most electronic devices, especially high-end ones like the Surface Pro 3, have durable, scratch-resistant glass screens. That makes screen protectors much more of a personal preference than a must-have accessory.
They can also serve other functions, such as glare filtering. Since I often work in a very well lit environment most of the day, I find having a glare filter can be beneficial, so I decided to try a few. Today I will be looking at the JOTO Screen Protector Film Guard for the Surface Pro 3.
JOTO's screen protector comes complete with everything you need, including three screen protectors, a cleaning cloth, a dust removal sticker, and a card for smoothing out air bubbles. It also comes with replacement tab stickers, so you can reuse each screen protector.
Application
Applying the JOTO screen protector is the same familiar process as most other products of its kind.
Clean your Surface's display.
Remove the back film from the screen protector.
Line up the screen protector and apply it to the glass.
Smooth out any bubbles using the provided card.
Use the pull tab on the front of the screen protector to remove the remaining protective film.
The Pros
Once applied, the JOTO film guard does an admirable job of eliminating the glare form the Surface Pro 3's highly-reflective glass. This makes it much easier to work in brightly-lit environments. I put the JOTO to the test, reclining my Surface in an office with several fluorescent ceiling lights, and I was able to view the display without any disruption or discomfort. There was also little to no distortion of color on the Surface's display, which is something I have run into with other anti-glare screen protectors.
Writing on the JOTO with the Surface Pen is actually pretty smooth. There is a slight bit of resistance when compared to writing on a bare screen, but it isn't too bad. And unlike my previous experience with a different screen protector, the JOTO does not get marked up by the stylus.
Another attractive attribute of JOTO's screen protector is its value. The budget-conscious consumer will appreciate that JOTO includes three of their screen protectors for the price you would normally pay for a single one.
In addition to that, these film guards are also theoretically reusable. The adhesive on the back does not wear out, even after a few applications, but good luck trying to reuse one without getting specs of dust all over it.
Which brings me to…
The Cons
The same adhesive that makes the JOTO screen protector reusable also makes it infuriating to apply. It isn't sticky enough to stay on the glass when you are pulling off the front protective layer. Every time I had a near-perfect application, it would get messed up when removing the last piece of film. When that happened, I would inevitably get a bunch of dust underneath, which doomed me to failure.
I blew through all three of the screen protectors before I got to point where things looked reasonably good. So just know that what initially looks like a three-for-one deal on screen protectors may result in just a single use.
For the challenging application alone, I would be apprehensive to recommend this screen protector. Still, if you can get through the install unscathed, the JOTO film guard is pretty solid.
Should you decide to roll the dice on the JOTO screen protector you can find it on Amazon for $10.99, almost $20.00 off its retail price of $29.99. It is also eligible for free two-day shipping with Amazon Prime.
Related reading
Get the Windows Central Newsletter
All the latest news, reviews, and guides for Windows and Xbox diehards.