Review: Lookout (formerly known as Flexillis)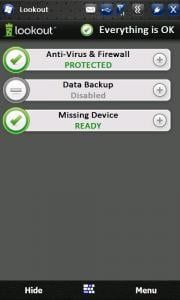 In light of the recent Trojan Horse/malware issue that cropped up with a Windows Mobile game, we thought we'd re-visit what security resources are available for Windows Phones. One thing we discovered was that Flexillis has undergone a face-lift (as well as a name change).
Lookout, formerly known as Flexillis, is an anti-virus, backup, security service that not only runs on your Windows Phone but also has an online component. Follow the break the read more on Lookout to see if the changes go beyond the name.
Overview
To get started, you'll need to point your mobile browser to m.mylookout.com, download/install the .cab file, and sign up for a membership (free that is). There are three primary components to Lookout; Anti-virus/Firewall, Data Backup, and Missing Device services. Settings for the Anti-virus and Back-up services can be modified on the Windows Phone or through Lookout's website. The Missing Device settings can only be modified via your online account.
It runs smoothly in the background and I have yet to experience any glitches, conflicts or hangups. I did have a performance issue that was promptly addressed by Lookout's technical staff (more on that in a bit).
Anti-Virus and Firewall Services
The anti-virus component will not only scan your Windows Phone for viruses but it will also monitor email, SMS messages, web pages, and application downloads for viruses. The firewall component keeps malicious traffic from invading your Windows Phone.
From the phone, you can scan your Windows Phone for viruses and see that most current firewall activity. From the website, you can monitor recent anti-virus and firewall activities broken down by date and time.
It took just over two minutes to scan my Tilt2 but keep in mind these times are somewhat dependent on how many files you have on your Windows Phone. If you have a heavily loaded Windows Phone, the times may be slightly longer.
Data Backup Services
Lookout offers you the capability to back up key components of your Windows Phone data. Lookout allows you to backup contacts, pictures, documents, call history, SMS messages, audio files, and video files. You can manually backup the data or schedule routine backups.
From your Windows Phone you can modify the backup settings. From the website you can initiate a backup, restore data to your device and view the data that has been backed up.
The one thing that is obviously missing from Lookout's data backup services is the ability to backup appointments. It is our understanding that Lookout is researching that option and it may be included in updated versions of Lookout. But for now, the backup features seem a little incomplete without this ability.
Missing Device Services
Lookout's Missing Device features include locating your Windows Phone, Scream, and Nuke. All three features are accessible through the Lookout website and can not be modified from the Windows Phone.
The Locate feature pinpoints your phone's location and maps it within 20-1,000 feet. It took about thirty seconds for Lookout to locate my Windows Phone and an email was sent to my membership email verifying it was located.
The Scream feature is another tool to help you locate your missing phone. This feature activates a loud siren from your Windows Phone. The siren can only be disabled by turning off your phone. This is great for those times you can't remember where you put your Windows Phone.
The Nuke feature will delete all data stored on your Windows Phone. This feature is for those times you can't find your phone or believe it's been stolen. Having the ability to remotely back up your data from Lookout's website, you can make sure everything is properly backed up before nuking your phone.
Overall Performance and Impressions
While the name has changed, that may be the only noticeable difference between Flexillis and Lookout. For the most part, each of the services ran smoothly.
I did experience one problem where my Windows Phone wasn't recognized by Lookout's servers. After submitting a feedback form reporting the problem, within thirty minutes I recieved a reply informing me of a server issue that should be resolved shortly. Within an hour, I was backing up data, locating my phone and enjoying all of Lookout's services without a hitch.
I was impressed with the prompt response and another nice feature of Lookout is a blog that discusses system updates, the latest viruses, and other security issues.
I would have liked to have seen Lookout include appointments to their backup options. While you can always find an alternative method of backing up your Windows Phone calendar, it would be nice to have everything under one roof.
Lookout is a good option if you are concerned about viruses effecting your Windows Phone, need a backup option that has an online component, and a way to locate or wipe missing phones. With membership being free, you won't be out much for giving it a try.
George is the Reviews Editor at Windows Central, concentrating on Windows 10 PC and Mobile apps. He's been a supporter of the platform since the days of Windows CE and uses his current Windows 10 Mobile phone daily to keep up with life and enjoy a game during down time.
Great review.Lookout is an internet-connected application that provides advanced security and backup services, as well as the ability to locate devices that go missing or get stolen, and over-the-air management capabilities.I am fully satisfied with its features.

It does not do #$! when you have any virus on your device.. ( does not detect anything ) and for the backup and phone finder service there is myphone ..

Can you elaborate further? What is your experience with this program? What virus did you encouter? How?

I would have liked to have seen the trials of the actual anti virus, and firewall. Please if the team can, develop a test box and put this anti virus software through the gauntlet to see how well it does against viruses created for windows mobile. I would like to have seen how well the firewall does in regards to malicious intrusions. good review of the software layout and description in features, but it does not help when we don't know how well the actual protection is.

by the way, i do have this software installed on my device and i do notice how quietly it runs in the background. i dont have the capabilities to create mobile viruses ot test out the actual software, i have it hoping it will protect my device. Please again if anyone can, test out how good the engine is. Also, does anyone know how this thing updates its virus database on the device?

I have a samsung valencia and I installed lookout on it, but suddenly all internet connection was lost, how can I register if my internet isn't connected ? please consider this dear lookout developer.

The best iPad Video Converter software can convert to iPad format from AVI, WMV, MPEG, DivX, XviD, VOB, 3GP, FLV, SWF, etc. to iPad MPEG-4, H.264 MPEG-4, MP3, AAC, AIFF and WAV. Meanwhile, it can be so easily realized to split file into clips, alter video dimension, brighten video and strengthen contrast. Users could customize individualized videos with your text logo or image. Free download the iPad Video Converter and enjoy unprecedentedly pleasant enjoyment.
iPad to Mac Transfer
iPad to Computer Transfer
DVD to iPad Converter
iPad Manager
iPad Transfer
iPad Converter for Mac
Windows Central Newsletter
Get the best of Windows Central in in your inbox, every day!
Thank you for signing up to Windows Central. You will receive a verification email shortly.
There was a problem. Please refresh the page and try again.