Review: MemMaid Memory Management Utility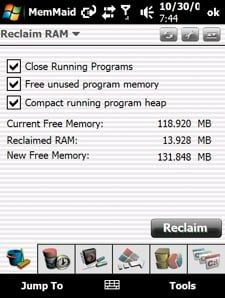 No matter if your WM phone has 32 mb of memory or 256 mb... or if you are a WM newbie or WM techno geek veteran, MemMaid is a utility that is officially on my must-have list. It was good before, but with all the upgrades that version 2 has to offer no WM user should be without it. Why, do you ask? Well we have taken this massive program apart and will share with you why MemMaid is worth every penny.
While I am clearly a fan of Registry edits for tweaking your Windows Mobile device (see and How To: Edit the Registry and Registry Edits I have Loved), MemMaid is a tool that handles all of the registry edits for you with a clean front-end GUI. If you feel the need to manage the memory on your Windows Mobile device, this just might be the tool for you. Read on!
Overview
This is a niche program that does everything better than anyone else! Simply put, MemMaid is a super utility for managing your memory and storage space on your phone. By using this program I was able to speed up my Touch Pro while at the same time optimizing my memory to make sure that not a single KB was being wasted. But what really impressed me is its user friendly interface. The user can keep it simple or delve down deep, which means that they can use it at their comfort level while still giving everyone nearly equal results.
The Utilities
There are so many options and utilities buried in this program that there is no way to include it all in this review. I will cover as many of the major highlights as possible. The layout is organized in tabs so I will take it tab by tab.
Cleaner. As you can imagine, this one will scour your WM phone and clean up your memory and storage. When it does this, it will actually reclaim valuable RAM. One time when I ran it, it gave me back over 30 mb of RAM. It even comes with a separate Reclaim RAM utility that you can run without launching the whole program. It does a great job, but I only wish the stand alone utility shared how much RAM it was able to reclaim. For those who have phones with only a little bit of memory to work this, I have little doubt that this will be your most used utility from this suite.
The other half of the cleaner will reclaim storage space. It will delete temporary files that you do not need, cache files from nearly any internet browser, etc.
You can even schedule these cleaners to run automatically to help in always giving the most RAM and storage at all times.
Databases. The database tab has three main parts, Notification Queue, Databases, Registry Editor, and Extensions. The Notification Queue gives you the opportunity to peek at all the scheduled events in your phone. You can have it delete duplicates or manually remove those you don't want. Databases is going to be used my the more advanced users, giving them the opportunity to manually manage the databases stored and used. The Registry Editor is very good. If you are wondering what the Registry is and why you would want a Registry Edit, then take a look at our Registry Tutorial (opens in new tab). The last section in this tab is Extensions. This lets you manager what type of files are associated with which programs. So if you want all of your MP3 to use your own MP3 player instead of WM Media Player, here is where you can make that happen.
StartUps. When your WM phone first starts, it loads a bunch of programs, utilities, plugins and services. Do you know everything that is loading when your phone starts up? If not, then chances are that you have things loading that you don't use or want loaded that are taking up valuable RAM or processing power. This tab will show you everything and give you chance to stop everything you don't want or need from ever loading again when you first boot up your phone.
Tweaks. In this tab, you can fine tune your phone to run at its finest. If available RAM is your main concern, you can tweak your phone's settings to help give you that little extra RAM. If you have more RAM than you know what to do with and want to speed up your phone, then you can do that as well. I used MemMaid's preset for Extreme Speed and it has made a noticeable difference in the performance of my Touch Pro WM phone (opens in new tab). The Tweaks tab also has an additional very unique tool called the DLL Optimizer. Programs use DLL files to run. Most often these files are installed in the phone's internal memory, but could actually be run from the SD card. You can select which DLL files you want to move to the SD, freeing up your phones main memory. Even you cannot hurt your phone by doing this, but you can cause conflicts with some programs. Just to be on the safe side, always make sure you have a current backup as an easy undo if you have any challenges.
Storage Memory. You guessed it, the Storage tab helps to manage your files on both your phone's internal storage memory and on your SD card. There is nothing more frustrating than trying to find that one picture to show your friend or trying to take a video, and you get the error message that you are out of room on your SD card. The storage tab can find specific files and show you where the largest files are. It will also help you with installing programs from .cab files on your phone as well as give you details on the programs that are already installed and uninstall them for you if you want to.
Running Processes. The last tab will show you everything that is currently running on your phone and how much RAM it is taking up. You can then go through and individually close programs and services to free up RAM. This is a wonderful tool.
Extras
There are also a lot of extras that MemMaid has to offer in addition to all the tools mentioned above. Its interface is very nicely laid out and easy to navigate. It also has advanced modes for the WM advanced veterans while still offering a protected mode for the WM newcomer. It will even support landscape mode and square screens.
You can export tree views to text files to share with others. It also has a soft reset, Power Off, and System Information shortcuts. And if you are not from the US, it also supports German, French and Chinese Simplified.
Conclusion
As you can guess, we at WMExperts are very impressed with what Dinarsoft has done with MemMaid version 2. It meets the needs of all levels of WM users while giving all them very similar results. It is pleasant to look at and easy to navigate. The tools are powerful, comprehensive, and often times unique. This is truly a niche program that does its job better than any other program out there. This is hands down a must have application for all WM users.
Just the Facts
MemMaid incorporates several features into an intuitive and easy to navigate user interface with hi-resolution icons for VGA devices and Portrait/Landscape/Square screen support.
Features include:
UPDATED! Cleaner (Quick and Advanced) - 29 cleaner items and growing.
Cleaning scheduler
RAM Reclaim
Notification queue management
Performance/Memory tweaks with automatic optimization
Full featured registry editor
Advanced uninstaller
Storage cards utilities (Format, Scan,...)
CAB installer
Database manager
File Extension association
Startup programs
Startup services
Today-plug ins
DLL storage optimization
Running applications
Running processes
CPU Usage
Storage management
File finder
Device information
Device and memory cards information
NEW! Multi-lingual support (German, French, and Chinese Simplified, Russian, Slovak, Czech, Italian) - more are coming soon.
And much much more.

Ratings (5 out of 5)

Overall:

Pros

Extremely powerful and comprehensive suite of memory and storage management utilitiesEasy to navigate and useLayout is very organized and has a visually appealing interfaceNew users and advanced users will feel comfortable and satisfied

Cons

The Reclaim Memory shortcut does not show the amount of memory that it reclaimed.
I thought that the ReclaimRAM shows the amount of memory that it has reclaimed by default? I know you can turn the report on and off if you go into the first tab and click on Tools, then Settings. If you uncheck "Silent ReclaimRAM tool", there will be a report each time you use ReclaimRAM.

This is going to be perfect for my Verizon Touch Pro. I need all the RAM that I can get!!!!!

MemMaid has a HUGE con for me, enough of a dealbreaker that I won't be buying that program.
Yes, it does an awesome job of reclaiming RAM and storage memory, but non-touchscreen navigation is AWFUL!!! The reason I have QWERTY-bar WM Pro phones is so I don't have to touch the screen as often. I don't have a WM Standard device because the software selection on WM Pro is much larger. But non-touch navigation was introduced to the Pocket PC in Windows Mobile 5.0 and the developers of MemMaid haven't taken the hint.
You have to touch somewhere on the screen (sometimes in specific places like list items) before you get a highlight cursor that you can move with the d-pad. First-letter navigation on lists is almost non-existing and when navigating through buttons, their supposedly cute custom buttons don't show a clear highlight, so while the buttons can be navigated with the D-pad, you can't see what button is highlighted, which makes them usable without touching the buttons onscreen buttons.
MemMaid is a no-go until they get their act together and fix non-touch navigation. I don't want to pull out the stylus every time I need to use the program. I don't want iPhony touch icons either, although if they were to make touch-friendly buttons AND enable non-touch navigation, I'm not against that. Until that happens, MemMaid is uninstalled and DinarSoft won't be getting a penny from me.
Program tested on Samsung Epix and UBIQUIO 503G.

Thanks for the review... Looks like I need to put this on my Christmas List.

I thought that the ReclaimRAM shows the amount of memory that it has reclaimed by default? I know you can turn the report on and off if you go into the first tab and click on Tools, then Settings. If you uncheck "Silent ReclaimRAM tool", there will be a report each time you use ReclaimRAM. Thank You for the clarification...it does show the amount of the RAM recliamed but does not show the amount of RAM you have available. So if you reclaimed 2.4 mb of RAM you don't know off hand if that means that you have 27 mb available or 112 mb available.
I think they should show you what you started with, how much you reclaimed, and how much you have now have available.
This is not a major con, simply nit-picking at a Great Tool.

MemMaid has a HUGE con for me, enough of a dealbreaker that I won't be buying that program.
Yes, it does an awesome job of reclaiming RAM and storage memory, but non-touchscreen navigation is AWFUL!!! GREAT observation. :thumbsdn: It does not support 5 way navigation. :(
Even though this would be a benefit, given the power of this tool and the benefits that it can bring to memory challenged (or even memory blessed) phones and the fact that you don't have to use this tool very frequently once you have your phone fined tuned, I wouldn't call it deal breaker for the average user.

Memory manager for windows mobile.

i wish they'd make it for WM standard

tiffany ring Tiffany ring tiffany ring Tiffany ring tiffany ring Tiffany Cuff links tiffany Pendant tiffany Pendant tiffany Pendant tiffany Pendant tiffany Pendant Tiffany Cuff links tiffany Necklace Tiffany Necklace tiffany Necklace Tiffany Necklace tiffany Necklace Tiffany Cuff links tiffany Earring Tiffany Earring tiffany Earring Tiffany Earring tiffany Earring Tiffany Cuff links
Windows Central Newsletter
Get the best of Windows Central in in your inbox, every day!
Thank you for signing up to Windows Central. You will receive a verification email shortly.
There was a problem. Please refresh the page and try again.