Review: Nokia Wireless Charger stand by Gibbage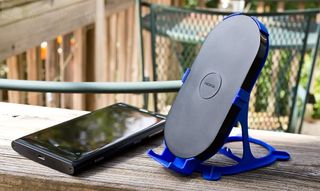 Many will remember the name Gibbage from the 3D printed cases the designer offers for various Windows Phones. Well, Kevin "Gibbage" Miller hasn't put away his three-dimensional drawing board just yet and has come out with a stand for the Nokia DT-900 wireless charger.
As with the Gibbage cases, the stand is printed by Shapeways.com (opens in new tab) and comes in a variety of colors. The plastic construction feels solid with just a bit of flex to allow for easy placement and removal of the charger.
If you're looking to convert your DT-900 into a night stand or just have grown tired of your Nokia Lumia Windows Phone laying flat, the Gibbage stand is worth a look.
There's really not much to the Gibbage stand. It's skeleton design has a base pad to support your Windows Phone while it is on the charger, two side clips that wrap around the edges of the DT-900 to hold it in place and a few clips to keep your power cord out of the way.
The DT-900 sits nicely in the stand with the power cord connecting up top. The power cord does stick up a bit but the design really doesn't allow for the power connection to be placed at the bottom. It may stick out like a sore thumb at first but it doesn't get in the way and when your Windows Phone is on the charger, you can barely notice it.
The base of the stand sticks out about a half inch to provide support for the Windows Phone. There's a slight lip to this base which helps keep the Windows Phone in place nicely. In using the stand with the Lumia 920, it works like a charm. In using the stand with the Lumia 1020, it works like a charm as well but the Lumia 1020 (with charging cover) is a little temperamental.
But that's the case with the DT-900 charger laying flat as well. I found that if you set the Lumia 1020 on the base of the stand and lean it back on to the charger, that wireless connection clicks a little better (really wish the 1020 has wireless charging built in).
All totaled, I like the Gibbage wireless charging stand. With the Glance screen on our Windows Phones, it's a simple way to charge your Nokia Lumia and have it double as a desktop or night stand clock.
Color options include white, black, coral red, hot pink, royal blue and violet purple. Prices range from $30 to slightly over $35. You can find all the ordering information here at the Gibbage Shapeway website (opens in new tab).
Windows Central Newsletter
Get the best of Windows Central in your inbox, every day!
George is the Reviews Editor at Windows Central, concentrating on Windows 10 PC and Mobile apps. He's been a supporter of the platform since the days of Windows CE and uses his current Windows 10 Mobile phone daily to keep up with life and enjoy a game during down time.
Boy! you easily get excited. It's a stand. You can cut one out of styrofoam.

Is this guy a relative or something of someone from this site? He sure gets a LOT of mentions.

In case you haven't noticed, WPcentral has an accessories store it makes sense for them to do such articles because based on user feedback they could stock such items and sell them.
Its actually one of the few sites that sell accessories for Windows Phone, and in terms of quality it must be the best one.

We sip on the "innovation" Kool Aid a little too hard. Constructing a formerly integral structure in various elements involves only routine skill in the art. Nerwin v. Erlichman, 168 USPQ 177, 179.

For $35 it had better bring me the phone when it rings.

My thought exactly. I visited that site expecting to have two on order within 30 seconds. The sticker shock stopped me in my tracks.

Agree...this is something the creator could have 3D printed for 25 cents...That's quite the markup.

I agree....sadly he has to go through the 3rd party vendor for all these things and they mark up like crazy...
IF ONLY HE COULD SEND THE PLANS TO YOUR LOCAL MS STORE! haha It just sucks he is making it for 3D printing and then you have to pay shipping also, seems counter productive but there just aren't a lot of "print this for me" companies out there yet. (Staples needs to get working on that)

Would love one, but at $20 just for the shipping to South Africa I'll have to pass.

$35 for a piece of plastic... WOW.,.was this made by Apple?

Pile em high sell them cheap. If this was between $10-15 it would sell all day long.

Sorry. These are not made in China using mass manufacturing, but made in the USA printed per order. It would cost me over $10,000 just to start manufacturing something like this.

There is nothing wrong with getiing things made in China, Lenovo, Apple and even Microsoft do it. I was just saying if it was cheaper then you would sell more....I would even buy 1.
If you are in business then you look to get them made so you can make a profit.
Getting them made in the USA ticks all the right boxes but the costs are just too high.
Good luck, hope you sell loads.

Actually there is a problem with getting things made in China. If you ship all production to China, nobody here will be able to afford it no matter how cheap its made. Also China has almost no enviornmental laws or workers rights, so your promiting polution and slave labor.
I dont plan on selling loads. Its a hobby for me. I made myself a solution, and im sharing it with people who have similar problems.

The phone and the charger you used are made in China. So you are indirectly promoting it in either way. Your solution is a little expensive, understandably though. Good luck.

Couldn't you get your own 3D printer for $2,000? It wouldn't get the costs down to pennies...but nothing near $10k. Would $10k be for your own injection molding machine?

Home printers cant print out in this quality or detail. Extrusion printers are not good enough at this point for marketable products. The 3D printer Shapeways uses cost's tens of thousands of dolars and uses lasers to sear each layer of nylod dust togeather, creatign a very durable product.
10K is just to have the injection mold made, plus a minimum order of about 500 units. Then there is packaging, shipping, and marketing. I have a full time job, and its not this.

It would cost me ~$2-3000. The only expertise here is adjusting and calibrating the dimensions to match the tolerances of the printer, and that's not even necessary because this isn't exactly a tight fit. And who are you kidding - you really think he bought a printer for the sole purpose of selling a couple hundred of these?

Its also not exactly "printed to order". There's one 3D model, and that's just printed over and over again. Regardless, this is much much too expensive, and I suspect the seller is trying to leverage the 3D printing hype to pull a cool profit over marginal cost

Don't want to sound skeptical, but considering the price won't it be cheaper to buy a dt910 instead of this and a dt900?

Not when the DT-910 costs $90 where you live.

If the dt910 costs $90 where you live, I am sure the dt900 won't be very cheap

It's around $60 for the DT-900 here, got the DT-900 and charging plate for free with my 925 though.

So $90 vs. $60 + ($35 + shipping) = ?

Many people got the DT-900 free. They also sell them on discount for $25. This stand is for people who already have thd DT-900, and want a stand without paying $90 more

I bought a DT-910 for $45 ($3 Shipping) when WPC announced that deal online. Can't remember what website it was on, but it's the one that has those one item, one day sales.

Very cool, but seems overpriced.


HhMmmm. Not sure. Looks bit kinder surprise to me. Id prefer it more solid and chunky

Wow... Really? May as well make your own from Lego

That is actually a pretty good idea. Thanks Fndlumia!

http://forums.wpcentral.com/windows-phone-apps/233717-decent-alarm-clock-nightstand-app.html#post2052124
Nil cost bar an irate son.
Now working on the portait Glance version.

Lol, sure a new star wars kit would compensate

Chris you should send some of your Lego creations to tested.com will,norm and Gary would love to see them and do a article on you

Well neat-o. Sorry I just can't get very excited. I'm still upset about AT&T being a total douche.

I'll carve it out of wood, for free.

Bondo/plastic filler can make some pretty pro looking stuff if u put time into it and paint with 2pac.

Lol, while drinking an entire bottle of whiskey.

$35 for something that looks like it came out of a Happy Meal?

I understand the price... this is a indie guy and 3D printing services aren't cheap either.... people who buy aren't supporting a faceless corporation, but an actual person coming up with neat ideas.

As much as I would love to have this though, I can't justify spending the $35.

I wonder... whats the possibility of licensing or selling the design to a large manufacturer who could mass-produce them for cheap?

You understand the price but can't justify it?

You understand the price but can't justify it?

So this would mean I would pay more for the plastic stand than the $25 I shelled out for the charger itself? I can't believe it would cost them more than a buck or two to produce. $5-10 would seem more appropriate.
I have a Raspberry Pi case from Shapeways -- it's nice but it was overpriced as well, costing as much as the Pi did.

When I head-butt ppl I hold my crotch then moonwalk away

Me likey...but to pricey.

Wouldn't the phone just slide and fall off to the slide the moment you got a notification? Lol

I have mine for free (cut out of polystyrene block from laptop packaging). Horizontal! :)

Dont need that I prefer to put my phone in my chest ..just kidding

Does it get charged in there?...

I wouldn't mind using this, but since I've received the amber update to my 920 from ATT, my phone goes nuts everytime I lay my phone down onto my charger. It has nothing to do with the phone being placed incorrectly on the charger or a thick case, thus increasing the distance between the phone and charger. With no case at all and placing phone where I've always placed the phone on the charger, it consistently starts to charge 2 seconds and disconnects for 2 seconds, and this repeats, along with the chirping, for hours. Very annoying, as normally, I would half-a** lay my phone on charger, with the official Nokia case, and it would start to charge within 1 second. Anyone else having this problem post amber?

Nope. Perfectly fine. Either your charger is bad or a faulty wireless charger component in the phone is what it sounds like imo

Since I got the Amber update I have something similar. I have a 920 from ATT and it will charge and then disconnect and reconnect. However, mine does not do it for hours, it will do it sporadically. That chirping noise is annoying.

My wife's phone does when the clock hits the hour. o_O

Had a feeling I wouldn't be the only one with this problem, and knew it was brought on by the latest firmware update, hopefully it can be fixed by one of Nokia's system updates, if not, can wait till Black arrives. Will also try jes1888's advice to see if that may help. Otherwise, its not something Im gonna worry to much about, I can live with it, or rather without it via USB.

That happens to me sometimes, to solve it, i remove the Phone from the charger for 5 secs and then put it back on the charger, and it works ;)

Same problem (not very often) and solution for me too.

Thanks for the tip, after a few days of trying this, it does seem to have solved my problem of not being able to use the wireless charging plate.

I want one, but not for $35. $15+ reasonable delivery and I'm sold.

What people are failing to see is that this is outsource to a 3D printing company. I'm sure his profit is minimal since these aren't mass produced on a line. With the not give a damn thinking of WP, people should at least appreciate the effort an indie person has for WP.

Appreciated...still not buying at that price point.

I accept that this could be very expensive for him to produce, if he's doing one at a time on his 3-D printer, and therefore he's not making a lot of money on each unit, even at these prices. However, that's why 3-D printing is for alpha testing, or maybe a small public beta test (which is what this seems like, but he's charging his beta testers an outrageous fee). Once you know the design is right, you get a mold and mass produce these for $.15 apiece and sell a lot more at a high % margin for $6.99 MSRP (maybe about $2.50 wholesale).

At this price, it's cheaper to buy the DT-910 with the rubberized phone support, no wire sticking out of the top, and NFC support, instead of the lesser DT900 + his stand.

Like many other posters, I'd buy it in a heartbeat at anything under $10. Hell, I'd buy 3. But at this price? No way.

Obviously this is for people who already have a charging plate

Good point -- if you already have the DT-900 and are frustrated that it's not able to be used at an angle, this is far less than throwing that in the trash and buying a DT-910.

But we all have a sense for what a small piece of plastic is worth. I can't justify spending $30 + whatever shipping adds for a small piece of plastic. The value, or benefit I gain over what I have now with a flat DT-900, or just paying the extra but then getting a whole additional DT-910 charger, is just not that great.

Get the price down to $6 or $7, and I think this is a solid winner.

I love the idea, I guess paying for mold to be made I can see the high cost, but still a little steep.

lol.. it cost about $30.. with shipping it adds up to %50! i might as well get the already built in wireless charging with stand? lol

$30 dollars?? Sorry, Gibbs.

I made my stand with LEGO pieces. Works like a charm. :) http://imgur.com/HG9ma0z

you should sell them at 25 bucks a pop :)

Probably cost you the same; Lego ain't cheap either if you don't have any laying around!

Sweet! Love this idea, I just ordered two (white and black). One will go on my nightstand, the other on my desk. Thanks gibbage!

That is actually a fantastic idea. As i type this, i am currently sitting at my desk where i have a charger cable in my phone which is propped up against a laptop stand to achieve essentially a ghetto version of this. Please release this in the UK!!

I'm inclined to agree w/ the other commenters but will point out one more thing. The charger itself is $50 - you want me to almost double the price of the charger just to get it to stand up? ...

I would pict one up for a dollar or two, but $30. With discounts I can get the charging stand for a few dollars more.

I got really excited until i saw it was about £25 for a stand, no thanks. £10 and I'd have ordered one.

I can get the DT-910 on Amazon Prime for $52. DT-900 for for $37. So these things would have to be $5, maybe $10 max to be worth it... plus the 910 has the NFC built-in to bring up the time/weather display.
Cool idea, but no value at all.

Exactly what I was thinking. The DT-910 also has a nice soft rubberized stand for the phone. It's a very nice charger -- I much prefer it to the DT-900, but at the right price, I'd go with the DT-900 + a plastic charging case like the one shown here. $30 is not the right price.

Has anyone tried it with a Nexus4 (or 5)?

Too much $$. Should at least allow rotation for $30.

Too much money. Should at least allow rotation for $30.

If anyone ever used a Palm Pre, the TouchStone was the best inductive charging stand ever. It was angled, so the phone was perfectly visible on your desk or nightstand. It also had a magnet that held the phone snug on the charger. I even put one on my dashboard and my wife's dashboard. The charger never slipped and the phone never came off, even on bumpy dirt roads. Not only that, but as you placed the phone, you'd feel the pull of the magnet, and it guided you to always set the phone on in the right place. And, it worked in both portrait or landscape mode. I think, but don't recall for sure, the phone even knew if it were on the charger, so it would turn on the clock and some other info, sort of like the new Glance screen, but only when on the TouchStone. Sort of like NFC w/o the NFC.

Absolutely amazing. Very sad that even Nokia's DT-910 costs more and is not as nice. Nokia has some of the best tech engineers on the planet. Can't they find a way to do at least as well as Palm did?

Anyone else ever use a Pre (or Pixi) and the TouchStone? Do you agree?

I have an HP ToughPad with the stand and loved it. Thats what gave me the inspiration. This stand is for people who have the DT-900 and want a stand, but DONT want to pay $90 for the DT-901. A lot of people got there DT-900 for cheap (25$) or free.
As for people who say its too expensive, please remember that this is 3D printed and not mass produced in China. This is made in the USA and a quality product. To mass produce it would cost me around $10,000 just to START production. 3D printing allows me to offer things for sale without massive overhead of injection molding.

I think your design is excellent. Are you able to gauge if there's enough interest to justify building a mold and getting these mass produced? If it costs $10k for the mold (that actually sounds cheap to me - I've had to pay tens of thousands for molds, but they were for larger products), and you made $5/unit, you'd obviously have to sell 2,000 to break even. If you get the price down to $6 or $7, is the market 1,000 or 100,000?

I'll buy 3 immediately if you get the price under $10. I can't justify buying any at the current price.

I LOVED my Pre and I LOVED my Touchstone. I wish it could have been used with my Lumia.

I just build one out of Lego

I just build one out of Lego

I love my WP, but damn for a plastic stand that hold the charger costing over $40 is a bit pricey for my blood.

I love my WP, but damn for a plastic stand that hold the charger costing over $40 is a bit pricey for my blood.

Based on the comments, the moral of the story is that no individual should every try to create anything on their own, and nobody will buy anything unless it's $10. What have you created lately?

Come on man. Common sense not allowed here.

3D PRINTING made to order, and with quality, is not cheap...yet. Great idea, product, and colors!

I made one from an old camcorder cassette case. Cut a hole and glued the wireless charger in. Similar to this but mine is more awesome.

Damn, it cost more than the actual DT-900 which is around $25 @at&t stores

I don't get it. Can you not just buy the OEM stand for cheaper, when you consider the cost of the plate and this $30-35 dollar stand? The Nokia Charging Stand is on sale at AT&T for $52.

Way too expensive. If it were $10 I would have bought 2 right away.

Cool! A $35 stand for my $25 charger.

$35? I think I'll try a DIY stand instead.

whats the point of having a wireless charger when most of their phones are on AT&T and AT&T remove wireless charging from them, Whats the point???