Grab this super cheap 4-Port USB 2.0 Rotatable Hub for your Surface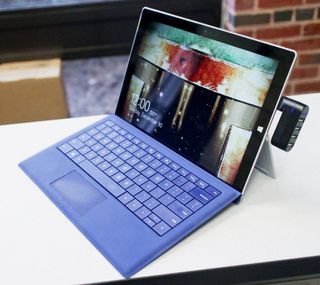 Everywhere you look tablets and Ultrabooks are becoming more and more prevalent. But when it comes to ultra-portable devices, the number of onboard USB ports is often greatly diminished in favor of a smaller footprint.
If you are fortunate enough to have any USB jacks at all, like on a Microsoft Surface, you likely only have one. That may be enough for most occasions, but it is helpful to have the option for more, if needed.
So today, I am checking out the Sabrent 4-port USB Rotatable Hub, a handy way to increase the number of ports on your device.
The Pros
The Sabrent Rotatable Hub is about as tall as your thumb and about twice as thick, making it easy to slip into the pocket of a bag or carrying case. It gets power from your device's USB jack and indicates that it is working with a blue LED light.
The USB hub can accommodate the designs of different devices and workspaces by rotating 180 degrees. The rotating turret clicks into place at 0, 90, and 180 degrees.
Another thing to like about Sabrent's hub is the price. Though it retails for $15.99, you can find it for as little as $5.99 USD (see the link at the end of this article). Therefore, even if you do not anticipate using it very often, you will not have to shell much money to give yourself the option to expand your USB capacity.
Ultimately, the best thing about this product is that it does the job you need it to do at a very reasonable price.
The Cons
My only real issue with the Sabrent hub arose when using it with my Surface Pro 3. Because of its cable-free design, it becomes a little ridiculous hanging on the side with a few devices plugged into it. It got the job done but at the expense of looking rather silly.
The biggest knock that people will find against the Sabrent 4-port USB Rotatable Hub is probably its lack of USB 3.0 support. It's a fair point, given that most laptops and tablets that are equipped with USB ports have version 3.0.
However, I contend that the majority of people who would use a device like this are using it primarily for peripherals, like a mouse, or for charging a smartphone. Even if you are connecting a thumb drive, it is more likely for documents, not large file transfers. This hub is more for convenience at a low cost, so steer clear if you are looking for high transfer speeds.
In summary
Like nearly every device I review, Sabrent's 4-port USB Rotatable Hub is not going to be all things to all people. It is a wallet-friendly USB hub that is lightweight and easy to carry. It's not pretty, but it gets the job done the majority of the time.
If you are looking for high-fashion or top-notch performance, you may want to look elsewhere. But if you're in search for a good hub that won't break the bank and will help you out on the occasions you need it, then you can get it cheap on Amazon for $5.99.
Do you know of a cool must-have accessory for the Surface Pro 3? Let us know in comments and we'll see about reviewing it!
Get the Windows Central Newsletter
All the latest news, reviews, and guides for Windows and Xbox diehards.