Review - Tech Armor Anti-glare Screen Protector for Surface Pro 3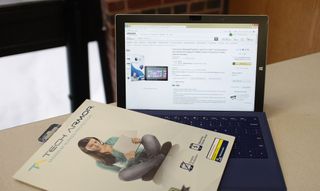 With the starting price of a Surface Pro 3 hovering around the $800.00 mark, it is important to do what you can to protect it. A screen protector is a good start and can be found for a fairly low price.
However, not all screen protectors are equal. They may do some things well, but create issues for you in other areas. The Tech Armor anti-glare screen protector for the Surface Pro 3 is a great example. Upon early investigation, it seemed like a real winner, only to end up having one fatal flaw.
Tech Armor's kit comes with two screen protectors, a cleaning cloth, dust removal stickers, and a bubble squeegee. It also includes basic instructions and online links to an instructional video.
Application
The application process consists of four easy steps:
Clean your Surface's display.
Remove the back film from the screen protector.
Line up the screen protector and apply it to the glass.
Smooth out any bubbles using the provided card.
The Pros
As a screen protector, Tech Armor's offering seems to be just as good as any other run of the mill product, preventing scuffs and scratches. But its real value comes in how well it reduces the glare from overhead and over-the-shoulder lighting.
Whereas the Surface's shiny glass often makes viewing it in bright areas difficult, the Tech Armor glare filter offers high visibility from just about any angle in the light. And though it does somewhat reduce the overall clarity of the display, it is negligible when compared with other screen protectors.
Using the screen with the Tech Armor filter is just about as good as using the bare Surface display. There is a minor bit of drag on your finger, but the accuracy and responsiveness are near perfect.
The other thing that will consumers will like is the price. The Tech Armor pack comes in at under ten bucks, which includes two reusable screen protectors, making it extremely budget-friendly.
The Cons
For the most part, the Tech Armor screen protector does everything well. However, there is one significant drawback, which is how it performs when using the Surface Pen.
The screen protector provides friction against the stylus, interrupting the flow of writing on the glass. And occasionally, the frictional also causes an awful sound, like the modern equivalent of nails on a chalkboard.
In addition, I noticed that the Tech Armor filter was getting marked up by the Surface Pen. To make things worse, the marks were not caused by the tip of the pen damaging the screen protector, but rather the screen protector wearing down the pen point, like a pencil eraser. Not only did it round down my stylus, but it left black marks on the screen. Needless to say, that was the end of my testing.
It's too bad because in every other respect this is a good product. But even if you use the Surface Pen sparingly like I do, I can't recommend the Tech Armor screen protector.
However, if you still want to try it out, you can get it on Amazon (opens in new tab) for $8.95, with free Prime shipping.
Related reading
Windows Central Newsletter
Get the best of Windows Central in in your inbox, every day!
That "Con" makes it a no go. The Pen is the reason to have a SP3.

Is a screen protector really necessary? I've never used a screen protector on any phone or tablet I've ever had. I have a few tiny hair line scratches on my 1520, but you've got to turn the screen off and hold it just right for them to show up. I preordered it, so its about a year and a half old. I have no plans for a screen protector on my 1520 or SP3.

Yes u should. SP3 isn't a cheap device... Don't forget to get some sleeve too. Mine(Lumia) got a few light+deep scratch and it looks bad.. Kinda annoying u have to clean it up everytime especially on the daylight.. -.-" Glass are fingerprint magnet. Quite hard to clean it up without using a wet tissue/water splash.

I hate glossy displays so an anti glare one is a must for every device I buy.

Which one do you like best so far? I have the Incipio anti-glare protector and while it does well enough everywhere else, if you use the pen much it will wear down the nib.

Anybody recommend a good screen protector? I have a protector with similar cons as this on my SP2 and am dying to get a good one that wont scuff up with pen usage easy or dramatically deaden the sensitivity of the screen.

I am actually looking for a matte screen protector that provides friction to the pen. Writing and sketching is too slippery on the glass, it feels nothing like paper. I might try this out just to see if I can live with it, because I miss pen friction so much.

Phantom Glass people! http://store.phantom.glass/microsoft-surface-pro-3-glass-screen-protecto... In action: https://www.youtube.com/watch?v=AQBobElsf10 And a review from someone that frequents the WP forum: http://linustechtips.com/main/topic/199511-was-linus-right-phantom-glass...

I actually found a similar problem with the JOTO screen protector, but found that after a few hours of use it normalized....probably from grease from my hands.

I have the Microsoft Brand screen protector on my SP3. I've had no issues with it. The works well with the screen protector on. I'm not sure if Microsoft only sells it in the store or both online and in store. I purchased mine in store.

Having installed a Tech Armor protector on my SP3 honestly I have no gripes. The pen works great. I used it on One Note during a business luncheon for note taking. I also use the pen editing music on the regular. I would recommend purchasing to protect your screen or spend more money on another product that will give you the same results.
Windows Central Newsletter
Thank you for signing up to Windows Central. You will receive a verification email shortly.
There was a problem. Please refresh the page and try again.