Review: Verizon HTC Ozone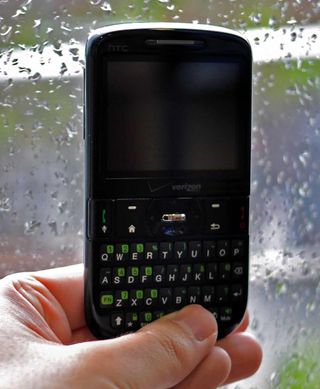 The Verizon HTC Ozone (Cedar) is the answer to the aging Motorola Q9 series and fits in nicely with Verizon's revamped and full-featured Windows Mobile lineup. The phone is a sister device to the HTC Snap but differs from that model in significant and beneficial ways.
I've had the chance to use the device extensively ever since the quick hands-on report weeks ago. In short, Verizon customers are very lucky to have such a great WM Standard device. Packing WiFi, EvDO Rev A and a GSM radio with a cozy keyboard, the HTC Ozone sets the bar for non-touchscreen devices and breathes new life into this series.
Read on for the full run down!
Features
524mhz CPU
Available Storage: ~72mb available (256mb total)
Available Memory/RAM: ~70mb available (192mb)
WiFi (802.11 b/g)
GSM Radio (850/900/1800/1900 MHz)
1x/EvDO RevA
BT 2.0
1500mah battery (~5hrs talk time)
Visual Voicemail
3.7 oz
WM6.1 Standard
microSD
It is almost odd to see a WM Standard device packed so with so much technology. Usually such specs are reserved for the more "high end" WM Pro devices.
What is even more revealing is how Verizon is offering this new on contract for the low $49 — nearly 2/3 less than the $149 Sprint is asking for the inferior Snap (you can get the Sprint Snap for $49 at Best Buy/Radio Shack though).
Build Quality
HTC has been building these devices for years, but dare I say ... only now are they really hitting their stride, having found what works and what doesn't in these devices. (FYI, I blame the Snap on carrier interference.)
The Ozone has a great feel to it: glossy in the front, a nice two-toned soft touch back. At 3.7oz, it is very light and easily slips into a pocket with ease. The front, feels a little "plastic-y" and at first seems sort of cheap.
However, it is much nicer than the Sprint version and you quickly adjust to the way the button click and respond. The angled cuts on the device also add a nice touch.
Screen
Just gorgeous. Granted, we are dealing with a 2.4" 320x240 non-touchscreen--hardly cutting edge, but I'm happy to report that they have improved the screen clarity, brightness and sharpness greatly. It's no VGA screen but for being a dedicated phone/messenger device, it really gets the job done.
Unfortunately there is no sensor to adjust brightness automatically, something which I've learned to greatly appreciated on the Touch Pro 2.
Keyboard
The keyboard is small and the Q9c still edges it out (at the cost of being wider). The Ozone's keyboard is very good though and is leaps and bounds better than the Sprint Snap's (which I've never adjusted to even after weeks of use). For once Verizon changed things for the better.
With ample spacing between the rows, a normal QWERTY layout and keys that are higher in the center than their sides, typing on the Ozone is a breeze. With a nice clicky sound, the keyboard is a highlight.
Speed
Clocking in at 524MHz and running WM6.1 Standard (and perhaps eligible for WM6.5?), the Ozone flies. Granted, WM Standard has always seemed faster than its Pro sibling, so adding that extra horsepower here pays off when running apps over WiFi or larger programs like Skyfire.
The device multi-tasks very well and you'll have no problem managing multiple apps.
HTC-ified
HTC has finally started to do its custom work to WM Standard, which is a welcome change.
On this device they have their custom Camera program, which is so much better than Microsoft's — basically it adds more controls, streamlined menus and speed. To complement the camera, they have their own HTC Album, which offers full-screen viewing with slide-effects, updated transparent menus and ability to zoom/pan.
Other notable additions are Audio Boost, which is a graphic equalizer featuring pre-set profiles for headphone use; RSS Hub, which is a full featured RSS reader; QuickGPS that offers offline-aGPS; Bluetooth Explorer for file transfers; Comm Manger for working your radios; MP3 Trimmer for making ringtones; and Voice Recorder for sending sound files.
Finally, they have their own custom 'HTC Home' Sliding Panels theme, which includes access to the weather with gorgeous icons. The black color scheme melds nicely with the device's--no need to change it.
Bottom line: all of those apps really add to the experience of the device, making it more media-friendly and filling in the gaps left by Microsoft.
Radios/Speakers
Hopping to the radios is very easy on the Ozone: push FN + Space Bar and it brings you to HTC's Comm Manager. From there you simply toggle which you want on/off, including Airplane mode, Data and Direct Push. WiFi connects up easily enough when turned on and doesn't hammer the battery too badly.
Speakers (both ear and rear) are very good. Ample sound from both with no distortion--there's even a nice resonance to the device.
Once again, HTC has wisely pushed the rear speaker to the side slightly, meaning when the device is on its back, the speaker is unobstructed. Near the earpiece, you have an LED for alerts/charging on the left side (one could imagine a ambient light sensor going on the right side-tsk!).
Miscellaneous
Yup, GPS in unlocked on this device which is crucial for a World Phone, eh? It works very well, especially with QuickGPS which downloads satellite data good for 1 week and assists with locking in on start up.
The Ozone also features Microsoft's VoiceCommand, which is one of their best technologies. It comes pre-assigned to the Green button: simply hold it down and wait for the little Mic to appear on screen.
VoiceCommand greatly simplifies functions such as getting your battery life, reading your next appointment, play a song or to call someone. It's an under-appreciated feature that not many phones come with pre-installed, so kudos to Verizon to making it so accessible.
Battery life is very good for such a device. It seemed to last for ever, though of course it will depend on your usage--but lets say it is on the high-end for longevity.
Missteps?
Not many on this phone, but if I had to nitpick:
No 3.5mm headset jack
No roller ball/side scroll wheel
No ambient light sensor
Could use more storage space
None of those are deal killers, unlike perhaps the Sprint Snap's keyboard.
At 70mb for storage, it will be fine for most folks, but if you install many apps you'll quickly run down to helps manage battery life and improve usability by adjusting the screen for you according to current lighting conditions.
The headset jack issue is well known--the Ozone just missed the revamped position of HTC. Too bad, but they do throw in a a very elegant adapter for 2.5mm/3.5mm/USB headphones. I always complain about the lack of a side scroll wheel, because when reading emails or websites, I find them useful for reading.
Conclusion
It should be obvious at this point: I really like the Ozone. I could violently shake the other carriers for not getting this version. It has all the radios you'll need, great design, nice KB, looks sharp (when doesn't black and green look good together in technology?) and the phone JUST WORKS. WM Standard is a very reliable OS and is so easy to work with. Because of that, it is nice to see it melded with such great hardware from HTC and their added software tweaks.
For $49 this is a steal. If you are new to smarpthones, need a solid messaging device or want something for your romps around the globe, look no further. And Sprint/T-Mobile? Learn from this.
George is the Reviews Editor at Windows Central, concentrating on Windows 10 PC and Mobile apps. He's been a supporter of the platform since the days of Windows CE and uses his current Windows 10 Mobile phone daily to keep up with life and enjoy a game during down time.
This phone is really nice and the review is great. For $50, this phone IS a steal, but VZW rips you with data charges. Their requirement for a data plan on smartphones is complete bs, and this phone would be perfect without data.
It's got Wi-Fi, a great battery, and is a great messaging phone. This is a phone for smartphone amateurs and/or (not limited to) heavy texters. This would sell like hotcakes if it didn't require data.

I figured since I still needed my unlimited text messaging and I was already paying money for a small amount of data a month to get on and check from facebook,why not upgrade to the $29.00 a month (only $25.00 for me with my 12% off discount? At first I was discouraged but Im okay with it. Just got the phone today. Right now the only thing I don't like is the fact I can't upload my contacts via backup assistant like with other phones.

I love my HTC Snap. If I had Verizon, I would jump on this instantly, especially because of the low price tag!

have had the ozone for a few months now. Work mandates Win Mo devices and this is the best device that I have owned since my BB Curve. Had the touch pro which had major performance issues. the ozone flies and as the review said, just flat out works. not a fan of the FN key location which places the third row off by one space but that is the only minor complaint. great reliable device.

Can anyone give me any tips or just straight up tell me how to tether my HTC Ozone as a internet modem to my laptop? And use the Wi-fi? I have done everything in the Verizon booklet that came with my phone but I can

Is anyone having problems getting on and using the internet? It seems to be VERY SLOW AND VERY CUMBERSOME. Any suggestions? Will not allow us to download Opera Mini.

For GSM users, this phone is offered by T Mobile as the "Dash 3G". Excellent phone with great features.

Weighing Ozone against Droid by Motorola....any strong feelings either way?

Making the same decision as you are. For me, complete Exchange compatability is important, and at this juncture the Droids's way of dealing with Exchange email and calendering is apparently not entirely great. There are issues with accepting meetings and moving emails from your inbox to an inbox subfolder, for instance. That's not to say it won't get corrected in the upcoming December Droid bugfix they'll be pushing out BUT for me, I think it is making me lean towards the Ozone for now which I know will work well with my work Exchange server.

this phone is awesome. upgraded to windows 6.5 and installed wmwifirouter. tethering to laptop wirelessly right now. has nice speakers too, ringtones are crisp.

After having several mid level BB's and a palm phone I find this phone to be just much more difficult than it needs to be to use. 1)It is not updating email notifications quickly...I am sure there is some adjustment, but it should update automatically quicker 2)Scrolling using this "clicking" method instead of a scroll button is also a pain. When you zoom in on a web page on this tiny little screen, it can require 20 clicks to move up and down the page... just not well designed. 3)Freezing... I have had the phone "lock" up on me while trying to answer texts, or while trying to load a web page. Once a day or so. Removing the battery fixes it but should not have to. My 2 year old palm phone for personal use works better and has more useful functions than this phone.

This is a nice phone, but I can not get Blue-tooth to halt the decline communicative. He called Version, they do not know "problem", and that every message board on the Internet does not.

To tether and avoid extra charges..... Google: WMWIFIROUTER To tether is real easy with this app, but the wireless hotspot is the best!
Windows Central Newsletter
Get the best of Windows Central in in your inbox, every day!
Thank you for signing up to Windows Central. You will receive a verification email shortly.
There was a problem. Please refresh the page and try again.