Rhapsody updated for Windows Phone 8, introduces offline playback and more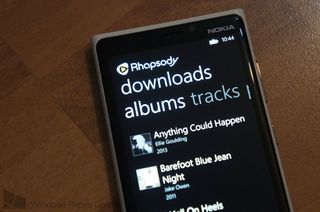 The official Rhapsody (www.rhapsody.com) app has been updated for Windows Phone 8. The music service enables consumers to access millions of music tracks within its expansive catalogue, but it's restricted to the US which leaves everyone else outside the exclusive club.
While majority of Windows Phone owners have access to both Xbox Music and Nokia Music (depending on location and device), it's always good to have more choice available. Back to Rhapsody. We're looking at a rather large update, so what's new in version 3?
Offline playback of downloaded tracks, albums, and playlists
Support for My Music, including the ability to add or remove tracks, albums, and artist—plus check out other people's libraries.
Add and remove stations from My Stations
Add and remove playlists from My Playlists
See your listening history
Improvements to audio playback, album art, and search
Should you already own and use a Rhapsody account, this update will be more than welcomed. If not, there's a free trial that you can kick off from within the app. Do note that Nokia Music+ is beginning to roll out in select markets too.
You can download Rhapsody from the Windows Phone Store. Thanks, Jigar, for the tip!
Rich Edmonds is a word conjurer at Windows Central, covering everything related to Windows, gaming, and hardware. He's been involved in technology for more than a decade and knows a thing or two about the magic inside a device chassis. You can follow him over on Twitter at @RichEdmonds.
Wish this was available in the UK

Will say rhapsody is a great service. The new version is a really nice improvement.

This is awesome! Now maybe i can switch to ATT from T-Mobile. Just waiting for the MWC to see what phones are coming to Windows Phone 8 :) Love Rhapasody, I have had them since 2004 ish

Been trying the beta version of the update for several weeks. They've fixed a lot of bugs. I liked the android app but it was fairly unstable. This one is now better, finally have offline listening and can download playlists, albums, etc. Xbox music will only save offline by album, not playlist, also it doesn't sync playlists across devices well. Finally, with one subscription, my wife and I can stream anything and have seamless playlist syncing across win7pc, win8pc, Xbox, and both winphones. I really don't understand why rhapsody isn't mentioned as much as Spotify/rdio/etc. I think it is better.

One subscription for two phones? That's awesome, can someone please confirm this?

The base subscription is $10 which lets you do one mobile and 3 pcs(I think) at same time. Its pretty quick to switch which is the Authorized mobile at any time. $15 per month gets you up to 3 mobile device syncs with one account.

Is the "one mobile device" @ 9.99 one user (login) at a time in offline mode (i.e spotify) or one actual device authorized by physical hardware?

Can anyone comment if you can sync offline "albums" as it suggest or just "playlists" which is an annoying spotify limitation. TIA.

You can download albums not just play lists. I think you can have three (5?) physical devices associated with an account. don't know if you can have more than one physical devices playing music at the same time. Never done that test. But I have played it on two phones and my laptop

Thanks. In the USA they sell 1 device for $10 or 3 devices for $15. don't need simultaneous listening but 2-4 "devices" with one login over any given month to consider a switch. Downloading albums (to album not to playlist only) is a great great.

Go figure. After 5 years as a happy client. My buddy that split the service with me wanted to switch to Spotify.

Its a welcome update but I'm already happy with Spotify. And Nokia Music+ may win out still. I beta tested and it was a chore to navigate. A developer even asked what I had in mind so I photoshopped a version using the panoramic style of most win 8 apps. He seemed to like it but kept the long list (which on saved albums and artists is really a chore).

Nothing is available in Croatia... :( No Xbox Music, no Nokia Music, no Spotify, no Rhapsody or Rdio... The only thing available is Deezer and their app is SO unstable and buggy... And I would GLADLY pay for either Xbox Music or Nokia Music but alas, my country is such an insignificant market for these tech giants...:S

I signed up to Rhapsody while they were doing a promo of $5 a month for the first 3 months. It's alright, once my 920 sees the update I'll download that and hope it fixes the not too great app. Once I finish up the first 3 discounted months I'll probably switch to spotify

Its about time. Took rhapsody what, two years? This shouldn't be a headline. They should have done this a year ago with mango.

It's already years ahead than Spotify and xBox Music

Hard to believe nathanb131 but you're right. I didn't think anything could beat Pandora but Rhapsody is hard to argue with.

This update even came for 7.8 (though that might not be a surprise). Love the update so far.

I had the chance to bets test this on my 920 and I plan to switch from xbox music to Rhapsody. The sound is just that rich.

Not available in my region india

Oh my gosh, that's huge! Because let's face it, the Spotify app is rubbish (not sure why they bothered) and XBox Music is a pale shadow of the previous native music app/Zune offering. I awalys thought Rhapsody was a good deal - except for the offline music bit. That was a deal breaker for me. Well not anymore!
Happy days.
Windows Central Newsletter
Get the best of Windows Central in in your inbox, every day!
Thank you for signing up to Windows Central. You will receive a verification email shortly.
There was a problem. Please refresh the page and try again.