Ringtone Maker and MixRadio updated with bug fixes and usability improvements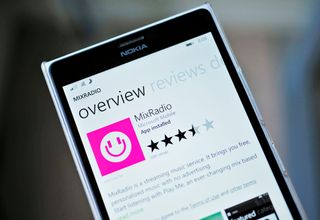 Microsoft has rolled out updates for MixRadio and Ringtone Maker, bringing bug fixes and overall stability enhancements.
Here's what's new with Ringtone Maker version 1.3.3.1 according to the latest changelog:
improved usability
notification alerts for messaging, emails, reminders and also alarm clock available with the latest OS update
minimum ringtone length is 1 second
We haven't run the utility in a while, so if you notice anything else that's new, let us know in the comments. As for MixRadio, the changelog does not detail anything other than "bug fixes and performance improvements," but the service's recommendation engine underwent an overhaul earlier this month.
Thanks everyone for sending this in!
I don't use this app because maximum ringtone length is so short, the 3th party app is better.

Yeah. Me either. Check out the 3rd party(RingtoneMaker) at the store. U can cut the ringtone like a pro using that apps. U can scale the time so that the ringtone that u cut sounds perfect.

Too late, he said "4 Life!"

Are vouchers now available on oxicash?

I read somewhere that MS will be introducing vouchers for MixRadio.

From December onwards.. But I don't know whether oxigen will support it...

Music dowload functionality will be discontinued in the future.. below is the response from Lumia Help twitter account http://www.microsoft.com/en-in/mobile/support/faq/?action=singleTopic&to...

Is that just India? Or all over? +UK

wiating for that. they're updating but we cant renew it. WOW

I thought MixRadio was about to get axed by MS?

Nay. There was a rumor that Microsoft wanted to sell it but seems it is only rumor.

I think it would be really fine if they will combine Xbox Music and MixRadio.

Agree, though the XBox Music pass needs to drop in price unless they combine it with Videos and Xbox Gold under one subscription which then many will be interested.

I really hope they will introduce song scrolling in MixRadio, it's really annoying that you have to press FF or RW everytime you need it.

I still can't make ringtones of some songs!

Ringtone maker is pointless if you exclusively use xbox music. Doesn't allow DRM protected songs.

Doesnt allow mixradio songs either.

If you select an album first then the song you want to use DRM will usually stop you. But As I have found if you find the song individually it lets you use it. This is before update though, and I haven't tested updated version yet.

They are playing in the name of update. I cant found any improvement in mix radio

Microsoft plz bring the voucher recharge for mix radio in India. Posted via the Windows Phone Central App for Android

Great work...... Updates updates updates..... 50% of data pack is used for updating apps

Funniest comment of the piece of news ! (also the truliest)

What's new in metrotube ?

Play back fixes,
Portrait videos fix,
Video page navigation fix

Stopped using Nokia Music/MixRadio when they disabled downloads from PC back in July this year. Downloads on mobile are a very low quality 32kbps which is nonsensical.

'resuming' is now gone from Mixradio :)

So did fresh paint,Amazon app

waiting since long tome for subscription renewal. this is my favourite app on windows phone.

My $3.99 /mo subscription renews every month... like clockwork!

Last two todays we have seen lot of updates... Right?

No more free download..no more vouchers ....another app just been screwed up....

Ringtone Maker linkey no workey

Microsoft just needs to make Xbox MixRadio.

We update today and tomorrow and then after that and then again .... At the end changelog ... "minor bug fixes" ...., where do we stand after ten day .... The same place where we are today .... Except for few people who just know how to comment ... "seems faster now"

Updates are good, except they kill your data plan

Updates are good ... If they had something more than minor bug fixes ..... How many bugs does an app have?? There are no features .... Just dump all ur data into bug fixes

Rofl your updating over cellular try WiFi...

Xbox Radio would be great....

The Ringtone Maker URL is wrong. You can fix it by removing "?signin=true" at the end of the URL.


I can't download MixRadio in Slovenia (EU) .. Lumia 735. Is it limited to download only in supported countries?

Why not change your country download and then revert back to your country. Just a thought.

I notice now that I do have it on my phone, but it says not available for my device when I try to download it lol.. Anyways yes I use to change my country for Cortana
.. :)

Last time I used ringtone maker the MAXIMUM tone was 1 minute & minimum was 40 seconds. Used the app last week and I doubt the minimum has jumped to 60 seconds.

Oh come on.. Wish that Microsoft would add more countries to their services.. Just got support for Google Music and Movies this month on my Android.

i cant here in India. oxicash is the only option here in India which is down for some reasons since few months

I have seen this comment numerous times. Would you mind explaining in more detail, for the curious? Why can't you use a credit card? What is oxicash? What is a voucher?

With this new update, the velocity of the app has increased dramatically, directional vectors not withstanding.

Wtf?? Just add a log in/out option to MixRadio!!

Maybe with this update MixRadio will stop playing songs that don't exist. I've had several situations where I pulled out my phone to see what terrible song it was playing only to have it claim that it was one of my selected artists singing. Doesn't sound anything like them. I look it up, no such song. I don't even want to downvote it because it would think I don't like the artist anymore.

Same thing has been happening to me too lately. It's annoying! It's artists by the same name of an artist that should appear in your playlist. I've had this happen to me with iHeartRadio, but it only started occurring recently in MixRadio. Someone who programs for them messed up BIG time! -_-

Still sucks can't sign in !!

It can only be a good thing if MixRadio gets some sort of update. I've had major issues with that app lately and just two days ago left an unfavorable review for it on Windowsphone.com. It went from being my favorite app to a big pain in my ass because it started playing a dance band and hip hop/rap artist who share names of metal bands on my created metal station! Even when I pressed the thumb down icon, it would continue playing both in my mixes. It also played the same songs over and over again, even though I'm always near Wi-Fi when I'm indoors. I ended up deleting the two offline mixes I had on my 925 because I got fed up. I'll give MixRadio another try, but if I have to hear an imposter "Heathen" and "Venom" on my metal stations again, I'll go right back to Pandora, which has at least always been consistent in playing actual metal bands.

see the update for mixradio, but doesn't let me update...hmmm

It seems they added artist background pictures to more songs.

Download YouTubeDownloader paid Version...you can download any video HD format and medium/high quality audio mp3 from YouTube directly into your Video/ Music folders...i am using it and i love it....it's the only app that does this i guess

Add a feature with cut pulse in Mixradio just like on Windows Phone Store

Now that I'm in how do I get a Future The Rapper ringtone like Blood, Sweat, Tears (706)940-8676
Windows Central Newsletter
Get the best of Windows Central in in your inbox, every day!
Thank you for signing up to Windows Central. You will receive a verification email shortly.
There was a problem. Please refresh the page and try again.