Riptide GP: Renegade will hit Xbox One and Windows 10 on February 24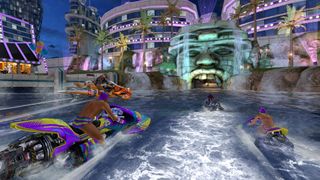 Following a relatively long wait, Riptide GP: Renegade finally has a launch date for Xbox One and Windows 10. The game will come to both platforms on February 24, developer Vector Unit announced today on Twitter.
Riptide GP: Renegade continues the tradition of the Riptide series by pitting you in races around futuristic tracks on rocket-powered watercraft in pursuit of gold. You'll also get a chance to pull off mid-air stunts as you play through the game's 4 modes.
Riptide GP: Renegade has already seen a release on PC and is currently available on Steam, but its Windows 10 and Xbox One release will see it hit the Windows Store with support Xbox Play Anywhere, allowing you to buy the game once and play on both platforms. Vector Unit has previously confirmed the game will sync your progress between Xbox One and Windows 10, as well as support cross-platform multiplayer.
Vector Unit didn't specify a price for the game's launch on Windows 10 and Xbox One, but it's currently going for $10 on Steam, so we wouldn't expect it to veer too far from that price. Will you be checking out Riptide GP: Renegade when it launches on February 24? Let us know in the comments!
Dan Thorp-Lancaster is the former Editor-in-Chief of Windows Central. He began working with Windows Central, Android Central, and iMore as a news writer in 2014 and is obsessed with tech of all sorts. You can follow Dan on Twitter @DthorpL and Instagram @heyitsdtl.
Shoot, Ill probably grab the title just to support play anywhere :)

Thanks! We appreciate that!

I hope they include Windows 10 Mobile in their Play Anywhere ambitions. That would be an instant buy for me. I play Riptide GP2 on my phone and Xbox One currently. I would play on my PC too but the account progress doesn't sync accross Xbox, PC and Phone in GP2. Beach Buggy Racing syncs accross phone and PC though and it is great!

That its a key, probably one of the few thing that can make W10M competitive again, something like a cut down version of Forza Horizon 3 with the Xbox controller via Bluetooth 😎

In a way they are if Surface Phone is running Windows 10 ARM, then Xbox Play anywhere and every UWP works.

I highly doubt even the Snapdragon 835 would have the processing power to run the majority of Play Anywhere titles.

For starters, who confirmed the "surface phone" has a Snapdragon 835. Also the video states "for Windows 10 and mobile" So it appears they are possibly supporting play anywhere on mobile, even if current titles can't run on it.

That "mobile" was referring to iOS and Android. Renegade is a mobile game scaled up to the Xbox One, PS4 and PC. The game runs fine on Android and iOS devices and would too on Windows 10 Mobile device but Vector Unit has not confirmed support for Windows 10 Mobile yet, not even via Twitter, ignoring questions about W10M support.

My point was this game can already run on mobile, and it can run on W10. So in theory it should run on full windows 10 on ARM. Therefore, there should be atleast one play anywhere title on what people think the surface phone will be. I should have been more clear on that, sorry.

I plan to support Play Anywhere as well. Looks fun.

Thanks! We hope you enjoy it.

Did anyone notice at the end of the video it said it was going to be released to Xbox, windows 10 *and mobile* ?

That "mobile" means iOS and Android. I've been saying this for months. Vector Unit just confirmed that the game is not coming to Windows 10 Mobile. https://mobile.twitter.com/vectorunit/status/826953746986971136?cn=cmVwb... What a shame! Really...they made a Play Anywhere UWP game that is a mobile game and they still decide to skip Windows 10 Mobile.

So there is nothing new to this game? Looks exactly like the old one. Maybe some new stunts. That's all?
At least a multiplayer would be great.

It mentions "Vector Unit has previously confirmed the game will sync your progress between Xbox One and Windows 10, as well as support cross-platform multiplayer." in the penultimate paragraph.

There is a whole new storyline with new tracks, new characters, new hydro jets and new stunts. As for multiplayer, you can play online with up to 8 players. On Xbox One, there is 6-player local split screen and on Windows 10, 4-player local split screen.

Sure gonna pick it up. Loved their hillbilly moonshine-swig'in swampboating "Shine Runner"

Riptide GP Renegade is a great game. I've only played it on my iPhone but the production values and gameplay are vastly improved. The biggest improvment is in the controls. Renegade controls like a different game than Riptide GP2. The craft in Renegade can turn on a dime almost, making control a lot better. I played 3 player RGP2 last weekend on the Xbox One and there were so many times were I shouted "that was a bad turn!!" where I ended up scrubbing the wall because the craft cannot make sharp turns but in Renegade, the craft turn so much better, I have yet to scrub the wall on any turn and the tracks are far more challenging. I'm disappointed that the game is not coming to Windows 10 Mobile but I'll still buy it and play it on my Xbox One and Windows 10 PCs, tablets and laptops in addition to my iPhone 7.

Thank you! We appreciate your support.

Why Riptide Gp Renegade is great game.Why this game don't coming to Windows 10 Mobile.

It's just not a viable process for us at the moment. Sorry!

does anybody know is this runs at 60 fps on Xbox One?

Yes it does. 1080p / 60 fps.

Since you were kind enough to post a reply (thank you for the answer)... I wouldn't mind if you would answer a second question... are you guys are all trying to secure the H2Overdrive rights and bring that game to XO by chance? I absolutely loved HTH (I wished for more tracks or some of the original track from the original game), and would love to see a follow up :)
Windows Central Newsletter
Thank you for signing up to Windows Central. You will receive a verification email shortly.
There was a problem. Please refresh the page and try again.