Rise of the Tomb Raider Collector's Edition includes a Lara Croft statue and more for $149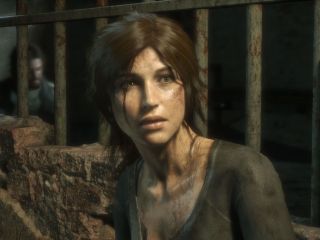 Fans of Lara Croft might want to look into buying the just revealed Rise of the Tomb Raider Collector's Edition for the Xbox One. The $149 edition of the action-adventure game will include extras like a 12-inch statue of the tomb raiding heroine.
The statue is supposed to show Lara Croft "searching for answers on her first tomb raiding expedition". In addition, the Collector's Edition contains these extras, besides the game itself:
Collectible Steel Case, crafted with the symbol of an artifact.
A replica of Lara's leather in-game journal.
A model of Lara's Jade Necklace, including the pendant that was her first archeological discovery, and the strap that was given to her by Conrad Roth, her late mentor.
Pre-orders for Rise of the Tomb Raider Collector's Edition are now available at Square Enix's online store. It will be released on November 10, the same date as the regular edition of the game. Keep in mind that while Rise of the Tomb Raider is coming out for both the Xbox One and Xbox 360, the Collector's Edition is an Xbox One exclusive.
Check out the Rise of the Tomb Raider Collector's Edition ($149)
Source: Major Nelson
Windows Central Newsletter
Get the best of Windows Central in in your inbox, every day!
Why couldn't Forza follow this model? I am still reeling with the lack of an ultimate disc edition...

Meh, boring statute is boring.

Only boring people find things boring.

can I get a nude statue, pls?

Pity I have to buy the disc version of the game to get the extras. I just want the extras and a download code.

Same here. I'd like for them to have a digital version. Same package but with codes instead of disc.

I think it's like that with the Halo 5 stuff.

Yeah, and people are mad about it. It's the one complaint I have about the Guardians console, but they're apparently setting up a trade-in deal to swap codes for discs.

Until digital is cheaper than physical, and by enoguh to compensate for the loss of used games and trade-ins, screw that. I'll take $48 games at launch that I can trade in for $30+ over spending $60 and never getting any money back when I'm bored. I basically made one game purchase at the end of last year, and it essentially paid for the next 3 or 4 I made, simply becuase I went with physical games.

Same here that y I haven't bought a collectors edition yet

Agree. Used to buy lots of Collector Editions. But since switching to digital downloads my buying has stopped. I'll start up again when they remove the disc, and replace it with a code for the game. Do miss buying them.

I on the other hand would like to be able to trade digital codes for disc versions even if paying a small upgrade fee. I'd rather have, for example, the discs of AC's Black Flag and Unity that came with my XBone instead of just a paper with the codes.

I hope the face on the statue looks nice. Also, ill have to find a place to put the statue. Ughh first world problems.

Me too, as long as it doesn't look like Angela Jolie!

It's nice, but I am already getting the MGS V collectors edition and Halo 5 limited edition. If they had a $100 edition with everything except the statue, I'd get it.

The flare on the statue looks stupid without the actual flare effect

It would be cool if came with replaceable glow sticks.

I got the Collectors Edition of the previous Tomb Raider game pre-ordering on PC, now that the developers have sold out to Microsoft to delay the PC release, they will be lucky to get $10 from me when the game goes on sale in a few years time.

Yeah, I just want the digital preorder on XBL, thank you.

And remember, Microsoft wants $250 for that stupid Guardians statue.

150... Nope Posted via the Windows Central App for Android

Instead of giving a hard 12inch statue, they should give a inflated one, people can make her big and have fun

These collectors editions only ever go down in price, I don't see why people buy into them.

I'd pay that if they replaced the statue with a blow up doll lara! Posted via the Windows Central App for Android

Ignore this comment. Testing something out.
Windows Central Newsletter
Thank you for signing up to Windows Central. You will receive a verification email shortly.
There was a problem. Please refresh the page and try again.