RoboForm now available for Windows Phone 8, manage your passwords like a pro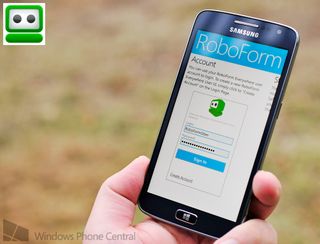 Remembering passwords is a real pain. If all you do is check your email and browse Facebook you're probably good to go and don't know the suffering that happens when you have dozens and dozens of passwords. That's why apps and services like LastPass and 1Password rock. These are platforms that help you remember all these unique passwords with their apps across browsers and apps. RoboForm is another service and their Windows Phone app just became available. Let's check it out.
RoboForm is a password management and form filling service that initially launched way back in 2009. Earlier in the summer we heard that it would eventually make its way to Windows Phone. The service is available in browsers like Internet Explorer, Chrome, and Firefox. But you can also get it on your mobile platforms with apps available for iOS, Android and now Windows Phone. Here's what you can do with the Windows Phone app:
One click Login into your Web accounts in the embedded RoboForm Browser.
Multi-step Logins: use "Matching Passcards" button in the built-in browser.
AutoSave Logins in embedded RoboForm browser, also manual Save.
View your Logins, Bookmarks, Identities, Contacts and Safenotes.
Create and Edit your Logins, Bookmarks and Safenotes.
Working directly with your RoboForm Everywhere Account.
Fill forms from Identities in RoboForm embedded browser.
RoboForm tweeted out that the app became available last week, but we're also seeing today as a version 1.0 update to the app. Nonetheless, it's available and ready for you fans and users of RoboForm to download. Personally we're using LastPass, but do let us know if how the RoboForm app works for you on Windows Phone.
Want to get RoboForm? It's available for free in the Windows Phone Store. You can also use the QR code below to grab it.
Thanks for the tip andrew120!
Windows Central Newsletter
Get the best of Windows Central in your inbox, every day!
Well, I'm glad that I'm using LastPass. This app must be the ugliest app for Windows Phone. The LastPass app is not magnificent either, but at least it tries to fit in the Metro UI.

It was just born into WP. Give it time to grow and mature.

Developers must love jumping into the platform with this sort of not-helpful rant at the top of comments.

It is pretty fugly tho, metro or not...

At least their servers haven't been hacked and data comprimised like LastPass. Twice. Still not sure why anyone would trust LastPass with sensitive data after they experienced multiple security breaches and still have no clue who the culprits were.

Yessss. I've been waiting for something like this. Kinda like Dashlane, another app option I'd like to see.

I've been real happy with Password Padlock, but I'll check this out now, thanks for the heads up.

I use Enpass, which is really great

Finally, I have been using Roboform for 5+ years on my PC's and on Windows mobile back in the day.

Same! i'm very happy to see this hit Windows Phone.

Looks like it will do the job. As a subscriber since 2009, and a Windows Phone 7 & 8 user since 2012, I welcome this app. Now maybe they can get busy getting RoboForm to work with Windows 8 metro.

For years now I've used 1Password, RoboForm and LastPass. Even though the WP8 app isn't quite as sexy as many would like, LastPass easily wins.

send me all your passwords, ill remember them for you.. nbd. your welcome.

Been using this on my PCs for over four years! Glad it's finally available on Windows Phone and I hope it works as seamlessly as the desktop version!

Nice app. I needed something like this. I can't remember any passwords even if my life depend on it. Thanks for developing for WP.

I'm using Sky Wallet. I don't trust cloud if it comes to sensitive data.

I've been using that program for a while too. Works great but the developer never updates it. The desktop program is sometimes very slow to respond.

I have it too, good but need a windows 8 store app. Developer needs to sort it out, he is not very responsive.

That's a bad name for the app if it doesn't use the cloud. They should call it Local Wallet or something

I don't know about Roboform but read this about LastPass, it's what made me choose it: https://www.grc.com/sn/sn-256.htm

I even don't trust the others, who don't share the info - how to they protect the data (the most sensitive question!). So, I wrote my own secure keeper ;)

For me One Note is useful, I kept all my password and username in One Note

I did same. But thanks to this app we don't have to anymore.

It is what I do. I need to sign in to my Live account, and there it is, in the cloud. Kinda like.... this. I do get the need for a secure place for passwords though. I may give one of these type of apps a chance.

I have enjoyed RoboForm on my PC for years. It will be great to have it on my Windows Phone!

it would b ideal if the web credentials for IE on desktop are sync with WP8 IE.

I'm actually kind of surprised that hasn't happened yet. Chrome for computer/android syncs and safari for computer/iOS syncs.

Yes, that better be in wp8.1

My problem with this services is I'm not sure how they really work. What happens if they get cracked? Won't ALL my passwords for EVERYTHING be compromised? I mean, if someone cracks one of my passwords they gain access to one service. If all my passwords are in one single place...

They take exceptional pains to keep that from happening. Unlike Target.

So do the people who are trying to hack. I mean, even banks, government and military institutions get hacked, why would a free service be safer than those?!

Good question. Yes!! why would a free service be safer.

The app is free, not the service. The service costs me $19.95 per year. This lets me use the service on my Windows PCs, my Android tablet, a now my Windows Phone 8. As far as I know, there is no limit to the number of devices that I can use it on.

Don't know about RoboForm but this how LastPass works: https://www.grc.com/sn/sn-256.htm

Gotta put in my vote for KeePass. Great on the desktop, but sadly, there is no WP8 client so one must use 7Pass until there is. All in all, a good solution that keeps my passwords safe and secure with a local, not cloud, database all sync'd via SkyDrive.

same here, but using a local owncloud installation. Plus, 7Pass is open source, so really trustworthy. There is also MetroPass, anyone got experience with that?

Last pass rules, asked a question today in 15min they answered

Ah, premium account, 3 years if I remember correctly

I use Vault and it syncs to my PC via wi-fi. Very private and secure.

About freaking time!!!! Soooo happy!

I use 7Pass, the WP7/8 counterpart to KeePass2, and share a file (encrypted, of course) between them via SkyDrive. Maybe I don't get the automatic form-filling and logging in (have to copy-paste), but third-party online password services have always seemed like too much of a cracker magnet.

I use 7Pass as well and despite the fact it never gets updated, I really like it. And it does have some automatic form-filling. Just activate the Integrated Browser on Settings and remember to always put "http://" or "https://" (depending of each site) in the url of every entry, so this way you can use auto form-filling on the 7pass integrated browser. Works really well, most of the times.

Can we be sure that our passwords are really inviolable in these apps ?

I have been using roboform for over 10 years. Love this app. Have it for pc, mac, and the everywhere and portable versions.

I remember I used to use this on my PC all the time, good to see it porting to WP!

Now we need it to work in the metro browsers, I.E., Chrome...etc.

I've used Roboform for year also. I've also been using LastPass since Roboform wasn't on WP8. My biggest complaint about both of these is that they don't work with IE on our Windows Phones. I don't like either one of their browsers. I'm assuming it's a Microsoft thing as to why they don't work with WP8 IE. At least now I have all of my logins on my phone.

Any recommendation for similar apps like mSecure on Android? http://goo.gl/czcaJt

I am using Enpass on Wp, Desktop, Android with Sync turned ON through my own Dropbox account. Its really a peace of mind.

I created about 15 logins on my PC and it works great there, but on my WP8 it isn't filling and submitting most of them. Am I missing something here?

Hi, Enpass password manager which is available as native App on all mobile and desktop platforms allows you to have a secure backup on your own cloud (Dropbox) from where your other devices can Sync. Full featured Desktop version for MAC and Windwos is totally Free. Please also share your comments with support team on support@sinew.in. Regards
Sinew Support team http://enpass.sinew.in

RoBoform finaly makes it to WP8. I have use RF for years and i'm happy that it is now on my 1020. The one thing I'm now looking for is a password manager that lets me save my data to my own cloud instead of some other cloud that I dont know about. Does anyone know of a password manager that lets you save your data to your own cloud? Something like the WD My CLoud.

Password Padlock backups to SkyDrive and has a Windows 8 app. It's very basic compared to LastPass and RoboForm, but it's free.

Hi, Enpass password manager which is available as native App on all mobile and desktop platforms allows you to have a secure backup on your own cloud (Dropbox) from where your other devices can Sync. Full featured Desktop version for MAC and Windwos is totally Free. Please also share your comments with support team on support@sinew.in. Regards
Sinew Support team http://enpass.sinew.in

Hi All, Just give a try to Enpass Password manager. Indeed its more than a password manager with its unique, clean UI on all the mobile and Desktop platforms. So no matter which device you switch to in future, Enpass security is always with you. Enpass also won the First prize from Nokia for its innovative approach with best UX in its class for Microsoft Windows Phone 8 devices. With Enpass you do not need to have an account on our server and all your data is secure in your device or own Dropbox cloud backup. More features which are being liked by users globally are: - Cross Platform, true Native version for iOS, Android, Windows Phone 8, BlackBerry 10, MAC OS X and Windows PC.
- No online registration required.
- NO NEED TO PAY FOR Desktop version of MAC and Windows.
- Built-in browser with Auto-fill of login & Credit card details.
- Localized in 9 languages and adding more.
- Readymade templates for nearly every kind of information.
- Native, Clear and professional UI to enhance user experience.
- Facility to import data from other password managers. If you have any query regarding security, design, compatibility or anything, plz drop us a mail. Regards
Sinew Support Team

I'm going to give enpass a try then buy if it works. I cannot figure out what Roboform is doing on my Lumia 920. I got the impression RoboForm would elimate this annoying "feature" on my phone of having to retype my password for every app that wants to get to Facebook. In IOS its stored on the phone and you enter it in ONCE and its done.

I was a RoboForm fan for years, but I switched to LastPass a few months back because I got sick of waiting for a Windows phone app.
As far as I can tell, they still don't have a version for Modern UI.
LastPass works on phone, Surface and desktop Windows 8.

Have used Roboform for years - Windows, Windows Mobile, Mac and iPhone. Went to Lastpass for WP after reading about it on Paul Thurrott's site. They both have some positives and negatives. I've been using the Roboform WP app for a week now (there are some iPhone apps that I check the WP store for on almost a daily basis) and frankly I'm a bit disappointed. I know it's their first iteration but still think it's a poor effort. It doesn't seem to allow you to just look up a user name / password like you can on the iPhone - sometimes I'm not looking to log on to a site but rather just want my logon information so that I can enter it into an app. I can't seem to delete the icons from what I'm guessing would be called the start page. And I think they missed the metro concept entirely. Again, a very poor effort.

I've been a Roboform user on all my personal computers for years now, and have come to love it for saving me time and for letting me generate highly-complex password that I don't need to write down anywhere, but that are available to me everywhere. I'm glad to see Roboform on WP8. I was hoping they would jump in, but had not seen any indication that they were interested up to this point. A welcome addition that should make use of secure sites easier and quicker.