Rotation Lock updated with lens support and custom tile colors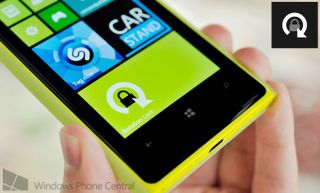 Rotation Lock is a handy little shortcut for those who require convenient access to the rotation lock setting in Windows Phone. The app acts as a tile shortcut, removing the tedious menu navigation through the settings menu. We looked at the app earlier this month and already the developer has released an update to the store. So, what's new?
The latest release (version 1.1) introduces a few new features. The first is a cool now colour chooser for the tile. You're able to use a slider to select the desired accent for the tile itself. The second new addition is lens support. Now you're able to quickly access the rotation lock settings from the lens selection screen.
New lens support and colour selector
As well as the above, the developer has also enabled launching Rotation Lock from Internet Explorer favourites, and has fixed the centre alignment of the logo on wide tiles. Not a massive update, but these are some major upgrades for such a simple, handy Windows Phone app.
You can download Rotation Lock from the Windows Phone Store for free (please note you are required to have Update 3 installed).
Rich Edmonds is Senior Editor of PC hardware at Windows Central, covering everything related to PC components and NAS. He's been involved in technology for more than a decade and knows a thing or two about the magic inside a PC chassis. You can follow him over on Twitter at @RichEdmonds.
Nothing what Connection Tiles could not have done weeks ago!
I do not get this Rotaion Lock App hype...

Clean and simple. The Tile is attractive and worthy of being the original Tile if one existed. Color choices etc... Its well worth it. Function & Form isn't for everyone but I do appreciate form.

I don't understand what rotation lock has to do with lenses... can someone suggest a usage scenario?

When you lock the screen rotation you cant see your photos in landscape.

dev here...Saw some chatter about wanted to be able to lock certain types of apps, notably the camera. It's just a shortcut to toggle the setting.

Please add a better color palette, I could not get the dark purple I wanted and the slider needs quite the improvement. It will only show the color after I let go of the slider which is inconvenient.

If you want to take a picture sideways but don't want your phone to take a Landscape pic? Dahhhh ;) not a common usage but thats what it would be for.

And what they said ^^ lol. Many uses. Be creative.

WP8's own camera rotates even if you have the lock on.

It was worth a try. Sorry for false info. Usually im pretty informative. I admit I didn't test my theory. @timgabhrel explained it.

Back again, Checked and this works with Nokia Camera... Locks orientation. After reading the Devs comment I had to check. Maybe some stock camera apps don't work. But for the majority, Nokia Camera DOES respond to Orientation Lock! Now im being informative again :) yay me

It says you can now launch from IE favorites, but I can't seem to figure out how???

it didn't work well enough. It was by way of an IE favorite, but the javascript necessary would screw with your current page too much. It was mimmicking what Rudy uses in 6tag & 6sec.

So was it removed, or ... ? I can't find where in the app it is.

I'm using Super Tools which has updated to provide a shortcut to rotation lock.

This app seems to have more features, but I'm not interested

Been using this daily. Nice to have the ability to 'unlock the lock' from lenses when in Nokia Camera. Thanks for the update Tim!

How feasible is it to create a rotation lock that automatically opens it, toggles it, then closes it? That would be awesome if any dev isnlistening!

Sounds like the perfect Rotation lock solution, within the WP8 environment of course.

Still, UC browser has the best implementation of rotation lock..

I agree with this. This app is still VERY useful for the 99% of apps that don't have an on-screen lock option, but hopefully Microsoft will hardcode that into the system so every app can use it. If people get bugged by the on-screen lock, there can be settings like screen rotation: on/off/manual.

Useless without gdr3 lol.....i hate it shows up as an app if I can't use it.

It will become usable in a short time! Or so, I guess. HTC 8X users can already use this cuz they have GDR3.

Anyone with Insider Pro installed has had this feature for weeks now... Along with the battery saver icon, too.

I did not understand making an app just for rotation lock (or screen rotation as the setting is called) when you can expose the 7 or 8 settings that are possible to launch. I also added an app for all available settings (called Settings To-Go), which will just remove the screen rotation from the list if you are not using Update 3, so useful for everyone. I guess there are several such apps.

Nice that this can be used as a camera lens, because now it can be activated with the side camera button. Unfortunately the IE favourites option isn't available (as stated earlier in this convo) and you can't set it to use the theme colour (you can match the theme colour, but it is fixed and won't change when you change your theme colour after placing the tile). Still, it's getting there...

This is just sad, that we still talking about downloading an app to lock screen rotation and we still waiting for the official software update at this time. Considering it been a year since WP8 is out. How hard is it for the Microsoft team to make this update?? Very disappointed.
Windows Central Newsletter
Thank you for signing up to Windows Central. You will receive a verification email shortly.
There was a problem. Please refresh the page and try again.