Rovio's Bad Piggies is on its way to Windows Phone and Windows 8 Stores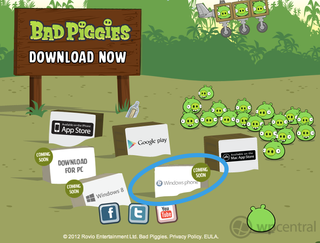 Windows users will be helping pigs fly shortly
Rovio, the makers of the ever popular IP Angry Birds, has released a new game called Bad Piggies (www.badpiggies.com). In previous Angry Birds games plays had to use multiple types of bird to knock out pigs who stole their eggs. The pigs return in Bad Piggies (hence the name), but are in fact the protagonists this time around.
Launching today, Bad Piggies is available on iOS, Android and OS X for Macs. On the homepage and download section of the official website, Rovio has added Windows 8, Windows Phone, as well as a PC download, to the list of available platforms. These three entries have a "coming soon" label slapped on the top, but it's safe to say we'll be aiding the pigs to fly soon enough.
In Bad Piggies the player has to customise contraptions for pigs to use while traveling from A-to-B while collecting stars along the way. Customisations include propellers, umbrellas, rockets, wheels, and fizzy bottles. Creating the perfect vehicle prior to each level is paramount as Bad Piggies is noticeably harder than its predecessor.
While we can get excited for Rovio's latest game coming to Windows Phone, there's going to be high levels of doubt and skepticism, which is of course down to how the studio has played the platform. Many Windows Phone owners are still awaiting the arrival of Angry Birds Space, which was believed to be a gift to the platform from Nokia. In addition, Nokia announced in New York that every other title for Angry Birds was headed to the Lumia platform. Will 'Bad Piggies' be for the whole OS or just Nokia? It's too early to tell.
Check out the trailer below:
Unfortunately no release dates have been revealed, but we expect to see the title available at launch as a LIVE-enabled game for both Windows 8 and Windows Phone. Here's hoping Rovio will start to fully support Microsoft's mobile platform with the desktop operating system sporting integration with Windows Phone. PC download will also be available for those on Windows 7 or earlier versions of Windows.
via: WindowsPhoneApps.es; thanks, Pedro, for the heads up!
Windows Central Newsletter
Get the best of Windows Central in in your inbox, every day!
Rich Edmonds was formerly a Senior Editor of PC hardware at Windows Central, covering everything related to PC components and NAS. He's been involved in technology for more than a decade and knows a thing or two about the magic inside a PC chassis. You can follow him on Twitter at @RichEdmonds.
"Nobody can give you as much as we can promise you."

What's with the old Windows Phone logo? Jeez these Dev's are so out of touch with the Windows platform.

Same thing I said. iOS and Android have those cool logos, and they're using the old one for WP ? Like, no.

They did that to let us know it's available to WP 7.5 users, too. At least, here's hoping.

But that's the Windows Mobile 6.5 logo. Even for 7+ is was a square.

My Samsung Focus begs to differ. :P

More like 7 was the circle, 7.5+ is the square

The logo didn't change to square until mango was released. I remember because my focus had the windows orb when I initially got it.

When will soon be now ?

Not that I am that crazy about it if it's another Angry birds clone but, it will do great for the platform if the price is fair.

It's the opposite of an Angry Birds clone. You design structures for the pigs instead.

Because it's slower and requires a little bit more thought than aiming a slingshot, I don't see it catching on nearly as much. (Not that Angry Birds doesn't require strategy, but it's the kind where you don't sit thinking about it for 5 minutes before the action starts. People instead do more of a trial and error process there).

I just don't see it catching on and being nearly as addictive for people.

This could be part of Nokia's general partnership with Rovio, i.e. to bring all future Rovio titles (starting w/Angry Birds Space) to the Windows Phone platform. Though once WP8 becomes more common I suspect it'd be easier for the likes of Rovio to port over games to the WP platform without much of a push from Microsoft or Nokia.

Rovio, as usual, does not say exactly WHEN. Personally I dont trust that company any more...
They said they were porting AB Space on wp7 one year ago, and where is it?
Their games are simple to develop (2D phisycs) and port, they are not really very fast, too much object-c programming ;)

1 year ago? But it was only announced 7 months ago, stupid troll.

Uuh, how far is 7 away from 12?? Besides, Standard Angry Birds has been on the platform for at least 1 year, so why can't they just build or modify the base code used for WP Angry Birds original release and gave us AB space? And for that matter, they've already Developed for WP and MS gave them porting tools; So why are they acting as if this would be hard??? They are a suspect company when is come to WP

It's because they have to do their games pretty much from scratch for the XNA framework.

If they're not going to get a lot of sales from it, it's a pretty good argument against the port.

However, WP8 has native code support, so it should be a much easier port. I'd bet that this game will be out pretty fast after the WP8 launch.

Another popular trendy game that will be "old news" once we get our hands on it.

Maybe you guys should look into why WP has been left out of all the updates to Facebook, Twitter and Foursquare that have been rolled out to other platforms while our official apps are still crap.

F*ck Zuckerburg, Myspace will be making a comeback soon and FB stock will be dropping even lower. I've seen the new preview of Myspace and it's really going to be nice and have customize music playlist and more. So from what I've seen, it's also better looking, organized, and has a cleaner appearance.

I'll be sure to wash my ripped jeans and flannel shirt to complete the comeback.

So your point? We have integration deeper than the other platforms,stop being so negative about everything

Its been three months sense the last update for Facebook:/

Just picked up a Kindle Fire and I was horrified to find that the "horrible" Android version of Facebook that everyone talks about on other websites is much faster than the WP app and shows more relevant posts (no stupid Farmvilleposts).

Just played a bit of the PC version demo (http://shop.angrybirds.com/us/games/pc-games/bad-piggies-pc-version.html) - it's kind of fun, for a time waster game.

It's fine that rovio wants to port more angry birds but the main question is will they roll out updates for the game consistently. AB on WP is 99cents and still has had no updates to add levels or superpowers or the mighty eagle to match the android version. Wp angry birds is extremely out of date. So for me I will be a little uneasy about buying from rovio in future unless they show they are serious about maintaining what they sell.

You know, I'd be thrilled if I never saw another Rovio Windows Phone post again on this site until they actually release something.

They promise everything to us and deliver nothing.

Again, for me. The only negative that I find with WP's is the lack of big name app support. I'm hoping it will all change when W8 drops. That is the only missing puzzle piece.

This is the biggest problem with WP and lack of initiative from MSFT. Coming soon is a relatively big idea. With such a close relationship between Nokia and Rovio, I expected Rovio to develop for Nokia rather quickly, guess I was wrong.

I'd say the whole windows 8 is hitting it

While I think Angry Birds are a bit too mundane and brainless, this is actually, and surprisingly, quite clever and interesting. Hope the soon is really soon. And yes, this is a serious MS problem, soon might mean two years from now.

This is exactly what I thought. Where Angry Birds was a bit of a joke and certainly brainless... This game is like wow! Building, problem solving, creativity, quick thinking, yet still simplistic in its own way. Looks like a great game. I wonder if the masses will flock to it?

october to april, 5 months passed!! So actually When it will be available?

I'm not holding my breath for it anymore.

I'm starting to wonder if it's ever coming. Why is there always such a delay for WP?

WHY it is a so awesome game, i need it...

Still no updates on this.. I kind of miss my Nexus 7..
Windows Central Newsletter
Thank you for signing up to Windows Central. You will receive a verification email shortly.
There was a problem. Please refresh the page and try again.