Royal Revolt 2 updated twice in two weeks, gains alliances and more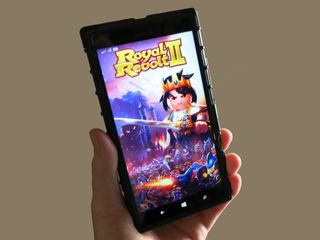 Windows Phone has more than its share of raiding games nowadays, but my favorite continues to be Royal Revolt 2 from Flare Games. Back in September, the game received a major update that added single-player campaign stages for players to enjoy in-between attacking each other. The game was updated last week, and today it got another update. The most important feature of these two updates: alliances.
Yes, Royal Revolt 2 now has social features that allow players to form alliances (clans), work towards common goals, and chat with each other. Naturally we have a Windows Central alliance that we'd love for you to join. But why should you join an alliance, and how does it all work? Whether you're a new or returning player, our in-depth look at how the game's alliance system works will help you get the most from Royal Revolt 2's latest game-changing feature.
Version 1.6 release notes
Get an awesome Christmas present for free
New levels for many troops, spells, and more
Elite Boosts for Alliances:
Boost your alliance's troops and defenses
Unlock the Blazing Knight, the Storm Cannon and many more
Build it up
The first step towards joining an alliance is building an alliance tower. It costs two gems, the game's premium currency – hopefully you have some from winning tournaments or completing quests.
After building an alliance tower, you can create your own alliance or join an existing one. From there, you can view members, send out invites, donate to the alliance, chat with alliance members, and check your alliance's place in the overall Alliances Leaderboard.
Initially, an alliance can only accommodate a handful of members. To increase the member limit, everyone must work towards raising the alliance's level. And that costs gold.
Every day, each member of the alliance can make one gold donation towards leveling up the alliance. You also have the option of making a huge donation via in-app purchase. Otherwise, everyone is limited to the one daily donation. So it's super important that everybody actually make their donations every day.
By default, players can only donate 1,000 gold per day, which isn't much. But you can increase your donation (and thus your value to the alliance as a whole) by leveling up your individual alliance tower. That costs gems, so players might not be able to afford upgrading their alliance towers very far. But save up enough gems to improve your tower and you'll be able to donate 10K or more gold per day, which comes in very handy.
Benefits of alliances
What do you actually get for all your effort to improve the alliance? Why, a gold bonus! The combined trophy rating (essentially leaderboard position) of all the members contributes towards a gold modifier. The more people in the alliance, the higher the multiplier will go. Every time you attack an opponent, that multiplier will increase the gold you win from the battle. It pays off in the long run.
Alliance members can also chat with each other, but the chat could be better. You can only see the messages people type while you're online. If you don't log in at the same time as other members, the chat feature won't do you much good. Shame the messages aren't stored asynchronously as in Cloud Raiders. But at least Royal Revolt 2 notifies you when people sign in and out or new messages get typed, unlike the totally useless chat system in Magic Realms.
Finally, today's update has laid the groundwork for alliance members to purchase Elite Boosts for several units and towers. We can look at these boosts now, but they aren't available to unlock just yet. Hopefully soon!
Join the Windows Central alliance!
We'd love for our readers who actively play the game to join our alliance. The alliance can only hold 15 members so far, but we continue to level it up and raise that limit all the time. If you play every day and you're willing to level up your alliance tower in order to increase your donations, our alliance needs you! Just visit the Royal Revolt 2 alliance thread in our forums and request to join in-game as well. Together we'll grow the alliance and win all the gold!
For more information on Royal Revolt 2, check out our detailed review.
Get the Windows Central Newsletter
All the latest news, reviews, and guides for Windows and Xbox diehards.
Paul Acevedo is the Games Editor at Windows Central. A lifelong gamer, he has written about videogames for over 15 years and reviewed over 350 games for our site. Follow him on Twitter @PaulRAcevedo. Don't hate. Appreciate!