Rumor: Microsoft doing away with Microsoft Points system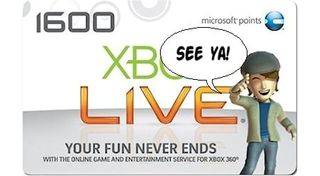 Here's a rumor that many gamers probably hope will come true: Microsoft may be doing away with the Microsoft Points virtual currency system. According to Inside Mobile Apps, who cites an inside source, the change will take place by the end of the year.
Microsoft Points have been around since the Xbox 360 launched in 2005. MS Points were originally used to buy Xbox Live Arcade games and downloadable content for Xbox 360 games, though their use has expanded to include purchases for Games for Windows Live (PC), Zune media, and DLC for a handful of Windows Phone games (Beards & Beaks, Gravity Guy, and Bug Village). 400 Microsoft Points equals five US dollars, though the exchange rate varies in other regions.
A sizable number of people dislike Microsoft Points for a few reasons. Firstly, they introduce a needless conversion mechanic to online purchases. While I've never found the dollar-to-points ratio the slightest bit confusing, apparently it does cause the gears of some people's minds to spark in an unpleasant fashion. Other major online content providers – namely iTunes and Sony's Playstation Network – simply use actual currency, so Microsoft's reliance on its own format appears as a weakness by comparison.
Secondly, it has historically been a challenge to buy the exact amount of Microsoft Points one actually needs. Originally, Points could only be purchased in increments of 1600 ($20) or 4000 ($50), with no discount applied for picking the larger volume. Eventually Microsoft started allowing users to purchase quantities of as low as 400 Points directly through their website or the Xbox 360 console, alleviating the issue to some extent. But even now, many pieces of content cost odd amounts like 480 Points ($6), and you can't buy that exact number of Points.
On the other hand, I've long been a proponent of bringing MS Point purchases to Windows Phone. For gamers like me who support both the Xbox 360 and Windows Phone, sharing a balance across platforms would be very useful. After all, Xbox Live accounts, GamerScore, and Avatars already transfer seamlessly.
MS Points have a couple of other advantages too. I can buy an MS Points card without paying tax and any purchases I make with it won't be taxed. But whenever I buy a Windows Phone game with real money, it's always taxed, so purchases of equivalent price actually cost people like me more on WP7. On top of that, Amazon and other retailers frequently offer discounts on Points cards, so savvy shoppers need never pay retail price on their Xbox Live purchases.
Getting back to the rumor, it promises that all Microsoft platforms currently using MS Points will switch to the standard currency of each user's country. People's MS Point balances would simply convert to dollar amounts as well, so there's no danger of losing money already spent. Taxes could start applying to all purchases (depending on your location) though, which would sting. Fears of Points cards disappearing from retail, forcing gamers to make purchases with credit cards or PayPal, are unfounded. Microsoft would almost certainly retain cards at retail – they'd just be for dollar amounts instead of points.
The currency switch is just a rumor for now, and nobody's going to extract the truth of the matter from Microsoft. We've reached out to a few developers though (as they've supposedly been informed of the impending change), and will report back if anything turns up.
Source: Inside Mobile Apps via Kotaku
Get the Windows Central Newsletter
All the latest news, reviews, and guides for Windows and Xbox diehards.
Paul Acevedo is the Games Editor at Windows Central. A lifelong gamer, he has written about videogames for over 15 years and reviewed over 350 games for our site. Follow him on Twitter @PaulRAcevedo. Don't hate. Appreciate!