Runemals is Game Troopers' new Pokémon-style RPG for Windows Phone game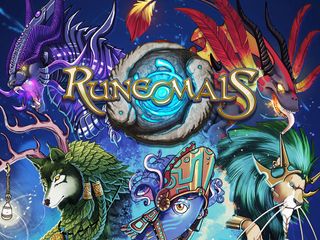 Game Troopers continues to release a bunch of new games on the Windows Phone platform. The latest title is called Runemals, a fantasy-themed game that combines puzzles with turn-based RPG elements. It also seems like its very similar on the surface to the classic "monster collection" games like Pokémon.
Here's a look at its features
EXCITING AND STRATEGIC ACTION Gather energy by tapping color groups in super-fast 10-second challenges. Lead your team in battle, decide your strategy and manage your energy resources. Explore an island full of adventures, defeat powerful enemies and acquire the loot.
MONSTER COLLECTING Discover, CAPTURE and train a vast collection of unique animals. Test different team combinations, try different elemental creatures and discover which ones are more versatile, more powerful or suit your gameplay the most.
POWER UP AND EVOLVE Level your team up so they learn NEW abilities. EVOLVE them to make them even stronger: with the right training, charming creatures can become awesome battle beasts.
ENGAGING STORY Discover Bright's adventure: an orphan who will become a Runemal trainer thanks to his master's help.
Runemals will expand in the coming months with new animals, special events and more content. The game is also Xbox-enabled for unlocking achievements and more. The game does support 512MB Windows Phone devices.
Download Runamals from the Windows Phone Store (Free)
Windows Central Newsletter
Get the best of Windows Central in your inbox, every day!
Who is the winner of Lumia 950xl.

What??? The was a competition to when a 950 XL??? When, where, how??? I want in.

Darn, I don't like gaming on my phone but Pokemon-like games are my kryptonite.

Waiting for Nintendo to bring the official pokemon go pocket saga from ios or android...I doubt that will ever happen, though.

It's not much like Pokemon..

Ah, I was hoping for RPG type of deal. This is just another puzzle game ;/

You might like it. Just try it! :)

Why aren't more companies integrating Xbox into their Windows phone games?

I've read that it's very expensive to participate, and also very tough to get accepted by Microsoft for it. I never understood either...they need an open Xbox platform, where any dev can use it for free in order to get things like cloud saves, leaderboards, etc. There are 3rd party APIs for these, but it's not free...and not Xbox.

I've been saying this for so long, I forgot how when I started talking about it. Besides Microsoft mentioned it awhile back but it looks like it just vanished into thin air as they no longer talk about it.

This thread details the the ups and downs of Xbox gaming on Windows Phone over the past two years, providing contact information and instructions on how to ping Xbox executives on Twitter, asking them to #SaveXboxWP

Interesting... and dangerous (because of the time sink factor).

You fucking bastards told this game is like Pokémon but you should have been at least precise by 20% and told that this game is FINAL FANTASY AND CANDY CRUSH MIX!!! This game needs internet all the time and IS NOWHERE NEAR POKÉMON!!! Please improve your knowledge OR game judgement and comparison for games Windows Central.

While that may be true, it would suit you well to formulate such things slightly less aggressive. On topic: Even with this knowledge, totally gonna try it out!

The day we measure "knowledge" by the awareness of Pokemon, is the day I want off this planet.

OCD PSA: I was interested in trying this, excited when I saw an Xbox banner on the game, and then noticed the achievements are all rediculous values that don't end in 0 or 5. Deleted immediately before it tainted my score.

Ι hate achievement hunters.
Hope all of you die

All of us achievement hunters will die eventually. I hope this makes you so happy that you'll die of a fatal overdose of happiness.

That's not an achievement hunter, that's an achievement hoarder.

Aim for completion, that evens the score ;)

Woah. Did I just see a download app link???? Times-a-changing

ugh.... i read pokemon....

Game Troopers are The best when it comes to gaming in Windows.

microsoft, please make pokemon GO possible in windowsphone!

What a waste of data and time

Servers constantly crashing !! Garbage!!