Running Office 2010 or earlier on Windows 10? You can now get Office 365 for just $35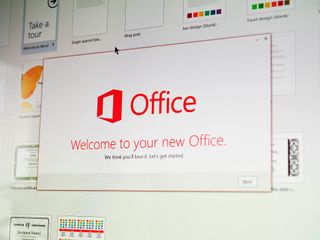 (Image credit: Windows Central)
Microsoft launched Office 2016 yesterday, bringing a whole host of features to its productivity suite. If you're yet to make the switch to Office 365, Terry Myerson has announced that those running Office 2010 or earlier on Windows 10 will be able to get a one-year subscription Office 365 Personal for just $35:
Office 365 is a subscription service that gives you access to Office desktop suite on PC and Mac, along with full editing capabilities on mobile Office apps for Android and iOS. You also get 1TB of OneDrive online storage. Check out the posts below for more information on what's included:
Source: Windows Blog
Windows Central Newsletter
Get the best of Windows Central in your inbox, every day!
Harish Jonnalagadda is a Senior Editor overseeing Asia for Android Central, Windows Central's sister site. When not reviewing phones, he's testing PC hardware, including video cards, motherboards, gaming accessories, and keyboards.
Whats An Office 365?...Neva Used It Before!!

It's subscription to Office, OneDrive and Skype. You get some Skype minutes every month, lots of OneDrive storage and Office. You should check it out, it's quite a deal.

Read yesterday's article.

Wait I thought Office 365 came with 10TBs for OneDrive instead of 1TB. I have a little more than 10TB on my OneDrive from the Office 365 University subscription (plus the Lumia Enthusiast bonus and the default 15GBs). They said University is the same as Personal only having a discount for eligible students.

I thought it was supposed to be unlimited; started at 1 TB and scaled up according to use.

That I believe is correct.

Man I just got all excited till I read the title of this article a second time. Thought it said office 2016 the first time not 365.

You should be able to use your previous versions after subscription end

If you have a valid office 365 subscription, you can download office 2016.

Go to https://www.windowscentral.com/e?link=https2F%2Fclick.linksynergy.co... and then select Office and see if there is a subscription deal.

wish there was a free upgrade for office 2010 too :P

Office 2010 looks more like a Windows 10 program than 2013,16.
The title bar doesn't try to have it's own minimize and close buttons, different from the OS like 2013 and 16.
It's like it was designed by Adobe.
I'm sticking to 2010

Not really. Office 2016 has the system menu including the buttons redesigned to match Windows 10. If you had been using Office 2016 Preview you may have noticed.

Got excited there for a second, then noticed that it said 365 Personal. I want Home.

If this is anything like the Office 365 personal deals that came with the HP Stream 7 or Lumia 640, it can be upgraded/converted to Office 365 Home at something like 9 months for a 12-month license.

I have office 365. Also have office 2010 on disc. Am due for renewal in 2 weeks, if I uninstall 365. Install 2010 would I get 50% off?

I have 2013, thinking I'll re-install 2010 just to get a 365 discount.

If you have Office 2013 it's not really worth getting 2016 or 365 in general since the functions are exactly the same. What I've seen that's different in 2016 are only visual refreshes, nothing new in terms of function aside from the "Tell me what to do" function search box that originally came from Office Online which is pretty much like Cortana for Office.

Office 13/16 are programs. If you own Office 13/16, then you own it. Office 365 is a subscription, so you will no longer have the privilege if you cancel your subscription. Not really the same at all.

What office 2016 bring that's new from office 2013?

Check out this in-depth review of Office 2016 by PC World, highlighting new features and differences from Office 2013: http://www.pcworld.com/article/2984992/business-software/microsoft-offic...

Just upgraded my 2013 Office 365 to 2016 and the first impression is awesome

I get full Office through MS's Home Use Programme at my work. £9.95 for the lot.

for us who do not have free internet, pay heavily on bandwidth, this 365 is not for us as it heavily depend on internet

That would be incorrect. Aside from the initial download, you do not need an internet connection to use 365. Perhaps you're thinking of the online Office apps.

I really don't understand this office 2013/2016/365 saga..

It's the same software, with the addition of unlimited OneDrive storage, that you'll pay at most $99 per year for. What's there to not understand?

Wish I hadn't just subscribed on Sunday...

Awesome. I was thinking about getting Office 365 to go from the Office 2013 I have now to Office 2016.. But since I saved my old Office 2010 install media, Maybe I can reinstall it get a year for $35!

Updated yesterday from 13. Two things I noticed 1) I have OneNote and OneNote 2016 2) also I got Mail and Outlook 2016.. weren't 2016 programs supposed to replace ALL old ones with the new programs (like office, excel, ppt..)?

The OneNote you see came with Windows 10. That's a Store app. OneNote 2016 is a desktop app. Mail is a store app, and Outlook 2016 is a desktop app. Desktop apps can do a lot more since there isn't really a sandbox, but then they are much less secure (i.e. More prone to software viruses)

Would office XP work for this how early do they want them

What do you mean Office XP? There certainly is a Windows XP but Office never had a version codenamed XP

Yes, there was Office 2000, Office XP, Office 2003, Office 2007, Office 2010, and Office 2013. Now there's 2016. Since it states 2010 or earlier, then Office XP should also qualify.

Huh? There most certianly was a Office XP. https://en.wikipedia.org/wiki/Microsoft_Office_XP

Microsoft still doesn't realize that their pricing for office 356 is way too overpriced, especially for countries with weak currency.

Here's what I did, purchase a cheap Windows 8.1 7" tablet ($60), and I got Office 365 for free for 1 year, you can install Office on other devices, in fact I don't recommend to install on a cheap $60 tablet since these only have about 5GB of storage left, so you would not be able to install other apps besides Office. Hurry up, since I think only Windows 8.1 devices with less than 10" have this feature, Windows 10 devices smaller than 10" won't come with free Office 365 since they will come with Windows Mobile which does not run desktop Office.

What about RT users? Do we get an Office update if we're 365 subscribers?

May need to get that dusty office 2003 disk back out! :-p

Wow now you're telling me? I uninstalled office 2010 and got 2013 a month ago after installing Win10 on my surface. 2013 was torrented.

Thanks for sharing that you're a thief.... Awesome.

Any luck about updating Office 2013 to 2016 at a discounted price? Some of the new features sound cool to me.

Just like me, not a master of the computer, I believe many of us may get stuck with the computer problem. Take this question for example, based on my previous experience, I think you have to get a product key to activate your Windows 10 key. Just go to the site www.Microsoftkeystores.com and place your order to buy one. When you pay for it successfully, the genuine product key will be sent to you timely. You can activate your Windows 10 key in several minutes.