Saavn launches a Universal Windows App for Windows 10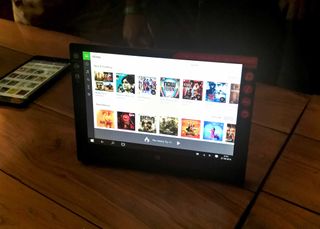 It's finally here! Saavn has launched their Universal Windows App for Windows 10. Well, it's not actually in the Windows Store at the time of writing, but you'll have it sometime today. Founded in 2007, Saavn is one of the leading music streaming services in India and has over 14 million active users in over 150 countries.
With Saavn for Windows, consumers will have access to the premium music streaming experience with more than 10 million tracks across 11 languages - Hindi, English, Tamil, Telugu, Punjabi, Marathi, Gujarati, Bengali, Kannada, Malayalam, and Bhojpuri. The company has over 900 label partnerships including T-Series, Tips, YRF, Saregama, Eros, Universal, Sony, and Warner Music.
A lot of music enthusiasts will be disappointed though, at least for now. Saavn for Windows is a Universal Windows App which means it is not available for Windows Phone 8.x. While you can enjoy it on your tablets, laptops, and desktops right away, you'll have to wait for the Windows 10 Mobile launch before you can have it on the phone.
Of course, if you are on a preview build of Windows 10 Mobile you can get the app from the Store. I used the Saavn app on phone (in beta at the moment), and it works quite well – a few random crashes of course, but that's not their doing.
Saavn for Windows offers the service's core products like phonetic search and dynamic bit-rate streaming. As a Universal Windows App, it has an adaptable layout for desktop and tablet. This version of Saavn for Windows is probably the company's effort to get on to the Windows Store and has a limited feature set compared to the Android and iOS apps. I've learned that additional features like Saavn Social features, Saavn Radio, and Saavn Pro (ad-free and offline streaming) will be added in coming weeks.
At this moment, Saavn for Windows is a pretty basic app and I'd hope the updates continue to flow adding more features as we go along. Also, while it's a move forward, the non-availability of a Windows Phone 8.x version after so much anticipation maybe a downer for many. Give it a whirl on your Windows 10 devices, and let us know how you like it.
Windows Central Newsletter
Get the best of Windows Central in in your inbox, every day!
How can you enjoy Spotify when it is slow as fuck

Maybe on Android :P on Windows it is slow (I use it more often on WP) though i care about sound quality more than app launch times

But Spotify isnt available in India...how do you use it then..? Changed the location and downloaded?

I use Spotify as well in India. And yes, I had to change my location although I changed it to get the US version of Cortana and later on downloaded Spotify. And for registering to Spotify on PC, I used a VPN and while logging in on the WP app, a VPN for the initial setup. And then it works great on my WiFi now, both on PC and WP, and no I don't use VPN for Spotify anymore.

Exactly...! But I need VPN to verify location (I'm not on premium) after 14 days so I have Hotspot Shield installed on my Windows Phone

Neither me. I use the basic version of Spotify but the app doesn't ask me to verify my location every 14 days or so. I guess I installed it on my PC right after upgrading to Windows 10 and I loved it so much on first using it, I installed it on my WP too. But there is one thing that I do not get about the WP version of Spotify - I can't get it to play individual tracks. I just can't that option. Maybe there isn't an option or maybe it just isn't available. By the way, Hotspot Shield just doesn't work for me on my WP. Just doesn't work, don't know why. Does it work perfectly in your case?

There's a good reason why Spotify isn't available in India: It doesn't have a lot of the collection or curation for Indian music. Most new albums or songs aren't released on Spotify. Spotify is not exactly a solution then.

coz an universal sounds odd :-s

That's correct. When have you ever (correctly) said "An universal"

"A universal" is correct. Because "YOUniversal". It's about the sound, not the letter itself. Next time u try and be smart...actually be correct.

Exactly. Vowels that pronounce their own alphabets are prefixed with "a" instead of "an".

wasn't it for windowsphone 8.1 devices too?

The answers you seek are within the words of this post.

Your article is confusing with so many words, you should post a table in such cases showing what is there and what is not.

Get W10 if you like to have this app right away, otherwise look for "gaana" it seems to be a nice indian music app :)

Gaana is one of the worst app for Windows Phone! It is very slow and crashes every time I open it after minimizing it!

Btw, I am using Lumia 640

Indian music is very popular for Arabs :)

and we love Cheb Khaled and Hicham Abbas as well...:)

Where is the download link for Windows 10?

Look for "saavn" in store :)

already searched everywhere. I am not getting link to it.

The answers you seek are in the second sentence of this post.

Oh...missed that. Thanks for drawing attention.

Now soundcloud left. Then sorted

Never heard of 'em. Who are they saavng you from? When in Naija?

I think I must have harassed the company for months for the app on twitter! Lol!

That's the reason they are harassing us by not putting the app live on store :P

Cant find it even after hours :(

This is link that points to Windows Store from Saavn.com. But the app is not yet live. https://www.microsoft.com/store/apps/9NBLGGH1RRH1

I had written lengthy stories on their facebook page requesting app for windows phone, at that time they responded oddly. Glad they released the app finally.


Can anybody plz give me the Name of the Company of Original Saavn App...

Oh it's great.. Finally here

Cant install Saavn on my Lumia 635(512 MB Ram, US AT&T) - Build 10512(latest) :( Error: 0x80240024
Any clue?

You can get to the app page??

Yes.
https://www.windowscentral.com/e?link=https2F%2Fclick.linksynergy.co... Probably because I'm in US. Also able to search & find in mobile store app.

There are already at least 4 apps on Windows universal store with same name and logo as saavn, don't know how Microsoft even allow it. One is there with saavn pro name too

Spotify absolutely needs to make an unversial app. Is this working on Xbox One as well?

Suddenly I feel W10 Universal Apps model will actually work!


Ya it will be liked more by android and ios users...

too bad Saavn isn't part of the TMobile unlimited music streaming networks :(

T-Mobile isn't in India Saavn is an Indian app

Actually Saavn is an American company serving Indian customers.

But when will it launch for windows phone

just look at the icon which Saavn is using for the windows 10 app, Page: http://www.saavn.com/corporate/mobile

not able to download on windows 10 pc .. it gives error code Error: 0x80240024.. plzz admin do something

This news hurts me. - A Windows Phone 8.1 user.
Windows Central Newsletter
Thank you for signing up to Windows Central. You will receive a verification email shortly.
There was a problem. Please refresh the page and try again.