Samsung Code on Metro PCS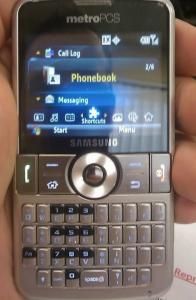 We've seen the low-end Samsung Code debut on U.S. Cellular, and now it appears slated for Metro PCS, the carrier's first Windows Mobile device.
The specs:
Full QWERTY keypad
Jogwheel with 4-way navigation
Windows Mobile® 6.1 Standard Edition
2.0 MP Camera/camcorder with Flash
Picture Messaging (MMS)
Bluetooth® 2.0
Office Mobile:
CDMA 1XRTT 800/1900 MHZ EVDO Rev 0 Technology
Flash/RAM: 128 MB
Removable Memory: Supports up to 32 GB
Talk Time: up to 6 hours
Standby Time: up to 12.5 days
Battery Type: Li Ion - 1480 mAh
Size: 4.61" (H) x 2.3" (W) x? .54" (D)
Screen size: 320 x 240px
Weight:3.6 ounces
Phone News believes the Code should be available sometime next month.
Via wmpoweruser
Windows Central Newsletter
Get the best of Windows Central in in your inbox, every day!
Phil is the father of two beautiful girls and is the Dad behind Modern Dad. Before that he spent seven years at the helm of Android Central. Before that he spent a decade in a newsroom of a two-time Pulitzer Prize-finalist newspaper. Before that — well, we don't talk much about those days. Subscribe to the Modern Dad newsletter!
has anyone heard of any leaked information for the price range of this phone? i am just curious because i have been wanting to get a finesse which is about $350 and i dont know if this one is cheaper or not. if so, i think i am going to get this phone.

Definitely wait! I don't have the official price, but I was told today that the price point is going to be right around the Finesse.

I'm wanting to buy one of these phones, and I just wanted to know if you still have it and do you still love it?

Place in the windows 6.1 disk, then restore the phone too new.

Put the windows 6.1 disk in, and restore the phone too new

What if you dont have that CD? then how would you get your storage back. I've deleted all my files and took out my memory card and still dont have any storage space.

I have a virues 0n my c0de f0ne and d0nt kn0 h0w t0 get it 0ff

I HAD DA SAME PROBLEM.. U HAVE TO HARD RESET YOUR FONE.. I DNT FEEL LYK EXPLANING HOW DO IT. LOOK IN YOUR MANUEL DAT CAME WIT DA FONE.. YOUR FONE SHUD BE GUD AS NEW.

It's $299.00 in Atlanta. I just bought one, AND I LOVE IT !

Where is this phone found in silver like in the picture?

I just bought it for $250.00 out to door.

I was at the metro store earlier today and saw this phone in action...it costs $249 and from what i saw it is well worth it! I will be getting one in the next week or two...

well idk y yall phones cost so much but here n jersey the metro finesse r only $200.00 with a $50.00 rebate

I live in Fl and with the rebates offered I can get this phone for 159.00

I just purchased it and it was 247.00 with a 90.00 remail in rebate.

This phone is costing $268.00

I hate this phone! I've had problems from day one and paid $250 for it. - can't get on internet half the time
- don't know if text msgs or emails go thru
- memory such and I got a 16 gig mem card
- sent emails don't show up in sent box
- phone freezes up and cant do anything until it unfreezes or you take battery out
- and a few other things I cant think of at the moment I would not recommend this phone at no one!!!!! Please do not waste your money!

I had this phone back in January and had the same problems you did. Metro PCS' network is extremely marginal, even in so-called good areas. Also, WinMo 6x has a memory leak because it doesn't allow you to properly close out apps you are finished with. It leaves them running in the background till they get to be too many, then starts killing them one by one.

i would not recommend this phone to anybody i had several phones and i can say this is worst phone ever. it freezes up too much
u have to take the battery out to unfreeze it
i brought memory card to store my pic and etc.
but the phone keeps telling me it needs space.WTH?
its annoying, and it cost way too much i paid 368 in ny thinkin i was getting a good phone.

ive had my code for about a year now and ive at some point those issues but if u hard reset ur phone the storage issue will fix it self, u will lose ur contacts and have to redownload ur programs but it will stop freezing. also the IE internet is very slow but if u put java on ur code and bolt browser its way faster also try skyfire. to hard reset - restart ur code and press the soft key (-) and the back space and press ok. hope this help : )

I bought it like 6 months ago and at the fist month was ok, slow but ok. Then it became almost useless. - It hangs very often I need to remove the battery to restart it.
- I miss calls because is not possible to unlock the phone because got hang.
- While texting in facebook it hangs if I press some specific letters.
- Battery also goes very fast.
- You need to kill every time the task and Samsung know it!!! have you ever seen a phone with a task killer in the main screen?? Metro PCS service is the best you can get for so little, but this phone I don't recommend it at all, not even to my enemies.

I agree with what you said Jorge, my Samsung Code is doing the exact same thing. It was so nice to have at first, now this thing just freezes and stops working. You have to remove the battery to make it work. Then in a matter of seconds it goes bad again.

I got the HTC on metroPCS, and My friend just got the samsung code, its very nice and easy to use... And for the price you cant beat that, All you can eat with metroPCS and metroPCS has LTE around the corner wohoo 4G...

It will be $299.00 - a Windows Mobile handset at $299 with NO contract NO credit check and first month is FREE. Can't beat that! The plan is a flat $50 a month for everything, that is usually the price for just the data plan, but this is for everything - and I mean everything!

I've been with Metro since 2005 and left them only for a short while before switching back again. You really can't beat their deals, especially now with their extended coverage areas branching into the midwest and more of the east coast. I've been using a Sprint Mogul on Metro for 3 months now but it's only a dual band pcs phone, but now with this Samsung coming out, I can have a Metro WinMo phone with AWS which means it will work with EVERY market. Honestly, if you live in a Metro area, this is the way to go. I've been with AT&T, T-Mo, Sprint and Helio and this is by far the happiest I've been with a service.

Metro is terrible for those of us travel around (just try driving away from a city and off an interstate). And the data speeds are creepy slow. It's unlimited because it'll take an hour to download 1MB!!

Really? Weird. I work as an independant consultant and I travel weekly for work (40 weeks a year average) and so far I have not had a problem with Metro. I've had coverage in every airport I've traveled to and from and good coverage in most cities I go to. Now, 3 years ago I could not agree with you more, but by now with the extended coverage it seems to be all good. Yes, data is not as quick as 3G speeds, but compared to my speeds with T-Mobile BlackBerry Curve it's actually about the same, and by end of next year they will have 4G (more like by 2011 probably) and for now I can surf the web, update my Facebook or Twitter, send emails, use my GPS, etc, etc at MORE then decent speeds. So, while you're paying all sorts of money for your contract with one of the big 3, I'll enjoy my 3 lines of unlimited everything in everywhere I go to for a hair under $150 a month (which includes taxes, fees and extras), not to mention my daily calls to Israel that don't cost me an outrageous amount of money...just $5 a month and it's already in the total above. Just sayin' XD

It most certainly does not! I was with at&t for 4 years, i have now been with Metro for a year and I cant help but wonder, why didn't I switch sooner. I use a phone that is roughly 2 years old and the data speeds are as quick if not quicker than my friends samsung rant, and the verizon blitz. I have a family plan with unlimited everything - 2 lines, and after taxes, my bill is 95 a month. Why pay more for the same internet. I live in Florida, and have yet found an area that I don't have service. Just my opinion, but have fun paying double when you don't have to. As for me, I am metro for life!!!

Just picked up the CODE myself, I'm IN LOVE!!! Still wishing metro had the droid until that time - this phone is the best MetroPCS phone you can pick up. and for 249.99 at Best Buy (shocked they had it at a lower cost, its not like them) makes it an even better steal. and the speed thing ... LOL I live in the country and have two bars, just down loaded Google maps (A 1MB app) within 4 sec and that is padding the download time because I didn't time it. The coverage of MetroPCS does stink if you travel all over. They keep adding coverage and I am amazed what I get for 50/month. and what others (my friends) pay $100/month for when they only go out of a MetroPCS area for maybe a day out of the month (use prepay on metro save yourself over $25/month) Again I'm In love!! until MetroPCS carries an android based phone.

the internet speed is good, for me coz is not true 1mb download in 1hour, some case depent of chep phone or the coverage area, im live in dallas, tx, and travel 2 fortwork, irving, anna, allen, texoma, munday , tx and oklahoma, all work perfect (i got more coverage w metro than t-mobile flex pay. I have nokia n95 w tmobile and 6265 w metro pcs) i want a s60 symbian phone w metro, but my dream dont come true, (sorry 4 my bad english)

This phone is amazing! Even if it's $299, you have to think...no contract, no way to mess your credit up, and everything's unlimited for $50 plus tax a month (approximately $59). Oh, and this is a 3G phone people, so it will be quicker than any other Metro PCS phone you might have now. I have Metro PCS service and I get more bars in my home than with T-Mobile. Explain that? Metro is quickly coming up and will, without a doubt change the face of the cellular phone industry. It's already starting with Boosts unlimited plan and Cricket Wireless coming out. Plus, Metro puts new towers up every single day...trust me, I get the email updates from a friend that works for them. When Sprint first came out they had terrible service, worse than Metro is at this time. Think about it everyone. You might have to pay a lot for the phone, but you're saving money rather than buying a phone from T-Mobile and paying $100 a month. Do the math.
Now you're enlightened. Go get Metro.

the code is the first metro phone that can go on youtube im getting it as soon as i have money. Love the metro plan been with metro eversince sprint f'ed me over and kept charging me for a phone i lost a couple years ago. yeah the coverage kinda sucks especially in my area but well worth the monthly bill especially with a phone like this.

no the nokia 6265i was the first phone that could. that was the best phone metro ever made it did everything and then some that these "new" phones are just starting to do.

no the nokia 6265i was the first phone that could. that was the best phone metro ever made it did everything and then some that these "new" phones are just starting to do.

The code is set to come out next week @ $299.00. I have the blackberry curve now..what are the major differences? Will the code be a better phone?

Was just told by a Metro PCS agent in S.Florida that this phone will be available at the end of this month and should be $30-35.00 less than the BlackBerry($399.00)......can wait for it.... G

SORRY....meant to say That COULD NOT WAIT FOR IT!!! G

The Metro PCS website shows it for $299 but available in stores only, though I haven't been in to the store yet.

Would the Samsung Code be able to check Gmail accounts and automatically retrieve email like the BlackBerry can?

Yes,you can use gmail, hotmail...also comes with mobile office..not a touch screen and only the data plan which is $50+tax=$64plus.

Well this is what i heard unlike the samsung finesse the samsung code is gonna have flash which means your gonna be able to see youtube, that is a plus and do to the fact that this is a windows soft device ur gonna be able to do alot of things like a computer. for example you will be able to use exel, word and see power point.

Just got the code for my wife. If you want facebook you have to go to the Microsoft mobile apps, not the metro app that comes on the phone. I found the facebook app accidentally by going to download a new background, which re-directs you to the Microsoft site. So far seems like a really nice phone for a metro phone.

I have a now outdated Metro PCS slider phone. I am able to go to Facebook, MySpace, check my yahoo email and search the web with Metro's web browser. I haven't had to go to any other apps to access these and other sites. The Metro mobile app that comes with the phone works well and fairly fast... a surprise to me. I have had no trouble, over the last year, accessing any site so far.

Could anyone compare Pro and Con between Samsung Code and Finesse. I'll bring my contact from AT&T but cant decide B/W these two. I plan to read ebook from m.safaribookonline.com, call international, GPS(so i dont have to buy GPS this X' Mas), skyscrape PDA reference book, watch some online TV if I can. Last question, Should I wait till black friday or/X'Mas?
Thank you very much for all input.

well if u wanna watch online tv get the code... unlike the finesse it has flash which means youtube ect.. are available also you can actually get alot of free apps with the code because it is a standard windows mobile fone .. whatever you can do on any windows mobile 6.1 fone you can do on this fone the finesse doesnt have many apps and you can ONLY get new apps from @metro apps store...so basically GET THA CODE

samsung code is better the only bad thing w. the code is that like everybody keep saying its just like a computer meaning it catches viruses too. my sis has the code and she had problems for like a week and metro told her to stop downloading stuff from the internet to her phone and she had to pay $80 for a replacement phone. i have the finesse it just recently started allowing you to download free ringtones and to see youtube videos/ for a good while my sis use to have to message me/bluetooth me ring tones.

A windows 6.1 phone without wi-fi??? Why even bother? Blech...

This phone does not have a flash like this article says. I just bought this phone tonight. I'm impressed so far. =)

it does you jus need to learn how to use it

Susan, I believe it does do flash video. I'm fairly impressed with the phone, you can download google applications with no problem and it also plays back youtube videos.

just curious if this samsung code metro phone is java/flash enabled, or capable?? not a single other phone metro sells, including the samsung finnesse, nor the blackberry, at there high prices, has either platform, therefore, are non capable of watching videos, on youtube, or any flash/java type sites. they can view vids on there sd card, but not from websites. since winmobile is on this phone, it would seem possible. I have a samsung i910 / and an htc mogul /verizon vx6800 / ppc 6800. Ihave win mobile on them, had them flashed to metro, then enabled them for internet, mms, etc.. all are capable of youtube vids, radio sites, etc.. this could be a great phone if it had this capability. My flashed phones are great, but lack the "metro backup" and cool metro navigator programs, that come with natural metro phones, so i am interested in this one.. thanks everyone. please email me with an answer augierockstar@hotmail.com

uuhh.. my dad has the samsung caliber and he could watch youtube videos, so i dont know wat ur talking about

This phone is simply amazing. It does everything and anything you can think of. You just have to search the internet for Windows Mobile applications. You can watch youtube videos, update your facebook, listening to music, scrobble using last.fm, use Super Nintendo emulators and much much more. This is the best MetroPCS phone I've ever owned.

I've had this phone for like 10 days now, and I can't stand it. I put a memory card in it with tons of memory, but the ringtones HAVE to be saved to the phone's internal memory, and I only put FOUR ringtones in, and it started causing all kinds of problems on my phone. It keep saying not enough free disk space to do ANYTHING (send texts/emails/take pics, etc). It's so stupid. The battery life on this phone is absolute garbage. It's brand new, and I don't even hardly use it, and it dies in two days! I still have my old phone, so I'm barely touching this one at all.. and it dies in two days! I have a friend who has the Messager II and he says his phone is the same way. Also, you can only use a Samsung headset with this phone! I need to use a 2.5mm headset, and this really pisses me off. I don't use bluetooth headsets. The keyboard is also so cramped, you make a lot of typos. I have very tiny fingers, but I still find this to be a major problem. And once again, this camera does NOT have a flash. Anyway, I haven't used 60 minutes on it yet, so I can still take it back. I'm looking forward to getting my money back. I just need to decide what phone to get instead! I hate all of Metro's phones. I might be getting a flashed phone instead. Any questions, feel free to contact me.

did the buttons like stop working on your phone like the up button and the side button ?

When they say it has flash theyre talking about the application that lets you veiw video content from websites like youtube, thus all of the talk of youtube. lol. That flash and a camera flash are two COMPLETELY different things.

I have had the Finesse for 5 months now and am very annoyed with MetroPCS support. Until a month ago I was easily able to sign onto my AOL mail via the HTML web browser NOW I can't get onto AOL via web mail ... I get an error message. I can get on AOL through mail@metro but it does not allow me to see my personal folders or my contacts and that sucks. When I call MetroPCS corportae store they have no clue why or how to help me. When I heard about the Samsung Finesse supporting Win, flash, and streaming video I was very excited... until I called the corporate store this morning and they told me that it will NOT support apps like YouTube, Twitter, ChaCha... ext... This is info from their corporate store!
I have no idea now if the phone supports the apps I want and I won't buy another phone until I am sure it supports all COMMON apps! Yes, my monthly bill is only $66 which includes taxes and insurance and I do get unlimited calls, text, and web browsing... but I am annoyed that it does not support the apps I was told it supported by the Metro PCS staff when I bought it. If they don't understand how to use these phones and what they can do then who does? Sheesh! BTW for those of you looking for free ringtones, backgrounds, videos, etc. go to myxer.com. It's a great site and works wonderful with my Finessee. If anyone has any details on the Samsung Finesse regarding YouTube, Twitter, or ChaCha support please let me know at "justmyskates@aol.com" THANKS please put Samsung Code in the subject line. I do like the GPS feature on the Finesse which I don't see listed as a feature on Samsung code... but maybe it does.

CORRECTION: I WAS REQUESTING INFO ON THE CODE NOT THE FINESSE
If anyone has any details on the SAMSUNG CODE regarding YouTube, Twitter, or ChaCha support please let me know at "justmyskates@aol.com" THANKS please put Samsung Code in the subject line. Additionally, if anyone knows why I can't get into AOL via the browser please let me know at my email address, it's driving me crazy. Here's the message I get: unused
The server encountered an internal error or misconfiguration and was unable to complete your request. Please contact the server administrator, (no address given) and inform them of the time the error occurred, and anything you might have done that may have caused the error. More information about this error may be available in the server error log.

IMPORTANT UPDATE: I just spent a half hour on the telephone with MetroPCS technical support. 1-888-863-8768 NEWS FLASH DIRECT FROM METROPCS: Although the Samsung Code does support applications for "streaming video" like YouTube, MetroPCS has in essence "shut down" that feature on the telephone. MetroPCS does not support streaming on ANY DEVICE due to the bandwidth required and has NO plans to support YouTube, Chacha, Twitter, or apps of that nature! So, if you're thinking of buying the CODE because of specific apps be very careful.... most likely any advanced apps will NOT be supported. And by the way, I had to go through 3 levels of tech support in that half hour call, but when I finally got to a rep named Robert ID number 120264 he knew exactly what he was talking about, was very technical and answered all of my questions. Based on just this one call, I'd say that MetroPCS has good tech support, if you can get through to the right person.

They (Youtube loaded the video fine with no issues with buffering) work just fine on my Sam Code.. I think I might try to upload a video to Youtube now...

Have you tried refreshing phone?
If that is not the case, since you use the internet a lot, it could just as easily be a virus that is causing your AOL problem.

mane how do you do that with your phone does someone have to hack it plz tell me how
i just got tha phone

i have the samsung code and yes i am able to watch you tube, porn videos and im able to check my work email from it. this phone does everything. im also able to download movies from the web and save it to my mem card. soon ill be downloading the windows mobile 6.5 and 7 upgrade as well. the windows my phone feature is the most useful though. i can send all of my information, apps, contacts, photos, movies and music to my microsoft storage site and transfer it to another phone if i ever lose this one. or, i can go online log in and locate my phone on a map and have it ring for me if i need to. really cool phone.

hey i've got the code and i used to be able to watch videos on my browser but now i cant. can someone help me please. the phone is pretty nice but if i cant fix the problem i think i want a Droid.

what web sight do u log into to find your phone????

when I purchased my phone I was told that if you download anything or save you should save them to your memory card as the megabites on your phone may be taken up. It's just like a computer.

i have the same problem and its so annoying!!! even when someone is calling ill press answer and it wont work, the text message doesn't work i cant even get to that option, im really pissed right now.

I loved the phone until yesterday I am so frustrated right now. It keeps freezing and seems like it has a virus!!! Doesn't let me do anything and if I press the M button it locks up completely ugh....WHYYYYY... Has this happened to anyone? I tried shutting it off, removing the battery and memory card, Reprogramming, and nothing....I'm going to the metro store tomorrow and wait in that four hour line....FMLLLLL

I am having the SAME problem,
it even deleted a bunch of my texts when i turned it and back on.

The phone has 1 yr warranty.. take it back to the corporate store and they should replace it fot you.

Metros website on the phone has a big ad promoting apps @metro but under the specs its not checked off as if it dosent support it. Im thinking of getting this phone just cause I need an upgrade,but wonder if this would be better than the finesse. Also a bit off topic metro has good coverage in Fl but i drove up from Fl to ny on I95 and Once I left Fl I had coverage for about an hour in parts of sc and for about 5 mins in NC. Even richmond and DC were dead zones. Once I got to Manhattan i was ok. Definetly not the best phone service to have if your taking a road trip and come across an emergency.

I am an at&t customer
This is my point of view between at&t and metro:
att
pros: awesome new phones, excellent coverage
Cons: highly priced specially for pda phones, they now REQUIRE you to get a $30 separate plan just to use the feautures thats LIMITED talk time and LIMITED text, web etc for $70 + tax! and a 2 yr contract on your back! notes: i pay $65 w/tax right now with 450 min (hardly nothing) and a $14 features plan. I have been a customer for over 5 yrs and If I was to get a new phone from them, I would have to pay $70 plus tax for limited everything or probably more cause the 450 min is not cutting it. Metro:
pros: no contract, cheap plans, no limit
Cons: Their service is horrible. My family and family have it, they have to get outside their home to call or cant receive calls if they are in the mall. I already know it doesn't work inside my office either. Their webpage needs serious improvement since you have to surf the web to find info on the new phones and it seems most people here are really confused. I have a cingular 8125 that is 5 years old (older version of the tilt) This phone is still better than most phones out there but is very bulky and people think I am talking to a camera! i have not found a similar phone with another carrier and was looking to see if the samsung code would be it but it isn't. I do not know what to do. Do i sacrifice quality and something i love (my ph) for something that would be extremely better on my pocket?

Your absolutely right i took the same trip and experienced the same issues I took a tmobile pay as you go with me to be safe. I hear as they buy up more things will get better.

If you want coverage outside your area, you must put the phone in roaming mode and have money on your metro connect account. That service is available EVERYWHERE! Your phone comes pre-programmed to NOT ROAM. You need to manually change it. I really wish people would learn how to user both their phone and the Metro service before the start saying how horrible it is. Yes, it's true, MetroPCS is a 2nd class service where the big overpriced ones like Sprint/At&t etc. are 1st rate companies. You get what you pay for. If your like me and you have Metro, it's because you would rather have a little less and spend a lot less. So there you have it!

How could this phone support Youtube/Flash/etc when the metropcs internet connection is extremely slow? My first phone was a sprint flip phone, it was a mid-range phone at the time, and allowed me to check sports scores on a monochrome, text-only screen. I was paying a ridiculous amount of money to sprint ($350 + a month for little phone use), and sent them to hell. Then Metropcs came to town shortly after, it was 2001 or so. Their phones were awesome because it was unltd talk/txt for $40 a month (at the time). I had a very simple kyocera. Years went by, its 2009 and I've owned about 4 metro phones. The second one was the "high end" kyocera that allowed pictures and mms messaging. Even polyphonic ringtones. I then had two motorolas, MOTOROLA SUCKS! Now I have a samsung messager, i've had it for a year, and this is my last phone for metro. It has served its purpose. Its been so many years that metro has been around, and they've failed to evolve with the industry, and the needs of users. Now they're selling phones at almost $500 and their "high-end" phones pale in comparison to current phones by other carriers. I'm using a free phone number Google Voice provided me with, this is seriously gonna revolutionize the industry. I now am looking at verizon for my next phone provider, I'm possibly gonna get a mid-range phone or even a smartphone. Droid maybe?? All I can say is, metropcs better shape up, they are no longer the "little guy" in the industry, their subscribers have grown to millions more than before, and now they're located in virtually every market in the United States. Are they so antiquated that they can't come up with decent phones that work, a decent speed for internet, real customer service reps, and open source compatibility for phones? It's actually not too late for the company. Wake up metro! Before it's too late, or you'll become the next large company to go under. Josh
Miami, FL

MetroPCS is actually deploying 4G before most other carriers. They will have 4G deployed in late 2010, and have already announced some of the 4G phone providers. They will be the first company with a dual band 3G and 4G phone as well. The code is a 3G phone, and if you use it in a 3G market, it is not slow. Research before you speak
http://gigaom.com/2009/09/15/metro-pcs-to-launch-lte-network-new-phones-...

For all those MetroPCS 4G People out there. Inside information says Miami/Fort Lauderdale will be 4G sometime around August/September 2010. As far the Samsung Code is concerned, here is my Review: First off, let me say I have owned/used Cellphones since 1984 so I'm no newbie here. My previous metro phone was a Samsung Messenger which sucked all the way around. The damn phone locked up, rebooted on its own, nothing ever worked right on that thing which is why I suspect they came out with the Messenger II. Anyway enough of that. Let it be known that I HATE ALL Cellphones except Nokia, however Nokia is next to impossible to find these days for whatever reason. That being said, I had only one choice, buy another Samsung if I want a SmartPhone on Metro. I chose the Code over the Caliber because it is windows based, can work with Microsoft Documents and is not a SAMSUNG Operating system which once again, SAMSUNG SUCKS! (My opinion anyway) I put my Samsung code through the ringer. I have used every possible option on this phone, installed tons of downloaded Apps and the bottom line is, this is the best phone I have had on Metro since Metro Started up back in 1997 (Not including my Nokia bar phone which was flawless). Yes I can view Utube videos streaming, however the stream will stop and start based on the data rate available at that time, some smaller videos will stream all the way fine, but don't expect it. I can stream live radios stations MOSTLY without a problem using Kinoma Player which by the way, is a great multi-media player for everything you will ever want to view on your phone. I like it better than windows media player. Receiving E-Mail on the phone works great from my own POP accounts as well as Hotmail. I have not figured out how to use the MMS service so that's one thing that I can't get working. You can upgrade right now to Windows Mobile 6.5 if you want by downloading it directly from the windows mobile website, but I have not done that and frankly, I don't recommend it as I have no clue what Metro has done to the OS that came with the phone. You cannot go to WM 7 so forget about that. Microsoft's MY Phone works great on their. I love that program. Don't pay for the premium service though because Metro blocks your ability to use it like the find my phone feature. That stupid Metro PCS video/audio every time you turn on and off your phone, can be hacked and replaced with whatever you want. Do at your own risk as if you screw it up, its your phone that will no longer work. There is a great YouTube video from some girl who shows you how to do it. She just needs to learn how to instruct better, but the knowledge is good. Screw it up, you can always reload the OS on your phone by resetting back to factory default settings, it will re-image your WM 6.1 from internally memory. I have done this and it works. You will loose everything, INCLUDING your permanent call timers. YES. Life timer will go back to ZERO. :) My complaints about this phone...yes I have them.
Major Complaints: When using the bluetooth handsfree which is built into my car 2008 Prius, people have a hard time hearing me and they have to turn their volume up to high just to hear me. This is not the case when I buy a little ear bud bluetooth device. If you want to use the phones voice recognition system to dial numbers and call people or have the phone announce the call, you can barely hear it when you use bluetooth. There is no setting to boost the volume of the phones Girl on a Chip voice. That bugs the hell out of me! Minor Cons:
The phones max volume when using normal stereo headphones for listening to MP3's are a bit weak, but doable. Yes, they use a 3.5mm instead of a normal 2.5mm headset jack, which also pisses me off but I have learned to work around it by buying a bluetooth ear bud thingy. I have all these really nice Plantronics headsets which are worthless to me now but hey, that's the way it goes I guess. The keypad, this is a rather annoying issue. Besides the fact that I have to type using the finger nail edge thing, if you ever get one of those phone number like, 1-888-METROPCS good luck! There are no ABC DEF etc on those numbers. I guess that is the case with most smart phones now. As with my other Samsung phones, if I set an alarm to wake me up in the morning and I shut my phone off at bedtime, the phone will never wake me up. I really hate the fact that in order to use the alarms feature, the phone must remain on. This is not the case with any NOKIA phone made. Another one of those screwed up Samsung programmers. So my work around every night is to go to the main screen and turn off the radio which is bluetooth, data & phone each night and the phone remains on, but draws little if any power all night and the alarm wakes me up. It would have been nice if they also had a feature to put the phone in silent mode between certain hours like go to silent after 11pm till 6am but keep the phone on so it can still receive messages, calls etc. by only activating the light/vibration indicators. The phone I have had now for about 3 solid weeks now. It has never locked up, never hiccuped nothing which I expected it to do already. The quality of the voice on the phone is much better than any other phone I have had thus far and reports from people say I sound good too. The antenna is in the bottom of the phone just below the space bar. Dumb ass place to put it, because when you hold the phone, your hand blocks a large percentage of the signal, so if your in a weak signal area, don't block the bottom and get those extra bar or two of signal. I have a nice 32GB high speed memory card in there which I can easily move data to using the usb/computer charger and using the Microsoft Sync software which by the way works AWESOME! I can do just about anything I want with that phone. I install all my apps that way oh and by the way, BACK up your APPS installation .CAB files on your computer. If you have to reset your phone, all your apps go into cyberspace too. Yes, I have done this to see what happens so now you all know! If this was anything but a Windows phone, I would know own it! I have not tried Droid yet, so that may be OK in the future. Oh and I make all my own custom ringtones on my computer using CD's/MP3's/Waves etc. You can customize all the windows sounds too, but dragging your mp3's, waves, wmf's into the sounds directory of the phone. So unless your loaded and care to spend over a $100 a month on At&t's unlimited plan and can fork over the money for an I phone and willing to lock into a plan for 2 years, GO GET METRO and buy the CODE! That's it, that's my official review and just for the record, I'm extremely hard to please with technology and I'm an IT Professional. So the bottom line is this, if you have Metro and want a Smartphone, the Code is it.

im thinking of geting a Samsung Code
but which one is better the Samsung Code
or the Samsung Finesse
and does samsung finesse has internet like the samsung code or not which one is better ?

I have a question i'm going to get the code soon will it be able to upgrade to windows 6.5 or 7? Or will it need to remain on windows 6.1 in order to function properly?

I am going to purchase this phone this week. what is the code for the phone.. anyone with the correct answer please email me.. dexsav@gmail.com

If you need a phone, I've got a few available. I'll sell you one for $280 brand new in box with a month's free service. E-mail me if interested and I'll ship it out to you if you don't live in my area.

hey i like to purchase a samsung code from you call me at my cell 7148181007 ok

Wow this phone must be popular I went to 4 differnt metro pcs store this evening and they were all sold out. Best Buy has the phone for $249.99, but they were sold out in my area as well. I am downgrading from the higly expensive IPhone. Im sick and tired of paying AT & T over $150 a month and still have dropped calls most of the time. I have had all the major carriers except, Metro so I hope this phone works out for me. Look at the you tube videos for reviews and demos of the phone they defintely help me make my decision.

Where can i find this phone in silver like in the picture?

I bought this phone last week and I love it!! Still learning all of its features but so far its worth its price. The facebook app needs to be worked on a bit to coincide with the actual site but its still a good phone for the money. To me its a phone that is just as good as the blackberry without the price you pay for service. My bill will be after taxes with all the bells and whistles $70+ a month and no contract to lock me into for 2 years and then charge me the price of the phone to get out of it. The service areas need to be expanded though because in certain areas of rt 22 in the mountainside plainfield nj area service is spotty. Otherwise im happy with Metro.

WHAT PHONE WOULD BE BETTER THE SAMSUNG CODE OR THE BLACKBERRY CURVE.

WHAT PHONE WOULD BE BETTER THE SAMSUNG CODE OR THE BLACKBERRY CURVE. EMAIL ME UR SUGGESTIONS TO DAMIAN_SRRANO17@YAHOO.COM

Can you listen to pandora on the samsung code.

plz any1 wit the unlock code of a samsung j750 plz gv thm 2me.

ok guys,
yes Metro has some issues, indeed i agree..
but seriously for the price you pay, you should not complain..
i'd rather have issues w/ web speed then be in debt.. & i bet you would too.

Yeah it has a lot of enhanced features,so it'll definitely create a good market for samsung.
Macken,
walkie talkie headsets

the phone keeps freezing on me for the last two days. i turn it off and on, take out the battery and put it in again. but it only works for temporarily. i cant go in the menu and if i do, i cant exit without waiting for so long. im so frustrated. its lagging and freezing on me!!!

I just bought this phone and I have to say it is so awesome. I bought mine from Best Buy online for $250.00. I decided to go with best Buy because the Metro PCS store was charging $300.00 for it.

do you know if you can tether/use as a modem the samsung code?

you don't tether the code it uses internet connection sharing

i have metropcs service already, but i wanted to switch my phone, and was wondering if i buy Samsung code from best buy, will i have to be charged a flash fee for activation?

does anyone know if this phone has a call block feature. specifically a feature that alows you to block specific numbers from communicating with the phone via phone or text?

Unfortunately it does not. Even the Apps that you pay for that forward your calls to their server screen them and send them back won't work with Metro. They don't allow that kind of traffic to pass through their networks because the system can't handle it yet. Maybe once they have 4G those things will change, but for now, as I have said before, we are 2nd class citizens on Metro who pay 2nd Class pricing!

Just got the code, I love it, very nice phone!it a good price for the $299, $50/monthly everything including with Metro you can go wrong

Got mine during Thanksgiving and I gotta say, it's the best investment I've made. I live in the SF Bay Area and drive from the Central Valley all the way to San Jose using the GPS and PHone with ZERO drops!!! I download and use SiriusXM (freeware), Nintendo 8Bit Emulators, Pandora Radio, Facebook, SKYFIRE WebBrowser for Java and Flashbased websurfing.. You cannot go wrong.. Buy it now until the Nexus Phone becomes compatible with the MetroPCS network (CDMA)..

I currently have the Samsung Messanger II from Metro PCS. It's good but I'm ready to upgrade to a smart phone. Can anyone compare Metro's Blackberry Curve to the Samsung Code? Which is better? You can e-mail me at NileBeauty3@yahoo.com.

I've been with MetroPCS since 2007 and added my kids a few months later. I have the Finesse, and my kids have the Messager and the My Shot. Since Metro upgraded their service plans a few months ago, my kids, who at first just had unlimited talk/text, can now access Metro Web and go on Facebook from their phones. With my data plan service and their unlimited talk/text and metro web access, our bill is just $160.22. I have never had any issues with Metro's service. If we have to travel outside the coverage area, we just buy airtime; but we can still send and receive texts for free outside the Metro service areas. I honestly don't know if I'll ever use a contract service again. Every time I hear people talk about how much their bills are with data plans, I just smile inside because I have what they have but with a much smaller price tag. I much prefer biting the bullet and paying $250-$300 for a phone than paying outrageously high cell phone bills each month. I do plan to get the Code as soon as I can. It wasn't available when I got the Finesse, which I got because I gave my daughter my then current phone (the Messager) when hers finally gave up the ghost. I know somebody who has the Code, and he has no problems watching videos on You Tube. I love my Finesse, but I want a phone I can watch videos on without having to load them to my memory card first.

what Is The Samsung Code For FaceBook Can Some 1 Plz Tell Me

It's $249 over here in Atlanta. I have hearn nothing but rave reviews and am looking forward to getting one with my this year's tax returns.

I went to the MetroPCS store here in Miami (Sunset/117Ave). The girl there told me that if I buy the phone that all sales were "final" (The Code is $249 + $10 to switch phones at the store and copy my phonebook/contacts over).For me I think that is just bullshit from her mouth. I have a Nokia 6265i on Metro, had it on for 2+ years. Best all around phone they ever had and they quit selling it after like 6 months. They still fetch a good price on eBay too. I want to get the Code but just am on the fence about this. I see on youtube were people get the browser, watch youtube, do internet connection sharing (so you basically get dial up speeds but hey you are portable). Pay $40/month now which includes taxes (I had to call metro and say switch my plan which was $50.11 a month total to get their "new" rates) and has everything I had before, just cheaper. I don't really go out of Florida so for the money Metro is the best deal.

my phone keeps saying that i don't have enough memory space when i deleted so much content and even installed a 2g memory card!! i can't take any pics or video and it won't even let me send out texts bc it says i dont have enough memory space. What do i do?

delete your cookies and temp. files. Also, every time you install an application, the original install or .CAB file is in your main memory. Using your computer when the Code is all Sync'd up, copy those files from the phone to your computer and save them there. Then delete them from your phone. You will free up a lot of space that way.

Well how are you all doing, I live in Detroit,Mi. I have a Samsung Finesse (the latest hardware version I believe) and I can watch youtube vids just fine. Supposed to have 3g coverage here in Detroit(I believe), but have'nt gotten it to work yet. Don't know if there something I need to do or if it would automatically detect 3g itself. I been in the pnones hidden menus and have'nt seen any setting for changing the data configuration.In fact about the only thing I did in the hidden setup so far was to change my homepage.
Been using metro for about three years now and they are indeed getting a lot better.

has anybody else have problems with this phone sending text messages

I have been able to receive texts, but not able to send any. every time i send a text, i get an error message, but it does not explain why. I am really trying to avoid going to the metro store becuase of their horrible long waiting period. HAS ANYONE FOUND RESOLVE TO THIS PROBLEM??? any advise would be helpful.

I had the same problem. Went to the Metro store and he said it wasn't programmed correctly. It took about a minute and he fixed it!

I had the same problem. You have to have your bluetooth on.

I faced the same problem after just 2 months of using my cellphone "Samsung Code"... The solution: Reset phone to factory condition The process : http://ars.samsung.com/customer/usa/jsp/faqs/faqs_view_us.jsp?SITE_ID=22...

I just got the code yesterday, seems ok, but I can't download any of the apps. I keep getting an error message that tells me I am on airplane mode or in a bad service area. I know the service area is fine & can't find airplane mode anywhere on the phone.
Went through metro's tech support, but they were zero help, couldn't tell me anything about the phone & directed me to a store to have the rep there look for airplane mode. Pretty frustrating.
Anyone else have this problem?

Does anyone know if you can use yahoo mobile messanger with this phone? I just bought a finesse last week and messanger doesn't work on it, this is something that I need. I can give the finesse to my wife and get a code if it supports yahoo messanger.

@kascott33- on the code to use yahoo msgr u will need to download an app called palringo. This app alerts u when an IM is sent to u...and you can use all msgrs on palringo (AIM, hotmail, yahoo, facebook etc.) Google palringo and upload the app. @Chad- I only get the message when I try to download Metropcs Apps, it is better to go download from windows mobile app site. If you need help with downloading more apps check out youtube they have tutorials on everything! :) I love this phone! I have a facebook APP, Pandora (radio) App...and more!

Best way to get that is to get kinoma play...thats the only app I know that plays continuously. Good luck...again check youtube for tutorials or check frenchmoustache.com

I have a qusetion about the Samsung Code. I need to know how can I get my media player to play more then one song in one setting. It would only play one song then I have to select another song it wouldn't play one after the other. I tryed puting it on shuffle but still no go.

You need to open it through the library and have all your media added to the library. You can do all that with just one click, Add to Library. Just make sure it checks your Storage card if that is where all your stuff is. You have to manually tell it that. Don't use windows media player, there are far better players out there. I like Kinoma. It's a free download from their website. Just do a google search on Kinoma. And another FYI for all you App users out there. Choose wisely where you get your apps from and who makes them. The net is full of poorly written Apps and viruses for your phone. Free Apps from some no name website is something I would stand clear of. Sick with major companies. You can still get high quality free Apps out there from major companies. Most people who have problems with their phones is because they installed poorly written Apps or ones with viruses in there. Also don't have them auto downloaded to your phone unless it's a company you trust 100% like Microsoft, Google etc. Once you do that, you give them permission to access your phone anytime they want because they now have your phone number and there is zero security to protect your phone from outside hackers and yes, you can total do anything you want to another phone with the correct knowledge. You can even install apps on other peoples phones that let you listen in on all their calls and SMS messages without them every knowing. It's a big privacy issue out there. So if you think phones are secure, you have a lot to learn! Think of them as a cordless bug, because that's what any phone that has a web browser is capable of doing. I'm not going to go into how to do it, because I don't think it should be allowed, but its out there and the FED govt. is don't doing anything about it! You were all warned.

I can't seem to find out which metro pcs markets support 3g for the code. Anyone know? Here in Philadelphia it always says 1x

i went to the dealer on erie torresdale today and the guy told me that we will have 3G last march or april

Yeah, that's because Metro is a pre-1G network. They didn't rate them in 'G' when they started up, they were simply standard CDMA network, they did not use data. They upgraded their systems, but never upgraded to 3G. It was far too costly with all their $40 phone users out there. They are upgrading all major cities right now around the US and over the next year or more to 4G. Once they roll it out here in Miami/Fort Lauderdale area in Aug/Sep 2010, it will ONLY be 4G in that area, once you leave the immediate area, it resorts back to 1x or pre-1G or whatever you want to call it. I suspect, that when they have 4G implemented, it will be governed down to 3G or less speeds anyway to accommodate future growth, but that is only my opinion. I don't think they are going to let all those unlimited people have full reign over the high speed network for fear that they will bog it down and they run out of bandwidth for the rest of the users. Either way, we should all be happy for what we get for what we pay on Metro. The alternative is to pay $160+ a month with all the taxes and be locked into a contract. Ok, so yes, I will take yesterday's technology and pay lower rates. You should all take that into consideration when going Metro. We are 2nd class citizens when it comes to cellular. If you go in knowing that, you come out ahead of the game and you won't be upset.

Is anyone having problems with the Samsung Code battery life? My phone is about 1 month old and the battery is only lasting the day.

Battery works longer and better if you remember to check your task manager and close out unused apps. If you leave them running it kills the battery life

A suggestion to help with the battery life is to place the phone where you get good reception when your not using it. I keep my phone by the window where I have 3 bars. This keeps the battery from working so hard to find a signal.

Battery Life Facts: MetroPCS uses the CDMA system
Spring uses the CDMA system
At&t uses GSM GSM transmits a shorter digital pulse less frequently to the towers and therefore gets better battery life than CDMA phones. CDMA phones have better sound quality. With that being said, don't compare how long your battery lasts on your Metro phones with those of other non-CDMA carriers. On that same note, the more your phone can do, the more power it will consume. The larger the mah or milliamp hour your battery has, the more power it will have to operate. I consider the Code to be about average on power consumption. If a phone gets me through the day without needing to be recharged, that's great! The Code gets me through the day meaning I have about 1/2 a battery left at 5pm from a 6am start. If you check your email every 5 minutes, you will use a lot more power than if you check it every 60 minutes. If you check it every 60 minutes and there is 0-5 emails, vs, 50 emails you will use more power. Why you ask? Because your phone is transmitting more with those longer download times. The more you transmit the more power you will consume. If you are in an area with weak signal, your phone will transmit a higher power level than if your right under the tower where you are max signal bars. Max signal bars equates to much less power that the phone needs to transmit out which in turn saves you battery. The more applications you have open and working, the more power you will consume. The more the light is one, the brighter the light is set to, the more keypad back lighting you use, the more you talk on it, the more your surf on it, the more you listen to music all play an important factor on battery consumption. In my opinion, phones should be slightly larger to accomodate a battery roughly 25-50% larger so we can go days of heavy use on a single battery. Oh and one more thing, your Code uses a Lithium Ion Polymer battery. The more you drain it to 50% or more, the less recharge cycles you will have and with each 50% discharge cycle you do, the less power your battery will store with every new recharge. Keep it on the charge whenever you can and don't drain the battery below 70% capacity all the time, and your battery will last for 4-7 years. Drain it till it dies each time then charge up, expect your battery to last 6-18months. That goes for any device with Lithium Ion technology.
The old NiCads, the more your used them till they died, the longer they lasted.
With NimH, treat them the same as a Lithium Ion and they will serve you longer. Nimh looses 1% of its charge per day with the device off, Lithium looses about .1% of its charge off IF THAT. Lithium, smaller, lighter, longer shelf life, less recharge cycles and slower charge rates. Don't abuse them, or they will not serve you well.

This is the most helpful comment I've ever read on one of these boards. Thank you. Its contrary to what the guys at the computer store tell you because I am sure they had no idea of the distinction. My batteries will last longer thanks to your info.

Bought one for $249 before taxes and got the Tax Inclusive $50 Smart Phone Plan. This phone is great with Windows Mobile 6.1 and there's no restrictions. I just downloaded Skyfire and Opera Mini 4.2 for my web browser. I installed tiny twitter, facebook for my social networking. Beejive for my aol instant messaging, google chat, yahoo instant messaging, msn. I installed NES and Super NES Roms. I watch youtube videos no problems. This phone is pretty awesome and I play with it everyday, a great investment.

Did they say this March or April 2009 for 3G in Philly? I read they will skip 3G and go 4G late this year. I hope they get 3G for this phone so you tube does not buffer all the time, and Mundu radio will play seamless!!!

I meant this March/April 2010 in Philly.....

i love my code man. its great.but for sumreason. i think i messd up sumthing. now i go on u youtube and looks likes i dnt have flash... i downloaded skyfire and flash lite. but removed them. and after that nomore youtue for me....lol i keep looking for upgrades from w6.1 to w6.5.... but i hate having to go to the youtube app to watch vids... i used to just go thru the browser.... so any one knows how to fix da problem. hit me me plz rascooly@yahoo.com. i kno there gotta be a way to fix it. and there gotta be one of u guys dat can help. so plz id appreciate da help. thanx

There's a way to get flash downloaded so that the vids play faster...I suggest that you download the operamini 4.2 app...its faster then skyfire and java also this should help if not check youtube for more tutorials

When in doubt, REBOOT. If that doesn't work, RELOAD the OS.
That is the reset feature. You will loose everything, but the phone will re-image your entire operating system and return it to the way it was when you first got it. More than likely, you have some bad coding in one of those software apps you installed and it overwrote some important code that is required to make the phone work correctly. Backup your App .Cab files and your contacts and any other data you have in there. It will all be wiped. That WILL fix your problem. Oh, and don't install FLASH! The phone comes with it! They just don't tell you that. later, PS> not to single you out, but people, PLEASE learn how to Spell! From a 40 year old guy, this drive me crazy that the world can't SPELL! For gosh sakes, there is spell check built right into this Web Page!!!!

is anyone getting a message that says you don't have enough memory space when trying to take a picture or send out a text? i have a 1g memory card in it. i've deleted all pics and text messages and i'm still getting this error!! Grrrrrr!!!

Here's how to fix this....click the camera button and then click on menu...then go to camera settings...once there go to setup and change the default storage to SD card...this will allow u to save all pix taken from the camera to the SD card instead of the phones storage memory :)

I want this phone, and was super stoked about getting it, until i started to see the complaints. Samsung SUCKS. But I wan this phone. Thoughts?

I have never had any trouble with Samsung products. My last phone was a Samsung and it took a beating and still worked just fine. I now have the Code and the only thing that is taking me some getting used to is the alarm clock...Due to the "dumb" phones I have had in the past it is hard for me to remember where to go, but I know it will be better after I have had the phone for more than a day or two. ?

For the person who said, "It's hard to remember where to go to get to the alarm clock function" Use the programmable function keys, You press Fn + Any Letter and it can launch any program/feature of the phone you want without going through the menus. That's what I do. Hold down the Fn and up comes a menu with what all your letter functions are set to. It could not have been easier. Thank Bill Gates for that one! I will try to answer everyone's question on the Code for all you lazy people out there who are unwilling or not able to RTFM.

You obviously never owned a Samsung Messenger or any other Samsung phones. They all lock up and have issues. The Code runs windows mobile and does not experience the lockup issues. Maybe because Samsung can't write programming code and Microsoft can, who knows. Read my rather LONG & Extensive review down this long page. That should tell you anything you want to know and were afraid to ask about the Code. later,

This phone keeps freezing up is there any way to get it to stop?

THIS IS THE BEST PHONE EVER . I GOT IT IN DETROIT FOR $259 OUT THE DOOR. I can work from this phone, download music and documents, fax , transfer information and sync with any computer. multi functional versitile and reasonably priced.

Can I listen to music on the Samsung Code?

lol thats a basic for this phone boo

sure, as long as your ears work.

I just bought this phone today at bestbuy for 229. Plus I get a 50 dollar visa rebate and theres another 40 amex rebate as well. nice...

....not to mention ...since I bought it at best buy I used my rewards card so I'll get cash back from that AND I used a rewards credit card so I'll get cash back from that. Wooo hoo Go me!

hi guys,i have samsung finesse of metro pcs.its a smart phone,features are good,stylish.i can watch youtube on it,but problem is i can't download any video from online.i have data cables & software,but still i can't use its internet to my pc,i mean i can't use this phone as modem to use intenet in my computer.can anybody tell me how can be possible to use samsung finesse(metro pcs) intenet to my computer?

hey does anybody know how to update the metro code cuz i cant

I have problems with the code. It freezes sometimes, sometimes the key pad doesnt work and online doesn't either, I've already had it replaced once. It acts up even with the new phone. BAD BUY Stay away! alot of aggrivation. I'm buying a iphone.

how do you replace one if youve had it longer than 7days and more then 60min of talk time? i likethe phone but mine needs replace too. something is wrong with my stroll button

did you find out why your code is freezing up and how to fix it? mine is doing it to and it's driving me nuts

firts of all Let me say i love my samsung code !no i does not have flash but the pictures are very clear.The samsung sode is a regular windows phone ! all you have to is go to google and search for apps for windows mobile... download it and there you go ! it plays youtube videos and evrything metro is not going to tell you all of this stuff... this is their best phone yet !

I bought the Samsung Code about a month ago. Now it freezs up,even taking the battery out seems to not help it. The phone is of course smarter than I but I simply want to get on yahoo messenger,facebook,make calls, and text.taking pics here and there as well. I need to get to the corp store but just unable to right now. So can anyone help me trouble shoot what the problem may be????

i got the same problem it is has no damage never fail down nothin like dat now it stock a lot and idk y u found the problem?

The phone is a expensive piece of sh*&*... I bought it like 6 months ago and at the fist month was ok, slow but ok. Then it became almost useless.
- It hangs very often I need to remove the battery to restart it.
- I miss calls because is not possible to unlock the phone because got hang.
- While texting in facebook it hangs if I press some specific letters.
- Battery also goes very fast.
- You need to kill every time the task and Samsung know it!!! have you ever seen a phone with a task killer in the main screen?? Metro PCS service is the best you can get for so little, but this phone I don't recommend it at all, not even to my enemies.

pues yo adquiri uno en marietta ga, lo quiese devolver, pero se ponen en un plan de no regresar el dinero, de hecho lo voy a vender.en 180 dls. esta nuevo.

Does anyone know how to use the memory card to download music from itunes?

Somebody please help me!!!! My code won't let me send messages it freezes!!!!! Please help I love my code!!!

the samethin is happenin wtih ma phone sum1 help us!!!!!!!!! plizzz

I installed a memory card into the phone, but every thing is still saving to my phone how do i chang it ???

I noticed that when I save a photo I have to save it as follows or it will not save to the card:
go to the picture, hit menu, hit edit, hit copy/move (or press 1), scroll to storage card and click it, scroll to My_Images and press 'select' (which is the left soft key). If you just go to storage card and select it will appear as if your image has been saved but it really has not. I hope this helps.

I used the set-up e-mail thing on my Samsung CODE and now the email option is on my home screen, is there any way to take it off? I'm really tired of getting emails sent to my phone now, and I don't know how to take it off now.

how can you lock picture with a code lock so only i can see them?

i would like to know if on the code you can play facebook games like farmville or other games if so please let me know what the website is to download it on my phone thanks

Problems that I have with this phone are:
1. The phone cant keep up with how fast I text, which is a pain because it causes many typos.
2. Youtube videos are played back choppy or will freeze completely.
3. I have to reset my phone every few weeks, because my phone basically freezes and I cant do anything on it. I had to download the Metro Backup app because I kept losing numbers. If you do reset your phone go through all of you pics videos (everything saved to the phone) and save it to your memory card. I just make sure to save everything to my memory card anyway, because resetting your phone will make you lose everything!!!
4. Sometimes the time stamp of the text messages received is wrong and all out of whack.
5. My "scroll wheel" has been stuck since a week after I purchased the phone. Now I navigate just like I would on any other phone.
6. The battery life does suck, but you can improve it, by changing the brightness settings and also how long the screen light stays on. Despite all of those problems, once you get a handle on the phone its pretty cool! I do just about everything on my phone. One question though... does anybody know of a website that you can download free apps for this phone-- that actually work?? I'm having a hard time downloading and actually using or finding the apps. Thanks!

how do i reset it so it will quit freezing

Yea, the PROBLEMS I am having with this phone are:
-the text messages not going through
what I did to somewhat-or so it seemed- to fix this is I went to the "wireless" screen and on the 'phone' option I took it off of network connection and put it back on 'phone'. Usually when there were gray arrows going in opposite directions(the manuel doesn't mention this symbol-or I didn't find it)I could not send text messages but I was able to receive text messages.
- the keys get stuck and I have to press several times for the letter/symbol to go through.
-the all caps key is activated when I press the Fn key. Frustrating when you are trying to type a text quickly and end up with ALL CAPS that you have to go back and erase.
-the battery life is too short but it does get better if you end tasks when finished and adjust the light setting.
-the internet sucks I liked my messenger I much better overall and especially the internet and MetroApps.
-Did anyone take a moment to notice the beginning of this article where it said this is a 'LOW END' phone? It really is with all of the glitches. I replaced the phone one with in 7 days of having it and I am about to replace it again as I am having new key problems but I am concerned what new problems I will get with the new phone that is suppose to be 'new'.
It seems that a lot of these comments are from MetroPCS trying to pump themselves (MetroPCS) or the phone, up; I hate it when companies do this as it is tantamount to false advertising. The worse part of these types of comments is that they attempt to placate you with how cheap the service is for all that you are getting...ie just ignore all the problems of poor reception, poor coverage area and poor quality phones and be happy that you have inexpensive or cheap service that is unlimited and does not require a credit check. This type of comment is so tacky and insulting to the MetroPCS customer on various levels!
Good Luck with your phone!

my code has been freezing bad!it want let me do nothing!i cant text look pics,internet etc!!!i took the battery out and put it back in but it only works good for a few mins!how can i fix this problem.i dont drop it or nothing w.t.f!ill never buy a 300 dollar phone again!PLEAsE HELP

I have the same problem >:0. can anyone help?

e-mail please salt0909237@aol.com

what facebook games can you play on your samsung code phone or do i need a flash to play my games..why cant they add the flash so that we can play facebook games darn please let me know thanks

Found out with mine if it freezes or I have a problem texting esc. You need to get a storage card first off but since i dont have one I have to delete all the pic messages then click menu tools and empty deleted this seemed to work even after calling metro they couldnt help but this worked lol. Always clear your internet as well

How do i turn off voice alert..

I love love love this phone. Lol! I purchased one last year and haven't switched to another model, since. PS. I got mine at Amazon - they've got some great deals + free shipping is included on most offers!

As a fan of NBA basketball I regularly buy jerseys, sport shoes and tickets at online sport stores. I think Nike has one of the best online stores and is better than Reebok and Adidas. I don't agree with online stores index sites like www.dozenstores.com which rank Nike lower than other sites. In my opinion, Nike knows how to create websites and clothes better than any other sports company.

check your bars next to the antenna make sure that they are not pointing sideways if so the phone is connected to the internet via something . i have found if you turn the phone off then by on it stops and the bars a normal again and the battery last 2-3 days that way

I have had my Code for 3 weeks now. I have not had any problems with it freezing. I have not had any problems with the keys or scroll wheel either. Maybe they have improved the phone a bit. I have a storage card which probably helps. If you want to download music or pics to the card, you really have to use your PC to do it. For whatever reason, you need to download the file to your PC, then use the Mobile Device Center to move the file to your storage card. I love the Navigation app. I've already used it twice and it has given me accurate directions. My only complaint is the battery life. It is way too short! I keep a charger at home, at work, and in the car. Crazy. Overall, I love this phone!!

If anyone is looking for a finesse I have one for sale... B/O It's new w/ the box....

How can you add java or open jar files on this phone or can you?
What type of app should I install in it and how do you install it?
Can anyone help me, I am technologically challenged but need these programs for my work set up.
Thanks a bunch.

How can you add java or open jar files on this phone or can you?
What type of app should I install in it and how do you install it?
Can anyone help me, I am technologically challenged but need these programs for my work set up.
Thanks a bunch.

RAWRRRRRRR cuuhhhh chuh chuh chuh

the reason y ur phone keeps freezin is bc it low on memory..u need a bigger memory card

I bought a Samsung Code about a month and a half ago and it's been a big dissapointment! It drops calls like thats what it was built to do. My $100 Motorola got better reception.

the samsung code is a really kool phone and yeah its easy to use but the thing is that no matter what your gonna have problems with it like catching viruses, storage probs, oh and one i just got is that i cant send or recieve multimedia messaging......ehhh for the other problems to reset and clean out your code, turn it off and then turn it back on and when the samsung screen comes on press and hold the top left soft key and the bottom right back button,when you do it'll give you two options and press then number one this will clean and reboot your code and the problems will be gone.....for a while haha oh but make sure you have metro backup to retrieve your contacts because it'll be as if you just bought it meaning everything you had on there will be erased

Hello. I read your comment. I am new to all this high tech gadgets and I have also the Samsung Code i220 but for the life of me, I cant seem to be able to download and install SKYPE and other applications like Yahoo messenger etc on my phone. Can you give me some guidance? If you can email me to nidal_saade@yahoo.com,
Thanks a lot.

Hello. I read your comment. I am new to all this high tech gadgets and I have also the Samsung Code i220 but for the life of me, I cant seem to be able to download and install SKYPE and other applications like Yahoo messenger etc on my phone. Can you give me some guidance? If you can email me to nidal_saade@yahoo.com,
Thanks a lot.

Got the Code about one week a go, i used to have a Samsung Mensseger, and never had a problem with it, but i drop in the toilette LOL so have to change for another phone, after a lot of research i decided to get the Samsung Code which is a SmartPhone and cost $249 in my area(Massachussets) ... and i have to say, it is the BEST phone i ever have, you can do so many things with this phone, there is so many apps u can downloads from different places. I installed FaceBook, Tiny Twitter, GoogleSearch, GoogleMaps, Skype, AIM mensseger, MySpace, Gmail, YouTube, Skyfire...and there is much much more. The internet speed is very fast, and does not take too long to download apps at all. I really recommend to all of those who have MetroPcs to get this phone, it is for sure the best phone Metro have so far. Camila

my samsung code doesent responde it lock it sellf it teels me to press 0 yo unlock but it says running low a memeory it wont unlock im pissed can anybody help me please?

My phone freezes up and I cant type anything in a text and I have tried to reset and I cant even turn off the phone. I tried to call metro and they told me to go to the store. The store told me to call metro and waited on the next person in line... HELP!

My phone freezes up and I cant type anything in a text and I have tried to reset and I cant even turn off the phone. I tried to call metro and they told me to go to the store. The store told me to call metro and waited on the next person in line... HELP!

My phone freezes up and I cant type anything in a text and I have tried to reset and I cant even turn off the phone. I tried to call metro and they told me to go to the store. The store told me to call metro and waited on the next person in line... HELP!

I have had metro pcs for 4 years now and I love it. I have never had any problems with the service. I have had the same phone for all 4 years, never once a problem with the phone either. Its 50.00 PERIOD. for UNLIMITED texting, calling, internet, picture messaging. EVERYTHING. Metro PCS is the way to go.

I have had my Samsung code for about a year now and my text messaging sucks. I send a message and the receiver never gets them and the phone doesnt give me the error message that says message not sent. Has anyone else had this problem. Everything else works perfect.

I loved the phone until yesterday I am so frustrated right now. It keeps freezing and seems like it has a virus!!! Doesn't let me do anything and if I press the M button it locks up completely ugh....WHYYYYY... Has this happened to anyone? I tried shutting it off, removing the battery and memory card, Reprogramming, and nothing....I'm going to the metro store tomorrow and wait in that four hour line....FMLLLLL ----- I have the same problem !! ughh I'm so pissed right now, this is the second Metro Phone I had, both over 300 bucks!! And the f*cking corporate store is like an hour away from my house FML! The store where I got it is only a couple of blocks away but when I had a problem with my first phone they told me I had to go to the corporate store all the way to f*ucking Orlando , I think I'm going to switch to Boost, I'm so pissed off right now with Metro.

Im an 18 year old, single mom,
and I got this phone as a present
from my parents... but I pay the bill.
This is the most useless piece of crap phone
EVER!
First of, it freezes up all the time.
When Im on the internet, and I get a text and I try
to go read that text, I have to restart the phone
because it freezes up.
Second, its slow. Very slow.
And last, I now, cannot here a thing.
At first, I had to hit the phone so I can hear
someone, now, I cant hear a thing from it.
I cant afford to go buy another phone...
And I havent had this thing for
even 6 months yet. And I took great care of it.
Never dropped it, nothing. I would never recommend
this phone to anyone!!!!!!!!
Worst phone ever!

Ohh, and also, I cant see what I text, which is verrry annoying.

I currently have the samsung code, but i'm not happy with the metro pcs signal coverage. Does anyone know if I would be able to use this phone with a plan such virgin mobiles beyond talk?

This Phone sucks ass .. it can only text 3 to 4 people at a time if u try to text more then that.. your messages will not come in or will not go out even though it may seem like every things okay .. Get your money back!!

I am having texting problems my text messages are not going through and i like to text. how awful is that. I am glad I only paid 122.00 off ebay. everything else works fine.
Windows Central Newsletter
Thank you for signing up to Windows Central. You will receive a verification email shortly.
There was a problem. Please refresh the page and try again.