Samsung Galaxy Book S Pen integrates with Adobe Photoshop
Samsung's Galaxy Book S Pen could be a worthy competitor to the Microsoft Surface Pen.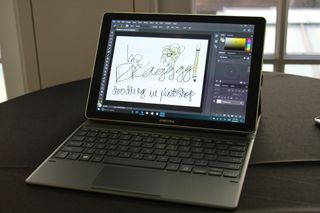 One of the things that caught our attention during the Samsung MWC press event was the announcement that the Galaxy Book's S Pen would specifically integrate with Adobe Photoshop.
Working with Microsoft and Adobe, Samsung built support for full-brush tilting into Photoshop. We saw a great demonstration of how the S Pen worked with various tools and brushes, and it certainly looked impressive. This is in addition to Samsung's take on the Windows Ink Workspace, which provides access to written notes, annotation and sketching on a blank page or a screen capture and even animated GIF creation. Samsung appears to be taking advantage of the S Pen's 4,096 pressure sensitive levels in ways that are useful, as well as fun.
Maybe the most impressive thing is that you can use the same S Pen on your Galaxy Book, and your Samsung tablet and phone. This is a great way to pull people into the Samsung ecosystem with something that's unique to the Galaxy line.
See all of our Mobile World Congress coverage
I'm an RHCE and Electrical Engineer who loves gadgets of all kinds. You'll find my writings across Mobile Nations and you can hit me on Twitter if you want to say hey.
Wow that looks impressive I will wait for a hands on video

Looks good. Now let's see pricing and how it compares to the Surface Pro 5! Looks like I've got a decision on my hands.

Agreed. Especially considering the keyboard is already included too

Only one position for screen, like original Surface Pro, few years ago...

They showed it in several positions. Not just the one. :)

S pen? How does this and their screen digitizer compare to Wacom or the N-Trig used in the Surface Pro 4?

It was developed with Wacom, so should be on par with their offerings.

Oh man, I just went all apple....ipad pro, iphone 7, mac, etc. This S-pen (for the Note and Computer)...is huge. Sorry, "yuuge"

Photoshop? In that case then yes it will be quite a competitor, especially if Sammy can compete on price and I have no delusions that they will not.

When I use my oval shaped carpenter's pencil at work, my brain automatically switches into rough-marking mode. Now if they can just give us a regular pen that is round instead of oval, then I'll really be able to get some use out of this thing.

I like pens. Pens are natural. I think Steve Jobs was completely wrong about pens :)

I'm tired of Samsung. I don't hate them,I'm just tired of their noise. When it comes to this category they should not even try to compete ; this is Microsoft's play ground. Surface will always be be surface.
Windows Central Newsletter
Thank you for signing up to Windows Central. You will receive a verification email shortly.
There was a problem. Please refresh the page and try again.