Samsung pushing out Windows Phone 8.1 Update for more ATIV S users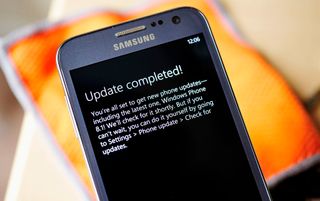 Last week, we reported how Samsung was slowly trickling out the Windows Phone 8.1 Update (GDR1) for ATIV S users. However, the rollout at the time was limited to just phones with Austrian region branding. Users in our forums detailed how you could do it yourself, however the method was complicated by the sheer amount of ATIV S versions out on the market.
Today, our unbranded UK ATIV S (I8750), without the 8.1 Preview, is finally receiving numerous OS updates and new firmware. Users in our forums are confirming the same for what looks like a wider swath of ATIV S users and more regions.
The update bumps the OS to version 14157 with the 2424.14.9.3 firmware, bringing ATIV S users all the way up to Windows Phone 8.1 Update. Those on Preview for Developers are also likely to get this update too without the need to 'rollback' to an earlier 8.0 Update 2.
Interestingly, Samsung appears to have taken so long so as to rollout Windows Phone 8.1 and Windows Phone 8.1 Update all into a single over-the-air OS refresh. As a result, ATIV S users had to wait longer than those on Lumia phones did, but at the end of the day, they get Update 1 seemingly earlier with corresponding firmware.
Forum member Boris NevermorE detailed his experience with the update in our forums, noting many positive improvements including:
Faster OS performance, quicker booting
Three-column support
Cortana for UK or US (depends on language choice)
Fixed camera bug (from Preview)
You can read his findings here as there is plenty of information.
Get the Windows Central Newsletter
All the latest news, reviews, and guides for Windows and Xbox diehards.
Daniel Rubino is the Editor-in-chief of Windows Central, head reviewer, podcast co-host, and analyst. He has been covering Microsoft since 2007 when this site was called WMExperts (and later Windows Phone Central). His interests include Windows, laptops, next-gen computing, and for some reason, watches. Before all this tech stuff, he worked on a Ph.D. in linguistics, watched people sleep (for medical purposes!), and ran the projectors at movie theaters because it was fun.
They're suck at supporting WP

Not sure. The ATIV S came out in 2012 and now it jumps from GDR3 up to Windows Phone 8.1 Update 1, beating out older Lumia devices.

Nokia video upload is now video upload

I don't think it has to do with which devices get it first. It has to do with much more than that like apps, giving a a schedule of updates for various devices from various regions, extra features aside from the vanilla WP features......etc. From another perspective, Lumia users have been enjoyed WP8.1 for much longer time than Ativ S users, as WP8.1 GDR1 is not a big step from WP8.1 compared to WP8.1 from WP8 GDR3, not to mention some lumias will get more features. Actually, the more important thing to get from this piece of news is that WP devices get better support than their android twins. The HTC 8x shares alot of components with the One X/S from 2012 and guess which device is still supported till now? The 8X as support for the HTC one duo ended long ago. The same goes for the ativ s and S3. The S3 did not get kit Kat and obviously will not get lollipop but the ativ S is getting the latest WP updates so far. Also, I have to admit, Samsung support is not as bad as many have said and still say.

Its more like 2013 for sgh- handsets due to lack of stock & a late start in December

Yeah.
And how many Lumias have offical 8.1.1?

Pfd is technically official... Who an I kidding?

My ATIV S has gotten all PFD updates including 8.1.1 on day one.

Were not talking about PFD. Were talking about oem 8.1.1

My 1520 still is sitting on 8.1.Which is ridiculous for a flagship phone.At Least Samsung is stepping up.

Your grammar is ridiculous...

Being a ass is ridiculous ;)

Exactly!Brand new model's that came out of the box with 8.1 or 8.1.1 .Why the rest of us wait.

Can we please put a moratorium on the phrase "Samsung sucks at(insert whatever)? I have the t899 and hope to get firmware soon. Let's celebrate any step forward for WP

I got the t899 too. My phone runs great but I still want the update.

Bit of a stupid thing to say seeing as the article alone negates your comment, wouldn't you say?

Huh, that's an interesting turn of events.

it is faster and i am not kidding :)

On windows phone 8.1 for my 925 , Xbox music seems a lot slower and laggish. I also miss the old way to turn off notification sounds and ringtone sound

I used to like this joke, but then I took an arrow to the knee.

Does anyone know of the official update resolves the Bluetooth issues?

Not sure as I never had any issues to start with, what problems are you having with BT?

It does, at least on my phone it did :)

Bluetooth always worked great on my t899. What kind of issues were you having?

Me? None. But I guess Cormango do :)

Wouldn't know...still waiting.

Nice for you guys. Enjoy it =) VerizonSucks.

Has the Sprint version received the update yet?

Not yet. I think it will come after the Ativ S rollout..

I think Sprint has 1 and only 1 crappy low end HTC phone.

I agree. I am still waiting for my 928 to get win 8.1. When I go off contract in May, I will think about bailing from Verizon. Buy a new phone and do a monthly contract. But I am woried that ATT, Sprint, Tmobile networks are inferior.

Whelp, I sold the SE, so it doesn't matter that it doesn't have the update yet!

Great to know. Awesome contribution.

WP8.1 Update? They are pushing out GDR1?

What about the SE Verizon variant?

It's Verizon, do you really need to ask? lol

How about the Samsung Ativ Oddysey on U.S. Cellular?

I guess not, I was just hoping that it might be bypassing Verizon.

Ha ha ha ha ha ha ha! ROFLMAO! Daniel, you hit that one right on the head man! Whew! I can't catch my breath! Verizon SUCKS! I'm still waiting to see what happens with my Lumia Icon, but I have a strong feeling AT&T will push Denim firmware to 1520 before Verizon even mentions Denim! That's when I'll be leaving VZW and heading over to AT&T!

You have to wait in line. Cyan hasn't been released yet so you'll have to wait 4-6 months or longer after Cyan comes out.

Why wouldn't they, it would be stupid for Samsung to push out WP8.1 and then a separate update for GDR1.

all in one my friend, all in one :)

Glad I don't own a Samsung since my first generation focus. Guess they don't have much of a choice since the galaxy line isn't selling well according to the news. It's better to have a broad portfolio. They need to try to grow both their Android and windows phones

Don't buy into the galaxy line not selling well bs. The pace may be slowing down a bit but they are still selling a ton of phones.

You'll be waiting on TELUS then as unbranded devices get it first.

Yeah friend if mine has TELUS ativ s. I run unlocked unbranded 925 on TELUS network myself.

Is it possible to restore my ATIV SE back to 8.0? I want to sell mine, but I don't want to sell someone a buggy 8.1 preview :/

Flashing is possible, at least on the non SE variants. Don't know about the SE.

SAMSUNG Kies.Go to their website and check it out.I know it restores tablets,but not sure about phones.

Doesn't work for Windows Phones....only Android.

Cool,didn't know it was Android only.

Samsung Kies is only for Android devices (Galaxy series, Note, etc.) It doesn't work with WP. Tried myself and it didn't worked, and then i got an answer from samsung forum officials that is just for Android :)

Thanks everyone for the help! Guess I'll have to keep waiting on Big Red.

I will say an update that came for persons with the preview for developers sometime last week, happens to be a good start I would say. My Lumia 1520 runs quicker and resume times has been faster as well. I think there gonna get there.

When will 8.1.1 officially roll out to att Lumia 635? (mad typing skills, right?)

Denim updates have not begun for anyone. Could be a few weeks/thru early next year.

Oh god next year :crying:

At least AT&T's track record is WP devices get updated in a reasonable period.

There's one feature that isn't mentioned though, the firmware apparently brings BT4.0 LE support as well. I don't have a device to test it but in the forums there's reports of at least one ATIV S user being able to pair a Fitbit device with their phone now.

Once mine finishes updating, I'll check. There are quite a few updates going on here, taking forever, lol

Ah, thanks as I've only heard from one user at the moment.

Hey Daniel did you have to get back to 8.0 for this update?

Daniel, here is how my update went (NEE CSC): http://forums.windowscentral.com/samsung-ativ-s/295444-51.htm#post2838261

Canada?? Telus?? Sure not!!

The unbranded European version is a 3G phone. We'll have to wait and see if/when Samsung plans to release it for the Canadian LTE version (wouldn't make sense if they don't).

We can only hope the cdn. Variant will be updated next week

Lets hope sprint users can join in on the fun soon.

How likely is that samsung will launch a WindowsPhone this holidays? My phone is begging for a replacement... no non-phablet flagship on AT&T :(

Icon with outdated firmware + at&t sim? Or just get a 1520.3 I love mine.

Times are changing. Even apple now (only) makes phablets.

HTC One M8 for Windows and Nokia Lumia 830 coming to AT&T on Nov. 7.

why everywhere it is mentioned wp8.1 update why not update 1 its confuding wether it is just wp8.1 or gdr1,please mention clearly

Because that's what it's called, the Windows Phone 8.1 Update or WP8.1.1 ;-)

I'm not a native speaker and I get confused. To me it's like "WP8.1 update is the update from WP8.0 to WP8.1" =/
If every Ativ S is in WP8.0 and get an "update" they will get WP8.1...

Think of the update as being WP8.1.1

I feel like Windows phone 8.1 updates took long to reach so many phones. This is frankly very annoying. I released all updates to all phones universally...

True, but I think the BitLocker issue was serious enough to warrant pulling the update to fix it.

Hey I have the Ativ S T899M variant and I'm not seeing the update, I'll notify when I get it if it is today.

I also have the same, can't wait anymore :p

Also got that version and on Bell network. I'll report any movement.

I have got the update today (Ativ S)

Unlocked (the Netherlands)

It's says Bell Mobility, but my phone is kind of unbranded, international. No update yet by the way

I am on Bell as well, still no update. I am not in the developer preview. Do you know of any informaiton when and if the 8.1 update is ever going to come?

ya so mention wp8.1.1 what is this wp8.1 update it looks like it is normal wp8.1 update

Because that's what the name is in settings>about, the update enables Cortana in UK, China, India and Australia as well as fixing other issues.

Awesome! Then hopefully the Neo should follow soon.

Last! Oh . . . wait . . .

Daniel, you've mentioned "Those on PFD are also likely to get this update too without the need to 'rollback' to an earlier 8.0 Update 2." If i'm on 8.1.1 already, can i hope only for fmw? Thanks ;)

Yes, that's it. All you'll get is the firmware.

On preview Ativ two sequential updates today!

Wow very good they did the whole WP 8.1 and update 1 into one OTA package. Would love for MS to start doing this for the third gem Lumias going forward

My daughter is gonna be happy today. She didn't want me to download the Developer Preview so she waited.
Can't wait till she gets home and I say "Can I see your phone?"....Good Times.

Should've got the developer preview. It runs excellent.

It bricked my Ativ S.Won't ever use The Dev Preview again.

My t899m had the bricking issue updating the first time (PFD 8.1.1) but after much sweat and intense tweaking (all trial and error) managed to get it back on track, some tense moments for sure... My Lumia 1020 has been flawless throughout all updates, OEM and PFD.

I downloaded the Developer Preview on my Lumia 1520 and it was fine but Downloaded it on my HP Desktop and it was nothing but problems (lost tons of stuff), so she saw that as a sign she didn't want to "Brick" her phone.

My Ativ S is ready. Giveth to me, I wants it, and I wants it now.

Much smoother than 8.1 PFD.....Better battery performance...!!!

Is the unlocked Ativ S Neo included in this? Or will it be getting 8.1 eventually?

I'm in Preview Program. How do I get this update?

Haha "seems faster" is first on his list.

I'm sorry but who is responsible for updates, is it the OEMs or carriers?!

For what i know, if it's in Canada or USA, it's the carriers. If the phone is unbranded, doesn't matter on which carrier is running, it's the OEM's.

Am using Ativ s from Finland but am not getting the updates

What CSC are you on? Check if you have NEE cuz that's Nordic CSC which includes Norway, Finland, Sweden, etc. I got mine on NEE CSC altho i am in Republic of Macedonia, but that CSC is compatible here. Do notice that your phone will hard reset when you switch CSC's and you will lose everything, so back up before you do that (if you gonna do it) Otherwise just be patient, I am sure your updates will come today or in the coming week. Do post here if you get it these days or go to our thread (mention above in this article). It's a very alive thread, you will have lots of informations coming your way at a glance. :)

Still don't have 8.1 on my 929 (icon) hurry up verizon.

Just received 8.1 update on my Ativ S

Did I told you that you gonna get it today? Lol, enjoy buddy :)

Hello Everyone I am from Portugal and bought my Awsome Ativ S in Germany, and i Have the WP8.1 Update 1 (or whatever you want to call it) more than a week ago.. For those who still don't have it, i want to say that it works like a charm, fast, fluid, no bugs until now. The battery has improved!!!! Camera is fast and with better options!! It sure took Samsung long enough, but i think it's a job well done. Best regards to all !!

My Ativ S received the updates yesterday - UK on EE/Orange.

Ok, now Verizon is just trolling Icon owners!!!

Damn... Does that mean my Lumia 810 is without peer now? The last device to not get the 8.1 update? Or is the Samsung Odyssey still in da house?

Does the ATIV Odyssey get 8.1?

My Lumia 1020 8.1.1 update

Mine is 2424.13.12.2 PfD and doesn't update. CSC NEE. =(

And yet they still beat Verizon to 8.1 over the Lumia Icon! Verizon SUCKS!!!!

my camera is still not fixed. still the same bug of black screen whenever i open my camera.... really worried, anyone have any ideas what can i do??