Samsung ATIV S getting Windows Phone 8.1 Update? Kind of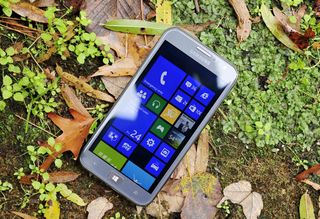 Starting about ten days ago, reports that Samsung was pushing out Windows Phone 8.1 Update for ATIV S users began circulating the 'nets. We have our own ATIV S here in the house, which is an unbranded UK release, and were not able to get any such update. Instead, we are stuck on Windows Phone 8.0 GDR3 (Build 10517; Firmware 2424.13.10.1).
As it turns out, a very select few ATIV S users are getting Windows Phone 8.1 Update (Build 14157; Firmware 2424.14.9.3), which is splendid news. The bad news is it is isolated to specific regions like Austria and maybe Hong Kong.
Samsung ATIV S devices released through carriers and most other areas are not seeing the update yet, although obviously this can change. Let me try and explain and give you the full story.
Downgrade from Preview for Developers?
In the past, we warned against ATIV S and ATIV SE users installing the Preview for Developers program OS releases. Specifically, Windows Phone 8.1 without proper Samsung firmware does not always play nice. Users have experienced problems with the camera and other quirks, and while they are not the end of the world, they can be annoying.
There are a few threads in our forums discussing how to downgrade your ATIV S, although it appears that those with Preview for Developers who are in the right region are now getting the proper Samsung firmware. It is advised not to downgrade your phone (which also factory resets), unless you really want to get the firmware and Windows Phone 8.1 Update right now.
CSC: ATO. Wait, what?
Perhaps the most confusing aspect of this Samsung case is trying to understand which ATIV S models are getting an update.
As of now, the only version confirmed as getting an update is the I8750 with ATO configuration, mostly isolated to Austria. This designation comes from the CSC (Consumer Software Customization) and is a regional-code. For instance, TGY is Hong Kong, and my unbranded UK ATIV S is OXA.
Users can check their CSC often by installing the Samsung Diagnosis app by typing ##634# in the dialer. The Diagnosis app can then be found under the App list and entering *#321647335 inside the Diagnosis app should reveal information about the CSC code.
What it all really means
At this point, unless you are hardcore about downgrading your phone and switching the CSC code, you should just wait like the rest of us.
In short, go into Settings > Phone update and check for updates. If nothing happens, you are still waiting, welcome to the club.
On the bright side, Samsung is slowly starting to get 8.1.1 out to users with some positive feedback about the new firmware. Conversely, for the majority of users, especially those with carrier-branded phones in Canada and elsewhere, are not getting this update as of today.
If you would like more information about downgrading, CSCs, and various versions of the ATIV S, you can head into our forums where there are quite a few threads discussing the news. There are some great folks in there answering many questions.
Small warning though. A lot of this is only for those who are well informed and technical, so proceed with extreme caution. Your best bet is to read it (especially this post), understand it, and then post your question. Otherwise, just wait until Samsung pushes out your update.
Windows Central Newsletter
Get the best of Windows Central in your inbox, every day!
Daniel Rubino is the Editor-in-chief of Windows Central, head reviewer, podcast co-host, and analyst. He has been covering Microsoft since 2007 when this site was called WMExperts (and later Windows Phone Central). His interests include Windows, laptops, next-gen computing, and for some reason, watches. Before all this tech stuff, he worked on a Ph.D. in linguistics, watched people sleep (for medical purposes!), and ran the projectors at movie theaters because it was fun.
And my ATIV SE sits in the box until its released.

Yeah, that one is even more odd since the hardware is pretty much designed to be an 8.1 device e.g. no camera button.

If that SE phone went global.
I'd buy it in a heartbeat.

The SE is crap, the HTC M8 is ten times the phone for the same money.

I can definitely say the same. The M8 w/ Windows is definitely a beast. Seems odd though that its their only phone with Update 1 while the rest don't even have 8.1.

Problem for me is the HTC One is also ridiculously bigger than the Ativ SE.
Seriously, the HTC One is way too big.

Ridiculously bigger?
SE: 5.42 x 2.75 x .33
HTC M8: 5.76 x 2.78 x .37
Ridiculous assertion.

Almost 1/2 an inch taller, that is ridiculously large to me. Don't cry about my opinion.

The SE has a better camera, an amazing screen (personal preference, of course) and is an underated monster. I have found HTC to be a troublesome company, with bad experinces with WP (Titan and Titan 2) and Android (Thunderbolt, EVO 3D, First). Zero problem with any Samsung myself or my circle of friends have used have ever used (Note series, Focus S, Capitivate Glide, of course the Galaxy series). Also, anytime you want to look at the WP Store and compare HTC Hub (about 10 offerings) with Samsung's (about 20) or how many recent devices the two companies have released for WP8, add in most HTC 8X/8XT/8S device lso are waiting on WP 8.1 I am sure you will find that "crap" is unwarrented. All that being said, HTC M8 is an excellent looking phone, great audio, and has WP 8.1 installed. The Samsung line of WP 8 devices sit waiting. I would take the SE over the M8 all day with the same software due to my past luck with the two companies, but not on 8.0. Hopefully, this is the bell weather moment that gets the ball rolling.

On the M8 it only lists FIVE apps, the flashlight app, HTC BlinkFeed, HTC Camera, HTC Photo Edit, Video Highlights, and HTC Sense TV. Better than when we bought it, there were only three.

Wow. Sorry. I did think there was more. Honestly, the M8 for Windows is tempting. I will give it a look when it comes to AT&T. I just wish a SE variant with WP 8.1 was around as well to offer a choice.

I've owned both the SE and now the M8. The screen on the M8 is better, sorry. Response is better on the M8 as well. Samsung's apps are meh and mostly different camera filters. The camera is better if you can actually get it to load on 8.1 instead of rebooting the phone. SE does win on weight. Battery life is better on the M8. 16 GB more internal storage and faster read/write on the SD card. Better sound both external and wired. All metal construction vs SE's thin plastic. M8 also has BT 4.0 vs SE's BT 3.0. M8 has built in FM radio, SE doesn't.

Also, the m8.. If it were a girl, i'd probably try to take it out on a date, lol.

No physical buttons no phone.

What's new with Samsung firmware?

That's the million dollar question.

It makes the phone work properly with Windows Phone 8.1. I got WP8.1 on my ATIV S through Preview for Developers and the camera quits working if I switch it from video mode to picture mode. The new firmware would fix problems like that.

Yeah it seems to have fixed it, plus it doesn't flash when the flash is turned off. Internet seems to run smoother as well.

Samsung Firmware has never really changed sth just bugfixes but at least all the bugs are gone

So what is your advise? I'm on DP and updated today with this critical update, but my camera still playin tricks on me. So is there any hope for us (i mean for those on DP) that Samsug will kindly update only our firmware? Any thoughts?

If you have an unbranded device, not through a carrier, probably best to wait. It looks like Samsung is trialing this update and will expand in the coming weeks. If not, then you can look into downgrading, switching CSC codes, and taking the update that way.

GDR3 also started rolling out for ATO devices but it never came to other countries...

I am in preview for developers, I just changed my CSC to ATO (without downgrading) and now I have the new firmware... Nothing really new: The data/wifi arrows that Nokia enabled a couple of months ago, fewer reboots and the camera works again.

What about radio issues like Bluetooth and WiFi requiring reboots to function, battery drain, live lock beta lag, etc?

I downloaded DP on my Sprint Samsung Ativ S Neo with no issues. My son also did his without incident. Since this phone is now a penny on Amazon, I ugraded my wife and daughter to this phone in the last two weeks, and did DP on them with no issue.

I'm using the latest DP build on my AT&T Ativ S Neo with no issues too.

I just tried typing ##634# into my Nokia Lumia 1020, and it showed my color variant, lifetime counter and modem version. Cool. Anyone know any other hidden codes for Nokia Lumia handsets?

Here's the full list of known codes for every oem http://forum.xda-developers.com/showthread.php?p=42246696

I did it on my 1520 and got nothing :-(

Depending on carrier certain codes are just plainly disabled in the phone dialer

My at&t L1520 responded back with Bright Green as the variant which is true.

Maybe I'm doing it wrong... I'm dialing it and pressing call, then it comes up with an error and does nothing

Nevermind, did it again, and it worked.

What does lifetime counter means?

Yes, if you read carefuly the article, it says it's for Samsung ATIV S i8750, not for Nokia Lumia devices. Altho, ##634# is not installing Diagnosis app, but as you already see, it shows color variant and lifetime counter. However, here is a link where you can find all Diagnosis codes for Samsung ATIV S, Nokia Lumia, HTC, etc. http://forum.xda-developers.com/showthread.php?t=2311626

I had wp 8.1.1 preview. And now I have 8.1.1 from Samsung. I back to GDR2 from Samsung and update until 8.1.1. Always with CSC ATO/AUT

Had 8.1DP downgraded too to GDR2and now I'm on 8.1.1 official with firmware. It worth it. Quite easy to follow the steps and many people to help. But caution is required not to get your phone bricked

I'm back to 8.0.3 with my Ativ S, chose the wrong CSC (NEE or something) thinking it was the fastest :( Just gotta wait now..

Okay. Now change CSC to AUT/ATO and update via OTA.

If you read the thread posted in the article, you would know that NEE (Sweden) was fastest to get WP8 GDR3. I am on NEE CSC and i am not going to ATO cuz i just wanna see when NEE will get what ATO is getting so far so i can share that info with all others. Dan Preda from the same thread is on ETL on WP8 GDR3, he as me is not updating for the same reason. If everyone going through ATO then how we would know what other CSC's will get it right? I did mention this several times in that thread tho :)

I wonder when, or if ever, the Samsung Ativ Oddysey for U.S. Cellular will get the 8.1 update.

Wow. I've not heard of that model until right now. I wish you luck on getting the upgrade.

Well, I gots the Hong Kong version(TGY) and so far I gots nada. Good news for those that got it and maybe those that are waiting, like moi.

Wouldn't want to screw with the settings just to get an unsupported update(no lte) hope the sgh-t899m gets the update next

If you do not have a I8750/Ativ S, but do have a t899m, i wouldn't indeed try to flash the firmware of a different phone. Or, you could and enjoy it as a paper weight. ;)

What I was referring to was the fido csc that some said caused lte to stop working so have been said on the forums. Why we have that customization on their well never know seeing as rogers closed the door on offering highend devices on fido(aside from bb/iPhone) long ago. Besides only thing im keeping that phone around for is bbm & anyplace tv(seeing as rogers requires branded wp8 devices & wifi on the icon makes for an unpleasant bbm experience)

More evidence in my pocket on why NOT to buy Samsung

Because they're ​updating their phone?

I believe he means "because they are doing a piss poor job of updating their phones and it is very unclear if most will ever be updated.". Just a guess.

Because their updates are late, not to mention that they're still buggy and not avalible for majority of people.

The last two comments are actually kind of funny.. Being it so that this is actually the FIRST time Samsung is ACTUALLY later than Nokia with a specific update.. The Nokia "FunnyColorName" updates were ALWAYS later than Samsungs.. Also, they are still buggy? U have an Ativ? You have an Ativ S with the latest update..? Not to mention the fact that with a Samsung Ativ S, you can actually DO something if you want to get the update faster. If you have a Nokia well.. Tough luck i guess. To the folks buying a branded phone from a carrier thats holding back the update.. Don't get a carrier locked/branded phone next time. Thats the lesson to be learned here, not a lesson to avoid Samsung.

being a lumia icon owner, and just being frustrated with the update fiasco, and the delays, and the lack of new high end hardware, and the speed that everything is moving, i've never felt more compelled to just switch to Android until maybe Windows 10 comes out. I don't want to do it, and i don't think i will, but man it's tempting. Phones like the Nexus 6, LG G3 look awesome, and im sure they're not without their flaws either, but its just Windows Phone in general has never been more stagnant than the last few months or so, especialy for us Verizon users with the Icon, 928, Ativ SE, etc.

agreed, verizon sucks. taking my 4 lines elsewhere

Realistically, there is nothing about 8.1 that should make you any less inclined to switch.

I'm sort of frustrated with the offerings we get from T-Mobile. I currently have the Lumia 925, love it, but they have nothing worthy to replace it with. They just offer the 635 and 521, which are good but not at the higher end of things. My wish moving forward is that now that Microsoft has the 'Lumia' brand that they take a page out of Apple's/Samsung's model and release a few phones across ALL carriers.

I'm frustrated by your writing style.

Agreed, Mark. I've been a WP user since the trophy, had two 822's, and currently a 928. I wanted the Icon, but as you know, it was pulled. I'm constantly reading the news hoping for a high end WP, but like you said, with nothing being offered, what to do? I've looked at those same phones, especially the LG G3. I don't want promises, a low or mid range phone, or to change carriers. I'm due next month for an upgrade..we'll see!

So it sounds like that (finally!) Samsung is pushing out firmware for 8.1. At least we have word on something, which has been scant for the ATIV S and (hopefully) ATIV SE. Hoping I get 8.1 for my SE very soon. VZW has been mum (as they always are), so I'm being cautiously optimistic about WP 8.1. Hoping soon :)

Their problem is with VoLTE if it hadn't been deployed like this.

Daniel why won't you do an Ativ SE full review?

Mostly lack of time at this point, also interest is low.

how long you are following Windows Central here and on Youtube? Daniel did unboxing + review in one for Samsung ATIV SE. Here is the link: https://www.youtube.com/watch?v=56O_VkISOeQ

Boris.... this is simply an unboxing, not a review (as Daniel just confirmed), so slowly pull your head out of you ass. This phone is a high speed device, and it's been out for a good how long????
Yet the M8 and Nokia phones get immediate reviews.
Daniel, you claim low interest, test there's a while forum thread that you started you would post a review for...
This is looking mighty political to me. I think you might be a little butt-hurt about the SE being better than the Icon when it came out since Samsung has been half-assing it, but that by no means warrants you to not cover a"flagship device at the time.

WOW, why are you so hostile? Are you having issues or something? Chill out a bit. I did asked you a question about how long you are following Windows Central, that was not a sarcasm, but simple question. And i did provide you with an answer, a link, right? You are not unboxing a device for 15 minutes, did you watched the whole video? He had some formal review of the device also. Choose your words next time before you write them down.

That's why you should always buy lumia if you want a windows phone.

Unless you have the Verizon Icon.

You should blame Verizon for that not Nokia or Microsoft. MS provided finale software to carriers and their job is done. Samsung or HTC on the other hand are not caring about wp8.1 update and they didn't give any software to carriers so they could release.

Mango.lover, don't be ridiculous. Tally up all the Nokia models that have been released and all the updates that have gone out. You will find an amazing track record of their phones getting updated. While there are always exceptions, and the Icon is a whopper of an exception and a black eye, their update record is unbelievable. Most of the exceptions are clearly due to carrier interference. If you are concerned about support and updates for your Windows Phones, I highly recommend AT&T. They almost always seem to get them out.

Lumia + ATT is the winning combo in the USA.

Right after my wife soaks the ATIV S in some water... Would get another but L1520 size got me spoiled. ATIV Note would be cool, but only if they take it seriously. ​

Not compatible with ATIV camera. Nooo :'(

According to... http://www.windowsphone.com/en-us/store/app/ativ-camera/f222ba58-e134-48... Test submission! Soon

The thing is does this new official update make the new Ativ Camera app work?

I seriously doubt :) I updated today, but with no changes :(

Wouldn't it be ironic if the Verizon Samsung ATIV S got Windows Phone 8.1 before the Icon?

Wow, I totally forgot that the ATIV SE even existed!

Let's have an article on why no Lumia on the Verizon network has been updated after 101 days. See if any of the companies involved will give any scrap of a reason.

The only company involved that you need to concern yourself with is Verizon. They are the single point of failure.

Verizon did kill the icon within the last 101 days. They also sealed it's fate by making it exclusive.

Great article! This should rekindle the hopes of Ativ S / SE users :P. Also it highlights the fact that Samsung doesn't have a consumer friendly tool to downgrade unlike Nokia for example.

Once again, there's too many reasons why getting a Nokia Windows phone is better than getting an ATIV.

It's Microsoft not Nokia. Nokia is dead. Move on.

Read the thread posted in the article from the beginning, the steps are so easy if you know what are you doing. :)

Haven't meet someone who use any ativ variant in Malaysia

Yay Samsung. I haven't found one feature, handset, or product line that isn't stock full of issues made by them.

stop trolling, you are not funny. If you have some valubale information to share, share it.

I have downgraded my Ativ S to Gdr2 with Ato Csc and followed with the updates. Now my Ativ S works better than ever with absolutely no bugs, and with excellent battery life. Samsung isn't as bad as some people in this site make it out to be.

Well, the Samsung hate is strong here. I get that, since most of their phones run Android but still.. It seems kind of stupid to me, since it is in everyones interest here that WP as a platform survives. And it ain't gonna attrack customers with crippled 512 MB nokia "these-all-look-the-same-on-the-outside"-phones imho. I think it's good that Samsung and HTC are still bringing out Windows Phones. Phones that look different from Nokia's. More choice in outer phone appearance, more potential customers for our OS. Everyone wins, right? For me, the Ativ S has been the best phone i've ever had. Hands down. Wouldn't want to miss it.

it's because samsung and htc mostly put out recycled android hardware that doesn't get updates sometimes or cool new features. for example the samsung ativ se was released with the specs from the september 2013 refresh of the galaxy s5. they didn't put the new 5.1 amoled screen with the improved viewing experience, they didn't put their new 16 mp isocell camera, they didn't make it waterproof, no fingerprint scanner and no heart rrate sensor. plus no cool software additions like on the galaxy phones. on top of that it's exclusive to verizon, not available anywhere else in the world. htc released the one m8 for windows, but they skipped some features from the android version, some software features also. plus it's only available in the u.s. on top of that a month later they release a camera accessory that works with all android devices and ios, but it doesn't work with wp even though they make wp hardware. not to mention the new eye software features that will be given to all one devices with android, but again no love for the windows version. so it's easy to see why people go with lumias. you always had the best nokia had to offer, best hardware innovations, stellar software support, updates for all the range from high-end to low end. i live in europe and if the m8 with windows will be available here i won't buy it, because i don't know if htc will update it in 6 months after release, i won't get the htc software cool stuff(blinkfeed is meh)

So.. Using older hardware is an issue? I'd rather have older, capable hardware then a purposely crippled 512 MB Nokia device to be honest. Also, the lack of SD card slots in a lot of Nokias is disturbing. Beside, most of the SOC's used by phones running Windows Phone are older anyways, be it in Nokias, or Samsungs or HTC's.. A lot of phones were released with older snapdragon processors etc. There is no denying that the OS doesn't get bleeding edge hardware like Android has. (newer Chinese Android phones have octacores - I believe Windows Phone still lacks support for that) Thank god Windows Phone runs smooth as butter even on somewhat older hardware, where as Android seems to be lagging even on high end bleeding edge hardware, lol. But saying u want Nokia because of newer hardware is simply.. Well, since they don't use it.. It makes no sense. Keep in mind some firms like HTC will dump some features on phones coming to our OS. Might also be a deliberate choice - They might have ditches thios functionality because it made no sense on the platform, or even because the OS doesn't support it porperly. I mean, VPN support, NFC support etc, are all things that are available, but very limited on Windows Phone.

BTU and in Developer Preview got updated here. Nothing different.

I wonder if the Odyssey is going to be updated because my mom's is going haywire on the DP.

Wait, how do you even downgrade the Samsung?

I got the T899M. Guess I'm outta luck. Then again my phone works flawlessly on the preview.

I wish there was a method like this (change CSC) so I could change the product code of my AT&T branded Lumia 1020.

Samsung ativ s neo also getting it?

TELUS mobility in Canada has stopped support for the Samsung ATIV S .....now I'm stuck with GDR3 update with NO Windows Phone 8.1 update! I'm pissed!

I Not sure if this is about the ativ s neo also,I've been running dev build for the life of the device without an issue, and usually one of the first to get the updates.

Well, Samsung is technically a big competitor of Microsoft, so it makes sense that they would be pouring more work into their Galaxys.

There goes the promise from Microsoft that every windows phone to get promptly updates. Pfff

I changed the csc to ATO and got the update right away. I have the 8.1.1 update for about a week now and I didn't had any problems. Ativ S Romania ​

changed my CSC to AUT yesterday (no ATO choice) but no luck getting the update sofar. A coworker (with ATO) did receive the Samsung update already. Is it worthwile to go back to GDR2 (or 3)?

I have wp8.1.1preview and I didn't have to go back to gdr3 to get the new firmware update, I just changed the CSC (From Italy to Austria) and updated!

Great device but poor support from samsung.

Updating to 8.1 on CSC: PHN as we speak Excited :D

My UK Ativ S just update. Woohoo! Seems stable..earlier days...but finally!!!

My UK Samsung ATIV S just got the update with the firmware 2424.14.9.3. I had Windows 8.1 already, through the developers' preview app. The phone used to play up a lot, with the flash being triggered for no reason, the internet browsing being rubbish. No it's all sorted out as far as I know.

I love my ATIV SE. It's lightweight and I love the home button, but I want the update, dern it! I have an M8 Windows phone in the box. I used it for a while and then switched back. So, it's just my preference, but there were lots of things I didn't like about the HTC (IMHO awkward tall due to speakers, didn't care for the rounded back either) and even though the Samsung has lock up issues after ending calls and the camera apps shuts down the phone more often than not, I'm dealing with it, but am anxious for the firmware update. Please hurry Samsung!