Samsung to show off Windows 8.1 all-in-one PC with curved display at CES 2015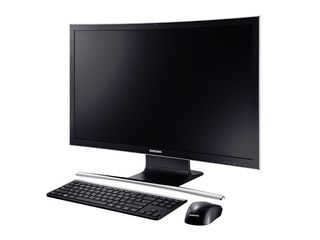 Samsung will be showing off two new Windows 8.1 products next week at CES 2015 in Las Vegas, including an all-in-one PC with a curved display.
The Samsung Series 7 AIO will have a 27-inch curved display with a resolution of 1920x1080. Inside, there's an Intel Core i5 processor and 8GB of RAM, with both a 128GB SSD and a 1TB HDD for storage. A price and a specific launch date for the Series 7 AIO have not been announced.
Samsung will also showcase their upcoming and latest version of their Series 9 notebook line at CES 2015. The 12.2-inch laptop is just 11.8mm thick and 950g in weight, which the company claims is the thinnest and lightest notebook it has ever made. The display has a resolution of 2560x1600. Inside there's an Intel Core M 5Y10C processor with a clock speed of 2GHz. There's also 8GB of RAM and a 256GB SSD for storage inside. The battery life is supposed to last up to 12 hours.
The new version of the Series 9 notebook should start showing up for sale on Samsung's website sometime this week but a price tag was not revealed.
Source: Samsung Tomorrow (opens in new tab), Samsung Tomorrow (opens in new tab); Via: SlashGear
This is Samesung we're talking about. You sure it's not bad?
Anything you build yourself or have premade on cyberpowerpc will certainly be more value for your money. ;)

How many people do that? Majority goes to someplace like Best Buy and buys a computer. For them, not bad.

Never buying Cyberpower again. Its a shaddy company. They sold me a system that runs at 77C while in idle, CPU cooler failed after one month of light use and they refuse to take back or pay for shipping. I was gonna replace the cooler myself (the price of a new cooler is less than shipping) but they over tightned and broke the screws so they won't come off (2 out of 4 are in this condition). I haven't had the time to fix it but I would stay away from this company at all costs.

The Series 9 notebooks are actually really nice. I've had mine since late 2012 (going on three years soon) and it still runs and looks like it's brand new. Although I wish I could upgrade to a newer model to get the touch screen and higher resolution screen, but it's a good investment with at least a 4-5 year lifespan.

Let's believe Samsung will launch wp devices in near future. Posted via the Windows Central App

They had actually launched WP before.

Dude, they still have. Lol.

All they have to do is put WP on the Android phones they already have.

I prefer our WP designs to androids. They look more business like. I feel they are sturdier. It would be nice if the innards were current though. But as long they put them out. I'll buy em.

No, they want to crapify it all up with their own junk you cant remove.

The first ever interesting piece of equipment from Samsung imo.

I think the curved screen makes more sense on a desktop PC than a family room TV.

Their Ativ book 9 series has always slayed the competition though. They're incredible but very expensive. I'm more excited about the ultrabook than the AiO.

Why is it, the smaller the screen sizes on any tech, the higher the resolution?

Because larger panels are more expensive to make. Size matters ;)

It's only 1080, hardly a high resolution for a PC... maybe in TV terms.

Seriously. "Look at my awesome new 27" curved monitor with 82ppi!"

You hold the small screen right in front of you so you need a high PPI in order not to see the pixels. That TV across the room doesn't.

I don't want a curved TV, but a curved PC monitor is intriguing.

I don't get the appeal of curved screens... but I haven't had much exposure to them either. Can someone explain?

more equal eye-distances esp on the outside parts. this matters esp on 21:9 ultrawide screens from, say, lg. their 3440x1440 curved screens are gorgeous.

Works better in a lounge setup.
Better view angle for the couches not directly in front of the TV.

My brother has the curved Samsung tv and loves it. I've watched it and see no use in it but I also could care less about Samsung either.

Windows will soon rule...

I thought Samsung gave up on Windows, maybe the lawsuit "persuaded" them to change their minds ....
Anyway, the Curved screen is interesting

Surprised this isn't an Android all in one, inasmuch Samsung is practically married to google haha

& lg to show off a webos watch?

Curved TV's are dumb, but a curved monitor may be doable because you're going to be sitting on the same spot everytime and the likelyhood of having another person viewing is low. You have my attention....

I think the curved tvs are pointless but you make a good point. Give me an Ultra Wide 27-32 inch curved monitor and that might actually make better sense. That, and someone else beside Samsung as i won't touch their junk.

True. For those who use multiple monitors curved around their office desk a single curved monitor would be much more seamless. Shipping curves is a bit more wasteful though.

No convertible from Samsung?

Why not a tablet?? Since I have a Windows 8 tablet, I don't use a laptop. I only have a desktop for gaming, and every thing else I get done with my Encore 2, even work (obviously I also have a desktop at work, but because Dropbox and OneDrive I work a lot on the tablet, specially on the way to work).

They will come around, they are in denial mode right now.

curved displays are so overrated, you have to sit right in front of it for a for a good view, unlike a normal display

Which is what you will do on a computer. Makes sense on desktop PC.

I seen LG's curved 48 in tv....from angle you loose 30% or more screen....so far there are no practical use of curved screens...

Not bad at all. Sure you can make your own PC with better to similar specs for lower money than these devices will cost BUT I can say finally a product worth of interest from Samsung. Posted via the Windows Central App for Android

I don't get what's so cool about curved screens.

Imagine games like Modern Combat on a desktop computer, where the screen seems to be wrapped around your face, sort of. It will feel like playing using VR glasses.

Samsung should merge TV with PC. That will be for ultimate movie and gaming experience

Remember when Sony made all-in-one ? Even the older Sony is better than that

It's shit-mac killer and They should merge TV with PC worth this curved display.

I think OEM's should start showing off Windows 10 on their products. After all, it'll probably be on the shelves by the time they release. And it'll remove the Windows 8 "stink".

Agreed... Samsung should launch REAL SMART TV with Windows 10

They should get ready to launch windows 10 in TVs

Those will be REAL SMART TV

I love this Samsung... This time its not same-sung

OMG that's crazy! Releasing hardware with 8.1 when W10 is just round the corner... They should wait a year like MS seem to be doing with the top end Lumia... [sorry, just annoyed at the lack of 1020 successor and heard waiting for W10 as the excuse so annoying to see that other manufacturers aren't waiting around!!]

Just needs an update - its not like a phone where you have to pray that Verizon will let you have it. You're buying hardware.

Two things, why 1080p and not QHD on the AIO? Especially in today's market and for what they are going to ask for this unit. Also does the monitor articulate at all on that arm? Some have that tent design while my XPS2720 you can pretty much lean the whole screen back or at different heights and angles.

Seems like Apple is ahead with bendable phones.

That App$e not Apple... Your spelling it wrong.

Omg never buy samgsung computers. I thought that was like rule number one. An all in one computer as well? Haha good luck to anyone who buys this rather than build their own computer which, lets face it, if you don't want/need the best parts to play the latest Crysis game on the highest settings, will cost you a bag of peanuts.

How can I build my own all in one?

I have an older Samsung laptop and I is bullet proof... Running Windows 10 on it as I also have a surface pro 2. Say what you will about thier phones but everything else Samsung is good product wise. I also have two of thier tvs a blue ray surround sound dishwasher and washer and dryer... None of them have ever failed...

Actually, the fact that the Windows Phones I have owned from them have been stable is the reason I look to buy more of their products. Just recently bought a Blu-Ray player from them and will look to buy a TV from them when I decide to upgrade to the latest trends.

Noone seems to see that the notebook has a 16:10 screen. Hooray they are back! Too bad I just bought a 16:9 Thinkpad...
Windows Central Newsletter
Thank you for signing up to Windows Central. You will receive a verification email shortly.
There was a problem. Please refresh the page and try again.