Samsung updates Notebook 9 with Intel Kaby Lake processors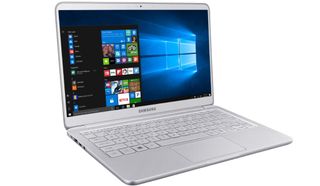 Just ahead of CES 2017, Samsung has unveiled a slightly updated version of its Notebook 9 line. Rather than a vast overhaul, the updated Notebook 9's 13-inch and 15-inch variants pack a similar design to their predecessors, albeit with new Intel 7th-generation Kaby Lake processors and a few other minor tweaks here and there.
Outside of the processor bump, the updated notebooks now feature a single USB-C port. The displays have also received a bit of a bump, adding support for HDR. Otherwise, things look very similar to previous models. Here's a detailed look at the specs of both new models, from Samsung (opens in new tab):
Swipe to scroll horizontally
| Category | Notebook 9 15" | Notebook 9 13" |
| --- | --- | --- |
| Display | 15.0″, 350nit, FHD (1,920X1,080), 178°, LR, sRGB 95% Delta E<2.5, Outdoor mode (500 nits), Video HDR | 13.3", 350nit, FHD (1,920X1,080), 178°, LR, sRGB 95% Delta E<2.5, Outdoor mode (500 nits), Video HDR |
| OS | Windows 10 Home | Windows 10 Home |
| Processor | 7th Gen Intel Core i7 | 7th Gen Intel Core i5/i7 |
| Storage | PCIe NVMe, up to 256GB SSD | SATA3 SSD, up to 256GB SSD |
| Memory | DDR4 dual channel, up to 8GB (on board) | DDR4 dual channel, up to 8GB for i3, up to 16GB for i7 (on board) |
| Graphics | Shared | Shared |
| Integrated Camera | 720p | 720p |
| Keyboard | 1.5mm stroke, backlit, curved keycap, fingerprint sensor | 1.5mm stroke, backlit, curved keycap, fingerprint sensor |
| Speakers | 1.5W X 2 Speakers | 1.5W X 2 Speakers |
| Ports | 2XUSB 3.0, 1XUSB 2.0, 1XUSB-C, HDMI, MicroSD, HP/Mic | 2XUSB 3.0, 1XUSB-C, HDMI, MicroSD, HP/Mic |
| Battery | 30Wh, Fast Charging, External Battery Charging | 30Wh, Fast Charging, External Battery Charging |
| Weight | 2.17lbs | 1.8lbs |
| Dimensions | 347.9 X 229.4 X 14.9mm | 309.4 X 208 X 13.9mm |
| Material / Color | Light Titan | Light Titan |
Pricing and availability are an unknown at the moment, but we'll bring you more when Samsung has more to announce (likely at CES). In the meantime, are you in the market for a new laptop? Does the refreshed Notebook 9 line strike your fancy? Let us know in the comments!
Windows Central Newsletter
Get the best of Windows Central in in your inbox, every day!
Dan Thorp-Lancaster is the former Editor-in-Chief of Windows Central. He began working with Windows Central, Android Central, and iMore as a news writer in 2014 and is obsessed with tech of all sorts. You can follow Dan on Twitter @DthorpL and Instagram @heyitsdtl.
Nice. I really like that 15". Wonder how the HDR looks.

Wonder why the 15" can only get up to 8GB of RAM while the 13" gets up to 16GB...

Have you seen that laptop? I own it/use it. It's a 15" that weighs 2.9lbs and is 0.57" thick. It's stupid light. I think they just have limits in what they can do. Remember, this is for people who write/type/office. Could also be price. Additionally, they make a 'pro' version of this laptop with more poweruser specs.

That doesnt explain why the bigger screen version does not get at least the same specs as the smaller screen - hence smaller modell all together gets the higher specs.

4k display on 15 inch model would have been nice.

They have that, it's called Notebook 9 Pro. This is a $1100 laptop.

4k on 15inch is marketing BS nothing more. For 4k you need a big screen to take advantage of the higher resolution (more pixels)

People who work in imaging and video editing seem to like it. For consumers, etc. it's just something that looks real nice.

QHD would have been a nice option good blend of sparpness and power efficency ... i think 1080p is fine especially since the battery is only 30 WH. Dan is right there is a pro model for 4K, and discreet graphics ... can't wait so see what they did with the pro..

Would have liked to see the images of what the 15" would actually look like. also a black or gun mettal colour would be nice. Also i think the 15" should have had a 40WH or larger battery and thunderbolt port.

I enjoy the Skylake 15" so much I'll likely grab this one and do a review. Did you see they added backlit keys too? That was a HUGE omission from the original.

eh backlit keys for power users are just a gimmick. I have my Philip Hue lights for that :)

yea man i saw that was onw reason i did not get one at the time ... backlit keys are life and i still think thunderbolt is needed lol replace the round charging port with a second USB-C with thunderbolt ... but i am loving what sammy did here overall

hope this doesn't explode

Are these things really only 2lbs? That sounds almost impossible with 15" screens. If true: wow! (typed from a 3.5 lbs 12.5" ThinkPad Yoga 12)

2.9lbs for 15" and yes; I own the Skylake model. One of my favorite machines. I guess the made new version even lighter.

So how can you have 3 different favorites, the XPS13, the new HP, and now this :)

Different classes of devices/depends on what you want to do. Spectre x360 is best Ultrabook for 13"; XPS 13 is second. I have a showdown coming tomorrow between those two. This Samsung is a weird device it's basically a 15" Ultrabook with 13" UB specs. It's great because the problem with Ultrabooks is they're almost always 13.3", but people like me prefer 14 or even 15" displays. TBF, my top device is the Surface Book. But I recognize not everyone has the money. Same goes for Razer Blade, which is a great gaming laptop, not so much one for work or travel.

My laptop preference is also similar, I hate that all the companies make only 12 or 13 inch ultrabooks. Only a small number of people need 45 watt cpu plus 45 watt gpu horsepower but we don't have much choices, even the most compact and famous 15 inch laptop that is xps 15 is an example on this topic. Hope you review this kaby lake version and also if any other similar 14 or 15 inch laptop with ultrabook specs available, I think there is a Lenovo one.

Dan i still think the added battery might be better than brining the weight down to 2.2 Lbs. I hinestly rather longer run times with a 2.5 weight still lighter than the last gen but maybe a 35 to 45 wh battery.

Nice table but no CPU specs.

I don't recommend Samsung hardware at all. I keep getting reports of overblown batteries and other defects, also support seems to be a joke. Mind you, this is in my region, so it may vary. But that's part of the problem with Samsung. They release hardware with different components and apparently varying degrees of quality for different regions. So it's too random. I can't trust the brand name, tbh, and all this is even leaving aside the recent Note 7 fiasco.

Maybe. I have two Samsung laptops and have enjoyed them a lot though. Really excellent build quality and their trackpads and display are stellar.

I'm sitting here now with a Samsung Notebook 9 Spin 13.3 (Skylake) and totally agree on top-notch build quality. The QHD display with razor sharp text, vivid color and non-glare surface is so amazing that its difficult for me to choose the new Kaby Lake HP Spectre x360 that equals or beats the Samsung in almost every other area. Still have about 20 days to decide. Now Samsung is releasing Kaby Lake models with USB-C and rumor has it that HP will release some new QHD models soon... Best Buy is going to kill me!

The hardware of my old Samsung Ativ S was (and still is) really great...but this is a phone and not a laptop, and the support really was...not existant.

Something strange here. The small is with only sata ssd and no nvme and the big one with only 8 GB of ram.

I agree somthing is strange AF. 15" should have a marginally larger battery 40WH, and the specs should be the same as in NVME on both as well as the same memory options both should have 8 or 12GB with one slot to add more (8gb would be soldered on).
Windows Central Newsletter
Thank you for signing up to Windows Central. You will receive a verification email shortly.
There was a problem. Please refresh the page and try again.