Samurai vs. Zombies Defense for Windows 8, slicing and dicing the undead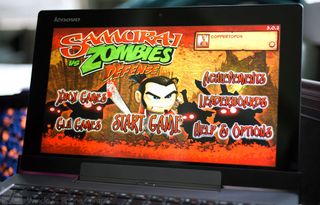 Samurai vs. Zombies Defense is a action packed tower defense styled game for your Windows 8 computer or tablet. You play the role of the heroic Samurai that must defend his village against brain hungry hordes of zombies.
Samurai vs. Zombies Defense has power-ups, upgrades, and a mini-game to keep things from getting stale. Add attractive graphics and challenging game play and Samurai vs. Zombies Defense is a welcome addition to our Windows 8 Xbox gaming library.
Traditionally, Samurai warriors were charged with protecting their villages from threats. While the more common threats came from rival clans, invading armie with Samurai vs. Zombies Defense you must defend your village from the undead.
Game play is rather simple. On the computer, you use the keyboard directional arrows to move your Samurai. On a table or touch screen you tap the screen in the direction you want the Samurai to move. Samurai vs. Zombies Defense also supports Xbox game pads.
Samurai vs. Zombies Defense's game screen has your level progress, health meter, coins/gem counts and sushi supply running across the top of the screen. Along the bottom of the screen is your available allies and bonus attack controls. As your Samurai approaches the zombies, he'll start his attack with a bow and arrow and when he gets within striking distance, he'll use his sword. Attacks are automatic so you can concentrate on moving to attack the zombies or retreat to avoid getting your brains eaten.
As you take hits from the enemy, your health meter will begin to deplete. You can eat sushi to gain some health back or simply back away from the action to regain your strength.
The objective is to take the fight to the zombies and protect your village's gate. To help you in your defense, you have a collection of allies that can be summoned. Along the bottom of the screen you have icons for the various allies available.
Samurai vs. Zombies Defense Allies
The allies include farmers, swordsmen, bowmen, soldiers armed with spears and more. They span a wide range of strengths and abilities and are progressively unlocked as you progress through the game. You have an energy meter at the bottom corner of the screen that will slowly replenish. If you're energy levels build high enough, you can upgrade the meter where more energy is produced. Just keep in mind the troops are generated at your village gate so it may take a few seconds for them to catch up to the action.
Samurai vs. Zombies Defense Bonus Attack
Your bonus attacks rest at the bottom right of the gaming screen and will give your Samurai a boost of power that helps take out the zombies. As you take out the zombies you earn coins and gems that can be used prior to each level to upgrade your Samurai, your allies, a few stationary defensive units or purchase health related items that will keep you in the game. You have revival tokens that will bring you back from the dead and sushi that will replenish your health.
Samurai vs. Zombies Defense Upgrade Shop
If you need more coins or gems you can get a jump on things through in-game purchases or play Pachinko to earn coins, gems and other bonus items. The balls you earn while playing the game will open up this mini-game and is accessed through the Shop Screen that appears before each level.
Samurai vs. Zombies Defense: Zombies Rising Mode
You also have bonus levels where you guide your army of allies as a spirit warrior and eventually you can unlock the Zombies Rising mode where you can play the role of the Zombie Samurai. Game play is just like the Classic mode but you play the zombie, defending the Gates of Hell (their version of a Village Gate) from the Samurai and his allies. Where the Samurai has allies in the Classic mode, the Zombie Samurai also has allies to draw upon. They're just more of the undead variety (i.e. legless corpse, etc.).
Graphics are rather nice, animations are entertaining, there is a ton of gaming involved and overall, Samurai vs. Zombies Defense is a challenging, fun game for your Windows 8 devices. If you install it on multiple devices, your progress is saved, allowing you to pick things up where you left off. The gaming experience was equally enjoyable from a computer or tablet. Maybe one day we'll see Samurai vs. Zombies Defense ported to our Windows Phones to add a mobile gaming aspect to things.
Samurai vs. Zombies Defense is a free Xbox Game for Windows 8 and you can find it here (opens in new tab) in the Windows Store.
George is the Reviews Editor at Windows Central, concentrating on Windows 10 PC and Mobile apps. He's been a supporter of the platform since the days of Windows CE and uses his current Windows 10 Mobile phone daily to keep up with life and enjoy a game during down time.
This needs to come out for WP8. Been playing it on my iPad and would love to be able to have cross-platform-multiplayer with this game.

Samurai's and Zombies in the same game? EPIC!

it is like cowoys vs aliens right? just dinosaurs missing there

It's fun until you hit the pay wall. Eventually you need gems to buy upgrades and it just takes forever to farm them.

agreed and that coin slot game doesn't help either


I agree.. I didn't really hit this until the last level (or 2). I ended up just griding it out until i finally got all of my stuff upgraded enough to beat the final boss. Once you do that, it's a LOT easier to get coins / gems as you can pick a level to play (still have to grind away though as the gems seem to drop less frequently after you beat the initial story).

And man i wish this site had disqus integration, i always forget what my login is here.

At least you can use the same login with all Mobile Nations sites. You can also have the cookie keep you logged in and have Windows save your password for whenever the cookie expires.

If you're an achievement junkie, you can get most of them fairly easily (completing the game is probably the most tedious since the difficulty ramps up faster than you can level up, and those gem drops are incredibly stingy). But then there are two more, for completing one level 99 times and for completing all 50 levels 99 times. The first is just a grind, though relatively easy (even by round 99, level 1 is still easy), but the harder levels are impossible without spending a lot of gems, which just never seem to drop.

I wonder why they still haven't release it on wp8 =..=

I am wondering, the timing of this article. This game has been around for ages. Or, does wpcentral know that the game is coming soon on phone 8? This is like a preview of things to come

No, we haven't heard of a WP8 release. Really wish Glu would do that though.

I avoid everything now released by Gameloft and Glu. Both devs release games with glitched/broken achievements both on W8 and WP7/8.

This game is alot like the Evil Dead iOS game from a few years back.

I'm all over this. Also as a side note, please bring a scoring system back to your game reviews at WPCentral. It is an industry standard, and something readers expect.

Those damn spider/vampire zombie bitches are the worst

I've had this game for a while now on my Windows 8 tablet.... not a bad game...

this has one of the toughest achievements in the history of gaming.

you have been warned.

This seriously needs WP8 support

Has anyone found out how to get the Assassin?
Windows Central Newsletter
Thank you for signing up to Windows Central. You will receive a verification email shortly.
There was a problem. Please refresh the page and try again.