One touch Cortana – Our Satechi Bluetooth Cortana Button review for Windows 10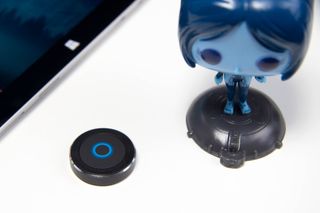 If you are using Windows 10 and have Microsoft's digital personal assistant Cortana available then you may be interested in the $23 Satechi Bluetooth Cortana Button. Sure, you can use Hey Cortana or [Win + C] on your keyboard to call up the assistant, but what if you are driving and want to use Cortana on your phone? Or maybe you would like Cortana on your keychain?
Let's take a look at what your $23 will get you with the Satechi Bluetooth Cortana Button in our new video review!
In the box
The Satechi button was first announced in July and went on sale last week. We ordered up our button from Satechi and had our shipment within just a few days.
The packaging for the Cortana accessory was top-notch with feature specifications and details about the product well laid out. Here is what you need to know:
Bluetooth 3.0
Battery lasts up to 2 years (1x CR2016)
Active range is up to 40 feet
Works with Windows 10 and Windows 10 Mobile
In the box you get the following:
Bluetooth Cortana button
Bluetooth Button steering wheel mount
Audio port Keychain attachment
3M Sticker
Quick Start Guide
I was impressed with all the accessories for this accessory that this button came with in the box. You can easily mount the Cortana button to your steering wheel for one-touch access while driving, toss it on your keychain or stick the button where you want to for easy access.
Pairing
On the back of the Cortana button is a tiny pairing switch. You'll need a pen or something small to press it in and hold for a few seconds. On the front of the button, you should see a blinking blue light letting you know it is in pairing mode. Now, under Windows 10 or Windows 10 Mobile just head to Settings > Devices > Bluetooth and pair with the Satechi Bluetooth Cortana Button.
To pair the button with another device just repeat the above steps to reset and repair with another computer or phone.
I should note that we were unable to get this to work with Windows Phone 8.1, so this is likely just a Windows 10 Mobile accessory.
If your computer does not have Bluetooth, you can easily pick up a Bluetooth 3.0 or 4.0 USB dongle to add it to your computer. Satechi makes a Bluetooth 4.0 one for about $16 on Amazon although any third-party adapter will get the job done.
Usage
Once paired there is not much to it. Pressing the button launches Cortana and is similar to the [Win + C] keyboard shortcut. Cortana launches into listening mode, and you can then use your microphone to issue a command. The button behaves exactly the same on Windows 10 Mobile too.
Perhaps the most interesting usage case scenario is in the car where you can have a one-touch button on the steering wheel to activate Cortana. This motion of moving your thumb a few inches to tap is much easier – and safer – than reaching forward and fiddling with your phone. I also like the idea of permanently sticking the button to my desk or just about anywhere I can imagine.
Is it worth it?
The Satechi Bluetooth Cortana Button is certainly not a necessary accessory. However, it is a rather cool one that brings Cortana into the real world. I think it is a reasonably neat idea for those who use the personal digital assistant often or who would like a safe in-car solution.
Although it may come off as a bit of a novelty, I think Satechi did a great job with the inclusion of 3M tape, the keychain loop, and steering wheel mount. Combined with the great build quality, the overall coolness of it and their fast shipping and Satechi has a shipshape product on their hands. It is certainly worth considering as a stocking stuffer, small gift for someone, or maybe just something neat for your home 'battle station".
You may not need it, but it is a cool thing to have. If interested, you can order one up from Satechi direct for $23.
Order the Satechi Bluetooth Cortana Button (opens in new tab)
Daniel Rubino is the Editor-in-chief of Windows Central, head reviewer, podcast co-host, and analyst. He has been here covering Microsoft since 2007 when this site was called WMExperts (and later Windows Phone Central). His interests include Windows, Microsoft Surface, laptops, next-gen computing, and for some reason, watches. Before all this tech stuff, he worked on a Ph.D. in linguistics and ran the projectors at movie theaters, which has done absolutely nothing for his career.
Seen this on your Instagram))

This is actually a smart idea. I can see this being useful for my car

I just hit the button on my bluetooth device, in my car, and get the same result.

I agree. That is the most useful case I see.

GOD! 23USD for this? HAHAHA... max. price 5USD from China

And the extortionate $19 shipping to the uk.

Its for sale on amazon uk now

...Make sure the front door is locked (after pressing the Cortana button on my night stand)>

Night stand is a good place for the Cortana button to initiate command to play music, home automation system, etc. But I will start from the car deployment. Just received mine today. I have already proved that it won't work on WP8.1. Where is my L950XL?

Need a Cortana button with mic/speaker wifi connection that can be placed around the house.

Yeah.. I think MSFT themselves should make one as a marketing strategy maybe

That mic, speaker and wifi would be too much for a CR2016

True. But what if it could be powered (charged) by the wifi signal itself. Like this camera: http://www.geek.com/science/researchers-develop-camera-powered-via-wifi-... Yeah I'm dreaming... but someday!

You need to add a mic and a speaker to that thing

Definitely buy it and use it in my car while i go to work. I just hope cortana in french will work well with groove music. For now it's not the case. But thanks daniel for this review. Satechi just sold one more cortana button.

Do you not use bluetooth in your car, now? If so, you don't need it, if not, you should be.

Not everyone has Bluetooth in their car. Nor does everyone's Bluetooth connection work the same. For example, when I hit my Bluetooth button, the only commands I can give are related to calling someone. So this button would provide me with extra functionality my car doesn't have

If you didn't test this yet, give it a try.
Windows Phone adds a special contact to your address book when fetched by the car called "Cortana". This is supposed to provide a way to reach Cortana from cars that are designed to only place phone calls to people in your address book by simply telling the car to "call Cortana".
It does not work with every car as every system is a bit different, but can sometimes provides a way out of the car interface into Cortana for cars that do not allow to configure how to answer voice requests.

Really? I'll try that today! Thanks!

For $20, you can get bluetooth to use in your car, and it will do more than this button. I don't have it builtin but use a device attached to my sun visor.

This can work in conjunction with bluetooth in a car. I have bluetooth in my car but its an aftermarket stereo. Currently i have no simple way to call up Cortana (no button on steering wheel etc, but rather have about 5 presses on the touchscreen before i can initiate cortana connection to my phone to make commands). I will mount it on my dash next to my stereo. So for my needs, this is going to be perfect.

Wouldn't Hey Cortana be a safe solution for when you're in the car?

Can "Hey Cortana" even work when paired with your car system? Seems like it would stop listening at that point.

Not for mid or low end phones(snapdragon 8xx needed for this function)

My 920 calls up Cortana using bluetooth.

My phone could not hear me say hey Cortana when music is playing. This button will be handy.

Simple easy fix, turn the volume down... Then she can hear you. Works for me everytime

Defeats the point of Hey Cortana though having to turn the volume down so that you can avoid pressing buttons. Might as well just press and hold search on your phone really. Plus maybe it's just me but I find Hey Cortana is very hit and miss while driving, too much background noise on the motorway.

Does this button work when the phone is already paired with a car stereo?

Ohh... That may be a deal killer. I don't know how the phone could connect to two different BT at the same time

They can do this with no issue... I use a BT headset and band (which has a Cortana summoning button) all the time... Works perfectly.

Windows phone can use 4 different items at once, however one can recieve mic input, but you can choose this

Just got mine in the mail, excited to try it out

Ooh its much smaller than I thought. Cool.

wait that looks kind of like an Amiibo stand..... Custom Cortana Amiibo confirmed!

2 year battery life with BT 3.0? Someone is being VERY economical with the truth.

The first thing that occurred to me was that communicator on capt Kirk's shirt. Pin it to your shirt and go full on geek with it. Might look cool too.

Excellent idea! Ha ha Posted via the Windows Central App for Android

I love the idea of giving up a USB port for a bluetooth adapter just so I don't have to say Hey Cortana or (God forbid) press Win + C.

Only a desktop PC would not have Bluetooth built in so USB ports should be relatively plentiful in that case.

Exactly. Gwinegarden is looking for every reason to hate this thing. Doesn't work for you? That's fine. Guess what. Works great for many of us with other requirements than yours.

Like what? I don't hate it, I think it's useless.

It could have a speaker and MIC and connect using Wi-Fi, that way I could put one in my bath, living room garage etc

When the full W10M comes out, I'll buy it when my phone upgrades.

Wake me when a hologram version come out....

I thought this was just silly at first, but after watching the video it actually looks cool and has some great use cases! I hope the next version has a speaker and mic, that would be amazing.

And in the mean time the rest of us wait to even get Cortana........... :P

This is what I've thought would be cool if Microsoft did this with an Xbox button. I just think that X logo is being underutilized. Maybe they want you only talking at your Xbox, but the X button would be more brand reinforcement. You could stick it anywhere, like on the wall next to a light switch for instance.That's a visual demonstration that Xbox is your command center. I think its the fact they made it so prominent on the controller I was inspired to visualize it as a stand alone device. Now with Cortana... well she has a logo, too ;)

... Except that on the not too distant future, Cortana will come to Xbox too (I do hope that the voice trigger will still be Xbox and not Hey Cortana, so that I don't have my phone and Xbox both responding to the same commands when I'm in the living room)

I would jump on this in a second if only Cortana was available for me in Norway. I don't need it in Norwegian (for now, even if Siri does speak Norwegian), but at least let me use the english features!

What I want to know is, does this thing have a build-in mic?

Dont all bluetooth headsets already have this? My old S305 Motorolas do, and theyve been around since before she was born.

I'd press her button.... very gently. hue hue hue....

no mic in the button ? just useless gadget !

My Band is my always around Cortana button.

When I get in my car my phone connects via BT. I'm thinking of getting a MS band which would already be connected via BT, then I'd like one of these on my keyring to use Cortana while driving too. Can my phone (930) even connect to all three at once? Can it even connect to two at once? Surely this will destroy my phones battery?

With no mic the becomes almost useless. I wanted this for a desktop that doesn't have a mic. Even ​if you had a laptop with a mic the 40 ft range is pointless if you have to be in range to speak into your laptop.
I suppose you could use this in your car but if you car has a mic then it has the call answer button to activate cortana. Very disapppinted.

I like the concept. I'm not sure it is for me as I have existing Bluetooth connectivity in my car, although a dedicated button for Cortana is appealing as my in-car system takes precedence when I use the voice command access button on the steering wheel. I think the only change I would make is to use adhesive Velcro instead of the 3M tape, this way I would easily move the button to another Velcro tab elsewhere, like in my wife's car. Ok, I've convinced myself into one, now I just need to find the resources to get one.

Like everyone is saying adding a mic would have added more value to this device because my desktop pc need a microphone. the mounting kit can fit anywhere like a bike.

Make Cortana work as IFTTT service!

was super excited because i thought it had a mic on it. You could then give commands to it, which relays to phone, which relays to bluetooth speakers Guess thats what a band is for

As has been stated, most cars with voice recognition systems launch into the internal system and leverage your downloaded phone book to place calls through your phone. There is the shortcut where you can assign your car to dial 555 555 9876 and it will launch Cortana, but this is a multi-step process. This button will allow you to access Cortana with one click. Again, it all depends on your specific requirements and set up but how this helps.

How could something like that come without Bluetooth 4.0 LE?

Just got mine moments ago. Super bummed it doesn't work for my windows 8.1 phone. :/ I really wanted it for my car so I didn't have to rely on "hey Cortana" to work.

This looks cool but I'd rather have Satechi's music controls bluetooth button. Or I could get both and figure out a custom wheel mount... Posted via the Windows Central App for Android
Windows Central Newsletter
Thank you for signing up to Windows Central. You will receive a verification email shortly.
There was a problem. Please refresh the page and try again.