Satya Nadella: Microsoft's LinkedIn acquisition will help 'reinvent productivity and business processes'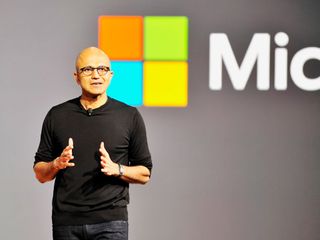 Microsoft CEO Satya Nadella sent out an email to all of the company's employees today on the news that it will be acquiring LinkedIn for $26.2 billion. He stated that the deal to buy the business-themed social network "is key to our bold ambition to reinvent productivity and business processes."
Microsoft posted the email on its website (opens in new tab), which quotes Nadella as saying:
The full email that Nadella sent to Microsoft employees is below:
Team,
I'm excited to share that today Microsoft announced a deal to acquire LinkedIn. You can see how Jeff Weiner, the CEO of LinkedIn, and I envision the opportunity ahead in this public presentation.
This deal brings together the world's leading professional cloud with the world's leading professional network. I have been learning about LinkedIn for some time while also reflecting on how networks can truly differentiate cloud services. It's clear to me that the LinkedIn team has grown a fantastic business and an impressive network of more than 433 million professionals.
Given this is the biggest acquisition for Microsoft since I became CEO, I wanted to share with you how I think about acquisitions overall. To start, I consider if an asset will expand our opportunity — specifically, does it expand our total addressable market? Is this asset riding secular usage and technology trends? And does this asset align with our core business and overall sense of purpose?
The answer to all of those questions with LinkedIn is squarely yes. We are in pursuit of a common mission centered on empowering people and organizations. Along with the new growth in our Office 365 commercial and Dynamics businesses this deal is key to our bold ambition to reinvent productivity and business processes. Think about it: How people find jobs, build skills, sell, market and get work done and ultimately find success requires a connected professional world. It requires a vibrant network that brings together a professional's information in LinkedIn's public network with the information in Office 365 and Dynamics. This combination will make it possible for new experiences such as a LinkedIn newsfeed that serves up articles based on the project you are working on and Office suggesting an expert to connect with via LinkedIn to help with a task you're trying to complete. As these experiences get more intelligent and delightful, the LinkedIn and Office 365 engagement will grow. And in turn, new opportunities will be created for monetization through individual and organization subscriptions and targeted advertising.
Jeff and I both believe we have a significant opportunity to accelerate LinkedIn's growth and the value it brings to its members with Microsoft's assets and scale. In fact, when Reid Hoffman, the founder of LinkedIn, and I spoke about the opportunity for us to come together, he called it a "re-founding" moment for LinkedIn and an opportunity to reach the mission the company set out on 13 years ago.
The opportunity for Office 365 and Dynamics is just as profound. Over the past decade we have moved Office from a set of productivity tools to a cloud service across any platform and device. This deal is the next step forward for Office 365 and Dynamics as they connect to the world's largest and most valuable professional network. In essence, we can reinvent ways to make professionals more productive while at the same time reinventing selling, marketing and talent management business processes. I can't wait to see what our teams dream up when we can begin working together once the deal closes, which we expect will happen this calendar year.
A big part of this deal is accelerating LinkedIn's growth. To that end, LinkedIn will retain its distinct brand and independence, as well as their culture which is very much aligned with ours. Jeff will continue to be CEO of LinkedIn, he'll report to me and join our senior leadership team. In essence, what I've asked Jeff to do is manage LinkedIn with key performance metrics that accrue to our overall success. He'll decide from there what makes sense to integrate and what does not. We know that near term there will be no changes in who reports to whom so no reporting relationships at Microsoft will change in that regard. This approach is designed to keep the LinkedIn team focused on driving results while simultaneously partnering on product integration plans with the Office 365 and Dynamics teams. During the integration, we'll pick key projects where we can go deep together that will ultimately result in new experiences for customers. Kurt DelBene will lead the overall integration efforts at Microsoft in close partnership with Qi Lu and Scott Guthrie.
I'm on the LinkedIn campus today in California and will host a call for investors at 8:45 a.m. PT with Jeff, Brad and Amy – please join if you can. Following that, I'll then spend the day meeting with the LinkedIn team. Tomorrow, I'll host a special Microsoft employee Q&A – I hope you can make it.
So far, what I've learned about the LinkedIn team is how much our cultures share many of the same attributes. We both care deeply about individual and collective growth, and find deep meaning in the work we do to make a difference in our world. Together we'll do just that.
While I'm in northern California sharing our vision to empower professionals, the Xbox team is in southern California at E3 sharing our vision to empower gamers. I encourage you to check out the E3 press briefing, which starts at 9:30 a.m. Pacific Time.
Finally, if you're not on LinkedIn, join up now and start using and learning more.
Satya
Awesome! Now let's create a better Windows Mobile App!

Exactly what I was about to say bro. A better Win10 app. Glad they did this. BioResearch & Games.

The Windows Phone LinkedIn app hasn't been updated sine 2013. What are the odds it'll get updated now, with 89% of Windows phone users still on WP8.1? One would think it would get updated, but given Microsoft's abandonment of Minecraft on WP8.1 in favor of development on iOS, Android, Kindle, and VR instead, probably it won't get updated at all.

It would be better to create a Universal W10 app Posted via Surface Pro 4 or Microsoft Halo Phone

@coip, is the Minecraft Pocket Edition in the store different from the iOS and Android versions? I see there's also a Windows 10 beta version in the store on the PC -- any idea if that's UWP with intent to run on mobile when it comes out of beta?

Sorry buddy. Mobile first means iOS and Android first. ;)

Android & iphone users rejoice.... you're going to get a great linkedin app!! and windows mobile users... don't regret, you're not left out of the party!!! you'll get a beta UWP soon!!!

Was thinking the same thing, the LinkedIn app is really in a sad state.

I really thought LinkedIn was already a part of Microsoft. They've just been so close over the years

It will be in beta for years.

Here is what I have been saying for the past few weeks...MICROSOFT cares nothing about their consumers. It's ALL BUSINESS and ENTERPRISE With that bald ********* at the helm. Everyone wanting the newest lastest apps on w10m might as well go elsewhere. Also, if your looking for all the new features to come to 10m, dream on. Glad I got out and saw the light before wasting the money on another windows phone and being stuck with excuses and promises. Run people. Run!

Microsoft has traditionally been a business oriented company. Just going back to their strongest position.

After L800/830, I bought my gf a Asus asus zenfone 2. Grass is not always greener on the other side but at least I get the commitment.

That "bald ********* at the helm" is the one who is keeping MS relevent at all.

True that. WindowsFanatic using 640xl wanting 950xl

Glad I got out and saw the light before wasting the money on another windows phone and being stuck with excuses and promises.

Slightly off topic, but I have a question for you Steve: what precisely did you settle on? Last I heard you had been dragged back in to WP/WM by the $150 trade-in deal. You're tough to follow! :-)

Yep before I spent the money on the trade in deal i bought 2 new iphone 6s 64gb. Let me tell you. The IOS is BORING compared to WIn10mobile....HOWEVER, Having every app, wearable and accessory at my fingertips is very refreshing. My wife says the same thing....she is so happy with the ip6s compared to here windows phone. Just how it is. Win10mo is so far behind the times, and from what is been coming from MS, the consumer side of things is not going to improve any time soon. I am not a suit and tie guy, I use square to take payments in my business, so, Win10 not having that is a huge dissapointment. Continuum is a gimmick for MS to try to sell deveices to enterprise. We will see how it gets traction or does not in the coming 10 years or so. I love my new phone and having eevrything at our fingertips....and "it just works" "just works". Cannot ***** at apple anymore.....

Yeah, it's a bit much. $192 a share is about $61 per share more than their current Worth

That was the one thing I'm not sure about...why so much more than market valuation? Sure, valuation changes all the time, but they're paying +/- 44% over - that seems crazy.

Well probalby Google was about to buy them and Microsoft didn't like that.

lol, I think it was to make linkedln an offer they couldn't reject WindowsFanatic using 640xl wanting 950xl

When is this man going to sell the Xbox and Surface division ? So much for the mobile firts cloud first BS. LinkedIn, really ?

Linkedin is a mobile cloud-related company? Posted from Windows Central for XL

Ohhh shyt. Never have I loved MS so much in the past 5 years. I have been sooo desperate for this app

I don't know what to think about this... at least when they acquired Skype, that was something I would use. even Minecraft, but $26 billion for this... just don't know how good of a pursharse this is too much money for Likedin. I am sure some people would think, maybe they should have given the same amount, $26 billion, on phones to anyone in the world and make Windows Mobile 10 popular and have a good marketshare that would benefit Microsoft in the end. lol But anyway, I will just say I hope people are happy with Satya as CEO of Microsoft.

This really purchase isn't meant to directly affect the consumers.

Another company to be run into the ground.

This doesn't make sense, may have to walk away from MSFT, as they seem to start off on the right foot, but keep ending up tripping back onto the left. May be time for droid.

Your comment doesn't make sense Posted via Windows 10 Central app

Unless you are into business there is no reason why this would affect you. Comments like this make me realize why MS is backing away from general consumers. They don't seem to get a lot of things like the fact that MS has always been enterprise centered. Every time MS makes a business purchase, people who it will have no effect on complain because it's not something just for them.

People can't be consumers without resources. How most people obtain liquid resources is by having a job. LinkedIn can affect most people, so no, this is not just for businesses. LinkedIn also has groups where people participate...as individuals, not representing their work organization.

It's good deal
I'm using linked in and it's good to have great experience by Microsoft account

"LinkedIn is a business-oriented social networking service". Enters LinkedIn's URL into the address bar at work: "Web Content Denied: 'Business/Economy;Social Networking'" Well all right then. Can't wait to not use this business network at work.

I'm a mid-career engineer that's very much in touch with my industry. I don't know anyone that still uses LinkedIn. Microsoft is so out of touch.

Everyone uses LinkedIn... At least in real business. Posted via the Windows Central App for Android

I haven't used LinkedIn for years but I visited last week with a salesman serving my sector of engineering/manufacturing who said that LinkedIn is a pretty big deal for them.

So your sample size of "people I know" isn't part of the 433 million people who do use it? OK.

I wonder if in the 433 million they're counting all the people like myself and colleagues who have an account we created years ago but haven't updated it because we there's no reason to.

The cool thing is that you don't have to wonder. http://expandedramblings.com/index.php/by-the-numbers-a-few-important-li... So, the monthly unique users is109 million, but those are very active users with 45 billion page views in Q1-2016. They are also making $3billion in revenue every year. So, while YOU might not use it, there is definitely a case to be made for the acquisition. Further, the growth potential seems like a perfect fit for Microsoft. Pushing LinkedIn with Office + Cortana integration should fuel growth in membership and use with members.

Good. Nadella will be out soon due this.

How about reinventing the current app as a UWA?

I really sent a tweet to LinkedIn support the other day to request a Windows 10 UWP app... I guess we'll get it now.

I even got a response from linkedin that if more of their members request it, they'll surely consider it. Good to see other members making such requests. I hope well soon have a decent app. WindowsFanatic using 640xl wanting 950xl

They should also acquire BlackBerry.

Well now iOS and Android will get a better update to LinkedIn. For Windows mobile it will take some years.

This dwarf's the Nokia D&S purchase. All he needs to do is be willing to invest in the phone and apps like he is in the Cloud

All about business with Satya. Consumer exit continues. Didn't think I'd ever say this but bring back Balmer.

No. MS needs to be strong in Business. Business makes the world go round. If that means you children won't get all the toys you want then so be it.

Prepare for a big write down.

Oh God, lets not have another Nokia....or Zune...

or windows 10 mobile!........

Quite honestly feel this is going to be another costly mistake for Microsoft. The Nokia acquisition at least made some sense; Microsoft got a treasure trove of talent, patents, real estate and inventory from that deal, as well as instant manufacturing ability. The problem was, and still is, that Microsoft has always been a software and services provider. Their lack of knowledge in hardware and their inability to successfully integrate Nokia (which should have never been attempted) led to the squandering of the potential opportunity to make Windows Mobile a success. This acquisition gives Microsoft nothing more than a database of professionals (who may or may not stay now that LinkedIn has been acquired) and some corporate real estate at 4x the price they paid for Nokia. Seems ludicrous to me!

Nadella is hell bent to get some customers for Azure, even if it means that customer is MS itself with upfront cost of 30 billions. Cloud bubble..

This guy just dumped Nokia hardware division all over the place and pays almos 30 billion dolars for a social network.... Mobile first my 455!

Waste of money. LinkIn is over. I cannot see this being a success. I don't see their explaination being how business works. IMHO, Microsoft over paid for what they will get in return.

'He stated that the deal to buy the business-themed social network "is key to our bold ambition to reinvent productivity and business processes." ' Well, at least Microsoft PR knows how to string together a sentence that says absolutely nothing, using the maximum number of words. I still don't get it.

Slack would have looked like an amazing bargain compared to this. Is that "billions" with a "B"???

I can't see Skype mentioned, only Office 365 and Dynamics. Why do they "forget" that Skype is a communication solution, and communication is always of pivotal importance? Well, they weren't even able to integrate it into W10 when the OS was rolled out....so what do I ask anyway.

Too much money payed for what they could get out of this deal. At least with Nokia they got something and still felt like they payed too much. What on Earth do they get by buying LinkedIn? They were already in the business world

Reinvent productivity ??? What about trying to re-invent MOBILE!!! btw, The AR & VR platform that they are trying to spearhead with HoloLens will fall on its face thanks to Project Tango based Android phones. Nobody will pay thousands for a limited AR technology when they can get almost the same thing in a 400$ Android phone. Remember the Band platform... where are those OEMs ? This guy is a joke. WHERE IS BALLMER WHEN WE NEED HIM ???

Brace yourselves.... for LinkedIn layoffs

As I mentioned in another news item here, I am selling moving boxes. 50% off, linkedin employees, grab them now, so they are already at your desk when you get your walking papers!

26 billion? No way in hell this investment will ever bring a positive return. It most be fun to be able to waste someone else's money just like that. How about investing this 26 billion in your own organisation and making MS creative and innovative again?

Think about all the data on LinkedIn with 455 Million users and integrating that into your Outlook and having info on everyone that will be at the meeting to make the introductions easier. To have insight into the type of business and what they are working on and/or what's trending in that industry. This will be huge from a business play and a differentiator, with Windows 10 as the last OS they won't have all that revenue coming so they need more business using Office 365.

These all sound like solutions in search of a problem.

I'm not sure that you're using this phrase properly, but bonus points for being snarky.

If you want to honestly get a look at how little people use LinkedIn anymore, skim all the comments above. These are all real people. Half or more of the comments say they don't see this being something positive.

455 million users with $3 billion annual revenue. I don't think the comments section is indicative of most "real people". Besides, the tone here is decidedly negative. The complainers and nay-sayer and negative know it alls, are the loudest voices.

Maybe Nadella didn't get any friends on LinkedIn, so he decided to buy them.

Nadella didn't make this decision in a vaccuum. MS does have a board of directors. It does seem like a lot of money for this particular acquisition, but I'm quite sure I know why: Because they have an investment and integration plan for this that made sense to board of directors and we're not privy to what that plan is. Yes, I know it can be frustrating to be out of the loop, but, unless you are an investor, this is not something to get too up or down about. If anything, it should stir curiosity in us. What could they be planning that would come close to justifying a purchase like this? That's what I'd love to see the tech writers spend more time on than snarky prejudgements.

More like reinvent his bank account
Windows Central Newsletter
Get the best of Windows Central in in your inbox, every day!
Thank you for signing up to Windows Central. You will receive a verification email shortly.
There was a problem. Please refresh the page and try again.