Sea of Thieves Anniversary Update is live, Anniversary Edition available for $50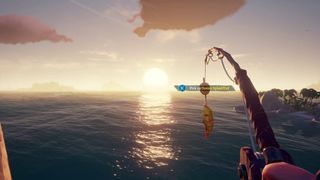 Sea of Thieves is an exploration-based pirate game which relies on emergent experiences. While the title launched as a somewhat barebones title, it's now become so much more due to time-limited events. However, that's not where Sea of Thieves' story ends. On April 30, the game gets its long-awaited "Anniversary Update" which adds cooking, fishing, harpooning, single-player quests, and much more. It has the chance to completely revamp the title, and a lot of gamers are excited to get their hands on it.
Aside from new enemies, locations, and a competitive arena, the Sea of Thieves: Anniversary Edition includes the following features. Keep in mind, the base game will still get the Anniversary Update if you play it through Xbox Game Pass. You just won't get the cosmetic items.
Immersive story experience.
Dedicated mode for competitive play.
Expanded world and threats.
Fishing and cooking.
Includes the free Sea Dog Pack.
The Anniversary Edition costs $50, so it's quite a steep price. You can purchase the base game for much less on Amazon, but you won't get the Sea Dog Pack. Sea of Thieves relies on cosmetic items to make you stand out even though it doesn't include microtransactions. If you love collecting gear, purchasing the $50 version is probably something you want to consider.
The Anniversary Update features "The Arena," "Tall Tales: Shores of Gold," and "Hunter's Call Trading Company." The Arena is a new and highly-competitive player vs. player multiplayer experience. The matches feature sailing, shooting, and looting into fixed-length play sessions where rewards are given not just for success, but for the havoc you wreak along the way.
Tall Tales: Shores of Gold is the first set of Tall Tales which provide narrative-focused adventures taking place within the shared world. They can be enjoyed by crews and solo players alike. In Shores of Gold, pirates will assemble the mythical Shroudbreaker artefact, seeking to use its power and reach a mysterious island filled with riches.
Lastly, the brand-new Hunter's Call Trading Company focuses on quests relate to fishing, cooking, and hunting. You also have the ability to interact with the world in new ways such as harpooning and expanded ship damage.
Are you interested in Sea of Thieves again now that it's getting so many new features? Will you play it through Xbox Game Pass or purchase the Anniversary Edition? Let us know.
More to do
(opens in new tab)
Sea of Thieves: Anniversary Edition
The Anniversary Update is almost here

Sea of Thieves places you in the shoes of a pirate tasked with exploring the seas and finding treasure. The open-world experience wants you make your own stories.
Xbox accessories you'll love
Every one of these quality accessories is guaranteed to enhance your Xbox experience.
PowerA Enhanced Wired Controller for Xbox One (opens in new tab) ($20 at Amazon)
PowerA's take on the Xbox One controller is an attractive pickup for budget-conscious gamers that nails all the basics.
Talon PDP Xbox media remote (opens in new tab) ($20 at Amazon)
The Talon PDP Xbox media remote is great for watching shows on your console.
Xbox One S vertical stand (opens in new tab) ($10 at Amazon)
Stand your console upright with this accessory.
Asher Madan handles gaming news for Windows Central. Before joining Windows Central in 2017, Asher worked for a number of different gaming outlets. He has a background in medical science and is passionate about all forms of entertainment, cooking, and antiquing.
The page where the link goes to says it's "not available".

So this is an additional cost? Or if you have the game it's just an update right?

It's just an update for everybody who owns the game or is a Game Pass subscriber.

So you only get the update features if you have a Game Pass subscription? What if you just purchased the base game when it came out? I'm confused.

No, don't worry. The article itself is what is confusing. The game is exactly the same whether you buy it or have it through Game Pass. What they are promoting here is that they're selling the game as "Anniversary Edition" now, in a deal that includes the same game but with a couple of hard to find cosmetic items. This could all be clarified better in the article, especially for newcomers.

Yes, I agree. I also found this article confusing. I had to go to another site to know what was really going on with this update. Oh, well. I guess I can say I got used to it by now...

For the information of everyone, I had to write that comment again because it was deleted without any explanation or reason (again probably by this author). @Asher Madan: If you are upset that people are confused about your article and the way you write. Why don't you help them understand by replying the questions instead of trying to take out your anger on others by deleting random comments. For me, this is really weird behaviour. It reminds me of a child throwing tantrums...

It's not surprising. All of Asher's articles reek of someone who knows nothing about the games he/she is writing about.

But then people would be less likely to click the affiliate link.

So the game is finally finished and full now? Thanks!

I don't know if it's finished but the number of people into or streaming this game seems much more than when the game was launched more than 1 year back.

The original complaint was that there wasn't enough content. After a full year of updates that added several layers of playability to the content, and with this latest one even a new pvp mode, and single player enabled/story content, it's a very strong game built on an already great core experience. There's no reason not to play it and enjoy what us fans have been enjoying since day one.

Nah, they are going to continue to add features. For me personally I'm hoping for some kind of alchemy to create potions both beneficial and as a combat mechanic.

Gotta get those affiliate links somehow, huh?

How large is the update? I'm on hotel wifi and it is taking an hour or so to see how large it is.....Not sure why...

about 8gb on my pc. Didn't look on Xbox

I have game pass and it says I can download the Anniversary Edition. I believe you can still download and play the Anniversary Edition if you have Xbox Game Pass

First price drop, from $70 to $50 after a year...
That's the price the game should have had from the start...

I am freaking loving the fishing, much to the detriment of my crew when I'm fishing away while everyone else is getting bombarded by a skelly ship.
Windows Central Newsletter
Thank you for signing up to Windows Central. You will receive a verification email shortly.
There was a problem. Please refresh the page and try again.