Second batch of the Lumia 920 available at Expansys, already sold out at Clove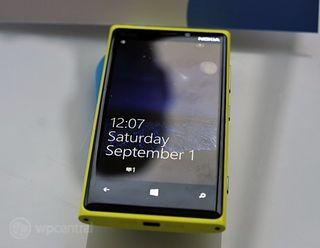 Good news for those who are looking to purchase a Lumia 920 before the festive holidays are upon us, Expansys UK has got some in stock. Both the white and black variants are available, but the only downside is the unlocked pricing of £554.99. Ouch.
Expansys has just received the second batch of units from Nokia so it'll be interesting to see how many are in stock and how many are to be sold to consumers (the website currently reports "100+" for both colours).
Clove has already sold out on its second batch, in fact the UK retailer was unable to publish an "in stock" message as demand was already exceeding supply.
Source: Expansys (white) (black)
Windows Central Newsletter
Get the best of Windows Central in in your inbox, every day!
Rich Edmonds was formerly a Senior Editor of PC hardware at Windows Central, covering everything related to PC components and NAS. He's been involved in technology for more than a decade and knows a thing or two about the magic inside a PC chassis. You can follow him on Twitter at @RichEdmonds.
Its good to see demand remain so strong for the phone. I'm still holding out for a Verizon 9xx variant to replace my trophy. But it's good to see that Nokia is selling them as fast as they can make them.

You might have to wait another year or more. Verizon is very good at keeping your hopes up with vague rumors of impending flagship WP devices!

i'm guessing verizon will get the other pureview phone that will launch in q1-q2.the big 41 mpx sensor one

> Its good to see demand remain so strong for the phone
More like low supply, they should get 1000 not 100 phones

If they got 1000 it will still say 100+ on the web site...

While clove's £520 was really high, expansys is seriously pushing it. I hope they don't manage to sell them and forced to bring down the price to a sensible level.

very clearly Nokia have one man on the line.

Mine was shipped today! Wont get it till monday though. Too excited!

you aren't helping my excitement levels unstoppablekem! :)

mine shipped today too, special delivery so should have it tommorrow morning if the royal mail do their job properly

I managed to get mine factory unlocked on eBay for £470 :), excellent phone and camera

Expansys' prices are generally extortionate, especially on new products, so £555 isn't a surprise. I'm in the market for a 920 and just missed out on stock from Clove but I won't be spending my money with Exp(ansys)ensive. Apparently more retailers will get stock of the 920 soon so hopefully prices will reflect the supply.

Perhaps someone buying from this second batch can post a comment/thread about their front facing camera? My red L920 purchased the week after launch started accumulating dust under the glass after only a few days. Many others have reported this too.

Im in Germany and im still waiting for my red 920... I ordered it 2 months ago :(
Yesterday they (saturn.de) told me that they MAY have some in stock next week.

Contact Nokia, I recall reading about someone else here contacting Nokia directly about it and got it shipped to them (with a little extra), maybe you should try the same and see how that goes. :)
Hope everything goes well!

I like my white 920 but I would love a cyan 920. AT&T still out of stock...

Picking mine nokia lumia 920 on tuesday :D

I've ordered 2 920s from Clove, shipped this morning! :D
Estimated arrival to be wednesday, cant wait!

Waiting for a colleague's black one on Monday :)
I already got an 820 for my wife. I'll be getting my 920 later :)

Expansys already showing only 73 available of the black one, still 100+ for the white.
Lumias are selling like hot bread :)

2 months ago people stop me and asked "Can ask what kind of phone is that?"
Now people ask me "Is that the new Nokia phone?"

Just got my black 920 a few days ago from Telenor. Looks good this far, except for the reboot issue.

I placed an order from the UK site, but the Expansys UK site doesn't seem to want to ship it to me in the US. After I made the order from the UK site, I clicked the order status link in the email, and it says "Stock expected in 4 days". WTF? The UK site says 73+ remaining, and the US site is still only offering pre-orders.

My cyan 920 has been on order since 11/11/12. I am losing patience.

Just got mine this thuesday :-D ordered it 01-11 - Worth it!

93/63 left! HIGH DEMAND!!

anyone knows if an uk phone will work in spain (unlocked)???
I don't want to wait till mid january, which is when the lumia 920 supposely arrives in spain...:(


Shouldn't be a probelm as the EU model is the pentaband version.

Unfortunately Nokia decided that they won't produce a lot of phones until new year because they are afraid that otherwise the price on the free market would fall too fast. About 1.5 million have been sold so far with about 250k in the US. And no, I "can't" name a source for that...

No stock in store in Thailand as well.(There is a few weeks wait on backorder) This is great news for Nokia. The 920 is by far the best phone I have owned, The low light photos are just fantastic.

Check Jaymart in Emporium

Positive site, where did u come up with the information on this posting?I have read a few of the articles on your website now, and I really like your style. Thanks a million and please keep up the effective work. i care about healthcare
Windows Central Newsletter
Thank you for signing up to Windows Central. You will receive a verification email shortly.
There was a problem. Please refresh the page and try again.