Yes, your phone should get Windows 10 mobile builds 10514 and 10536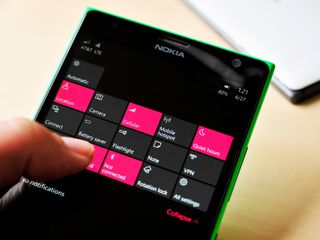 If you've started the upgrade process to the newly-released Windows 10 Mobile build 10536, you may have noticed that your phone is actually downloading two updates. Specifically, your update screen will show builds 10514 and build 10536.1000. There's no need to worry, as Windows Insider chief Gabriel Aul says this is absolutely normal. From Aul:
So in all, you should end up download three updates by the time the process is complete. It will take a bit longer than normal, but it should be worth it in the end. Those coming from Windows Phone 8.1, however, will be off to the races with just one download.
Source: Microsoft
Dan Thorp-Lancaster is the Editor in Chief for Windows Central. He began working with Windows Central as a news writer in 2014 and is obsessed with tech of all sorts. You can follow Dan on Twitter @DthorpL and Instagram @heyitsdtl. Got a hot tip? Send it to daniel.thorp-lancaster@futurenet.com.
Anybody got their download progress showing as 0% for a while now? I've seen this with previous updates where it just suddenly jumps up to 60% or so, and it was just the UI not up to date with the progress, but can't tell if that's the case here, or if it's just server load

Mine went from 0% to 87% after 25 minutes. Just have some patience.

Mine was showing 1% for a while, then just jumped up to 45%. It's now at 50%.

Mine is at preparing update for awhile now

My phone is now complete with the first update.

My 1020 is just installing the first one. Looking forward to getting this build on my Lumia 930 when it comes back from it's repair later this week....Who knows we might even get another build this week...it's happened before with PC builds as they got closer to RTM

Preparing update at 1% for a while for me too... Gotta have patience and don't forget to plug that charger :)

that's how it was in the previous build too.

Mine came from 0% to 6%. Just 6% people

WOW! Mine went from 0% to 20% in 4 hours. Maybe I'll restart phone and then update

Mine went from 0% to 6% like in hour.. then got error (0x800705b4)

Are you done with the updates? If yes, can you please work out the size of both updates. Thanks.

Yup, stuck at 0. Did a hard reset and it filled to 100 instantly only to throw an error and go back to 0.

Mine is still at 1%. I remain unbothered.

I figured it might be quicker for me to just go back to 8.1 then to the new build =). So thats what I am doing.

I've been on 0% for about 45 minutes

it's depens on your connection speed i guess

I have a freaking 4G but still stuck with 0% over an hour...

Just wait. Jeez, you kids are so now, now, now. I remember 1984 and waiting 10 minutes for Mercenary to load from tape.

I remember spending all night downloading 1 porn picture. Not that I ever watched porn. It was for research purposes.

Hehehe, loved that "for research purposes" :-)

Seems I've done alot of research in my time! :-)

Im finished on my 640! Awesome build :D

Hey I have a 640 but it's my main phone, is this new build stable enough to make the jump? I mean we're not far off from the real update coming....or should I just be patient and wait :/ ?

As of Build 10512, it's stable to run on your daily phone

They should really fix the update UI. It never is up to date with the actual progress. It's so annoying

Still at 0% 1 1/2 hours over :(

Is it still stuck at 0% for you? Mine has been stuck at 0% for the past almost 3 hours now.

3 Hours? Damn. Its been an hour for me now. Looks like I should soft reset.

17 hours later - still 0%

Damn. I'm stuck at 0% as well. Planning to revert to 8.1 and get the 10530.1004 directly but what if it stucks there on 8.1 as well? Urgh

Lemme see how this goes. I had to remove the battery and return it twice. I'm trying it again and if this one fails, I'm gonna just wait for the final release.

It seems to have discarded the 2nd update

Over 17 hours later and I'm still at 0%. If this is due to server load, there must be very little capacity or a lot more of us Insiders than I thought.

Am I the only one not receiving the update?

I haven't either. Guess it filtering down slowly.

Did you do a hard reset after the last update, and then you have to do the windows insider app again

Oh yeah I forgot about ,that thanks!

I had to go back to the insider app and say I was on fast ring and then it found the update. I wad already on fast ring.

Is it recommended for daily use?

Not if your life depends on it!

Well, consdering I don't think anybody has finished yet, we can't really answer that. But it's definitely enough for me, I'm fine with all the bugs and stuff. I just love being an Insider and being on the latest software.

10166 and 10512 seemed just fine for daily use.

Yikes. 10512 has been horrible for me and I di a full reset.

On my Lumia 930 build 10512 has been great except that Quiet hour bug kept disabling any notifications and my phone didn't ring when people called me. Now in the new one that's been fixed so hooray! :)

if you have to ask, the answer is no

If you ask that question. Stay away from it. You probably won't be accustom to the bugs of Beta/Alpha software.

No one has downloaded it yet, but yes.

Its never officially recommended for daily use. However, this one should be much better than the others because they found the others were buggy and people didnt use them so they didnt get the feedback they wanted. This one should be useable (as long as lives dont depend on it) I think. But I will find out soon ;).

*10536, plus stuck at 0% lets hope it takes a big jump. Ahh, we waited so long for this.

Mine still shows the build with the update bug 10536.1003

Either you hard reset your device and search for new update or roll back to 8.1 and then update directly to 10536.1004 .. All the best ;)

Q: What I have to do toupgrade to w10 from w8.1

Download windows insider app from store .. Open it and select fast ring.. Then search for update in settings..
( OS is still buggy.. If you are not familiar to Beta testing.. Dont try ) ( Do a back up as well )

There are several updates. Check front page article

Tbh i gave like tons of suggestions for better UI but I think they won't change the core experience with windows 10 but looking at the new photos app i think they actually try to work on what we suggest so hoping for better windows 10 ecosystem and shoutout to all windows fans . Lets build our OS.

Let's rebuild* our OS. * OS core requires rebuilding approximately every two years. Features may not carry over.

Just woke up and see my brave L920 downloading these 2 updates, what a feeling.. Posted via the Windows Central App for Android

I'm still at 0% for 30 minutes.

it seems to sit on 0% for a while, then fly through the download, then back to 0% for another while, then again fly though... I suspect MS have a throttling mechanism that makes us wait in line for a download token before each download starts. I'm downloading the 2nd update now.. seems quick enough.

How to download build 101536? Slow or fast ring?

fast EDIT: lolololoo when i responded to CrazyBoy05 it said "10 seconds ago" or something on his comment.

my 920 is now on the spinning gears (after seing the 1st 2 updates the minute WPCentral posted about it)

Oh great. I just updated yesterday from 8.1. I could have saved myself two updates if I had waited until today. But I have to say that I have enjoyed the features of 10512. One feature that I was pleasantly surprised about was the improvements on the Calculator since I use that quite a bit.

By far is the pull down to respond to messages

You just enjoyed...the CALCULATOR?!?

It is much better. People forget about the little things

Ok, now you're just getting scary. I think, then you write an article exactly about what I'm thinking. You working for the NSA?

Stop masturbating with peanut butter, we see you.

ewwww *goes to the supermarket to buy some*

Did someone knows when will be released the full Windows 10 mobile version?

I imagine late October or early November since the Microsoft event is in a few weeks

If the phone is going on sale in November, they have to distribute it to their channels...meaning all the phones have to be updated to RTM before that...so October mid or sooner is my guess.

Hopefully not for 6 months minimum. There's a lot to accomplish before this is worthy of being called an upgrade

Exact date: 4/1/16. You're welcome.

i knew it! YAAAAAAAAAAAAAAAAAAAAAAAAS

Looks like the Ativ S got in the list of phones receiving the updates. Just got a notification for the download of the build. Can't wait to get home and try.

How do you setup the insider app....on my ativ s it shows only, that my phone is not supported.

Well, previously I had the PFD app but for the windows 10 I had to install the Windows Insider app and the only thing I remember doing was the log in with the Microsoft account. I have both installed. Check if you are in the Fast Ring. Anyway, this is the first notification that I got for anything related with W10.

I didn't have my phone on me but saw the notice pop up on my PC screen. Then I went to check my phone and it was already sitting at 0% download like everyone else's phone.

Pop up on your pc screen?......

Probably through the Insider Hub.

I saw the update, from insider up went to download it and boom told me I can restart, I was like ok!

Keep telling me cannot update half way on the GEARS loading around 50%, it reboot automatically to 8.1?

I wonder which would be faster, going through these three updates from 101512, or rolling back to 8.1 and then going directly to 10536.1004?

Rolled back a 930 to send it in for a screen repair at the end of last week and the restore was very quick indeed - I'd say it's likely faster to roll back and go directly to it. I'm just waiting for the updates to run through personally as I'm switching from the 1020 again in a few days so just going to run with It for now

Thanks Dan for the news! Appreciate your reporting!

I'm going to rollback before upgrading. I previously saved the 8.1 packages for my device so that makes the process quicker.

Interesting. My HTC 8X has just down loaded Windows 10 Insider build 10536.1004 and is installing.

Not too "nice". That did not work very well on the HTC 8X. It went through the gear turning thing and now it is in a reboot loop. Also the Whindows Phone recovery tool is not finding any files for recovery. One of the folks on the HTC 8X fourm said that his eventually quit rebooting and finished the installation. I guess we well see what happends.

Just get 10536.1004 installed on my HTC 8x. It stuck in rebooting loop after installation. I have no ways to repair it so have to hard reset it. But interestingly after resetting, the system IS now win10... Although it works but the screen is a mess. Texts and widges are just too small to look and touch. Joshua

hey Joshua. did you find a way to zoom the things on the screen? and after resetting the windows is the phone running smooth?

Damn you, 8.1 users! Lol (less hops to make for this update)

Hope build gets ready for Slow ring soon..

An way to download this crap over cellular? It has been showing 0% downloading updates since 2pm. Hasn't downloaded shit over wifi. Any way to cancel this without having to reset this god damn thing!

With a question phrased that way we can only tell you to hard reset your phone.

No other way to phrase it. Direct and to the point. Thank you for your suggestion. May end up being quicker.

In The header of the article should be 10536 not 101536

Well, that's embarrassing hah. Thanks for the catch! Many numbers, much fatigue.

You were probably thinking of the RTM build....

Anyone tried this on 1520 ??

Trying but no update here yet from build 512

Been stuck at 0% for at least 3 hours now.

Lumia 820 any one tried it

Currently downloading on my 820. Im currently away from home so the wifi is slow downloading. Ill let it update when I get home.

Can you let me know if it works well on L820 thanks

Feels as smooth as 8.1 now. No more dreaded "Loading..." Trying to get to the start screen. Apps more responsive in line with 8.1 This is an upgrade from 10512, no reset after.

When you say "Your Phone" does that mean my HTC 8x?

You got update on your 8x.

Preparing to install updates 0% for 35mins :(

https://onedrive.live.com/redir?resid=223868C50BE29AFC!516700&authkey=!A... Something went wrong with my Lumia 640 XL

The screenshot u attached is of a pc installation. Where is problem with 640xl? I m interested to know, bcause i want to install this build. Thanks.

It's the screen of my Lumia, I had to restore my phone. I'll try again and I'll post the results

Exact same thing happens to me :( Posted via the Windows Central App for Android

I had to flash my phone back to 8.1 and update again, now it's working !

Can I use this as my daily? I'm fine with the bugs just as long as there isn't a bug that drains my cellular data more than normal.

Looks like it is good daily driver build.

I am fast ring, and the 10514 and 10536 are in download queue for my ATT Lumia 830. I expect this will take time.

looool.win10 for htc 8x realesed.enjoy guys

Installed and it seems slow with apps yet

Its a little slow with Windows Phone 8.0 legacy apps. But extremely fast with Windows 10 apps like USA Today.

Downloaded, installed :) tomorrow I'm going to hard reset so I can test it properly.

With or without a restore?

Without, never did a restore I think. Kind of lose the point of a "clean" install :)

Yeah, it does, but was still hoping you said with a restore because that would give me hope the end result would be the same as without.

I'm going to try with a restore in the morning. It's loading .1004 now. I'll let you know

Anybody got this I stalled on the icon yet? I'm on build 166 because I use hotspot I'm downloading this which is showing me 3 updates. But I've been at 0% for a couple of hours

If I was to get 2 builds, my 1520 only got one. 10536. Maybe because its jumping from 8.1. The install is done, now waiting for all the MS apps to finish installing. I hope I could use this build on my 1520. I miss it.

Yeap, 8.1 user straight to the last build.

OMG. I cannot believe it. So far, my 1520 is bananas. This build is FAST! I'm still checking stuff out, don't know what the battery will do but yes, this seems to be that build. One thing I don't know is how it'll behave once I put a sim card in. It was really unstable with it in on the prior build. But so far, so good.


Well, so much for all that joy. no joy for the 1520. Started to download a few apps and shut down. Rebooted, and shutdown again. 3rd boot. 3rd shutdown. Back to 8.1 then Craigslist.

Your extreme joy and then sudden rage made my night. Must've missed the technical preview part. Lolol

No clown. What I keep forgetting is this is Windows Central. smh. I didn't forget its a preview. What I'm hoping for is the ability to run this preview on my 1520. None of these builds have ever worked. I thought this build would do it because it ran so well at first but sad to say, it is not that build and it may not ever happen at this stage of the game.

Hard reset your phone first if you haven't done that yet

All fine from 8.1 (downgraded after a problematic 10166) to 10536.1004 @ L830 Apps re-install in line now (still didnt need a hard reset. Fingers crossed).

still no update here on my 1520.3 Checked my insider app for fast ring though I'm sure it was since I'm on 512 but it won't let me enter a verification code longer than 6 numbers and the code is 7 numbers long. I tried reinstalling the app but the same error....ideas? Anyone else across this

CRAP!! installed this build straight from 8.1. Did a hard reset and selected English Australia in setup. Phone reset and won't start up. Guessing need to roll back :( UPDATE: i soft reset it about 5 times and then let it sit set there for about 10 minutes and then it resumed setup... phew!

I think someone said the foreign languages come tomorrow.....

My HTC 8x restarted because of an update (10536), and now its installing???

When is the slow ring built coming?

And why everything was so small!? Did you fix it?!

Has anyone noticed the little gears switch directions if you stare at them for an hour straight?

Feels good to know I'm not the only one to have observed this.

It's your optical illusion... I have observed it too and also was able to change the gears rotating direction every second.

I'm on build 10166, getting three updates.....

0% from last 1/2 an hours
Do i reset and then take update or wait for sometime ? Please provide me a solution

Best to wait, mine took about 2+ hours for the first two. Loading 10536.1004 now.

Jus downloading now so after the first one again i ve to go to insider app n get the update, or will it get auto downloaded

I don't what msft is doing. Only fix some bugs they took so many days ! Still problem in downloading Bangla(India) phonetic keyboard ! I have to struggle in each build to download it ! Fu..ing annoying !

"I can't download keyboard app in preview of an OS. Therefore OS is dead."

Not just that , man ! I don't why someone should face same bug in each build ? I am great fan of wp but I am not blind . I still have three wp. It's just frustrating to see how blatantly MSFT ignore their own OS. I don't see any improvement in windows 10 compared to wp 8.1 and did you try lollipop , that's awesome. Wp is fast fluid and beautiful home screen. Nothing else special!

It's in beta state for a reason, Microsoft is doing their best to provide the most stable builds. Comparing it to Android L (even though it has its positives) isn't logical since Windows 10 is still in development stage. There's also a lot of Improvement on the developers side, encouraging them to hope on board.
....
What you could to to the least is send feedback. In a less whining tone to Microsoft to help those working their asses off at the weekends for the OS can better provide and sink into the problem for a solution. There's always the exit door if however you do not plan to give feedback. And in extreme conditions use "your 8 other windows phones". This attitude doesn't help.

GUYS THE UPDATE WORKS FOR HTC 8X. Should I install it on my daily driver?

I didn't know that microsoft apps (weather, mail, photos) rotate when we switch to landscape mode. Is this new with this update?

Problems after successful update: After powering off, the phone reboots automatically. No way to keep power off. After the update, the phone came up with Speech language set to German. Any attempt to download another speech language (English US, UK)n ends in download error. Therefore Cortana cannot talk, useless. Hard reset is no cure.

@Ben Palmer, does that happen when you are unplugged as well?

i like it that i get these messages on my pc's insider hub for my phone :D

ok i do recovery then and after that install the recovery is like so fast :D 10 mins :D

Mine is preparing install and than says your phone is upto date

Just installed 10514. Thought I am ready, but forgot that there was a 2nd update to 10536. 10514 got a bug, that after booting up the phone the SIM PIN Screen doesn't show up. Hope this is gone in 10536... Just installing ATM

Bad News: my L730 only shows battery icon, signal and wifi icons, and navigation bar after installing the first update (build 10514 and 10536.1000) for almost 5hrs.. :( need to re-flash the 8.1 OS.. Good News: after re-flashing the 8.1 OS, I can directly download the 10536.1004. But it will take maybe 2-3hrs of time and patience..is it worth the wait?

smart move, fixing a bug by releasing a interm build.... i