Seeing Windows 11 on a Pixel sparked my dreams of a dual-boot phone
I doubt a phone will ever run Android and Windows, but I can dream.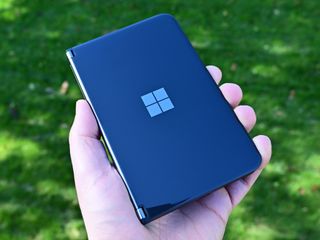 (Image credit: Windows Central)
A developer recently managed to get Windows 11 running as a virtual machine on a Pixel 6 that was on the Android 13 developer preview. The feat was likely done as a bit of fun, but it sparked my interest in the concept of Windows on a phone in 2022. I don't think Microsoft will return to the days of Windows Phone, but a versatile device could provide a way to get Windows back onto mobile hardware.
Rather than Microsoft creating a new Windows Phone, my dream is to have a device that runs Android when in your hand and Windows when attached to a monitor. Think Continuum, but with full-blown Windows 11 on ARM when you're at your desk and Android when you're on the go.
Here's why I'd love to see such a dual-boot device, even though I don't think it will ever exist.
Windows isn't built for phones
Some may ask, "why not just have a mobile device run Windows?" While I was a fan of Windows Phone and Windows 10 Mobile, the full desktop version of Windows is not built for small devices. The UI of Windows doesn't scale down to smaller screens. Microsoft is working on more gestures for Windows 11, but those are for tablets and 2-in-1s, not phones. All of this is fine, of course, as devices like the Surface Pro 8 are popular.
Microsoft would have to spend an enormous amount of time, money, and energy to make full-blown Windows 11 work on mobile devices. Why would Microsoft go through that hassle for such a small group of people? Even when Microsoft invested in Windows Phone, the platform lagged behind iOS and Android in terms of popularity. I can't imagine a Windows 11 phone would be more popular than anything from the peak days of Lumia.
If Microsoft managed to make Windows 11 feel natural on phones, the platform would still lack critical apps. Yes, Microsoft has worked hard to close the app gap, but many of those efforts were aimed at PCs, such as the Microsoft Store supporting unpackaged apps. Progressive Web Apps are more mature than they were when Windows 10 Mobile was killed off, but they don't close all of the holes.
Windows wouldn't work on a phone in its current state, but a mobile phone could power Windows.
Phones now have specs that rival PCs
Some of the primary components inside phones now rival or surpass those seen in Windows on ARM PCs. My wife has a Lenovo C630, which runs on a Snapdragon 850 processor and has 8GB of RAM. Even a newer device like the Surface Pro X has a chip that roughly lines up with the Snapdragon 865, at least on the CPU side of things.
For context, XDA's Geekbench 5 benchmarks show the Snapdragon 8 Gen 1 with a single-core score of 1,235 and a multi-core score of 3,758. The Surface Pro X with an SQ2 processor got a single-core score of 798 and a multi-core score of 3,100 in our testing.
It may be a while before a phone's hardware could keep up with the best Windows laptops, but I certainly think today's flagship phones could handle a casual Windows workflow at a desk.
Haven't we tried this before?
The idea of a phone expanding to a desktop when docked isn't a new concept. Microsoft did it with Continuum, and Samsung still does it with DeX. One of the biggest drawbacks to the concept is that most people don't walk around with a loose keyboard, mouse, and monitor. This is a big reason why DeX makes more sense on a tablet like the Galaxy Tab S8 than it does on a phone.
A flexible Android/Windows phone wouldn't fix the hardware requirements of docking a device. It would, however, improve the resulting desktop provided for those that decide to use the feature. Microsoft has invested heavily in Windows on ARM over the years, and it's good enough for many everyday workflows.
A dream of the ultimate mobile machine
I would love to see a dual-boot phone that runs Android and Windows 11, but I doubt such a device will ever exist. Samsung's DeX is already niche and goes unused by many people with the latest flagship Galaxy phones. I imagine a dual-boot device would be even more niche.
My dream device seems unlikely to be made but I think it would provide a unique feature set for those that embrace it. I do have a monitor sitting at my desk. I could easily set up a dock to drop a phone into. I'd like to think I'm not the only one that would love an Android/Windows hybrid.
If a company steps up to create my dream device, the phone will deliver the perfect combination of mobile and desktop computing. I could have the refined Android experience in the palm of my hand and full-blown Windows 11 at my desk, all from a single machine.
Windows Central Newsletter
Get the best of Windows Central in in your inbox, every day!
News Writer and apps editor
Sean Endicott brings nearly a decade of experience covering Microsoft and Windows news to Windows Central. He joined our team in 2017 as an app reviewer and now heads up our day-to-day news coverage. If you have a news tip or an app to review, hit him up at sean.endicott@futurenet.com (opens in new tab).
Windows 10 makes more sense for this kind of project, thanks to Tablet mode, and the Tile UI in the Start Menu.

Not really. Yes, the Tile UI and tablet mode would be more usable on a small screen device, but no-one lives in the 'launcher'. You use it to get to the apps, and those would still be Windows applications.

UI wise Windows 10 would be good, but considering Windows 11's android app support, while I'm not a fan of Windows 11's feature disabilities and its slaughter of functions that should've existed for obvious reasons, Windows 11 would be most suitable for mobile , given they take out most of everything that isn't required for mobile focused device/hardware.

"Microsoft would have to spend an enormous amount of time, money, and energy to make full-blown Windows 11 work on mobile devices." I don't agree with that. You noted your wife has a Lenovo C630, which runs on a Snapdragon 850 processor and has 8GB of RAM. That's just a big phone without the cell bits. I don't think MS would have any problem running Windows on a smaller version of that. I believe MS understands the crummy experience users would have on a small device running Windows. Maybe it would be nice to be able to run Windows on the device but have a connected monitor, keyboard, mouse, but are you going to carry that everywhere, or have that set up every where you go? They even had something approaching this with Continuum on Windows Phone. Even had a dock you could plug all the peripherals in to and just connect one USB-C cable to the phone. Worked great, with a select subset of apps, but useful ones. The initial drawback was the apps were full screen, but it is surprising how many normal people use their devices like that. Especially if they have smallish devices like a Surface Go. That might have changed if the concept, and Windows Phone would have caught on. For all those griping about wanting Windows on a phone, you can have that today. Just RDP into a desktop and you'll get all the joy of running full Windows in 6". You won't do it long, believe me. The OS, and the apps, need to be designed for the form factor. Windows, and Windows apps, are not. If the saving grace is being able to run Android apps, just get an Android phone.
BTW, with a Lumia 950XL hooked to the WP dock connected to a monitor, keyboard and mouse, running RDP on the Lumia, connected to an Azure based Windows VM, I had a perfectly good Windows environment 'running' on my Lumia.

Whats Required :- Not much to do really, Cshell UI + Windows 11 ARM, Amazon app store and you are "mostly" ready, though we might have to either sideload apps or amazon and Microsoft will have to give some incentives so devs start playing into this, since the amazon store apps are android apps, dev's wont have much to lose either. Unhealthy competitors :- Though I wont expect google to chip in, in any form cause they have been pulling Microsoft mobile efforts by the leg like forever, heck they've been pulling everyone's leg if it went against their "monopoly", and considering how much of monopolies google has been sued for, no one can really deny it at this point. Factual Rants and comparisons :- As one who owns both, one of the latest model(Samsung) android device that runs android 11(With support for 12), and a mid tier Windows 10 mobile, I can by experience say that my android device has bad ram/memory management. android "fans" may dislike or disagree on this mainly cause I'm doing a OS performance/optimization comparison but optimization matters for me(and surely for anyone with sense), while I like having apps, what amazes me is how android sucks up like 1GB/1.5GB Ram or so while doing nothing much, while a mid tier WP/WM would run just about anything it has, with 1GB of total ram and still have more to spare.

The Huawei desktop mode on my P30 Pro and th Samsung DeX mode on my Galaxy S20FE are both great. But... the best experience was on my Note9 which had Linux on DeX, until the Android 10 update took it away.
However this showed that it is possible to have a phone running one OS that bots into another OS when connected to a large screen monitor or lapdock. Give me Android and either Windows, Linux or Chrome and I would be happy.

Iirc, Linux on DeX relied on virtualization tech.

I'd just be happy if my Duo could run the Sharepoint app...

Ik vind Android maar een onlogische besturing hebben met veel of vaak willekeur van ontvangst mededelingen, email. Als ik Google agenda, telefoon, berichten en contacten uitzet en daarvoor andere app's installeer gaat mijn OnePlus Nord niet een juist werkende Outlook app krijgen. Google contacten moet aanstaan anders doen de contacten in Outlook het niet juist en in de nieuwe telefoonapp van OnePlus ook niet.
Textra voor sms-berichten.
Agenda in Outlook heeft ook ergens de agenda van Google nodig of Google wilt in ieder geval toegang krijgen tot de agenda anders werkt de agenda in Outlook ook niet helemaal goed.
Ik heb in zowel een reactie van MS als in een App-dev. gelezen dat hun app soms niet juist werkt omdat Google de GPS-coördinatie niet doorgeeft? Dit maakt mij allemaal geen fan van Android waar Google aan de knoppen zit.
Windows10mobile op mijn Lumia950 met continuüm werkte heel goed met Bluetooth toetsenbord en muis op een 23"-24" scherm of 55" FHD LG-TV. Mijn Surface Go met Windows 10 Pro 21H2 werkt ook goed op de LG-TV met de continuüm.
Android phone thuis voor de app-besturingen en Windows device met touch halogram-scherm die ook kan bellen voor onderweg. Doet Outlook ook wat het nu ook doet op met laptop en Surface Go.

The Duo should have been windows. Not much thought was put into what a Windows fan would want. A Galaxy fold with Microsoft apps isn't much different from a Duo. At least Samsung has Dex. Microsoft not having continuum on the Duo is why I won't buy it.

I also think of the same. Having the Surface Duo running Windows 11 ARM definitely doubles the productivity.

How are you productive without apps? Windows has nearly 0 apps for small screens. There are no touch apps on Windows that aren't better on Android. Duo would be absolutely terrible with Windows.

how is Windows pc productive without android apps? funny question..
productivity = snapchat ?
everything else has a PWA now, so mostly unrequired.

Don't know what Microsoft will do but because Android 13 has native KVM functionality, Samsung will surely pressure Google to let them run ChromeOS style Headless Linux in DeX , so Linux app will look native along with other Android apps.
It will be much better and faster than old Linux on DeX system.

Android and Windows use different drivers, so it's highly unlikely that you can have them as dual-boot. Also, with the existance of Windows on ARM, Microsoft should have no problem adapting it for smartphone screens. I've seen Lumia 950/950 XL running Windows 11 ARM and I actually like it more than Windows 10 ARM. If HP can create the Elite X3 successor with Qualcomm's latest Snapdragon for Windows chipset, that would be sweet.

I think the article/author is being extremely shortsighted. Seeing how easily people have ported windows 11 to phones and how smoothly they respond annnnnd the fact that windows 11 will run android apps…. I'm seeing a straight line. No need to convince developers to port apps, full windows 11 but with a finger centric UI and running android apps… yup…. Straight line.
Windows Central Newsletter
Thank you for signing up to Windows Central. You will receive a verification email shortly.
There was a problem. Please refresh the page and try again.