Sennheiser Game Zero headset review: Unrivaled comfort comes at a cost
The latest version of Sennheiser's premium gaming headset brings unparalleled comfort, but not without some considerable drawbacks.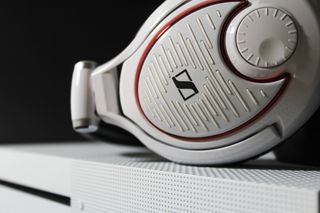 Headsets are becoming an increasingly more vital component of every gamer's setup – not only offering an immersive experience but also providing a competitive edge in multiplayer titles. With this increased appeal, more audio hardware manufacturers are starting to offer a range of headsets tailored to gamers. One of the more recent additions to this lineup is the reworked Game Zero headset from Sennheiser; a well-established veteran in the audio space.
Among Sennheiser's gaming offerings sit two premium headsets: the Game One and Game Zero. Both of these are marketed as higher-end devices, touting their comfort and general immersive capabilities. We've managed to spend a few weeks with the better of these headsets, the Game Zero, to see how it fairs with the ever-growing competition.
See on Amazon (opens in new tab)
The Sennheiser Game Zero is presented as a luxury piece of hardware, stored inside a protective fabric carrying case from the outset. This case houses the headset itself, alongside the two supplied cables.
At first glance, each of the included components exhibits high quality, from the leatherette padding, strong hinges, and braided cabling. Sennheiser has gone out of its way to display the Game Zero in a presentable fashion, focusing on an overall sleek presentation which stands out from the crowd.
Design
Sennheiser Game Zero specifications
Compatible with Xbox One, PC and PS4
1.2m 3.5mm cable / 3m 3.5mm Y splitter cable
2.1 Stereo
15–28,000 Hz frequency response
Adjustable microphone
Premium hard fabric carrying case
Retails for $279.95
Digging deeper into the headset's design, the Game Zero's greatest strengths lie with its general comfort. The core frame of the headset is made from a strong but flexible plastic, making for a lightweight but sturdy design. Although this results in cheaper feel in-hand, the structure makes for a truly ergonomic device which comfortably molds itself around the player. This design choice also helps the headset withstand bumps and drops you might expect from daily use.
My only gripe with the Game Zero's design is the reliance on light plastic on the outer casing, which leaves a cheaper feel than most headsets at this price point. Our review unit had a glossy white finish that diverged from the premium Sennheiser feel. A matte black finish is also available, which offers a more professional, first-class style.
The Game Zero is also laced with several useful but uncommon features that, while not outstanding standalone, help add extra value to the device as a whole. An example of this is an inbuilt volume dial on the right ear of the headset, which controls the headset's master volume. This is extremely convenient for changing volume during a multiplayer session or to avoid the sluggish Xbox One interface. The headset also comes with an auto-muting microphone, which automatically deactivates when rotated away from the face.
As previously outlined, the accompanying components that ship alongside the Game Zero are also of high quality, which speaks for Sennheiser's commitment to upholding presentation. All of the headset's external wiring is fully braided, adding an additional layer of protection to the 3.5mm and 3.5mm Y cables included with the headset. As replacements for these cables aren't easily available due to their proprietary 2.5mm locking mechanism, it's great to see Sennheiser protecting the cables that ship alongside the device.
The headset also ships in a fabric hard shell carrying case, which is great for taking the headphones on the go. With a simple hinge on either ear cup to shrink them into a more reduced size, the Game Zero can be compacted into a more discrete case.
Performance
Although Sennheiser has excelled with its approach to the Game Zero's design, the same level of quality isn't found under the hood. I found the performance of the headset to be hugely varied – often outperformed by other headsets at a similar price point (or even cheaper). Although a huge effort has invested into the style of the Game Zero, a majority of its successes are diminished by its shortcomings in performance.
I'll admit that I'm no audiophile and come at the Game Zero headset from the perspective of a passionate gamer. As someone who is frequently drawn towards competitive online shooters, high-quality headphones are a must-have accessory for that additional edge in multiplayer. During my time with the Sennheiser Game Zero headset, I spent time playing a range of titles with different audio styles. These ranged from competitive shooters such as Battlefield 1 and Overwatch to other top releases of the year including Forza Horizon 3.
During my play sessions, I found the performance of the Game Zero wasn't consistent; there was often a noticeable lack of clarity in certain scenarios. Although scenes with prominent bass sounded rich and accurate, those with vocals and ambient noises usually sounded hollow and weak. This left lower tones feeling much less defined, leading to a generally tinny output from the headset. Although the Game Zero headset performed well in some environments, the required consistency just isn't present in today's model. Despite these issues, the headset's microphone records satisfactorily, with the added bonus of efficient noise cancellation.
Retailing for $279.95 from Sennheiser, the performance offered by the Game Zero headset just doesn't live up to the high price tag. Sennheiser's attempt to create a premium headset hasn't gone unnoticed, but with such an ever-growing competition, higher-performing headphones are available at this price point and even lower.
After testing the headset's capabilities on both Xbox One and PC, the Sennheiser Game Zero headset has emerged with some great features that stand out against today's lineup of premium headsets. However, while Sennheiser has gone the extra mile to present the Game Zero has a premium headset, several unfortunate shortcomings hold back its potential. Even with attractive hardware and unrivaled ergonomic design, the Game Zero's internals don't stack up to the expectations set by the high price tag.
Pros:
Comfortable, light design unmatched by similar headsets
Several small touches which feel truly premium
Great microphone
Cons:
Sound quality overshadows its successes
Performance issues struggle to justify high price tag
See on Amazon (opens in new tab)
This review was conducted using a review unit provided by Sennheiser
Matt Brown is Windows Central's Senior Editor, Xbox & PC, at Future. Following over seven years of professional consumer technology and gaming coverage, he's focused on the world of Microsoft's gaming efforts. You can follow him on Twitter @mattjbrown.
Any suggestions for a surround-sound wired headset for Xbox One?

How much!? For a stereo headset!

Does this need a cable between the headset and controller? Or is it truly wireless like Turtle Beach?

Matt, If you're going to do a review of high-end headphones, you cannot leave out what equipment you used to test them with. If you didn't have an AMP between these and whatever you used (PC OR XBOX) then you're doing the headphones and yourself a disservice. I have a set of PC360's, and I can tell you right now they were not designed to be used with integrated audio. Without my Asus Xonar STX, my headphones would sound atrocious. This goes for a lot of higher-end headphones, gaming or not. I've not used these ones, but I've owned 3 pair of Sennheisers and all of them have required an amp of some sort to drive them. Also, there was no talk of the closed vs open options on offer here from the G4ME series. This makes a significant difference in the quality of the sound. I'd be curious to know if they ever fixed the volume dial on the side. Each pair I've owned has ended up replaced not because they stopped sound fantastic, but because the volume dial stopped working properly and the left channel would get extremely quiet or off completely whenever the volume dial was touched. Each had a sweet spot which would normalize the sound between both channels, but eventually it becomes to tiring (read: annoying) to deal with. Per your link, these headphones are currently on sale for ~$150. A great deal if the person purchasing needs to drown out a noisy environment. I prefer the open style of the ONE, but everyone has their own preference. There is a site called head-fi that has far more knowledgable people than myself that can help you out when it comes to equipment to pair with high-end headphones. If you continue to do reviews like this, you may find it beneficial to pick up a portable amp (I'm not repping the site!!! I don't believe they sell anything, just links to Amazon like yourself) for future reviews. Have a good one!

I have a pair of Sennheiser PXC-450's and agree, they really need an amp to get the most out of them. However, not everyone is going to have an amp, feel they need one or want to buy one, so explaining how they function out of the box compared to other units right out of the box is probably for the best. Some people just figure, why buy a headset/headphones that require an amp at additional cost when I can get a great headset/headphones that just work for the same price or cheaper?

Why?? Because they sound better. Why would anyone spend more money on a product? Maybe brand loyalty, but come on man. What kind of question is that? Does your cell phone operate well out of the box? Would it work better with cell service? I would say the argument could be made that you shouldn't buy headphones requiring an amp if you have not the funds and/or the intention of purchasing said amp. The value comes in the quality of the entire package. Now, if with the amp, you realize that you're getting music less than or equal to the same pair of Razor headphones, than you would have a perfectly sound argument to write these off. To drive the point home, spending money on a product without researching the it first, in my opinion, is a foolish waste of money. The higher the price, the most costly the mistake becomes. It's great that people have a choice, I would recommend to anyone to do the research and make the right choice that matches your preference and budget.

This may just be me, but I can't justify a headset specifically for gaming when you can buy a V MODA Boom Mic and turn any head set into a gaming headset. I use it (and an adapter) with my Bose QC-35's when I sit down and game, and I can use the headset for other things.

Hi Tom. I own a pair of Bose sound link overear wireless II's. I was hoping to be able to use them as my gaming headset as the mic is built in but when when wired to the headset the power can't be turned on so no mic. I went to purchase the V mode boom mic today and noticed that its 3.5mm and not the 2.5mm my Bose headphones have. You mentioned you have an adapter. Do you know if I got the same adapter as you purchased I could use the v moda with my Bose headphones and have a great gaming headset?

This is the adapter I use with mine, and it works perfectly: https://www.amazon.com/gp/product/B007R58NPK/ref=oh_aui_detailpage_o00_s...

Awesome!! Thanks so much. I'll go ahead and buy the boom mic and the adapter.

Thanks Tom, I didn't know such a thing existed! The past few days I've been agonising over decent headphones, but still want the option of a mic. A lot of the 'gaming headsets' are junk plastic (just like the Game Zero featured here), ugly, overpriced, have cheap drivers and useless gimmicky additions ("AMGZ virtual 7.1"). While I would never touch Bose, I can at least get some quality headphones but still have the option of a mic for the (now) rare occasions that I need one.

I'll stick with my Astro A40 TRs

The new Astro A50 for Xbox One are a thing of beauty! :) :D

Meh. I'm happy with my JBL T450BT :)

I have the Game One and am really happy with the obvious mic mute when the arm is up; small status LEDs aren't exactly going to make it obvious you're about to blab your conversation with the entire internet. It's amazing how simple yet useful it is. Sound quality is decent on an amp (as comments above suggest) and the comfort is simply amazing. Gloss white plastic actually works in this instance; it doesn't scuff or mark and I consider some gaming sessions to be fairly rough. Being able to hear people around you in a LAN is the entire reason I bought these open cans... Razer users have their cups half off their head! 9/10 will continue to recommend. Mates love em.
Windows Central Newsletter
Thank you for signing up to Windows Central. You will receive a verification email shortly.
There was a problem. Please refresh the page and try again.