Settlers of Catan establishes colonies in the Windows 8 Store - get ready to adventure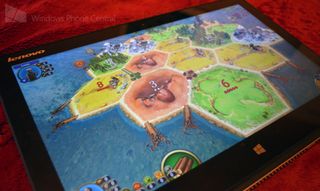 The famous German board game, The Settlers of Catan, has landed on Windows 8 for your strategy solving pleasure. The game itself revolves around settlers building colony communities on the mythical island of Catan. The goal of the game itself is to reach ten victory points – scored by players for each settlement they own along with other various achievements.
The Windows 8 version of the game, which became available a few days ago, is stated to deliver the "legendary" game experience along with new "detailed graphics [to] take you to an utterly realistic Catan". The game even allows users to choose between a 3D gaming experience and a classic 2D board game layout.
The game itself was designed in collaboration with Catan designer, Klaus Teuber, and includes a full tutorial for beginners to get started on their adventure. Multi-User support ensures that you can gamer around your favorite Windows 8 tablet or Tabletop PC with your friends.
Popular expansions sets are also available for purchase via In-App purchases. Expansions include "Seafarers" and "Cities and Knights". Within Seafarers you can play the role of a harbor master and will receive extra game pieces including ships, gold fields, treasure, and pirates.
If you decide to opt for the "Cities and Knights" expansion, you can expand your gameplay with new trade goods and torturous danger from violent barbarians. The expansion includes a short campaign mode along with seven new maps for your enjoyment.
Two scenario packs are also available for download including "Enchanted Lang" and "The Great Canal".
We have received a few reports that some users have issues with the game crashing on startup (something we were not able to duplicate), so we suggest trying out the Trial version first before placing down your hard earned money.
You can grab the app from the Windows Store by clicking here. Are you a fan of The Settlers of Catan board game?
Get the Windows Central Newsletter
All the latest news, reviews, and guides for Windows and Xbox diehards.