Settlers of Catan establishes colonies in the Windows 8 Store - get ready to adventure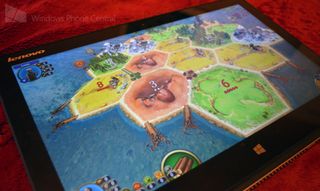 The famous German board game, The Settlers of Catan, has landed on Windows 8 for your strategy solving pleasure. The game itself revolves around settlers building colony communities on the mythical island of Catan. The goal of the game itself is to reach ten victory points – scored by players for each settlement they own along with other various achievements.
The Windows 8 version of the game, which became available a few days ago, is stated to deliver the "legendary" game experience along with new "detailed graphics [to] take you to an utterly realistic Catan". The game even allows users to choose between a 3D gaming experience and a classic 2D board game layout.
The game itself was designed in collaboration with Catan designer, Klaus Teuber, and includes a full tutorial for beginners to get started on their adventure. Multi-User support ensures that you can gamer around your favorite Windows 8 tablet or Tabletop PC with your friends.
Popular expansions sets are also available for purchase via In-App purchases. Expansions include "Seafarers" and "Cities and Knights". Within Seafarers you can play the role of a harbor master and will receive extra game pieces including ships, gold fields, treasure, and pirates.
If you decide to opt for the "Cities and Knights" expansion, you can expand your gameplay with new trade goods and torturous danger from violent barbarians. The expansion includes a short campaign mode along with seven new maps for your enjoyment.
Two scenario packs are also available for download including "Enchanted Lang" and "The Great Canal".
We have received a few reports that some users have issues with the game crashing on startup (something we were not able to duplicate), so we suggest trying out the Trial version first before placing down your hard earned money.
You can grab the app from the Windows Store by clicking here (opens in new tab). Are you a fan of The Settlers of Catan board game?
Windows Central Newsletter
Get the best of Windows Central in in your inbox, every day!
I play this board game with my nephews. Good fun.

I was excited about that, but it runs so slow on the original RT that it's just not fun to play. Hopefully, they will optimize it with future updates.

Good to know. Guess I'll pass.

Well, you can try it for free... Maybe it'll run better on your machine...

At least it runs for you, just crashe son my Surface 2

Same with me, the game doesnt even get past the loading screen o0n my surface 2. It's annoying. i want them to fix it.

Oh snap! One of my group's favorite board games. The reviews look awfully mixed with issues, though. Also, as an FYI, it's $3.50.

Thank you for saying the price!! I have no idea why the article doesn't mention it... -_-

Yes thank you for the price... Article should have said this.

Love the board game, downloaded this and it's decent. Not the same as playing with your friends and family in real life.

This game was developed by Exozet Studios, the same studio that made Carcassonne on Windows Phone. They are also bringing a version of Carcassonne to Windows 8/RT soon, but unfortunately it won't have Xbox Live integration like the Windows Phone version. If this game is Settlers of Catan, then why do they just call it Catan in the app store? That's odd and confusing.

I would say 'get ready "for" adventure' not "to" adventure.

And you'd be wrong. Why are internet bloggers so defensive about spelling, grammar and usage errors?

Sigh... I should just walk away... but I don't. The word "adventure" can be used as both a noun and a verb (use a dictionary). Thus, both "get ready for adventure" and "get ready to adventure" are both correct. Before you get high and mighty, do some research. Source: Merriam Webster

Apply cold water to that burn

Where's the Like button! :D

I would say the game itself a few more times.

The grammar is fine. If you want to take apart an article for terrible grammar, style, and construction - find anything written by Rich. The problem with this article is the lack of any gameplay description. A somewhat better explanation would be welcomed by those who aren't familiar with this board game.

Desperately need online play option on this one.

Yeah that would be great. Love the board game so gonna def give this a try.

I would love this game, but I wont download until they add xbl

Love this game! Now if we could just get someone to bring Ticket to Ride over to the Windows store.

Once again I get excited to see a cool app mentioned in the title of an article on Windows Phone Central, only to be disappointed to find that it's not a Windows Phone app. That said, I do appreciate the coverage and will be buying this game, which I might otherwise have overlooked. I suppose I'm just frustrated to see so many great apps mentioned on this site that aren't actually Windows Phone apps.

Can't wait to play this!!! Stoked

Sweet! Anyone know how much the Cities and Knights and Seafarers in-app purchases are?

Once I was able to wade through the laggy UI, looks like $5.99
The $3.49 app price is said to be 'introductory'.

Whoa! So Settlers is 3.49 (for the moment) but the Cities and Knights expansion is 5.99 on top of that?!

Yup, and Seafarers is $5.99 USD as well. $12 for the expansions altogether.

WP Central needs to change formally announce its name change as Windows Portable Central to encompass the Windows Store stuff too (which I love that there is coverage of) That said - Catan on Windows 8 right now is trash on ARM. I have a Surface and Surface 2 - both run like comeplete garbage and are unplayable. Combined with lack of online multiplayer (and Xbox LIVE for that matter) it's worthless to me. I reccomend not purchasing untill they fix it. And a heads up - Exozet is the same developer as the abortion Carcasone on Windows Phone. That game, while a beatuful UI and representation of that game, has an utterly broken and garbage Multiplayer and has litle to no support. Exozet clearly doesn't care, and are just churning out garbage to fufill contracts as far as I can tell. It's a shame too - I love Catan.

Exozet cares very much. We did an article on Carcassonne's development and issues. You should read it. In short, blame the publisher (Microsoft).

What's your excuse with Catan this time? From the outside looking in it looks like a dev that is incapable of functional multiplayer between Carcassone and the lack of MP in Catan. And lets not forget running like complete garbage (ie: unplayable) on any model of ARM based surface. You blame your publisher for that too?

i want to try this game but the music is driving me bonkers and there does not seem to be a way to just turn the music off.

Can has for Windows Phone 8, plz? :(

Might be a good game but I don't know as it never makes it past the splash screen before crashing on my Surface 2.

doesn't launch on my surface 2
Windows Central Newsletter
Thank you for signing up to Windows Central. You will receive a verification email shortly.
There was a problem. Please refresh the page and try again.