Several EA titles heavily discounted in this week's Deals with Gold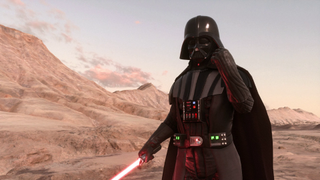 The focus is all on EA titles in this week's Deals with Gold, with several games from the publisher available on discount, including FIFA 16, Battlefield 4, Need For Speed, and Star Wars Battlefront for the Xbox One. A host of Xbox 360 games are also on sale this week.
Xbox One:
Xbox 360:
The Xbox 360 games highlighted with an asterix are backwards compatible. The deals are valid until February 8. What games are you guys picking up?
Source: Major Nelson
No, they do not offer PC discounts on Xbox.com, as it is a freaking Xbox site. It's like you're not even trying to troll well.

Slender the arrival increase? Posted via the Windows Central App for Android

That's what I'm wondering too. It's not even April's Fools yet, and The Slender is no horse armour.

In typical Microsoft fashion, the discounts are uneven and silly. You can get a discount on Battlefront or Battlefront and the Season Pass, but not jsut the Season Pass, because screw those who have a physical copy and want the Season Pass, right? The same appears to apply for Hardline, and screw the microtransaction pack discounts like with Syndicate and GTA V. Man, Microsoft needs to get itself together with this whole digital storefront thing. Mordor GotY is somewhat tempting at $18, but that's about it. Ryse would be if the DLC weren't just multipalyer stuff (fromt what I heard, that's what the Lefendary Edition gives you, and that the online is mediocre). So much of the rest is EA Access stuff, save the half-baked Rory (whose presence in EA Access I'm still awaiting) and the disappointing re-re-reboot of NFS. Why can't Season Passes get reularly discounted like the voerpriced digital games they support?

I would have really enjoyed the new NFS if you could turn the cutscenes off as it stands I still haven't finished my 10 hour trial yet, although I do like driving around and doing races.

Those didn't bother me much. I didn't like how bad drifting felt, how lightly populated the world was, and how ugly the environments were.

While I agree, in principle, however, if you already paid full price for the session pass, and then they released it at a discount before even one dlc pack was released, that would be pretty sucky. At least with the Ultimate Edition sale, you could justify it by saying that the deal is for the actual game, and you are just getting the same discount you would have gotten if you paid full price...

But the last of the Season Pass content is coming out now. That's why they're doing the "Complete Edition."

It's like you have no idea what a business is. Or what customer acquisition cost is.

It's like you're a pretentious tool who thinks what I want is based on helping a business I'm not invested in.

Oh, no, no, no, I already read your name-calling and false information. One of the Battlefront DLCs is out, and 3 of the 4 Hardline ones is as well. Edit all you want, but the e-mail alert found you out already. And yes, when I decide what I'm going to buy, "what I want" is a pretty big factor. Buying what you want, or what someone else wants, isn't going to do me much good.

LoL i read it as battlefield that's why I edited it. What you want should be a factor in what you buy. What you want shouldnt be a factor in understanding why sales are structured the way they are, and whining about everything you possibly can on this site. I will never understand the level of entitlement you have shown over the many years on this site. At some point you have to grow up.

I love this ridiculous sentiment that because my opinion doesn't agree with yours, it's entitlement. It's such an overused word that's lost all meaning. I don't liek something? I'm entitled. I offer opinion on how sales could be better? I'm entitled. Let me help you understand what that word means, using Bing: "believing oneself to be inherently deserving of privileges or special treatment" Now, read that again. Then, find me where I said I was deserving of something. Even better, point out where I said I deserved something special over others. If I'm entitled for not liking the pricing of DLC, then companies are entitled for thinking people should pay it. I mean, God forbid someone disagrees with you. Call me dumb, if you want. Call me annoying. Call me pessimistic. However, don't call me entitled, because the words I type don't reflect that at all. It's never been a matter of saying I deserve the prices, it's been that I find them inconsistent with both retail competitors and the rest of Microsoft's own sales. I've indicated I don't find value in those prices. That's an economic decision, not a sense of entitlement. At least insult me in accordance with what I'm saying. Make an effort, and don't just spew whichever Internet buzzword people like to use to cop out of presenting actual thoughts.

Well I guess your physical only mantra isn't as perfect and amazing as you always spout on these articles. So I'm probably going to use my Bing rewards, and get a free digital copy of Battlefront.

Actually MS themselves are great for it its the 3rd party publishers that aren't that thrifty. They figure since your saving on the game why not taking that saved money & use it toward dlc & besides seeing as this is ea access is their way of offering discounts on this stuff

I don't think I agree with you. Retailers still do Microsoft-published game discounts getter than Microsoft itself does. I picked up Forza 6 for $28 in November, between its $35 sale price and Best Buy's GCU. I don't think digital Forza 6 has ever gotten that low--heck, Forza 5 and Forza Horizon 2 might not have, either. Valve manages to get third-party, AAA games onto big discounts, but Microsoft leaves DLC at MSRP forever. The worst I can remember was on the 360. My cousin and I wanted to get the DLC for the first Borderlands on XBL. The 4 packs were $10 each, the same price they launched at, like, 4 years earlier. It was $40 for the DLC, or Best Buy was sellign the game AND the DLC for $35 or so total. But a few weeks ago was a perfect example for this generation. Microsoft put Forza 5 and Forza Horizon 2 50% off, but ONLY if you bought them together. They didn't put either on-sale separately, nor did they put either Season Pass of FH2's Storm Island on-sale. Just such a weird way to approach it all.

Don't know if you play PC games too, but I've always found the Xbox sales extremely underwhelming compared to Steam. Definitely agree the sales are generally crap on Xbox

Oh, there's no contest with that. However, Steam is also dealing heavily in old, small games that are discounted. Their pricing on newer, high-dollar games isn't great either. It's the physical retailers that I think push the best prices on stuff like that. Even now, Steam wants $40 for the first Black Ops and $60 for the second one.

Umm half those discounts are from last weeks sale and will end here in a few hours...

Wow! Nice deal for The Swapper!

Yep, I bought it for 4 bucks, knew nothing about the game but hell, why not.

How is Ryse $15 in the us but £22.50 in the UK.????

Keep an eye on UK Hot Deals, I found a link on there to a code that got me Ryse for a fiver. Such a good game.

Dammit. Spent almost 1.3 times on need for speed but oh well. Very good deal! Holy ****. Love that game

And yet, Battlefront is still not worth it at half the price. Posted via the Windows Central App for Android

Well the great thing about taste is it's subjective.

Is Ryse worth dropping cash on?

I can't decide between Ryse, Watch Dogs and Shadow of Mordor

Watch Dogs was a non starter for me, all hype. Shadow of Modor seemed alot like Assassins Creed if you like that genre.

Friend of mine who played all just told me watch dogs was full of bugs, so I guess that's a no, and if shadow of mordoe is like AC, which I have played all, I guess no much sence in getting one of the same type. I wonder if Ryse is sort of like God of War... linear game with battles and bosses? anyhow, this is the one I'll be getting..

Ryse doesn't really have boss battles, it kind of does, but not in the epic way that God of War does.
Ryse is worth it if you can get it cheap so I would out for getting it during the sale. It doesn't take long to power through it, although the challenge maps are actually a lot of fun and I still occasionally come back to them when I feel like slaughtering gladiators.

I just got Ryse when I got home from work. Played Fallout 4 while downloading it. I can't wait to dive into it!

Well...I'm afraid I can't help you there. I haven't played Watch Dogs. And while I do own Shadow of Mordor (got it on Black Friday) I also haven't played it yet (this is what I hate about adulthood. I can buy whatever the hell my heart desires...and then I lack the time to actually enjoy it.)

I'm looking for a break from Fallout 4. Ryse has always been on my list to possibly get, but it's always been priced at $30 or more. This looks like the time to take the leap!

Great game! Got it on launch. Beautiful graphics and a good story.

Sadly I'd rather stay away from their multiplatform releases on consoles. Cant wait for nfs on PC

I've been tempted with Battlefront. I'm not a huge online multiplayer fan, but the game looks so good and graphics look amazing. Is it worth my while for $30?

you might as well get the EA subscription, Battlefront hardline and 4 are both there, plus a couple other games of course

my bad, I missread battlefield... I read everywhere Battlefront will arrive in the vault in the very near future... it's been getting discounted over and over again, I guess it did not have the inpact they expect. I really liked it, yet, I haven't even finished my 10 free hours

Ditto on the 10 hours, I think I've played about 2 hours of it.

With regards to Battlefront, is it worth purchasing it right now? Or will it land in EA Access eventually? They did that for the Battlefields and I can wait since I've been hooked on Halo 5s MP. But Shadow Of Mordor is tempting, don't know how much I'll play it though.

Middle-Earth : Shadow of Mordor is a great game. It goes un-noticed.
Windows Central Newsletter
Get the best of Windows Central in in your inbox, every day!
Thank you for signing up to Windows Central. You will receive a verification email shortly.
There was a problem. Please refresh the page and try again.